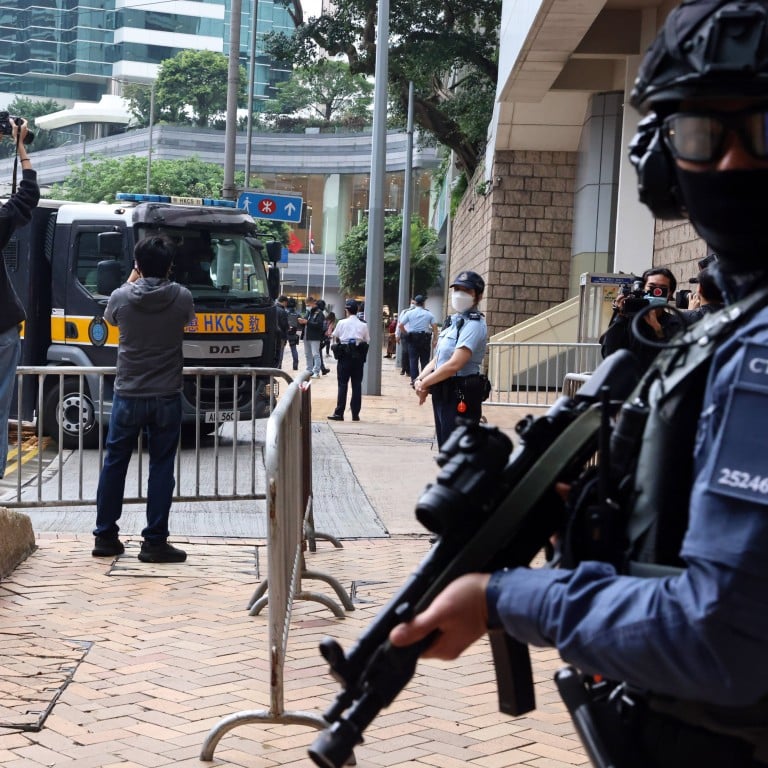 6 ex-Apple Daily staff plead guilty to conspiracy to collude with foreign forces in seeking sanctions on Hong Kong, Beijing officials
High Court records first convictions of news editors and media directors under Beijing-imposed legislation since it took effect in June 2020
Newspaper founder Jimmy Lai will stand trial next month
Six former senior executives of the now-defunct Apple Daily newspaper have admitted to conspiring with their ex-boss
Jimmy Lai Chee-ying
in seeking international sanctions on Beijing and Hong Kong officials in breach of the city's
national security law
.
The High Court on Tuesday recorded the first convictions of news editors and media directors under the Beijing-imposed legislation since it took effect in June 2020.
The six employees, each flanked by two prison officers in the dock, pleaded guilty to conspiracy to collude with foreign forces before three judges. The justices are set to try Lai next month.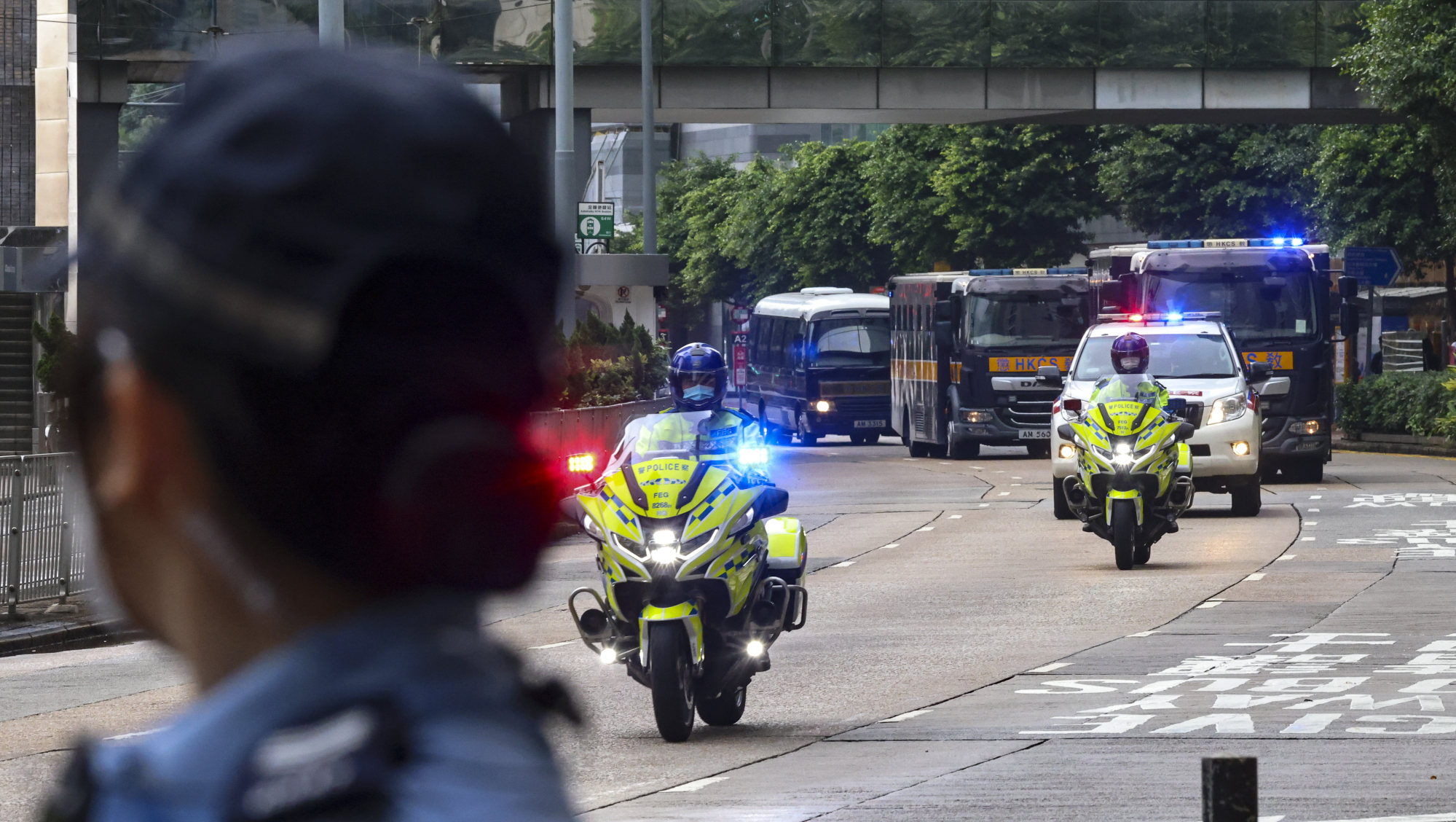 Editor-in-chief Ryan Law Wai-kwong, publisher Cheung Kim-hung, executive editor-in-chief Lam Man-chung, associate publisher Chan Pui-man and editorial writers Fung Wai-kong and Yeung Ching-kee will receive lesser penalties for their guilty pleas to a charge which is punishable by up to life imprisonment.
Some might be granted further remission, as the court heard that several of the defendants, including Cheung and Chan, would help the prosecution in seeking Lai's conviction.
Police officers were on high alert on Tuesday as the High Court session attracted over 100 attendees, including former Apple Daily workers. Officers with the force's counterterrorism response unit were seen guarding the court's vehicular entrance as the six defendants arrived under police escort.
Prosecutors have alleged Lai, 74, conspired with the six employees to encourage foreign intervention against Hong Kong or mainland China from July 1, 2020, until Apple Daily's closure on June 24 last year.
They faced a separate joint count of "conspiracy to print, publish, sell, offer for sale, distribute, display or reproduce seditious publication" under a colonial-era sedition law, with the alleged offence dating back to April 2019 before the national security law took effect.
The two charges also target three Apple Daily companies. Lai alone faces one extra count of conspiracy to collude with foreign forces and one of colluding with foreign forces.
The sedition charge against the six former executives was dropped on condition of their guilty pleas.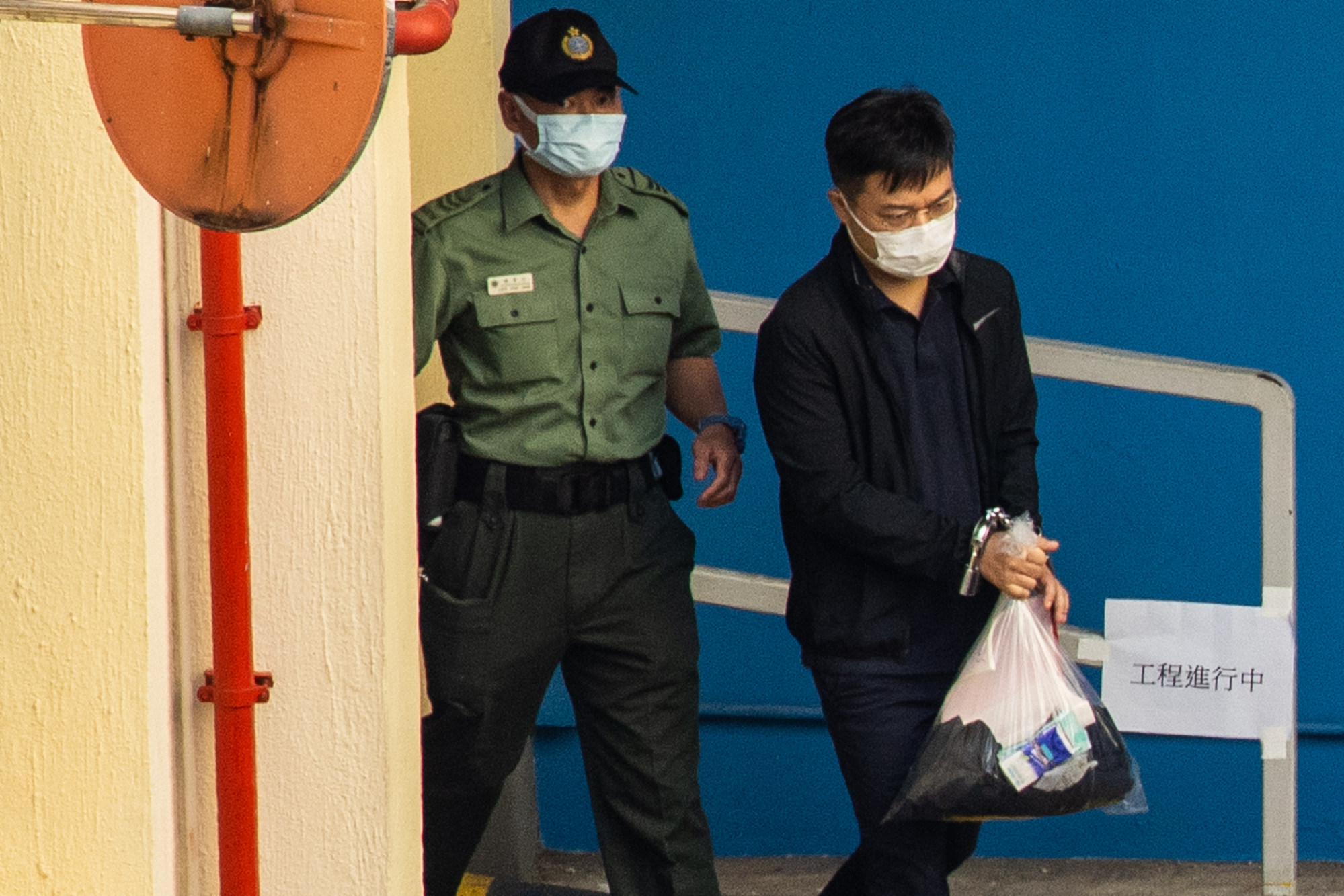 On July 1, 2020, the day after Beijing imposed the national security law on Hong Kong, Apple Daily ran a front-page story criticising the new law as "evil" and a "final nail in the coffin" for Hong Kong's "one country, two systems" governing principle.
Prosecutor Anthony Chau Tin-hang highlighted 161 allegedly seditious articles published in print and online by Apple Daily, such as the July 1 report and a "fight for freedom" poster enclosed with the newspaper that day.
Other allegedly offensive items included "articles purported to be news coverage of current issues", commentaries, and "appeals or propaganda directly and unlawfully advocating political agenda".
Chau did not explain which parts of the articles constituted the claimed offence, after the court found it "very sensible" the details should be kept under wraps until Lai's trial.
The prosecutor said Apple Daily first seized upon a now-withdrawn extradition bill and the Covid-19 pandemic to attack the central and local authorities, promote hatred towards police and advocate resistance by means of violence and "mutual destruction".
The newspaper then started an English channel on its online platforms in May 2020 to appeal to the international community and particularly the United States, the court heard.
"The English version … was introduced by Apple Daily upon the decision of Lai for the purpose of requesting external elements to impose sanctions or blockade, or engage in other hostile activities against the [People's Republic of China] and/or the [Hong Kong Special Administrative Region]," Chau said.
"[The English coverage] was implemented by [the six employees] … pursuant to their conspiracy with Lai [who] was the mastermind."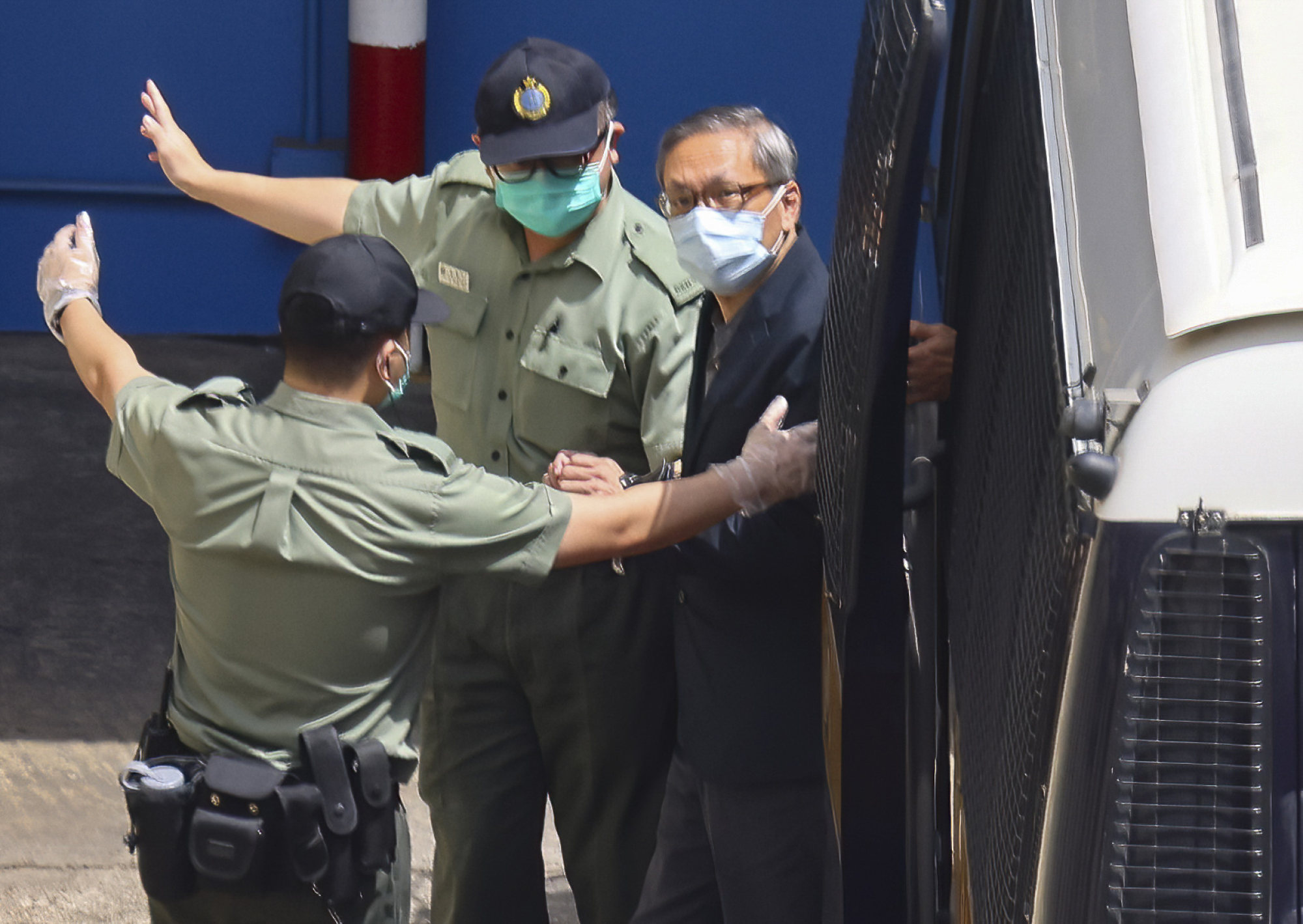 Meanwhile, the media tycoon opened a Twitter account and began hosting live broadcast shows titled "Live Chat with Jimmy Lai" on Apple Daily's website, where he was said to have requested foreign intervention in local affairs.
The United States, Britain, European Union, Canada, Germany, Taiwan and the "so-called international community generally" were among the entities from which Lai and his subordinates had sought attention, the prosecutor continued.
The hostile acts sought included sanctions on officials, restrictions on trade and granting Hongkongers "purported rights of residence or other means to remain overseas", the court heard.
In particular, the prosecution accused Washington of "meddling" in Hong Kong's affairs, making "unfounded charges" in a bid to undermine its prosperity and stability, offering channels for promoting the city's independence, and justifying criminal activities by "twisting facts and misleading the public".
Madam justices Esther Toh Lye-ping and Susana D'Almada Remedios, and Mr Justice Alex Lee Wan-tang, will sentence the six former executives after the conclusion of Lai's 30-day trial.
The six have been remanded in custody for up to 17 months on national security grounds.