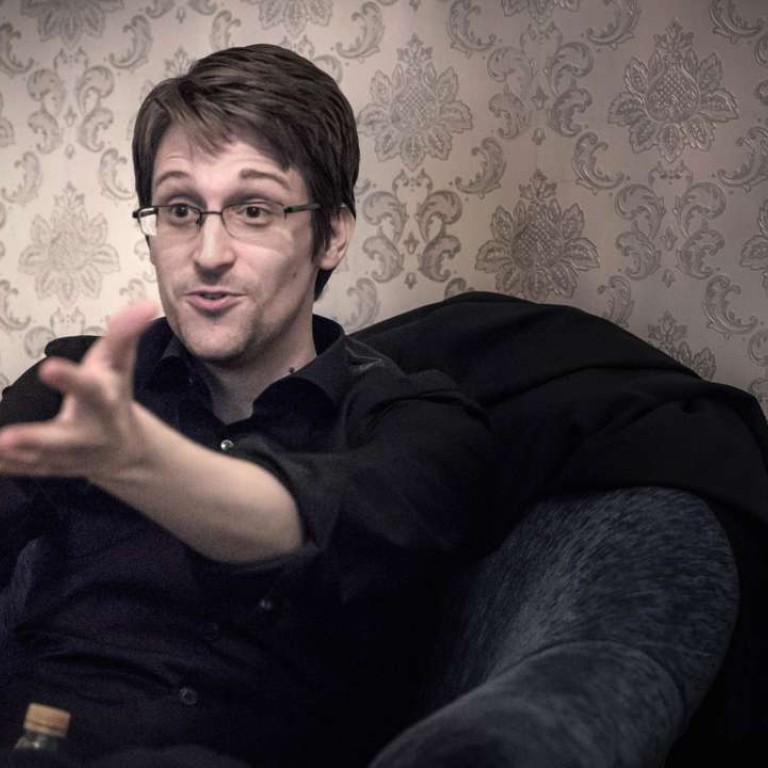 Exclusive
Snowden, Greenwald and Poitras donate US$20,000 to asylum seekers who sheltered whistle-blower in Hong Kong
Lawyer who helped Edward Snowden says one asylum seeker faced questions from government-contracted social service agency about her role in the incident
Whistle-blower Edward Snowden, journalist Glenn Greenwald and filmmaker Laura Poitras have donated US$20,000 to the three groups of asylum seekers who sheltered the former US intelligence contractor in Hong Kong in 2013.
Hong Kong-based Canadian lawyer Robert Tibbo, who provided legal advice to Snowden while he was in the city, told the South China Morning Post that the money would be used to help the families because International Social Service Hong Kong Branch (ISS-HK) had failed to meet their basic needs.
ISS-HK has since 2006 been entrusted by the Social Welfare Department with providing assistance, including giving rental and utilities allowances, to asylum seekers in the city. The agency has been criticised over the past few years, with asylum seekers and advocacy groups calling for a revamp of the support system.
According to Tibbo, Snowden – a former contractor for the CIA turned whistle-blower who leaked classified documents showing the extent of electronic spying by the United States and other governments – provided a few thousand US dollars late last year and in the middle of this year to the families who helped him in the city. He made further donations which came through earlier this week, the lawyer said.
Greenwald and Poitras – who broke the Snowden story in 2013 – also donated money because they were aware of what was happening with the families in Hong Kong, Tibbo said, adding that most donations were made through the Freedom of the Press Foundation, which supports independent investigative journalism.
"They are deeply concerned about these families and they also recognise the contribution these three families made in protecting a whistle-blower," the Canadian barrister said.
"In their view, these families should not be left behind and should not be treated the way they have been treated, so they step forward to assist these families when ISS-HK has failed or refused to meet their basic needs," Tibbo said.
The Canadian National Post reported last month that Snowden was sheltered by asylum seekers during his stay in Hong Kong in June 2013 after leaving the US.
Tibbo said their public exposure could better protect them, as
Oliver Stone's film
Snowden
, which opened in Hong Kong cinemas on Thursday, highlighted their role. They are a Filipino family, a family from Sri Lanka and a man from the same country.
But other than receiving world media attention, the asylum seekers who helped Snowden in Hong Kong are also facing other consequences. According to Tibbo, Filipino Vanessa Rodel was questioned by ISS-HK in September about how she had helped Snowden when she asked for agency support in moving to a new flat.
Rodel declined to answer the agency's questions, referring it to her lawyer. Shortly after, according to Tibbo, ISS-HK told her they would not pay her rent and utilities.
Tibbo said she had sought to move to a new place not only to escape media attention but also because there was a brothel operating in the same subdivided flat where she lived with her daughter and mother.
The three families who supported Snowden in Hong Kong were living in temporary accommodation since their identities were made public, Tibbo said.
A spokeswoman for ISS-HK denied the accusations. "We would like to reassure that we have been offering accommodation, food, clothing and toiletries, transportation, utilities assistance (electricity and gas) to Ms Rodel since she signed a contract with us till now," a spokeswoman said.
"There is no withholding of any assistance that she is eligible for by ISS-HK ... Rents and monthly allowance on electricity are paid directly to the landlords by autopay as agreed with Ms Rodel," she said.
Asylum seekers in Hong Kong, who are not allowed to take up jobs, are entitled to a monthly housing allowance of HK$1,500 per adult, transport expenses averaging HK$200 per person, HK$300 for utilities and HK$1,200 for food in the form of supermarket coupons.
As of June, there were 11,169 outstanding claims from asylum seekers. The city has one of the lowest acceptance rates in the world, standing at 0.6 per cent of applicants, and most wait several years to have their claims screened.
The agency did not deny having asked questions to Rodel about Snowden. They also did not provide any details about the situation of the others involved in helping Snowden, who lives in exile in Russia.
"Until ISS-HK and the Social Welfare Department provide an equivalent level of assistance to asylum seekers that ordinary residents receive, asylum seekers will remain destitute," Tibbo said.
An online page was set up on October 1 and activated on Thursday to raise funds for "Snowden's guardian angels" in Hong Kong.
Tibbo said the initiative aiming to raise €100,000 euros was launched by him, Snowden's other legal adviser in the city, Jonathan Man, and a few other concerned people based in Germany.
According to an introduction to the online page, Snowden said of the asylum seekers who sheltered him in Hong Kong: "These people have gotten up every morning in the face of tragedy and persecution, and go to sleep each night with whole families in a single bed. And though they have nothing, they risked everything to do what is right. Everything that I thought I knew about bravery was nothing compared to what I saw in Hong Kong."
This article appeared in the South China Morning Post print edition as: Snowden helps asylum seekers who housed him