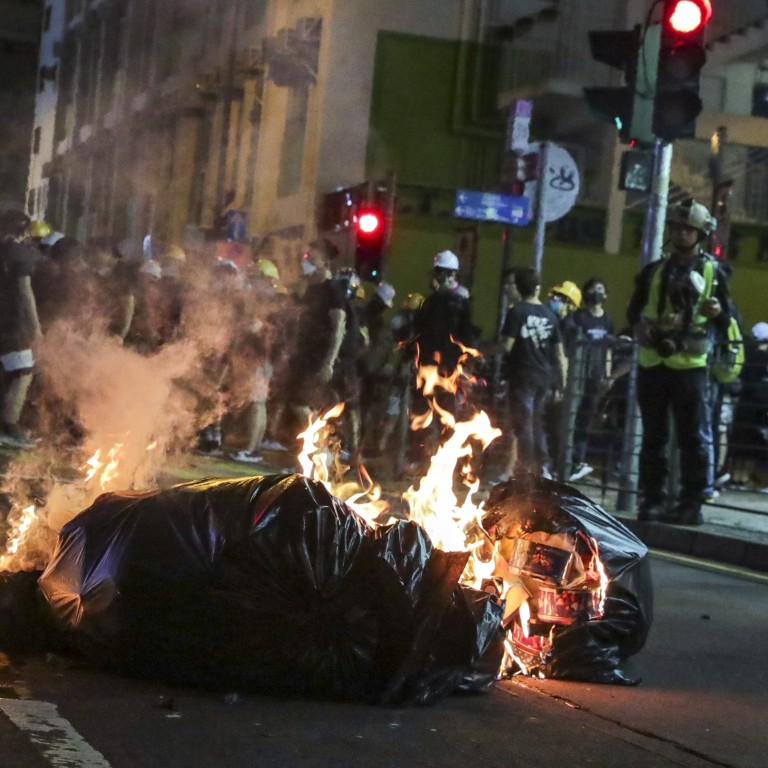 Filipino and South Korean working in Hong Kong arrested in Mong Kok – the first foreigners detained in extradition protests
Filipino employee of Hong Kong Disneyland and South Korean restaurant worker arrested in Mong Kok on Saturday
Philippine diplomat says man was held for wearing black, while South Korean official urges police for fair probe
Police detained two foreigners working in Hong Kong while clearing extradition bill protesters in Mong Kok on Saturday, in what is believed to be the first arrest of expats during the demonstrations that have gripped the city since June.
One of the men was a 36-year-old Filipino who had been working as a parade dancer at Hong Kong Disneyland since 2008, according to a source.
Riot police pinned down the man, who was not wearing any protective gear, in Mong Kok at about 11pm. He reportedly tried to explain he was not a protester.
But a police source said the man took part in the protest, and had earlier commented on the extradition bill on social media. Hong Kong Disneyland authorities said they would follow up the case.
Germinia Aguilar-Usudan, the Philippine deputy consul in Hong Kong, told the media the man was arrested for wearing black while he was on his way to get food.
Usudan said the man asked not to be identified because he was worried about the health of his mother. Two Hong Kong lawyers are assisting him pro bono.
The other man was a 26-year-old South Korean restaurant worker. A Korean society in the city said the man held a Hong Kong work permit. He was arrested in Mong Kok but detained at the North Point police station.
"We have requested that Hong Kong police conduct a fair investigation," said an official at the Consulate General of the Republic of Korea in Hong Kong.
A South Korean Foreign Ministry official said in Seoul on Sunday that their consulate in Hong Kong had sent officials to the police station where the man was being held.
Around 18,654 South Koreans, including 1,300 students, were living in Hong Kong last year, according to consulate figures.
A police spokesman said the foreigners were arrested for unlawful assembly. They were among 24 men and five women arrested on Saturday night.
Additional Reporting by Ng Kang Chung, Clifford Lo and Lee Jeong-ho