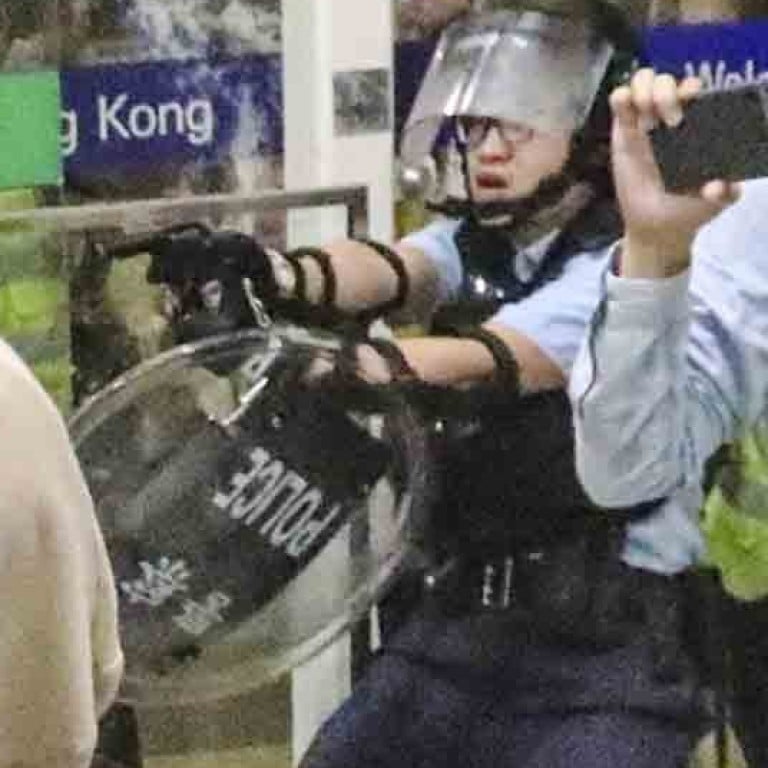 Court issues injunction order to remove protesters from Hong Kong airport terminal after they clash with riot police
Protesters had accused man in terminal building of being an undercover security officer from mainland China
Small contingent of fully equipped riot police and elite officers from the Special Tactical Squad fought off protesters, using pepper spray and batons
Defiant anti-government protesters brought unprecedented violence to Hong Kong International Airport on Tuesday night, clashing with riot police after severely disrupting flights, even as officials secured an injunction order against those occupying the terminal building.
A source confirmed that the Airport Authority, represented by Senior Counsel Benjamin Yu, was granted the injunction by a judge late on Tuesday night.
It was not immediately clear what the scope of
the injunction to remove the protesters
would be or how it would be enforced, but technically, the order would become effective once it was posted in a public area at the airport.
The late-night chaos came after belligerent protesters spent hours detaining and assaulting a young man they claimed was an undercover agent from mainland China at the check-in area in the departure hall.
He was seen later with his hands secured with cable ties and surrounded by protesters, who would not let paramedics take him away at around 10pm after he lost consciousness. The man earlier told media he was from Shenzhen and went to the airport to see off friends. He denied that he was a public security officer.
It was another hour before he was taken away in an ambulance, but there was more trouble outside the terminal as protesters turned on police who were there initially to help the ambulance leave. Police vehicles were attacked and windows smashed.
A small contingent of fully equipped riot police and elite officers from the Special Tactical Squad fought off the protesters, using pepper spray and batons.
Police were seen rushing into the terminal and subduing some protesters, and injuries were reported on both sides. At one point a police officer was seen drawing his gun and pointing it at his attackers.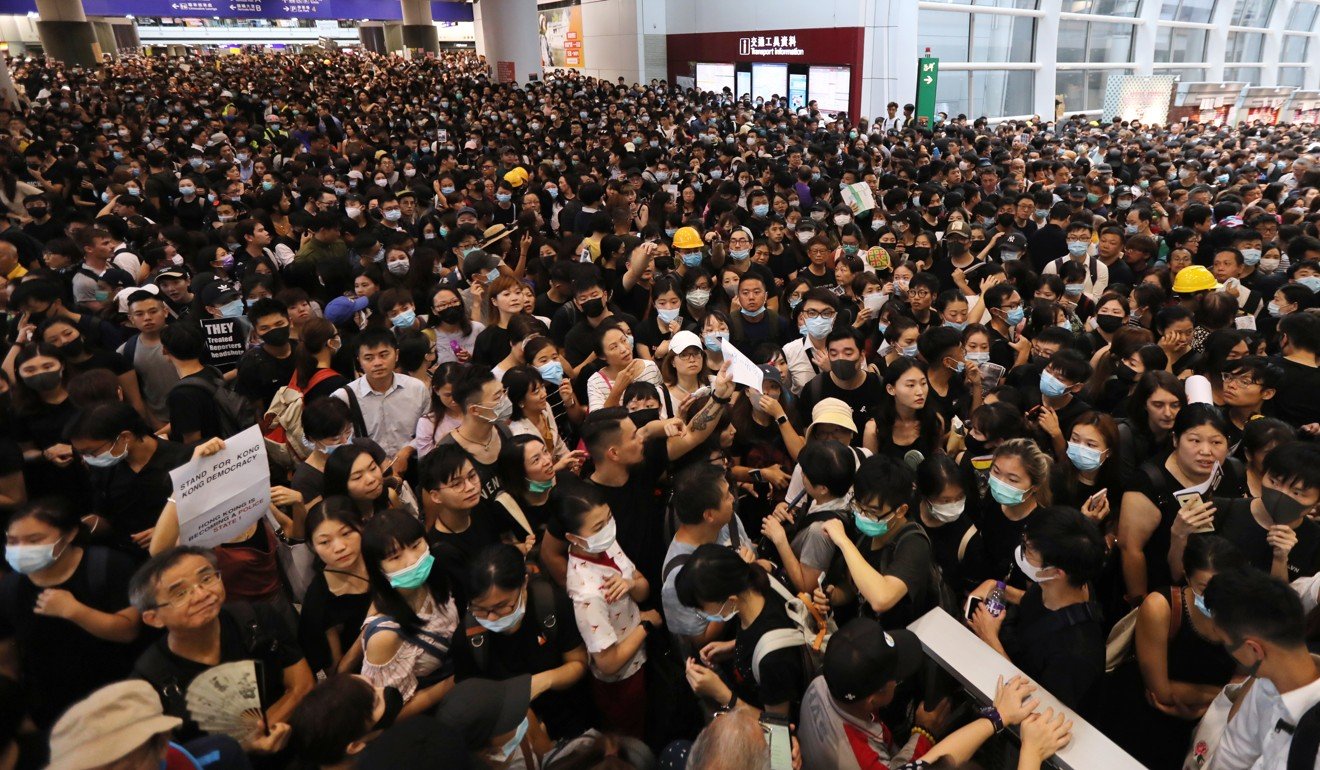 The young man was taken to Princess Margaret Hospital in Kwai Chung, according to the Hospital Authority.
About an hour after his ambulance left, hundreds of protesters surrounded another mainlander in the terminal building. They detained him and tied his hands to a luggage trolley. They found a T-shirt in his backpack featuring the slogan "I love HK police".
He smiled and said, "I support Hong Kong police" in English and Cantonese, after which a protester poured fluid from a bottle on the man's head. He was also kicked and hit with umbrellas.
Paramedics finally got him away in an ambulance at about 12.30am.
Hu Xijin, editor-in-chief of Global Times, said the man involved was reporter Fu Guohao who worked on the mainland newspaper's website.
Shortly after the incident, protesters began leaving the airport.
Earlier on Tuesday, galvanised by their success in crippling airport operations and forcing the cancellation of hundreds of flights in and out of Hong Kong on Monday, protesters swarmed over the arrival and departure halls again, forcing the closure of check-in counters.
This time, the Airport Authority announced that only passengers who had checked in before 4.30pm would be able to fly out, but incoming flights would be allowed in.
There were chaotic scenes, scuffles and loud arguments in the terminal building as many travellers lost their patience at being blocked or delayed for the second straight day by thousands of mostly young, masked protesters in black who flooded both terminal buildings.
Travellers desperate to catch their flights begged to be let past protesters preventing them from entering the restricted departure zone to fly out of Hong Kong.
Scuffles broke out from time to time along a cordon of luggage carts set up by protesters as small groups of agitated travellers tried to push their way through and were shoved back.
A family of three from Thailand, whose flight was cancelled on Monday, were in tears at finding their way blocked again by protesters.
"You can fight with your government, but not me understand? I just want to go home," the mother told protesters while comforting her son. "We will never come here again."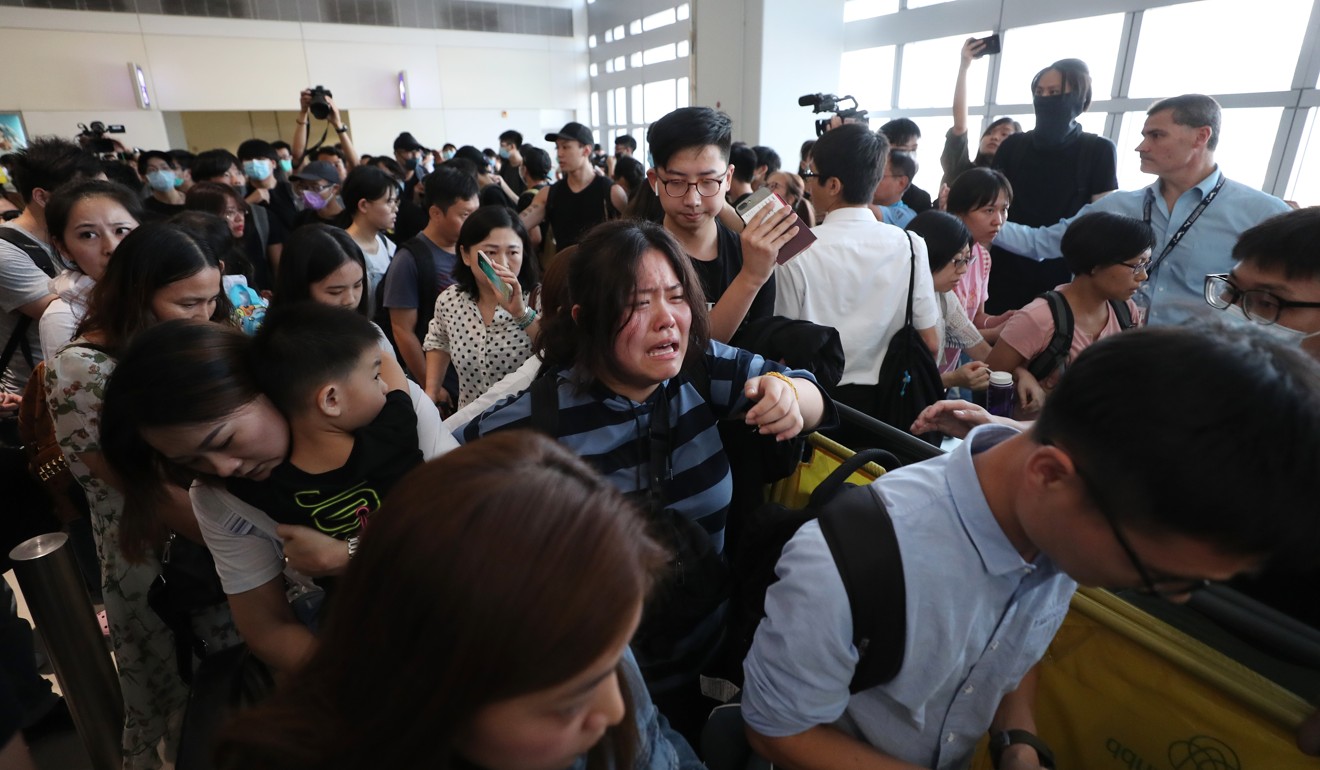 Media reports from Thailand said the country's military had planes on standby to evacuate Thai nationals from Hong Kong if necessary.
Eight athletes from the Hong Kong swimming team were let through the picket line after pleading with the protesters to allow them to fly to Singapore for the FINA World Cup.
"We understand and support what you are doing, but we have qualified for and hope to represent Hong Kong at the World Cup. There aren't that many competition opportunities like this, and I hope you will let us through," swimmer Leo Fung told them.
The Travel Industry Council said nearly 100 tour groups from Hong Kong, involving thousands of local holidaymakers, had their trips cancelled or delayed over the past two days.
The protesters were mostly complaining to an international audience about the escalation of force against them by police.
The main theme was their outrage over one of them being hit in the eye, allegedly by a beanbag round fired by police last Sunday – many wore eye patches in a show of solidarity with the injured woman – and the use of tear gas against demonstrators for the first time at two train stations.
The incidents caught the attention of the UN Human Rights Office, which issued a statement urging Hong Kong authorities to immediately investigate the use of "less-lethal weapons in ways that are prohibited by international norms and standards".
Police insisted their use of force was justified because of intensifying attacks by protesters who were throwing petrol bombs and firing ball bearings at them with catapults, but they also promised to investigate how the woman suffered such a serious eye injury amid conflicting claims and counterclaims about the incident.
Sources told the Post that, in a change of tactics, police would take swift action to disperse and arrest radical protesters at future anti-government rallies to avoid prolonged stand-offs.
With police stations coming under frequent attack by radicals, they said, cordons would be set up in advance to stop protesters from getting close and the elite Special Tactical Squad would be used against the most violent people.
Chief Executive Carrie Lam Cheng Yuet-ngor defended the police as she condemned the airport chaos, lamenting that the city was no longer safe because of protest lawlessness and violence.
"A lot of residents go out and return to the city [through the airport], and many tourists and businesspeople use this transport hub," she said. "Hong Kong's reputation, as a safe society that respects the rule of law, will be in a very dangerous [situation]."
In a direct appeal to the protesters, Lam choked back tears as she said: "Let's spend one minute to look at our city and our home. Can we bear to push it into an abyss where everything will perish? When this all calms down, we will start to have sincere dialogue and rebuild harmony."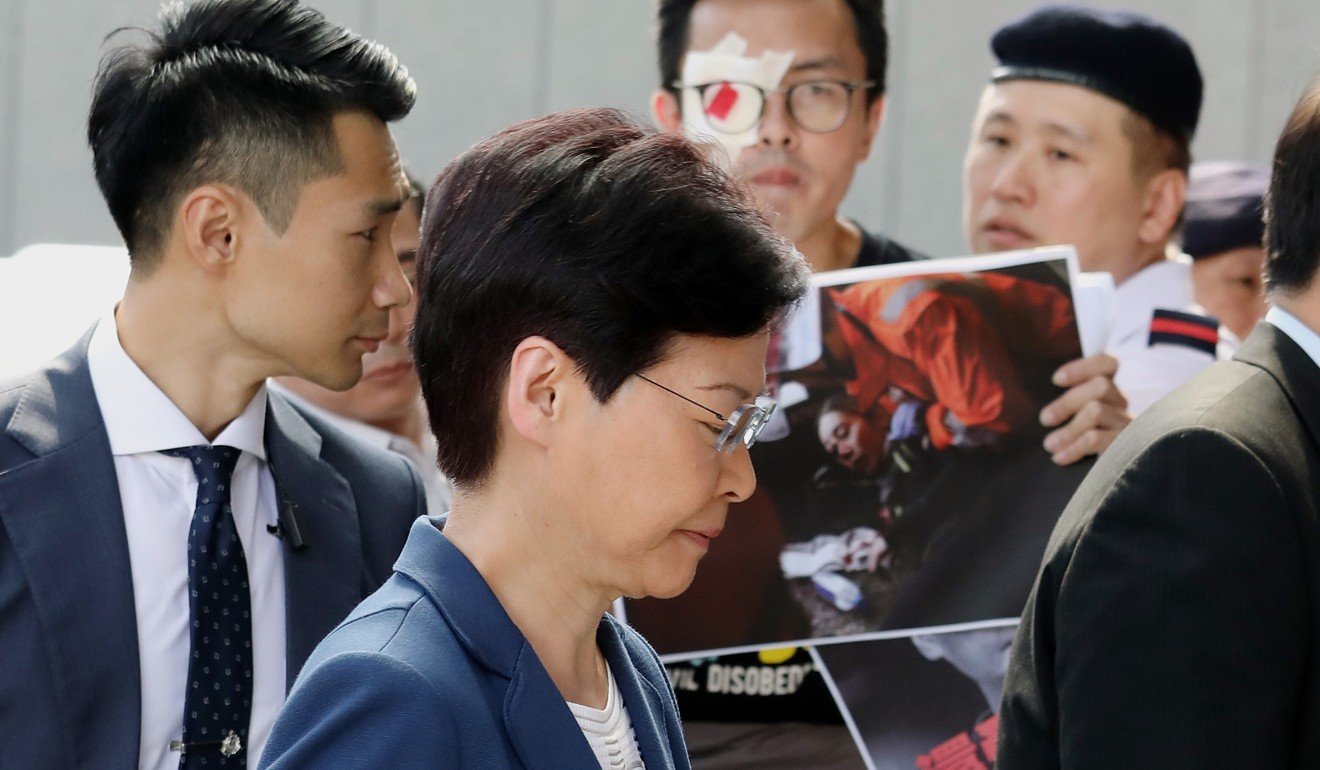 She was frequently interrupted and yelled at by reporters during a 30-minute grilling.
"Mrs Lam, many residents are asking when you will die!" one reporter shouted as she was leaving.
A poll from August 1 to 6 by the Hong Kong Public Opinion Research Institute found that Lam's support rating had dropped to 27.9 points out of 100, a new low after it hit 30.1 points last month.
There was no sympathy for Hong Kong's embattled leader among hundreds of medical professionals who staged sit-ins at 13 public hospitals on Tuesday to condemn the use of force by police.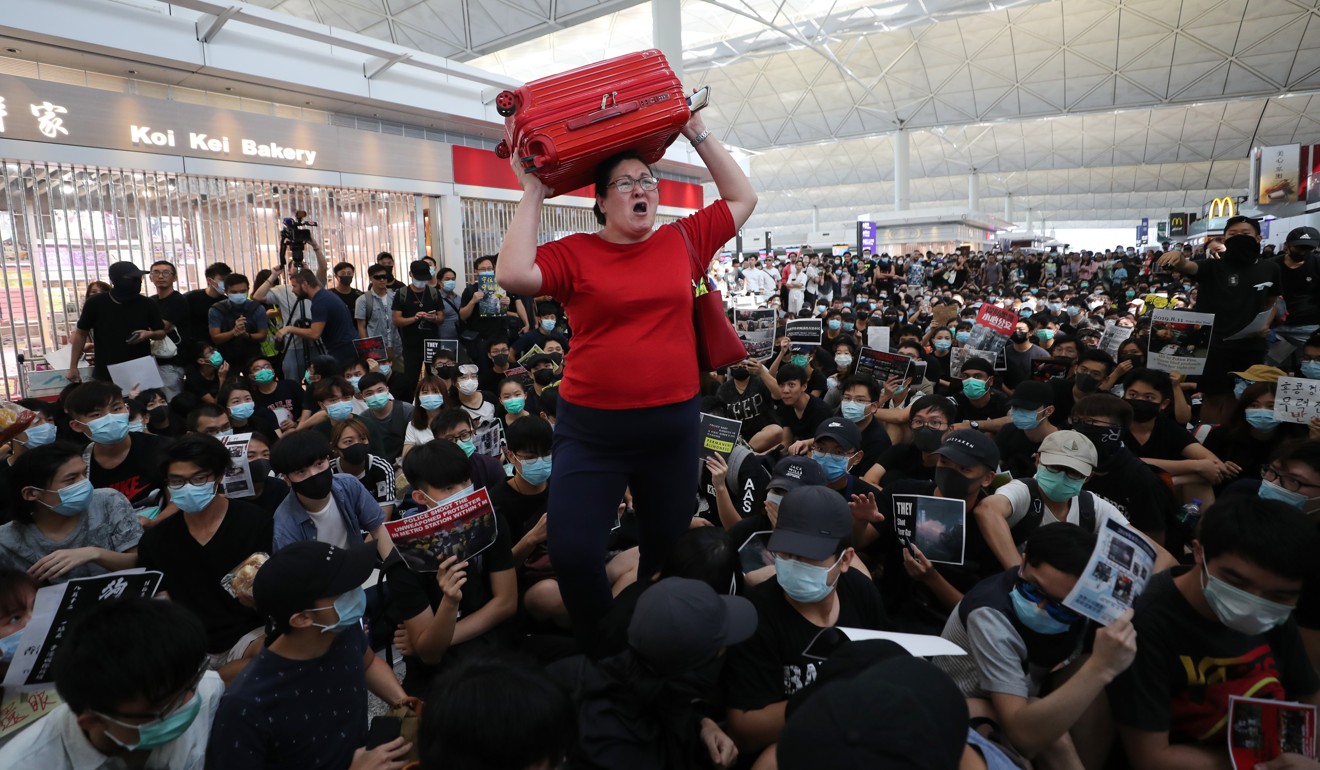 Many wore eye patches to highlight the case of the protester with the severe eye injury.
More trouble was brewing for the coming weekend, with another mass rally in the pipeline.
The Civil Human Rights Front, which has organised a series of huge protests against the government since June, said it would hold another one on Sunday from Causeway Bay to Central to "stop police from messing up Hong Kong". Justice for the injured protester would be a main theme of the march.
Protesters were also planning other rallies, including one in Hung Hom to To Kwa Wan on Saturday.
Reporting by Su Xinqi, Kimmy Chung and Kanis Leung
This article appeared in the South China Morning Post print edition as: Airport rocked by protest violence for the first time