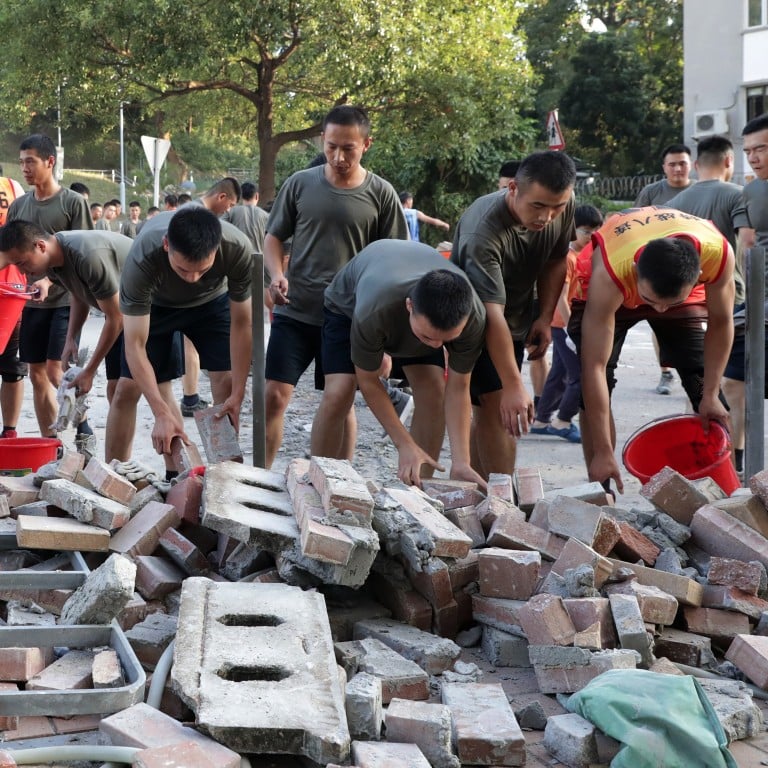 PLA soldiers sent onto streets of Hong Kong for first time since protests began – to help clear roadblocks near Kowloon Tong garrison
One soldier says action has nothing to do with the Hong Kong government
More than 400 soldiers were deployed just over a year ago to help clear-up operation following Typhoon Mangkhut
Chinese soldiers marched out of their barracks for the first time in more than five months of civil unrest in Hong Kong to help clear roadblocks and debris left by radical protesters.
Unarmed and dressed in plain clothes, about 50 soldiers in two neatly arrayed files strode out of the Kowloon East barracks at about 4pm. They immediately began to clear Renfrew Road, which the barracks share with Baptist University's campus.
One of the soldiers said their action had nothing to do with the Hong Kong government.
"We volunteered! Stopping violence and ending chaos is our responsibility," he said, quoting a phrase used by President Xi Jinping.
Joined by dozens of local residents, firefighters and police officers, the soldiers made quick work of the roadblocks, barbed wire and bricks left behind by protesters earlier. At 5pm, they regrouped and marched back to their barracks, shouting patriotic slogans in unison.
This was not the first time the People's Liberation Army local garrison been involved in public community work; they helped remove fallen trees after Typhoon Mangkhut struck last year.
But Saturday's move came at a highly sensitive time, with Hong Kong having been rocked to its core by a series of escalating protests since June.
In a joint statement, 24 opposition lawmakers strongly condemned the garrison for breaching the Basic Law, the city's mini-constitution, as well as the Garrison Law.
The laws state that the garrison "shall not interfere in local affairs" and must tell the Hong Kong government in advance for "military activities such as training or manoeuvres involving public interests".
Alternatively, the laws say, the Hong Kong government can ask the PLA for its assistance to keep public order or help in disaster relief measures.
The opposition lawmakers demanded the government explain the incident.
A government spokesman on Saturday night said the garrison had volunteered its services and it was not at their request. A PLA spokesman said some soldiers saw that local residents were cleaning the road outside the barracks and decided to help.
On its official Weibo account, the PLA described it as "a voluntary act to help local residents and to clear up roads around the barracks".
Professor Zeng Zhiping, a military law expert at Soochow University and a retired PLA lieutenant colonel, dismissed the lawmakers' criticism, saying it was clear the soldiers were not carrying out any military activities.
"They are not wearing uniform and this is not a military mission. They are not interfering with any lawful local affairs. This is not disaster relief work or involves keeping public order. They are just there to sweep streets. There is no law to regulate that. We can only call it 'good behaviour'," he said.
Last year, Secretary for Security John Lee Ka-chiu said the PLA could freely decide on whether to send soldiers to perform volunteer services outside military sites, as it was not regulated by the Garrison Law.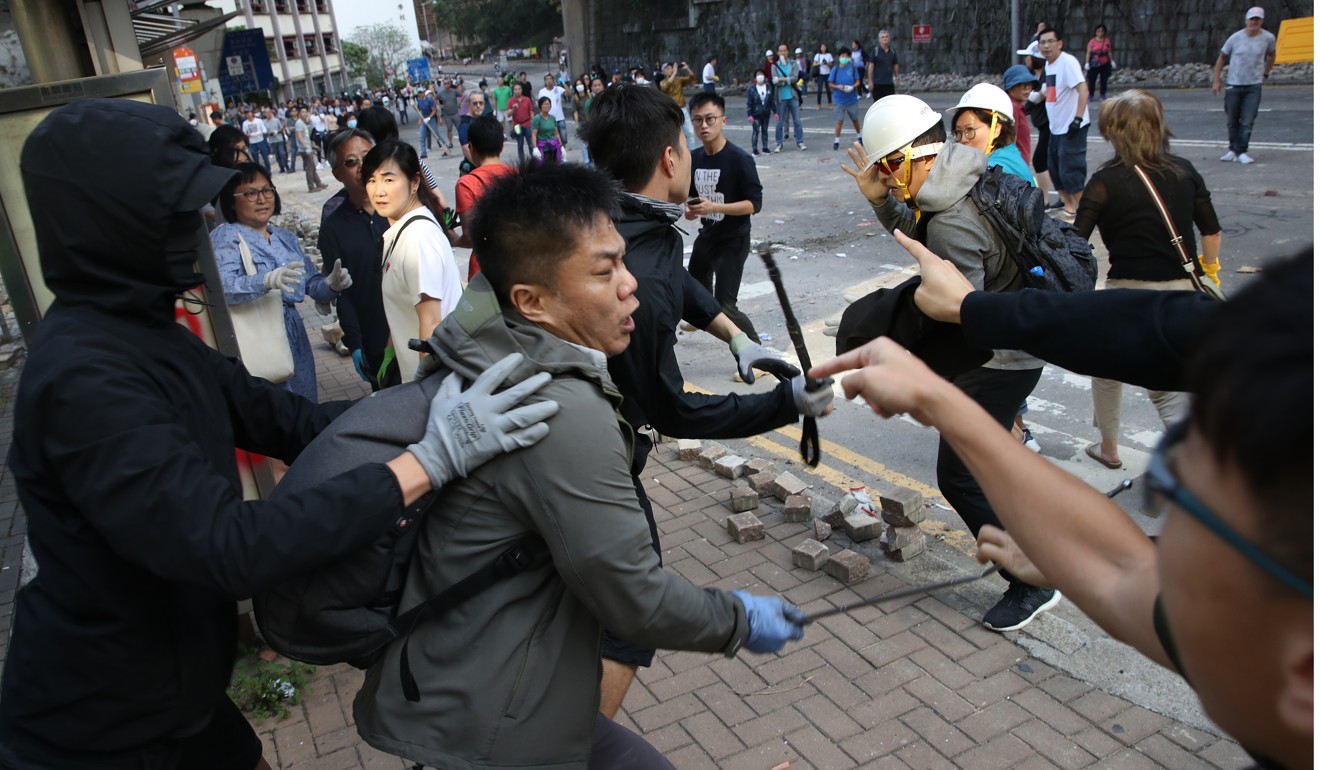 Speculation about whether Beijing will use its troops stationed in Hong Kong to quell anti-government protests has run rampant since the beginning. Earlier this week, an American congressional advisory body said the US Congress should enact legislation that would suspend the special economic status of Hong Kong if China used military force to crush the protests.
Zeng said Saturday's move was rich in symbolic meaning. It sent a reminder of the presence of the Chinese troops in a non-threatening way and showed to the Hong Kong public that the soldiers were "in this together with them".
Intriguingly, some soldiers wore basketball T-shirts with the logo of "Special Forces, the Eighth Company" or "Xuefeng Special Operations Brigade".
These are the two crack troops of the PLA established to fight terrorism or conduct special operations. The Xuefeng brigade was established by Marshal Peng Dehuai – who led Chinese troops against the Americans in the Korean war.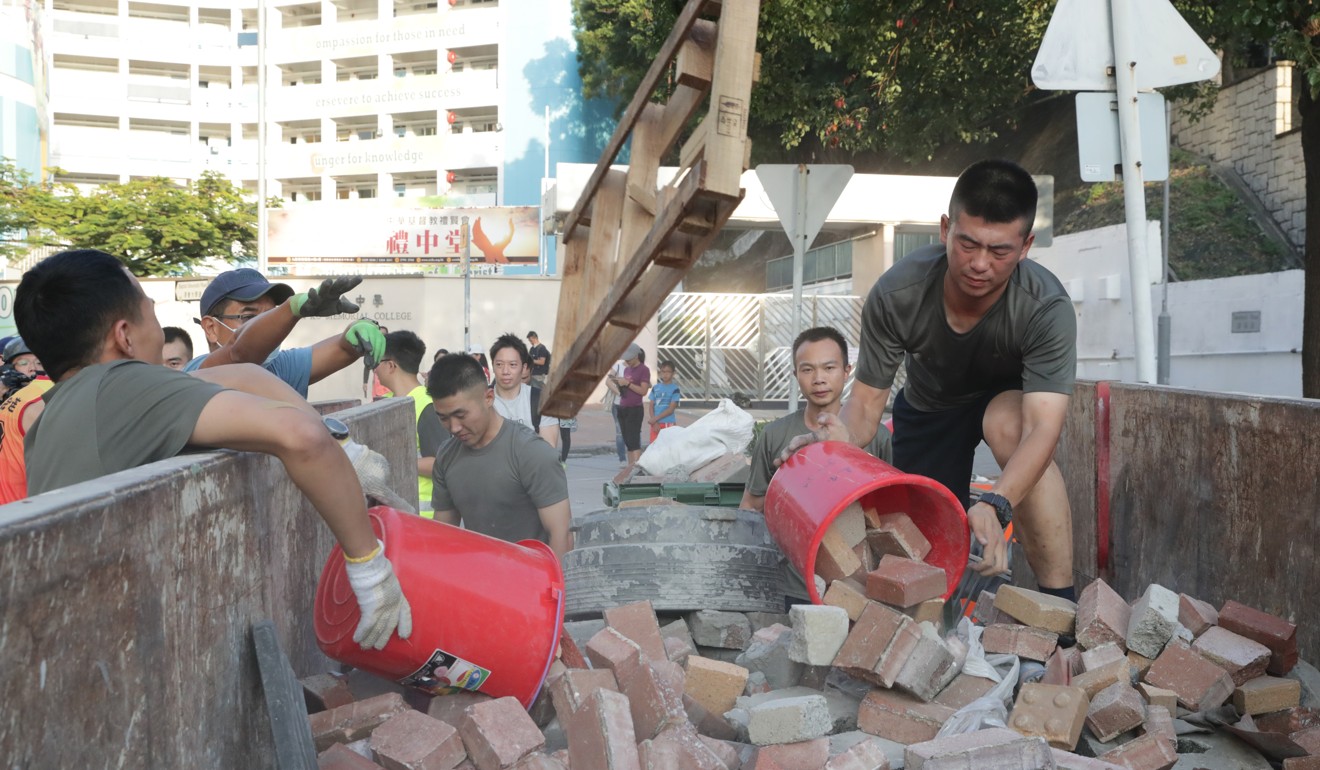 The drama outside the PLA barracks was part of a bigger story on Saturday, which was noticeably more peaceful than previous days in a turbulent week that had seen masked radicals blocking dozens of main roads across Hong Kong and occupying several university campuses.
With the radicals pulling out of Chinese University – one of the main battlegrounds – traffic on Tolo Highway, which connects the eastern New Territories and Kowloon, resumed. Earlier in the week, masked radicals occupied the campus and a bridge that overlooks the highway, throwing petrol bombs and other objects to block traffic.
It was a similar scenario at Polytechnic University, City University, Baptist University and the University of Hong Kong. Adjacent to PolyU, the Cross-Harbour Tunnel, which links Hong Kong Island to Kowloon, has been blocked since Wednesday night – the longest closure in more than a decade.
With the radicals' ranks thinning, local residents on Saturday came out in their hundreds to clear blocked roads outside the campuses.
Some skirmishes broke out as the radicals tried to stop residents from removing their barricades.
Outside HKU, a few masked radicals threw petrol bombs from a footbridge at unarmed residents and volunteers who were clearing the roads. One masked protester shouted that they were fighting for Hong Kong's freedoms and asked those who disagreed with them to leave the city.
A scuffle broke out when some masked protesters tried to stop the volunteers, but the radicals quickly withdrew back to the campus as they were outnumbered.
"We have to help Hong Kong, and we have to help ourselves," said Pauline Ho, 54, a volunteer who travelled from Kowloon to HKU to help clean up.
Outside PolyU, about 10 residents were attacked as they removed debris and obstacles from Chatham Road South. A man and a woman were left bleeding with head injuries and had to be sent to hospital.
Near City University, about 100 people who were there to clear roadblocks had bricks and petrol bombs thrown at them by a group in masks. Nobody was injured. The university later issued a statement, questioning whether the radicals were their students and asked them to leave the campus.
Police said that, with the help of locals, several main roads, including Tai Po Road, Tai Po Tai Wo Road and Tong Ming Street in Tseung Kwan O were opened on Saturday.
Hong Kong has endured one of the most violent and chaotic weeks in its five-month-long festering social unrest.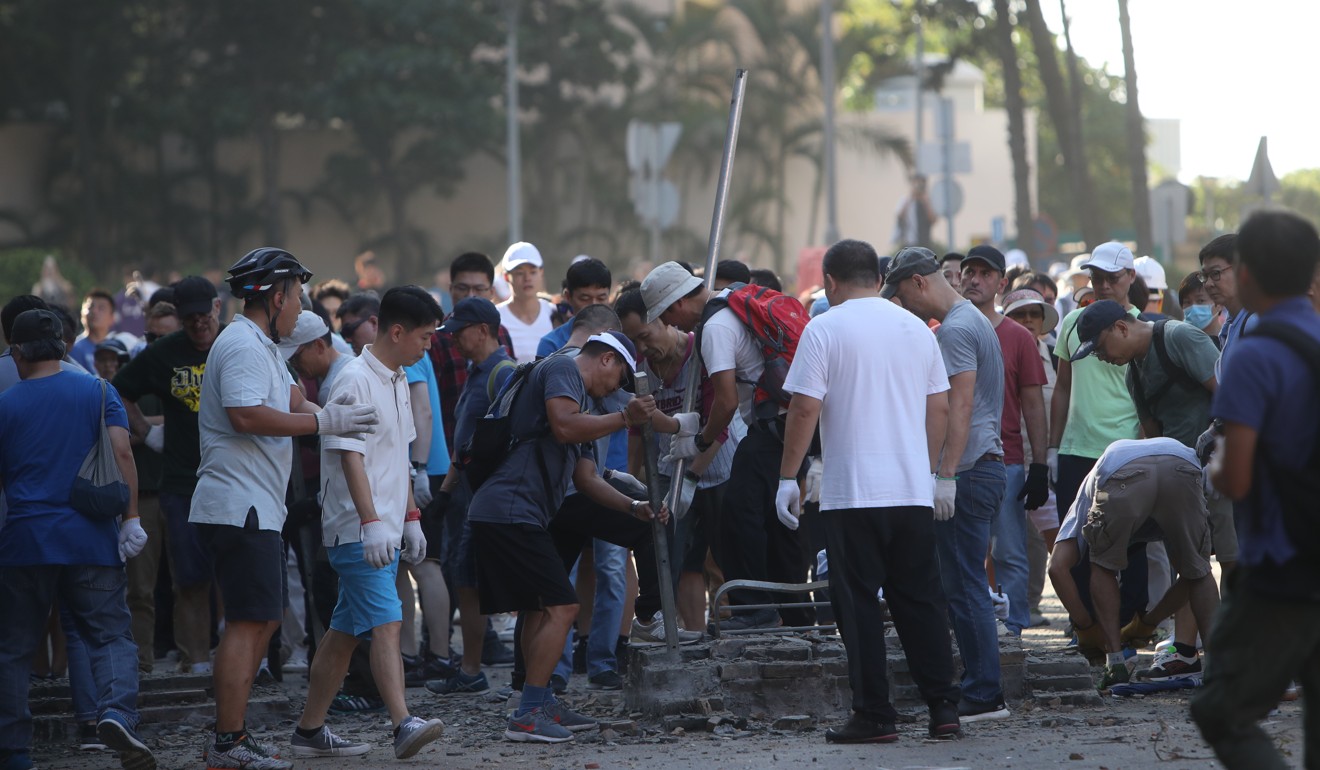 The radical protesters seem to have switched to a new strategy – instead of staging their often violent and illegal protests during the weekend, they now moved the action to weekdays, causing huge disruptions to people's livelihoods and further polarising a bitterly divided society.
In the face of these new pressure tactics, the Hong Kong government refused to give in, particularly after President Xi, who is in Brazil for an international summit, took the rare step of making a public comment on the situation, saying the city needed to make ending violence its top priority.
Since Friday night, some masked radicals had begun to withdraw from university campuses. There were still a few hundred of them left at PolyU – their last stronghold.
A protester named Jeffy, 17, told the Post he believed more than 90 per cent of those staying behind were not PolyU students.
But Owen Li, a PolyU student and elected member of the university's governing council, said the student union's representative would stay on the campus as long as it was safe.
A group claiming to be Hong Kong students issued a statement to apologise for the disruption, but said it was "the only thing" they could do to "vent their anger on the government and police".
As night fell, tensions flared up again outside PolyU. Dozens of riot police advanced towards the campus and tried to remove some road obstacles. They were met with a hail of petrol bombs and bricks. Police fired tear gas back in return.
The two sides were still locked in a tense stand-off at midnight.
In a separate development, a rally was held in Sheung Shui on Saturday to pay tribute to a 70-year-old cleaner who died on Thursday, one day after being hit on the head by a thrown brick during a clash between anti-government protesters and residents.
Reporting by Victor Ting, Simone McCarthy, Kinling Lo, Kathleen Magramo, Kanis Leung and Tony Cheung
This article appeared in the South China Morning Post print edition as: PLA soldiers leave barracks to help clear blocked roads