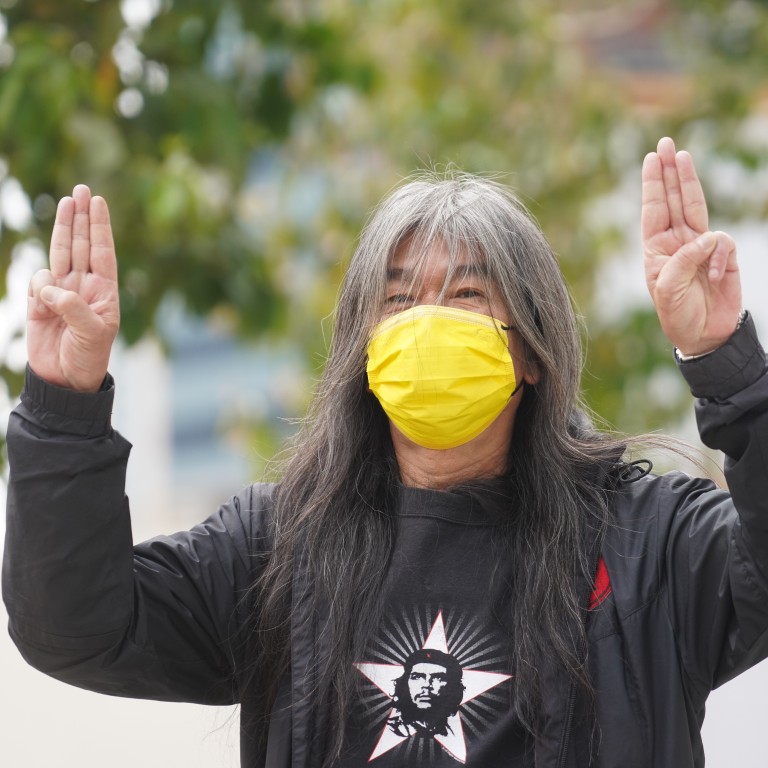 Hong Kong lawmakers can face criminal charges for disrupting Legco, Court of Final Appeal rules in landmark decision
Monday's ruling could have a direct impact on 11 former opposition politicians facing charges tied to acts within legislature
Defence had previously argued that Leung Kwok-hung's snatching of a folder from a government official fell within bounds of free speech and debate
A Hong Kong lawmaker can face criminal sanctions for disrupting
Legislative Council
proceedings, the city's top court has ruled – a landmark decision that could potentially result in the conviction of 11 former opposition politicians.
Five Court of Final Appeal judges on Monday unanimously upheld the legality of charging a lawmaker with contempt for causing disturbances during legislative sessions.
The highly anticipated ruling sets clear boundaries around the privilege enjoyed by Legco members under an ordinance conferring on them freedom of speech and debate inside the legislature.
Ex-lawmaker "Long Hair" Leung Kwok-hung, who lodged the appeal that led to the ruling, will now have to stand trial for snatching a folder from a government official during a panel meeting on November 15, 2016.
The 65-year-old, who is currently remanded in jail for allegedly breaking the
national security law
in another case, is believed to be the first member prosecuted under Section 17(c) of the Legislative Council (Powers and Privileges) Ordinance, which directly penalises interruptions of Legco sittings.
A magistrate halted the trial in March 2018 after ruling that Leung, then a lawmaker, was immune to the charge.
The Court of Appeal overturned the ruling in June last year, finding legislators were not above the law, but that judgment was also appealed.
Sections 3 and 4 of the 1985 ordinance state that there shall be freedom of speech and debate in Legco or proceedings before a committee, and that no legal action can be launched against a lawmaker "for words spoken before, or written in a report to" a Legco sitting.
In the hearing before the top court last month, Leung's counsel submitted that the two provisions mirrored Article 9 of the Bill of Rights 1689 – a landmark text in British constitutional law which provides that no prosecutions can be initiated over proceedings in the parliament – and effectively immunised lawmakers against legal action for what was said and done within Legco.
But the top court disagreed, ruling that the privilege granted by the ordinance was narrower than that established by the British text, and that the city's mini-constitution, the
Basic Law
, only exempted lawmakers from being questioned in court over statements made in the legislature.
Mr Justice Joseph Fok, who penned Monday's judgment, said the two provisions must be understood in the context of the ordinance's statutory purpose, which was to create "a secure and dignified environment conducive to the legislature carrying out its constitutional functions at its sittings without disruption or disturbance".
"Whilst the limits of the freedom are widely drawn and properly described as absolute, conduct which does not form part of any speech or debate in Legco falls outside the Section 3 privilege," he wrote.
While acknowledging that determining what fell within the protection of speech and debate and what did not could be ambiguous, Fok said that was not so in Leung's case, as he was neither making a statement nor engaging in a debate when he allegedly stole the property concerned.
The judge further held that Legco waived any exclusivity in its disciplinary jurisdiction and conferred penal powers on the courts when it enacted Section 17(c).
"There is no issue of separation of powers ... The non-intervention principle has no application," he said.
The non-intervention principle was established in a 2014 judgment, where the Court of Final Appeal dismissed Leung's application to judicially review the Legco president's decision to slash the time for debate in a bid to end a filibuster campaign.
But filibustering was to be distinguished from causing an interruption in proceedings, Fok said, as the former was "clearly a matter involving the internal processes of the legislature".
Leung's wife, League of Social Democrats chairwoman Chan Po-ying, expressed disappointment with the ruling, saying it would restrict the freedom of speech and debate enjoyed by Legco members.
The ruling will have a bearing on the prosecution of 10 other former opposition camp legislators facing charges under the same ordinance.
Five of them – Andrew Wan Siu-kin, Helena Wong Pik-wan, Fernando Cheung Chiu-hung, Raymond Chan Chi-chuen and Eddie Chu Hoi-dick – have been accused of contempt in relation to three incidents at Legco last year.
Separately, Chan and Chu were charged alongside Au Nok-hin, Leung Yiu-chung, Gary Fan Kwok-wai, Lam Cheuk-ting and Kwok Ka-ki with obstructing three of their pro-establishment colleagues during a committee meeting on May 11, 2020. Those cases have been put on hold pending Leung's appeal.