Japan
Get more with myNEWS
A personalised news feed of stories that matter to you
Learn more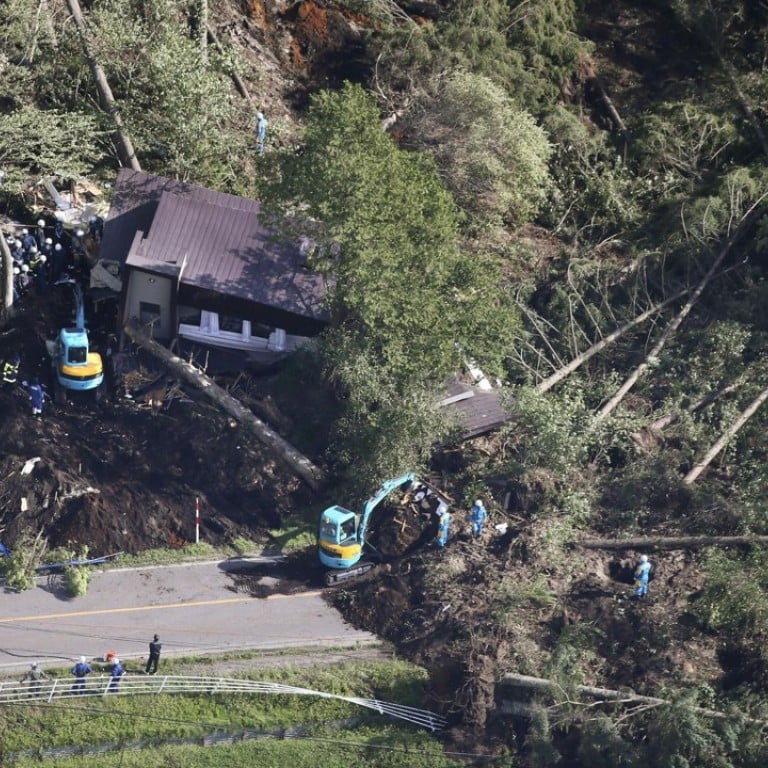 Hokkaido earthquake: Swaying hotels and light fixtures reported by Hongkongers holidaying in northern Japan when 6.7 magnitude quake hit
At least 370 visitors in tour groups from Hong Kong are at the popular destination, as landslides and power outages wreak havoc
Hong Kong residents holidaying in Hokkaido recounted the terror and panic they felt on Thursday after a powerful 6.7-magnitude earthquake hit the northern Japanese island before dawn, killing at least eight people and injuring more than 150.
Thousands of tourists, including hundreds from Hong Kong, were stranded as the major air hub serving Hokkaido, New Chitose Airport, was shut down.
"The house was, like, swaying from left to right" when the quake hit, said Leung Wai-chung, a Hong Kong tourist who had checked into a guesthouse in downtown Sapporo, some 68km (42 miles) north of the epicentre, just hours before the quake hit.
"We were shaken from beds and then dashed out into the open space immediately," he said. "The city was wrapped in total darkness. There was no electricity."
The epicentre of the quake was east of the city of Tomakomai, some 52km (32 miles) south of Hokkaido's capital city, Sapporo.
It caused deadly landslides, cut off power to nearly 3 million homes and forced all airports and train stations to suspend operations.
All four Thursday flights between Sapporo and Hong Kong were cancelled, along with another two scheduled for Friday.
At least 13 tour groups comprising about 370 Hongkongers were in the Sapporo area at the time of the quake, according to the Travel Industry Council of Hong Kong. Four of the groups, accounting for around 120 people scheduled to return home on Thursday, were stranded.
"All are safe," said the council's executive director, Alice Chan Cheung Lok-yee.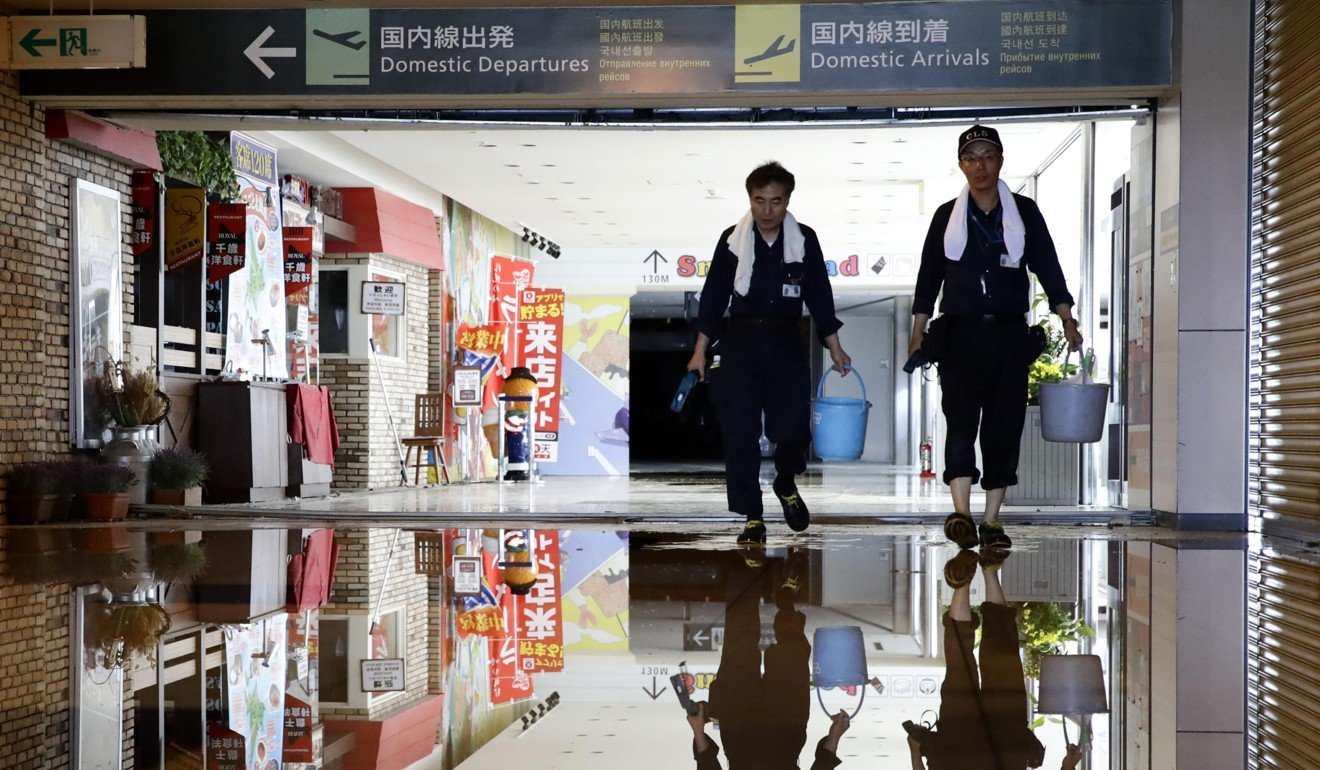 Hongkonger Jason Cheng, in Hokkaido on the sixth of an eight-day trip to Japan with his family, said he was in the port city of Otaru when he felt the impact, about 100km (62 miles) from the epicentre.
"The first thing that came to my mind was, why is there a train passing by my room?" he recalled.
Another local tourist visiting Sapporo told a Hong Kong radio station that it felt like being on a "small amusement park ride".
Most shops were closed, and Hong Kong tourists reported a sense of calm, although many people were queuing outside stores to stock up on essential goods.
Jonathan Knight, a former Hong Kong resident and British national who works at the island's ski resort of Niseko, said the quake was also felt there, 100km from the epicentre.
"The lamps were swinging wildly and it all seemed to be happening so quickly, which was difficult to process, having just awakened," he said.
Hokkaido's Tomari nuclear power plant, which was not operational, was forced to turn to emergency backup power to keep its cooling system working.
Fully restoring electricity throughout the region could take more than a week, economy minster Horishige Seko told local media.
New Chitose Airport was reported to have suffered "extensive structural damage", including "collapsed wall panels and burst water pipes". But there was no report of runway damage.
Some 20,000 rescuers, including police and military personnel, were responding to the disaster, officials said. Another 20,000 were due to join rescue efforts.


The earthquake hit just after large parts of southwest Japan were battered by Typhoon Jebi, the worst such storm in 25 years.
Severe flooding brought by the typhoon shut down Kansai International Airport, a major regional hub in western Japan, and killed at least 11 people.
Xinhua reported that 1,044 stranded Chinese passengers, including 111 Hongkongers, had been evacuated from Kansai airport with the help of Beijing's consulate-general in Osaka.
Information from Reuters, NHK, Kyodo, and Xinhua was used in this report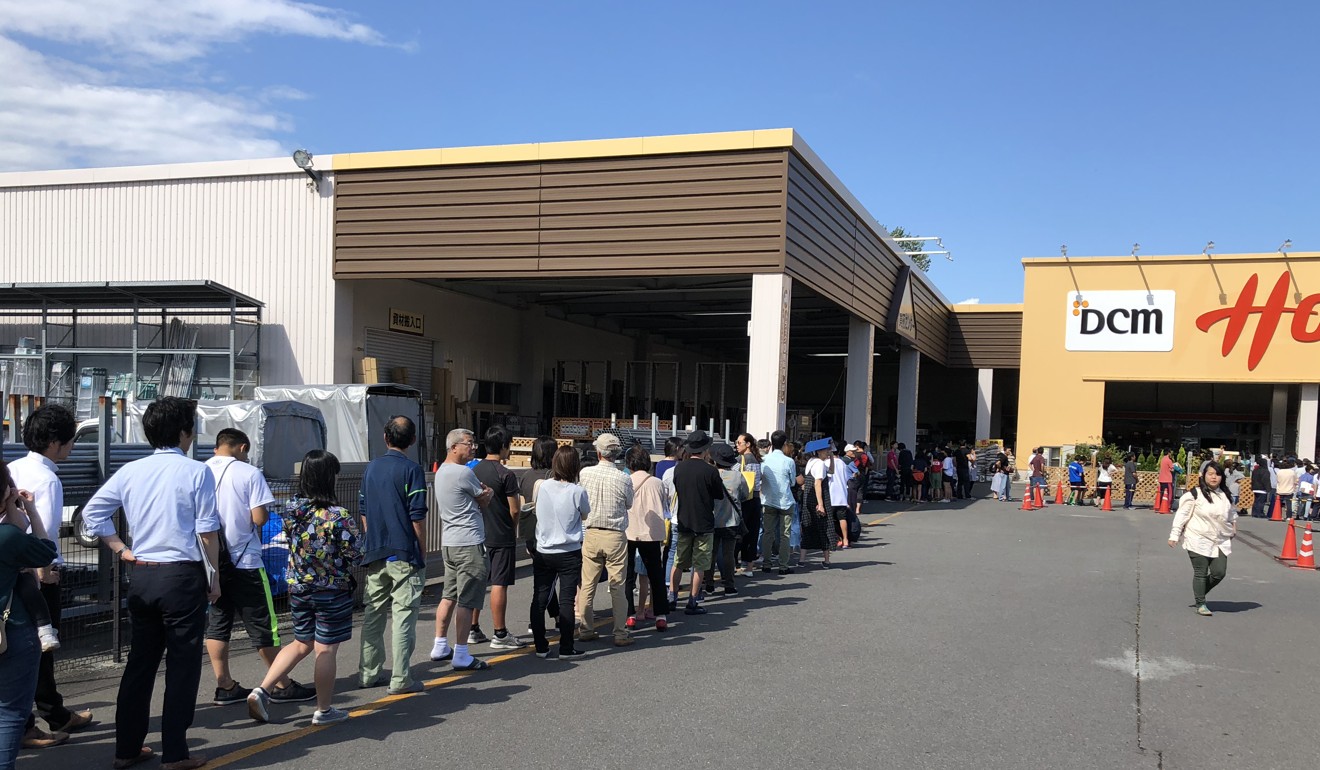 This article appeared in the South China Morning Post print edition as: HK tourists stranded but safe after quake