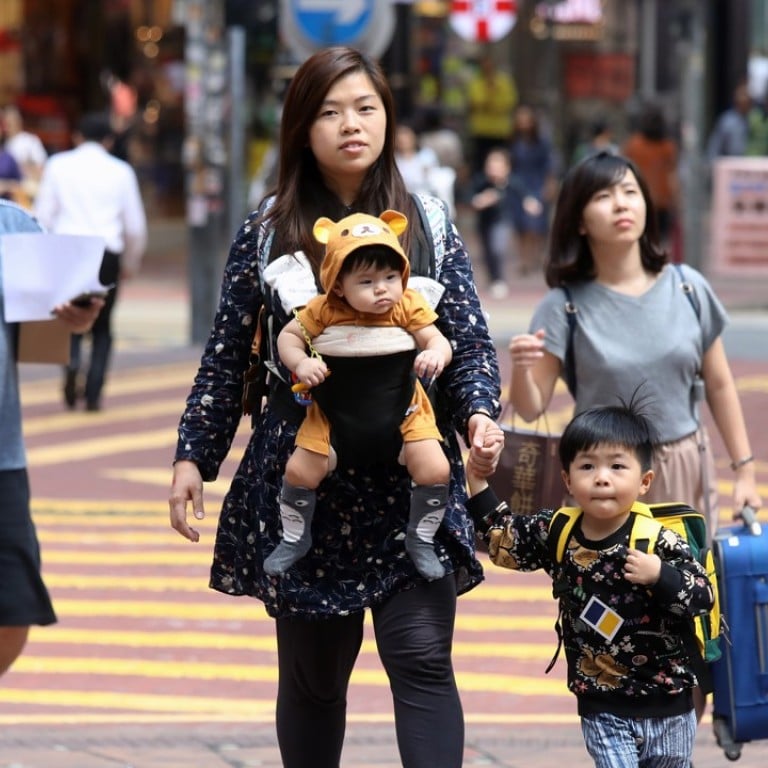 Despite coming changes, Hong Kong mothers still face uphill battle in workplace
The raft of family-friendly measures announced in the chief executive's policy address may not be enough to deal with entrenched attitudes and practices
Hong Kong's working culture blamed for low female workforce participation and lack of women in senior positions

When Mandy Chan Man-yee returned to work at a law firm after her maternity leave in May, she was asked to step down from her position as legal secretary to be a receptionist instead.
"It hit me hard," the mother of a 3½-year-old boy and a seven-month-old girl said. "After all, I'd spent the last eight years establishing my career as a legal secretary at the firm."
Chan, 31, said her supervisors hinted that if she did not do as she was told, she would be let go. She resigned.
When Chan first served notice of her pregnancy, a senior partner at the firm had sat her down for a two-hour chat about the "potential implications" on the firm's operations. But it is illegal in Hong Kong for employers to fire pregnant employees.
"I thought I must have exhausted their tolerance," said Chan, who had both her children while working at the company.
Hong Kong Chief Executive Carrie Lam Cheng Yuet-ngor wants to improve the plight of women in the workplace, and in her policy address earlier this month, she proposed a clutch of family-friendly goals. Among them: having more women in advisory and statutory bodies, improving childcare resources,
extending maternity leave from 10 to 14 weeks
, and giving fathers five days' paternity leave – two more than before.
Many consider these measures a step in the right direction, but if Chan's experience is anything to go by, change will be an uphill battle against employers' entrenched attitudes and unfriendly policies when it comes to having mothers at work.
Chan is convinced she was penalised at the workplace for being a mother. After her son was born in 2015, she found it hard to work overtime like she did before, when she had left the office as late as 11pm several nights a week.
She was also piled with additional tasks beyond her scope of work, such as administrative chores and the work of other legal secretaries.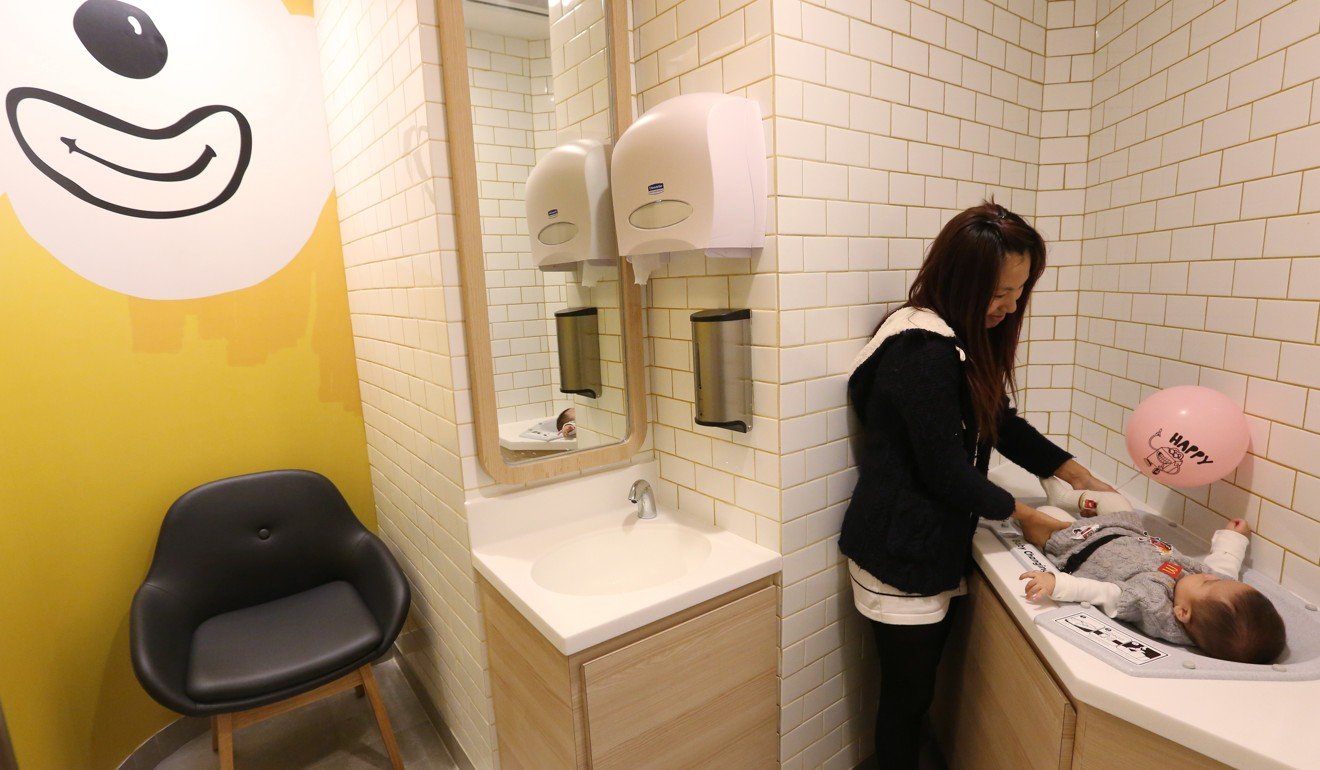 "With my new obligations at home, I just couldn't push myself the way I used to," Chan said. "I tried voicing my concerns, but my bosses accused me of making things difficult for them."
The law firm where she worked had about 40 employees and was run by four partners – all men. The only woman in a leading role was the wife of a senior partner.
Chan also faced problems on another front. A breastfeeding advocate, she said she was under constant pressure to stop pumping breast milk at work. She usually did so once or twice a day, for 15 to 30 minutes each time, and used whatever space was available.
"Some of my colleagues were nice enough to offer their rooms, but I didn't want to get in the way of their work."
She finally stopped pumping milk at work when her son turned one, and after the wife of a senior partner suggested she stop.
After she left the firm, the issue resurfaced when she applied for a part-time job as an administrative assistant in an office run by two male managers. When the company found out she was breastfeeding her baby daughter, she said, they told her their office was too unsanitary and did not have a refrigerator for storing her milk.
Her application was unsuccessful, and the experience made her decide to put off looking for a job until her daughter turned one.
"If I have to be out of work for a year to ensure my child gets the breast milk she needs, so be it," she said, though she worried that an extended period at home might affect her chances of being employed again.
Chan hopes society will not begrudge working mothers the time they need to spend with their young children.
"If society expects us to put motherhood on hold just so we can continue powering through our work, that wouldn't be good for anybody," she said.
Statistics show that Hong Kong women are staying away from the workplace, and it could be employers' attitudes that are keeping them at home.
Fiona Nott, chief executive officer of The Women's Foundation, a non-profit organisation dedicated to improving the lives of women and girls in the city, said: "Hong Kong really lags behind other global financial centres when it comes to women's participation in the workplace, and this needs to change."
Data from the World Bank shows that at just 55 per cent in 2017, the local female participation rate is lower than 60 per cent in Singapore, 61 per cent in mainland China and 59 per cent in Australia. The female labour force participation rate is the percentage of the female population aged 15 and older who are economically active.
Nott believes one of the reasons behind the low workforce participation rate, and lack of women in senior positions, is because Hong Kong is not a city that has a family-friendly working culture.
"Hong Kong has some of the longest working hours in the world," she said. "According to a Women's Commission survey, around 30 per cent of women drop out of the workforce due to caring responsibilities, such as childcare and eldercare."
Nott said she wished more Hong Kong employers would grasp the benefits of having a more diverse workplace.
Citing a recent study by the Equal Opportunities Commission, which revealed that less than 50 per cent of Hong Kong employers would hire women with children, Nott pointed out that gender-diverse companies were known to have higher revenue, stronger decision-making, and better performance.
"Having gender diversity gives employers the incentive to understand the work-life needs of their employees and to review existing family-friendly measures," she said. "Employees who are satisfied with their work-life balance are more likely to stay at their current organisation and are more productive."
Commending the city's chief executive for urging listed companies to appoint more female board directors, Nott said companies should also implement strategies to increase the number of women in management positions, and adopt family-friendly policies that would help them attract and retain female employees.
"Our city is grappling with numerous demographic, social and economic challenges that require the talent of all our residents. And women in Hong Kong represent a large pool of untapped talent," she said.
Helping hands
In her policy address, Lam also pledged to look into the severe shortage of childcare centres. But Sisi Liu Pui-shan, director of the Hong Kong Federation of Women's Centres, is not optimistic things will change any time soon.
"Even after the government earmarks land for the development of childcare centres, they'll still need to conduct consultations, which take time and are not always successful," she said. "And because land supply is tight, it could also mean taking away from other social services."
Lam had also mentioned that the government intended to improve the Neighbourhood Support Child Care Project, through which children are placed in the care of volunteer nannies.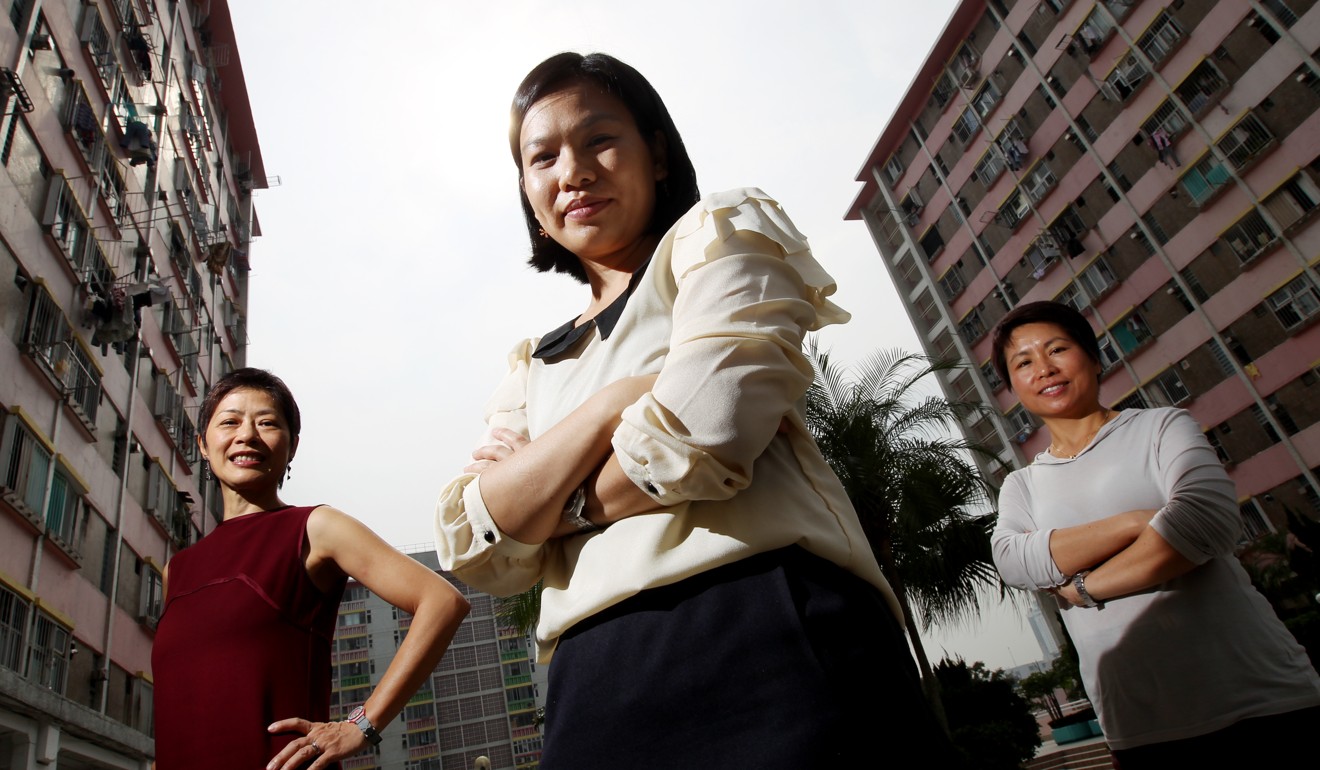 Liu suggested that the authorities make nannying a profession, and consider creating a nanny registry.
"Many parents don't trust the project because the nannies only go through a few hours of training, and parents don't know whether the nannies' homes are safe," she said. "But if we put them through professional training, and ensure that their homes meet the same standards as foster homes, that would set parents' minds at ease."
Recognising nannying as a profession would also enable the authorities to put candidates through sex offender checks, giving parents a greater sense of security, she added.
But these changes could come with added costs. Liu said the government should subsidise parents who found it a struggle to hire professional nannies or even parents like Chan, who took time off work for childcare.
"My mother-in-law was just a few years shy of being eligible for the pension scheme at her workplace, but she quit to take care of my children so that I could continue developing my career," Chan said.
She added that every now and then, she heard of women friends being told to give up their careers to take care of their families.
Many Hong Kong fathers leave the bulk of the childcare duties to their wives.
Long commutes and a 50-hour work week make sparing time for childcare difficult for Chan's 39-year-old husband, Lam Chung-wing, who works as a Chinese medicine pharmacist.
"As long as he can make time for our children over the weekend, I'm happy," she said.
Chan believes Hong Kong fathers could start doing more for their children if they had as much parental leave as mothers.
"This could change the way people think, and they would see that men and women can be equally involved in raising their children and equally capable of developing their own careers," Chan said.
Associate law professor Puja Kapai, who is also convenor of the Women's Studies Research Centre at the University of Hong Kong, shares a similar view.
In Hong Kong, the burden of childcare is placed squarely on women. To change that, Kapai believes the city should look to Scandinavia, where countries like Sweden have 90 days of paternity leave.
"This shows that when it comes to parenting, it's down to both parents," Kapai said. "Fathers need enough paternity leave to provide spousal support – not just shop for the new baby."
While maternity leave in Hong Kong will be extended to 14 weeks, paternity leave is going up to only five days.
Liu said another way to promote equal involvement in child-rearing was to introduce parental leave, which could also be used to care for other family members.
While she welcomed the extension to maternity leave, she felt women should be paid their full wage during their time off instead of the current four-fifths.
"When women give birth, they're contributing to the development of society," Liu said. "Why should we punish them for doing that?"