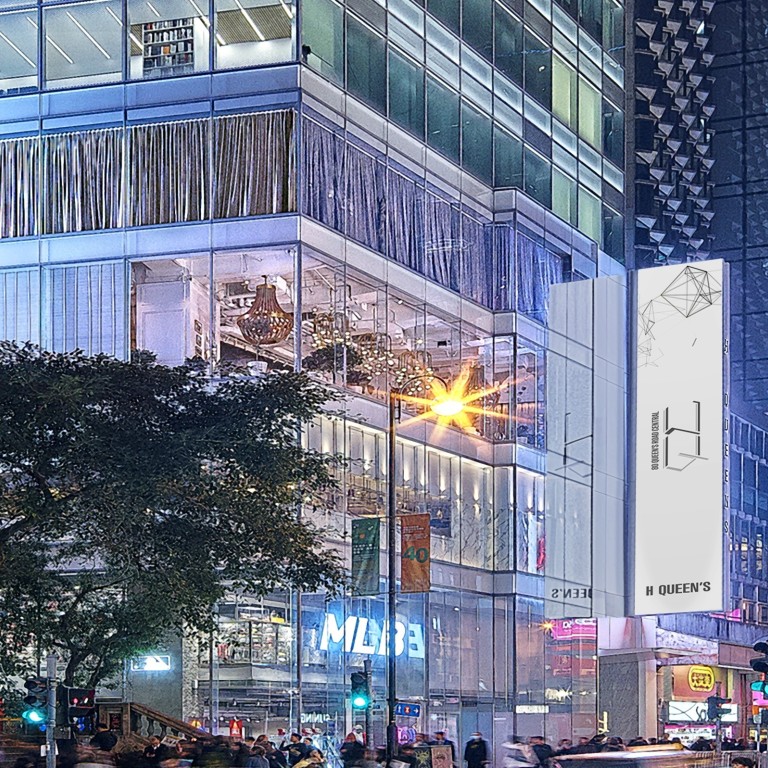 Get set for an art-tastic time at H Queen's
[Sponsored Article]
The Hong Kong Arts Month is in full swing with the much-anticipated return of Art Basel and Art Central this week.  To get the most out of your art feast, pace yourself and start at H Queen's, Hong Kong's pre-eminent destination for art lovers. The award-winning architectural icon and lifestyle destination spares no effort in promoting the arts, with May a fabulous time for art lovers to visit. 
A real treat for your senses
Check out the slew of contemporary works across multiple media from influential artists at five world-class art galleries spread over eight floors.  Some of these works are making their worldwide debut, so be sure they are on the top of your must-see list.
David Zwirner presents The Real World (18 May - 31 Jul)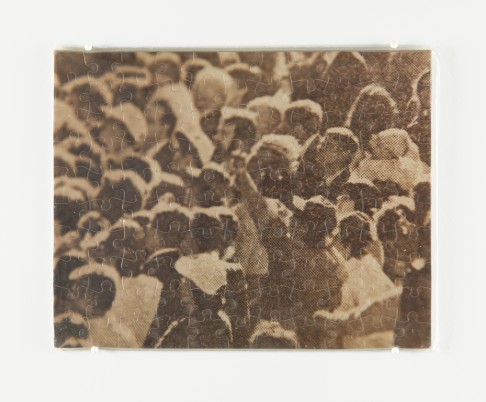 David Zwirner is presenting a group show "The Real World" featuring works from gallery artists Felix Gonzalez-Torres, Raymond Pettibon, Jason Rhoades, Diana Thater, Rirkrit Tiravanija, and Lisa Yuskavage. 
The paintings, sculptures, and installations from the 1990s and early 2000s exemplify the groundbreaking and alternative approaches these artists pursued in their respective practices as they emerged as major artistic influences within the New York and Los Angeles art worlds.
Presented today against the backdrop of the COVID-19 pandemic, these artists' engagements with the social dimensions of art - whether in the form of the viewer's active participation or through the shared language of everyday experiences, objects, and cultural references - feel all the more relevant and necessary.
David Zwirner – 5-6/F, H Queen's 
Hauser & Wirth presents Jack Whitten (30 Mar - 31 Jul)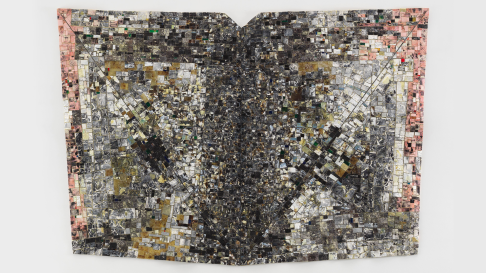 The notable Swiss gallery presents the late American abstractionist Jack Whitten's first solo exhibition in Asia. Celebrated for his innovative processes of applying paint to the surface of his canvases and transfiguring their material terrains, Whitten's work bridges rhythms of gestural abstraction and process art, arriving at a nuanced language of painting that hovers between mechanical automation and intensely personal expression. 
On exhibition now are a selection of rarely seen paintings, sculpture and works on paper from the 1960s through the 2010s. The multidimensional paintings combine geometric abstraction and found objects to mine spiritual and metaphysical thematic veins, while the works on paper emphasise Whitten's playfulness and improvisational skill. Together, they reveal his extraordinary sensitivity, capable of imbuing modernist abstraction with the vibrations of historical narratives and aligning the spiritual and material realms. Not an exhibition to miss for culture vultures.
Hauser & Wirth – 15-16/F, H Queen's 
Pace Gallery presents David Adjaye & Adam Pendleton (18 May – 30 Jun)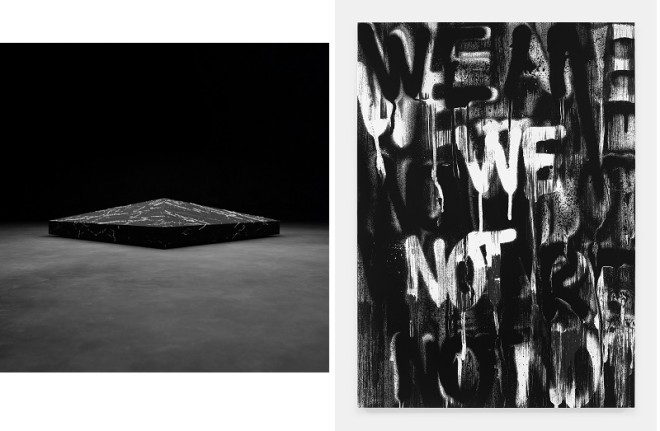 This leading international contemporary art gallery presents the first-ever two-person exhibition between internationally renowned American artist Adam Pendleton and Sir David Adjaye OBE, Ghanaian-British artist and world-leading architect. 
The exhibition features a new body of Pendleton's paintings entitled "Untitled (WE ARE NOT)", presented in visual and spatial dialogue with a set of sculptural works by Adjaye.  
Made up of multiple layers of spray paint, sharply defined brush marks, collage, and photographs, the "Untitled (WE ARE NOT)" paintings reveal a process of metamorphosis that refuses to speak itself into a final form, preferring to remain in a state of indeterminacy. 
Adjaye's marble pyramids are composed of individual elements with the capacity to be reconfigured in various orientations, echoing the combinatorial possibilities of language explored in Pendleton's paintings. When you view these works at Pace, you will discover a dialogue that articulates a shared visual lexicon that explores language, identity, and monumentality questions. 
Pace Gallery – 12/F, H Queen's 
Tang Contemporary Art presents Pang Maokun Solo Exhibition – Flowers in the Mirror (18 May – 19 Jun)

Pioneering contemporary art gallery presents "Flowers in the Mirror," the latest solo exhibition of nearly 20 oil and paper works created by Chinese contemporary artist Pang Maokun from 2013. 
Curated by He Guiyan, the series of figure paintings and portraits depicts the artist's family, friends, colleagues and other live models in front of mirrors with backgrounds simplified by excluding superfluous details, thus allowing Pang to devote to capturing the figure's psychological or spiritual state in situ.
Pang also employed many post-modern art elements including appropriation and juxtaposition; as well as exploiting the method of parody through changing visual mechanisms to explore the powerful discourses hiding behind the act of looking.
Tang Contemporary Art – 10/F, H Queen's
Whitestone Gallery presents Nature Cult (18 May – 26 Jun)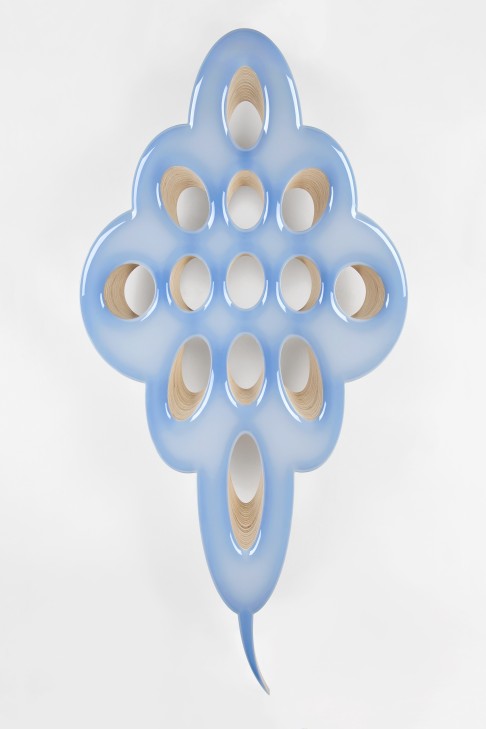 Leading gallery focusing on Japanese and international contemporary artists presents "Nature Cult", the first solo exhibition of American artist Donald Moffett in Asia. 
Get up close and personal with the artist/activist's recent works characterised by provocative minimalism, glossy surfaces and uncanny forms exploring subjects on nature, the body and desire. In the "Nature Cult" series of large, abstract, resin paintings, Moffet continues his experimentation of extruded paintings and addresses his ongoing investigation into nature and organic forms. While the works may not show direct linkages to global warming and climate change, they communicate his concern towards natural and destructive forces.
In addition to the "Nature Cult" series, you can also appreciate works from across Moffett's oeuvre, including "He Kills Me", 1987, an iconic work by the artist made in New York at the height of the AIDS epidemic.
Whitestone Gallery – 7-8/F, H Queen's 
The exhibitions open from 11am to 7pm from Tuesdays through Saturdays, or make an appointment to view them on Sundays. Make sure you hotfoot it to H Queen's on 80 Queen's Road Central for an art-tastic time that is both stimulating and thought-provoking. 
While you are there, make it a point to stop by the lifestyle destinations and pick up your favourite items. And dine in the acclaimed restaurants for a complete sensory experience.