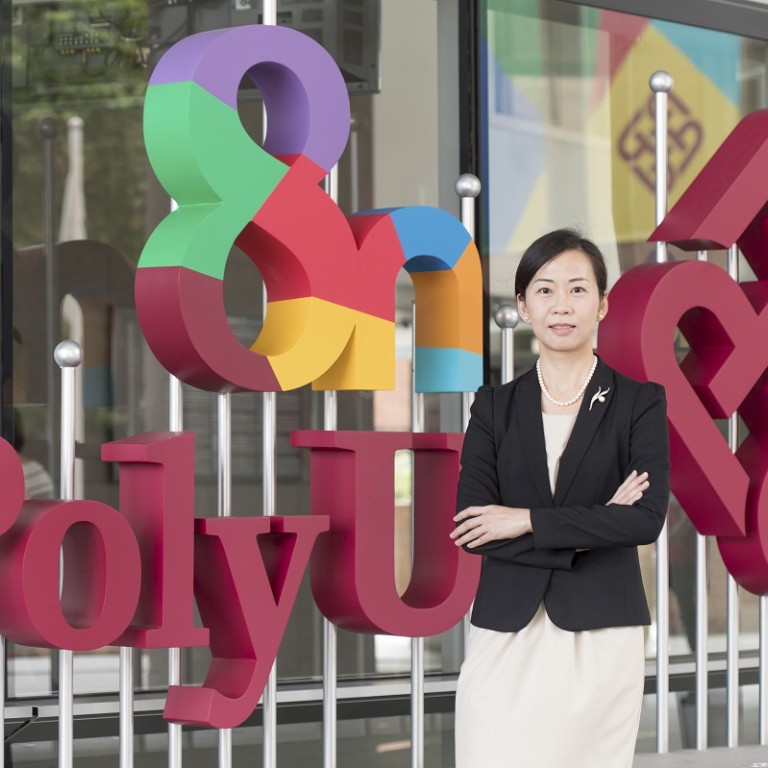 PolyU knowledge transfer builds a stronger economy and society
[Sponsored article] Knowledge transfer has long been a strong DNA strand of The Hong Kong Polytechnic University (PolyU) that strives to bring together teaching, research, and real-life application as its core missions.
In Partnership With
The Hong Kong Polytechnic University
[Sponsored article] Knowledge transfer has long been a strong DNA strand of The Hong Kong Polytechnic University (PolyU) that strives to bring together teaching, research, and real-life application as its core missions.
"We create knowledge by research, disseminate knowledge by teaching, and transfer knowledge by application," said Dr. Miranda Lou, vice-president (administration and business) of PolyU. "We strongly believe in the importance in fostering economic and social development by applying the results of our research.  
"Often, professors may consider their mission accomplished when they are able to publish their research findings in top academic journals. At PolyU, we go one step further to encourage faculty staff to support the development of the industry and society with their knowledge and research achievement.  The translation of our innovation and technologies into value-added products and services brings an extra dimension to our education, making PolyU highly connected to communities both locally and internationally."
Knowledge transfer takes shape through various forms, the most common ones being collaborative research, licensing, consultancy, and business start-ups. In 2015-16, PolyU registered knowledge transfer activities aggregated to HK$540 million, making it at the top rank of the local universities that regularly reported their knowledge transfer performance to the University Grants Committee.
That said, Dr. Lou stressed that financial measure is a secondary concern compared to the value and impact such innovation and activities could bring to the society.  As such, the University has devised a clear set of guidelines to support various knowledge transfer activities in an agile but disciplined manner, making it easy and transparent for joint academic-industry efforts on applied research and technology commercialisation.  A case in point is the licensing of our anti-heat, anti-humidity clothing design to Construction Industry Council for outdoor construction labour outfits to reduce the heat discomfort and chance of heat strokes all at the nominal fee of $1.
 "As a government-funded university, we are accountable to the public," said Dr. Lou. "That is why we make sure our research results can also benefit the public in addition to scholarly publications. This philosophy of value-creation for the public good is realized through the proliferation of knowledge transfer across all departments and schools, with applications ranging from anti-cancer drugs, a train monitoring system, smart fabrics, and food safety, to eco-friendly construction materials."
"Having spent many years in the private sector, I am more convinced of the developmental role that universities can play to aid economic and social development for better quality of living in our society," said Dr. Lou.
"In today's globalised economy, business and firms are expected to continuously come up with new products and services, and also business models to remain competitive. However, their own research and development are not up to par with international giants because of resource constraints, and the short term requirement to stay profitable even with cut-throat margins.
"That is where our university comes into play. Without having to maximize income and financial gains, academic staff can spend energy into longer term needs and future values. Such long-term view provides fresh impetus and ideas that could stretch the relatively short-term focus in the corporate world for long term insight that will assure their well being 10 years from now."
PolyU takes a three-pronged strategic approach to knowledge transfer: a robust culture that recognises and rewards knowledge application, close ties with industry and the business community, and a management structure built upon accountability and corporate governance.
To make sure academic and research staff understands the University's stance and support in knowledge transfer endeavours, related activities are recognized in staff's performance appraisal, alongside other key academic duties in teaching and research. In addition to honouring them with accolades like the President's Award, the University has established mechanism to share knowledge transfer and commercialization proceeds with staff concerned.
Another niche of the University is her close ties with industry and the business community. Given her heritage in supporting the local, PolyU has always been seen as a higher education institution that gives extra effort to understand and address the needs of the community using its knowledge and academic achievements.
With this in mind, Dr. Lou's team oversees the planning and operation of various community partnership functions such as entrepreneurship and enterprise development, while keeping constant dialogue with industrialists and business leaders to understand the challenges they face.  The University has also established a number of applied research platforms, such as the 3D printing research lab, Aviation Services Research Centre to align academic research toward novel and impactful applications in real-world situations.
 "Because of our long lasting relationship with the industry in the past decades, we can easily expand our academic research design with an industrial perspective," said Dr. Lou. "Likewise, we are keen to spot new research areas that could bring substantial advancement for next generation technologies, and approach industries to collaborate on their development and application."
With these vibrant activities, the University has set up committees and management bodies comprised of Council members, management staff, and independent industry representatives to review relevant knowledge transfer policies, guidelines and operations so that knowledge transfer endeavours can become an integral part of the university operation, with transparency, consistency and accountability that makes our pursuit worthwhile to both the government, the private sector, and the community.      
"As a university, we strive to create a conducive environment with full support to our colleagues who commit themselves to walking the extra mile to transform their knowledge into values for the society.", concluded Dr. Lou.