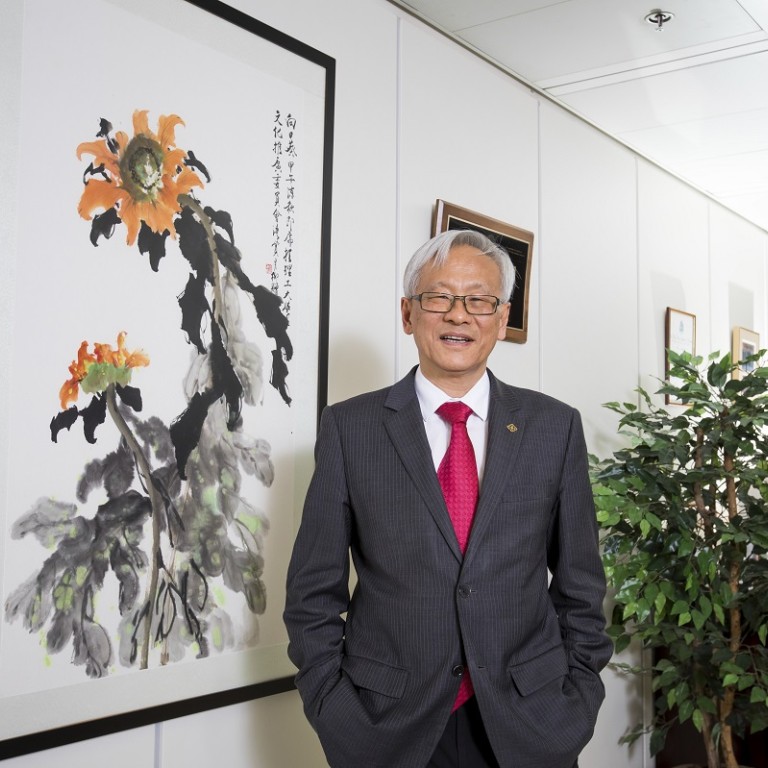 How universities innovate to create impact
Professional training, scientific research with an emphasis on application, and partnership with the public and business sectors have always been the cornerstones for PolyU.
In Partnership With
The Hong Kong Polytechnic University
[Sponsored article] With a decades-long track record of working closely with the government and fostering professional skills in the private sector, technology know-how and scientific research, The Hong Kong Polytechnic University (PolyU) has always been at the heart of the economic development in Hong Kong, as its alumni assume global leadership positions in various industries.
"PolyU have trained over 400,000 graduates over the course of 80 years," says Professor Philip Chan, deputy president and provost of the university. Its close partnership with the industry and the government goes back to 1937, when it started out as a government-funded vocational school.
"Professional training, scientific research with an emphasis on application, and partnership with the public and business sectors have always been the cornerstones for PolyU," says Chan. "We have been providing much-needed talents to various industries, including manufacturing, construction and engineering, transport and aviation, and more. We are better positioned than any other local university to understand what it takes to take Hong Kong's economy to the next level."
In celebration of its 80th anniversary, PolyU is co-hosting the "Times Higher Education Innovation & Impact Summit" with the leading education publication. PolyU was ranked 17th in the latest Times Higher Education's Asia University Rankings.
The three-day summit, starting from the end of May, will feature global movers and shakers from higher-education, government, and business sectors, who will brainstorm ways to empower universities' economic and social impact through innovative research and teaching.
World-renowned leaders who will share insights include Charles Chen Yidan, founder of Yidan Prize and core founder of Tencent Holdings Limited; Hermann Hauser, co-founder of Amadeus Capital Partners; Candace Johnson, Founder/Co-Founder SES, Loral-Teleport Europe, Europe Online, VATM, GTWN, OWNSAT, Success Europe; and Greg Simon, Former executive director, White House Cancer Moonshot Task Force.
The Showcase in the summit will focus on four areas: space, aviation and railway, sustainable urban development, human-centred innovation, and hospitality.
Aviation is one of the strategic highlights for PolyU in terms of research and innovation. Utilising its extensive network with world-class aircraft maintenance companies and factories, as well as its profound knowledge of the industry's regional development thanks to its close links with the government and industry representatives, PolyU is playing a key role in elevating Hong Kong's status as a regional aviation hub, particularly in terms of the Maintenance, Repair, and Overhaul (MRO) of aircrafts.
The school has also partnered with Boeing to setup an Aviation Services Research Centre (ASRC) to develop new or improved aviation service technologies and processes applicable to the industry. The ASRC business scope covers aviation service research, manpower development, and business information exchange.
This is one of the best examples of how PolyU is pushing forward the transformation of Hong Kong into a knowledge-based economy. By working with world-class industry leaders in researching and developing new technology, industry standards and skills, Hong Kong is able to position itself as a global leader in the MRO industry.
Apart from aviation, Chan says PolyU is also dedicating its inter-disciplinary effort in addressing social issues such as ageing population, and sustainable urbanisation. For example, combining the efforts and expertise of engineering, information technology, life sciences, medicine, and social science, the university is conducting new research in order to bring about a new era of "healthy, active ageing" where the elderly will receive sufficient and suitable support for their physical, mental and social well-being.
The university is also contributing to the Hong Kong's transformation into a smart city. For example, thanks to expertise in information technology, geo-informatics, construction and land surveying, PolyU staff and alumni have been heavily involved in the development of East Kowloon, looking into how to incorporate technology into facilities management and eco-friendly features.
Such an interdisciplinary approach is reflective of the global trend in the higher education scene. "It's clear that in the future, the creation of new knowledge will be cross-disciplinary in nature," says Chan.
"The traditional academic disciplines have already got decades, if not hundreds of years of history, where knowledge has been accumulated to a very deep level. It makes sense to look into how to make use of different schools of knowledge to create something new, instead of just digging deeper and deeper into a well-explored subject."
Another global trend in higher education is the increasingly close partnership between universities and start-ups. In a globally competitive economy, mega enterprises grow not only in scale, but also in the need for innovation. As a result, they look to universities as breeding grounds for new ideas.
"University is a place where bright, eager young minds can innovate without the constraints and repercussion of the real world," says Chan. "They can afford to do what mega enterprises cannot, try new ideas and fail. That is why they are interested in supporting start-up businesses on a university level, and are eager to look for potential partnerships or acquisitions of these businesses."
"We have already nurtured over 200 start-ups in the last few years, and 70 per cent are still sustainable," he continues. "PolyU has been promoting start-ups by granting seed-funds to winning business proposals from alumni and undergraduates, and matching them with industry figures and private investors. It is a very concrete way of making an impact. Ideas are being turned into real businesses that make real contributions to the economy of Hong Kong, and even the world."