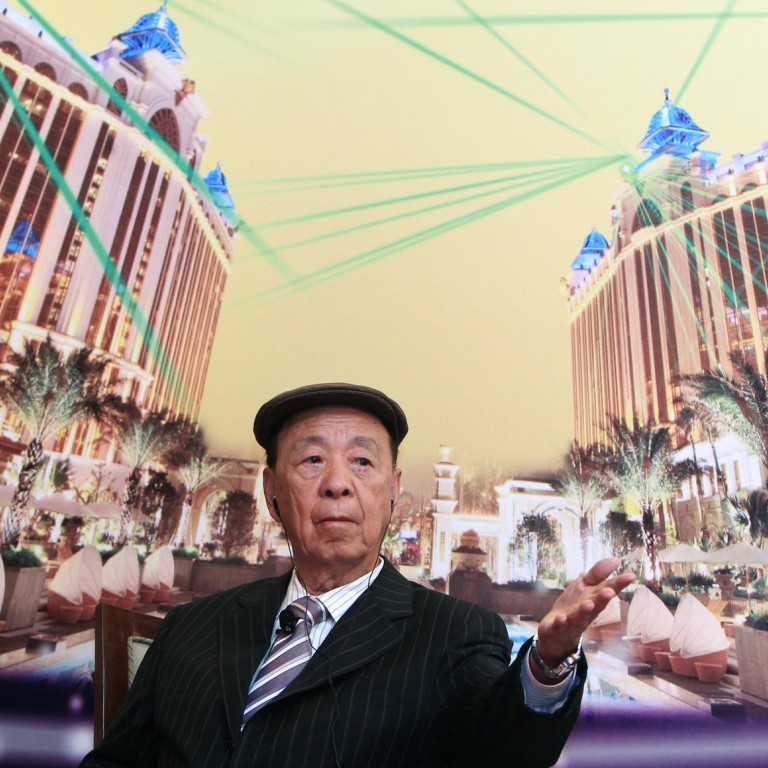 K Wah Group chairman Lui Che-woo has become Asia's second-richest man thanks to prudence and an early entry into Macau's casino boom
Opportunity usually knocks only once, but lightning struck twice for K Wah Group chairman Lui Che-woo.
Having lost the chance to boost his wealth as fast as peers such as Li Ka-shing and Lee Shau-kee when the Hong Kong property market boomed in the 1970s and '80s, Lui was given a second life with the rise of Macau's casino business in the past decade.
The 84-year-old tycoon, the founder and chairman of Macau casino operator Galaxy Entertainment Group, is now Asia's second richest person, trailing only Li, according to the Bloomberg Billionaires Index.
Lui, who owns 51 per cent of Galaxy, saw his net worth rise by US$2.9 billion this year to US$23.7 billion, behind only Li's US$29.5 billion fortune.
In a separate survey by magazine released early this month, Lui saw his new net worth hit US$21 billion, against US$9.5 billion previously, also making him the second richest businessman in Asia.
"I am happy to receive the recognition for our achievement. It [has] proven that our decision to invest in Macau is correct," Lui said in an exclusive e-mail to the last Friday.
However, Lui said investing in gaming was not part of his original plan.
"With our strong experience in hotel operations, we originally just planned to invest in the hotel business in Macau. But when the opportunity came, we studied how to combine the gaming and hotel business together," Lui said.
The increase in Lui's wealth is attributable to Macau's casino boom. The gaming industry took in 360.75 billion patacas last year, up 18.6 per cent year on year, due largely to strong demand from high-rolling mainland tourists.
Shares of Galaxy Entertainment, which runs the Galaxy Macau and StarWorld Hotel casinos in the former Portuguese colony, rose more than 470 per cent since the Galaxy Macau casino opened in May 2011. The company's share price closed up 5.31 per cent to HK$83.20 last Friday.
Born in Jiangmen, southern China in 1929, Lui built his business empire from scratch with his career starting in the car-parts industry in the early '50s. He then founded his first company, which went on to become K Wah Group, in 1955, with businesses in construction materials.
In the '60s, he started investing in property with a residential project in Yau Tong. But as the economy worsened and property prices began to fall, Lui shifted his focus back to construction materials.
By the late '70s, Lui dived into the hotel industry in Hong Kong, developing what is now known as the Holiday Inn Harbour view in Tsim Sha Tsui East.
"At the time if we had invested in Hong Kong property massively, the size of my company could have expanded four or five times bigger than it was," said Lui.
Still, the Holiday Inn hotel was a success - with annual revenue of HK$100 million in the first year of operation.
Lui was satisfied with the result and did not consider other investment options for the company.
"I am not keen on excessive money. I like to progress step by step," he said.
K Wah concentrated on its hotel and property holdings in the US and investments on the mainland. His hotel group was named the 12th largest American hotel owner and operator. On the company's return to Hong Kong property in the '80s, it focused on smaller projects.
But other property developers were more aggressive and among them was Li Ka-shing.
"It seemed that I had missed the opportunity to ride the property boom in the mid-'80s," Lui said. But he said his prudent investment strategy prevented overexposure when the market peaked in 1997. "When the market corrected in late 1997, we were not hit."
In 2002, a new opportunity arose. At the age of 73, he decided to venture into Macau's gaming business.
Galaxy Entertainment is one of the six concessionaires to be awarded a gaming licence in Macau where it has become a major travel, leisure, shopping, convention, exhibition and entertainment company.
On May 15, 2011, Galaxy Entertainment opened the Galaxy Macau casino and hotel with 2,200 rooms, 50 restaurants, 450 gambling tables, an artificial beach and a wave pool for surfers.
It reported a 35 per cent jump to a record HK$4.65 billion in first-half net profit to June 30. Net profit for the 12 months to December 31, 2012 was HK$7.38 billion, up from HK$3 billion the year before.
For Lui, one virtue has been vital. "Looking back … what I value is prudence. It establishes a sound foundation for the company and builds up a big platform for future business. It is just like our Macau business, which is built on our previous experience in the hotel industry."
This article appeared in the South China Morning Post print edition as: Opportunity knocks twice