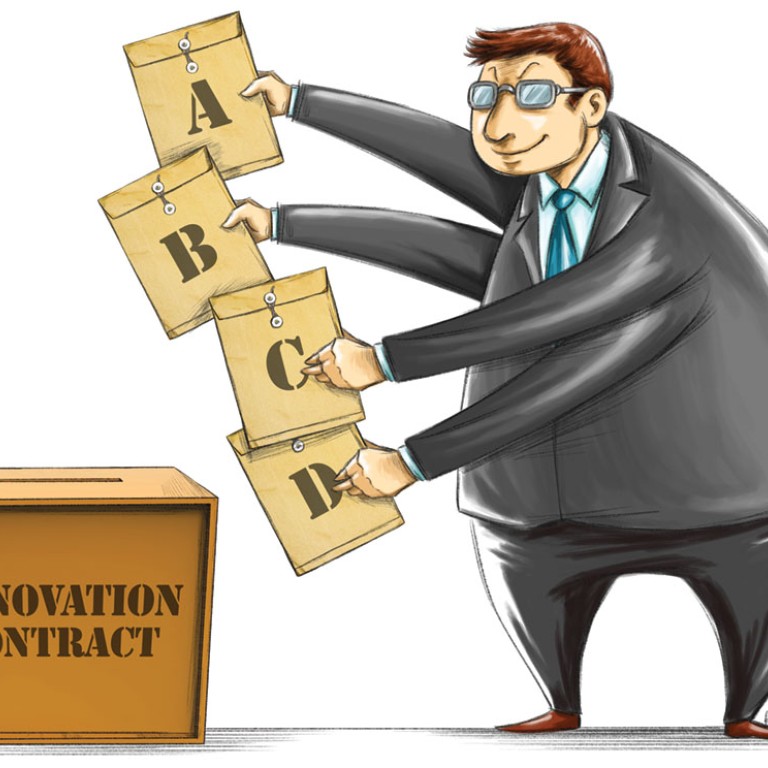 Beating the bid-riggers: Angry homeowners use competition law to battle price-fixing
A group of disgruntled HK homeowners is harnessing competition law to battle inflated costs from manipulated construction tenders
Angry and out-of-pocket Hong Kong homeowners now challenging the city's government to stand up to alleged construction sector bid-rigging cartels hope they have found a new weak spot: competition law.
Last month, the Property Owners' Anti Bid-Rigging Alliance, an activist group representing 40 housing estates, marched to the Wan Chai office of the freshly staffed Competition Commission to demand that those engaged in price-fixing be punished.
It may yet prove a shrewd move. Tasked with policing newly drafted competition laws long championed by consumer and anti-monopoly campaigners, the commission's sweeping mandate already has construction companies dusting off their compliance manuals.
"Everyone is scrambling a little bit over the Competition Commission as companies realise they only have so much time to get compliant," said Sebastien Evrard, a partner of law firm Jones Day.
Construction sector firms with reputations to protect are auditing internal operations and tender processes before the new laws take effect, say lawyers. It is driven in part by whistle-blower amnesty rules that threaten previously tightknit cartels.
Once the new laws take effect, "you cannot trust anyone", said Evrard.
Bid-rigging involves a cosy network of contractors, surveyors and engineers – and in some cases, developers and triads – who manipulate the tender bidding process and artificially inflate costs. Size is irrelevant when it comes to illicit money making and major multinationals are as game as anyone else.
"The magnitude of the problem goes higher if the value of the project is higher," said Abdo Kardous, senior vice-president at construction consultancy Hill International.In late August, representatives of the Anti Bid-rigging Alliance met Anna Wu Hung-yuk, the commission's chairwoman, to discuss a crackdown on such practises. Wu had a "deep understanding" of the problem and would push other government departments to tackle bid rigging, said alliance spokesman Lam Cheuk-ting.
"Bid rigging is serious anti-competitive conduct under the Competition Ordinance. Once the ordinance comes into full effect, if competitors agree to rig bids or engage in other cartel behaviour, the commission could take action in the Competition Tribunal," wrote commission spokeswoman Rita Ho. A start date for the Competition Ordinance will be decided in the first half of next year.
The alliance was launched in March by homeowners outraged at a being handed a HK$260 million bill – equivalent to HK$350,000 per household, enough for a property down payment – for renovation work at Shatin's Garden Vista estate. Since then, the organisation's rapid growth is testament to how widespread abuse is, said Lam.
The seeds of these bid-rigging woes were sown with Operation Building Bright, a HK$3.5 billion government scheme set up in 2009 to subsidise repairs on an estimated 3,200 buildings that were more than 30 years old.
Such work became mandatory following a 2011 amendment to the Buildings Ordinance, under which statutory notices could be issued to the owner corporations of old buildings, requiring them to carry out inspections and repairs every decade.
Renovations for ageing buildings grew quickly into a hugely lucrative business, particularly for unscrupulous contractors and estate management committees which connive to rig the tendering process.
One contractor who asked to remain anonymous described three separate groups of contractors and surveyors that divvy up renovation projects through manipulated tender processes where winning bids are often three times market norms.
Another scenario described by industry insiders involves listed family-run property developers outsourcing contractor work to private companies connected to the same family. The invoices come in well above market price, but with no independent scrutiny of the construction work, it's the public shareholders who lose out.
At estates like Garden Vista it's smaller local firms that seek to game an industry worth an estimated HK$10 billion per year in renovation contracts, Lam said.
Standing well over six foot tall, the former Independent Commission Against Corruption (ICAC) investigator seemed an ideal candidate to lead the alliance. Lam said he is also too well aware of the obstacles he faces.
"These syndicates include former police officers. They know how to avoid being caught and how to conduct their activities discreetly," said Lam.
One sign the problem is growing – and that people don't want to be taken for a ride – are the now-regular requests from smaller-sized projects for professional third-party surveyors to supervise the tender and renovation work, said Stephen Lai, managing director at quantity surveyors Rider Levett Bucknall.
Lai says his firm tracks the market price of key materials such as concrete and tiles and compares them against tender bid estimates. "We can see if the prices are funny or abnormal." 
Regardless of sector, bid rigging allegations are hard to prosecute in Hong Kong's courts. In 2010, the government failed to convince the Court of Final Appeal that an agreement by cooked food vendors not to bid against each other in a market stall auction was illegal.
Such an agreement might now breach the new competition rules, said Gilbert Leung, senior associate in the corporate commercial practice of law firm Deacons.
Leung now helps construction firms draft guidelines and compliance programmes, including staff training, before the new law makes the statute book.
This includes telling executives to leave the room immediately if price fixing is discussed.
Any help the commission could give would be welcome, said Lam, though with only limited fines and directorship disbarment among the agency's potential non-custodial penalties, he is cautious about the deterrence such punishments will have for smaller unscrupulous operators. Instead, Lam focuses his efforts on raising public awareness.
"It is very difficult to collect evidence against bid-rigging. The syndicates are experienced at fighting investigations," said Lam. The police and ICAC have helped prosecute bid-riggers in the past, but usually they see these complaints as just business disputes, he said.
This article appeared in the South China Morning Post print edition as: Beating the bid-riggers