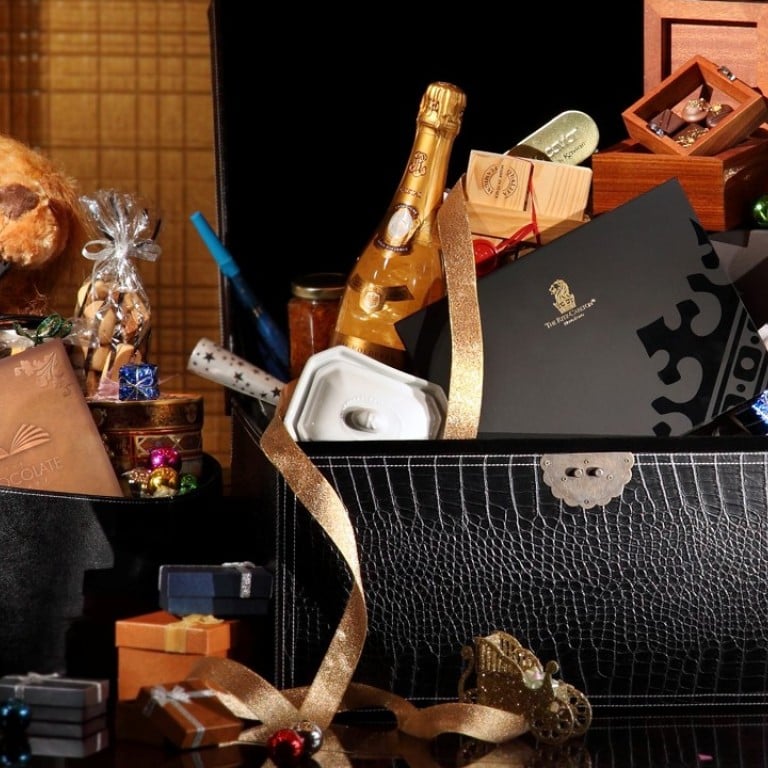 Christmas hampers: we find six of the best Hong Kong hotels
Here are some of Hong Kong's best offerings
Christmas is a time for giving gifts to family and friends. Here are some of Hong Kong's best offerings.
CONRAD HONG KONG has two hampers with Christmas cookies and stollen: Conrad Deluxe Basket (HK$1,988) also has Conrad chocolate praline gift box, Christmas papinee toy, white truffle-flavour gold mustard, organic honey tangerine, spices and French red wine; Conrad Inspired Basket (HK$2,888) includes black truffle-flavoured olive oil, Martelli pasta, Garden Café Terrace mulled wine spices, rose petal jam, Conrad Christmas mixed scent candle by SOVOS, French red wine and Perrier-Jouët Champagne.
FOUR SEASONS has three hampers, all with Christmas stollen, Four Seasons brown sugar and ginger cookies, Pistachio sweet truffle chocolate and Cardoncelli mushroom in olive oil, freeze-dried strawberry dipped in white chocolate, Don Olivo cheese, apricot and fig loaf cake in a tin: Gourmet (HK$2,988) also features Château Rollan de By Bordeaux, 2010; Deluxe (HK$3,900) offers Château Rollan de By Bordeaux, 2010 and Ruinart Blanc de Blancs Champagne; Ultimate (HK$13,988) also includes a Christmas macaron box (figs, sea salted caramel), a Four Seasons cookies ingredients jar (chocolate chips and pecan), Krug Grande Cuvée Champagne and Château Lascombes Margaux 2006.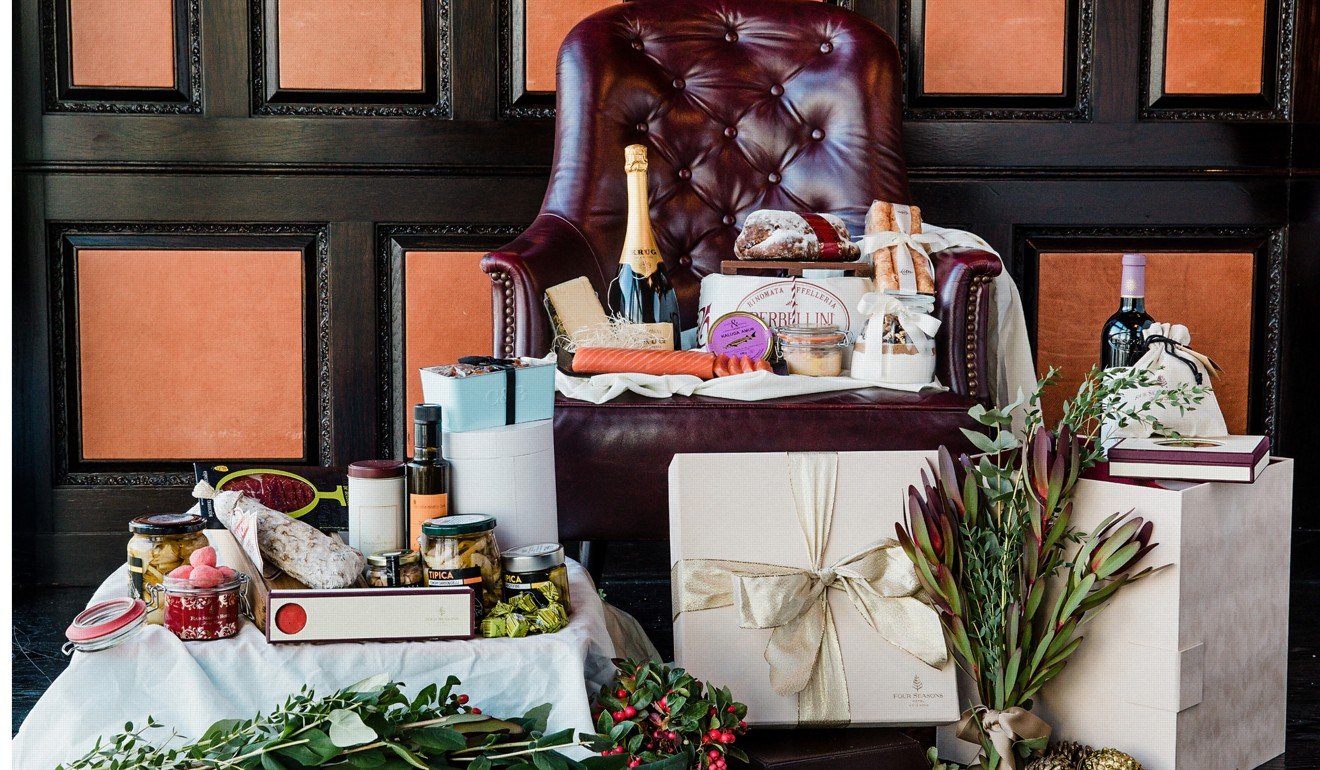 GRAND HYATT HONG KONG
offers two hampers: Grand Occasion (HK$2,880), features Chocolatier chocolates and pecan pies, a chocolate Santa Claus, Christmas cookies, English Christmas pudding, Chocolatier pecan pies and Champagne Laurent-Perrier Brut NV; Grand Celebration (HK$3,880) includes smoked salmon fillet, foie gras pate, Chocolatier chocolates, Christmas butter stollen, chocolate Santa Claus, English Christmas pudding and panettone, Champagne Laurent-Perrier Brut and Château Pey la Tour Reserve 2010.
INTERCONTINENTAL GRAND STANFORD offers two hampers: Deluxe (HK$1,988) includes Italian nougat, French chocolates, Tagliolini pasta with truffle, black truffle paste, mini chocolate bars, fruit candies and Prosecco Conti d'Arco and Montepulciano d'Abruzzo Casteltorre 2015; Grand Stanford (HK$4,688) includes Bellota Iberian ham, rich fruit and cherry pudding, La Trinitaine cookie gift box, Amuselle chocolate liqueurs, Mistral chocolate cake, Parisienne fizzy truffles, Christstollen with marzipan, Milano large panettone, a Grand Stanford toy bear, plus Moët & Chandon Brut Imperial, Montepulciano d'Abruzzo Casteltorre 2015 and Benrinnes, 11 years, Hepburn's Choice, Single Cask.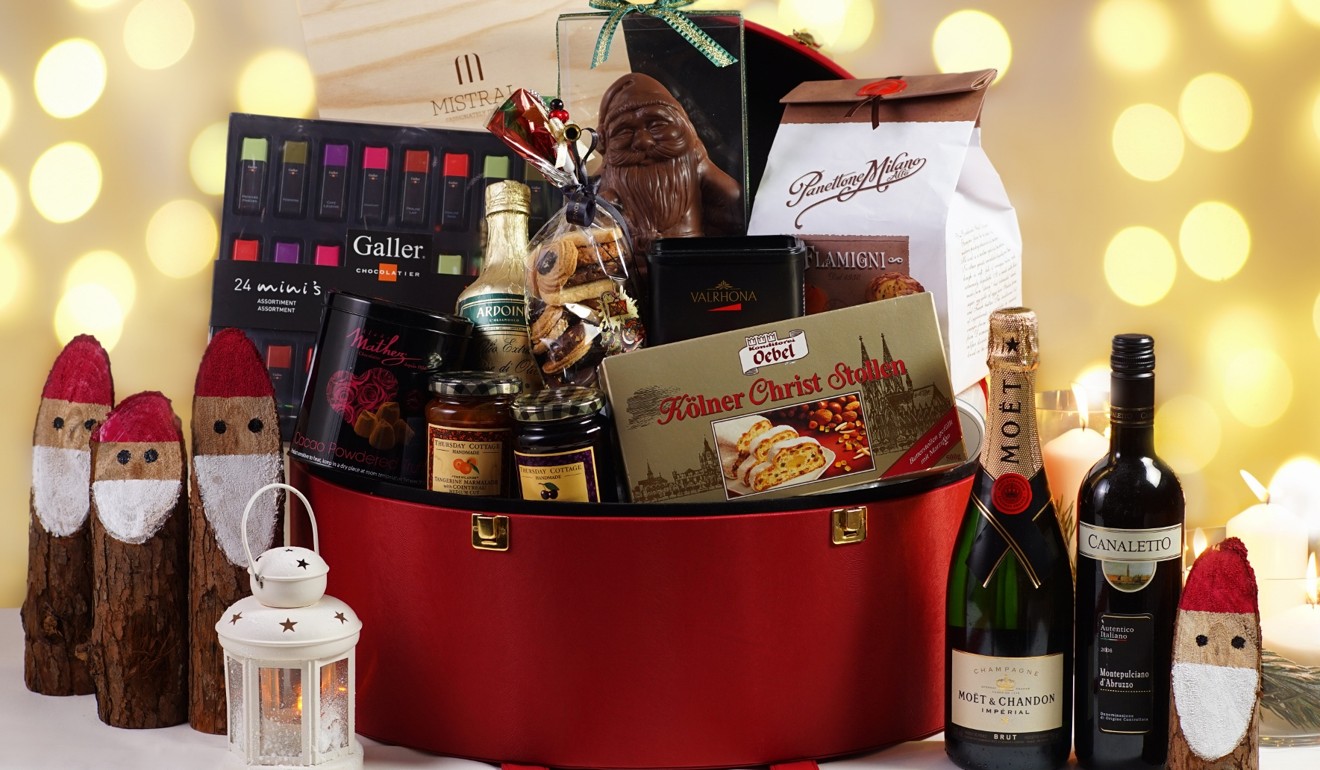 ISLAND SHANGRI-LA
has four hampers with chocolate, Christmas cookies and stollen. Merry Berry (HK$1,888) offers French red wine; Holly (HK$2,888): white wine and French red wine; Winter Wonderland (HK$3,688): French red wine and Champagne; White Christmas (HK$4,988): premium French red wine and Dom Perignon Champagne. Its "East-meets-West" hampers have Japanese oyster dressing and Summer Palace X.O. sauce: Santa's (HK$2,188): French red wine; Mistletoe Joy (HK$4,088): Champagne; Imperial (HK$5,988): premium French red wine and Dom Perignon Champagne. Its Prestige Collection (HK$8,888) has a Dom Perignon P2 Champagne box.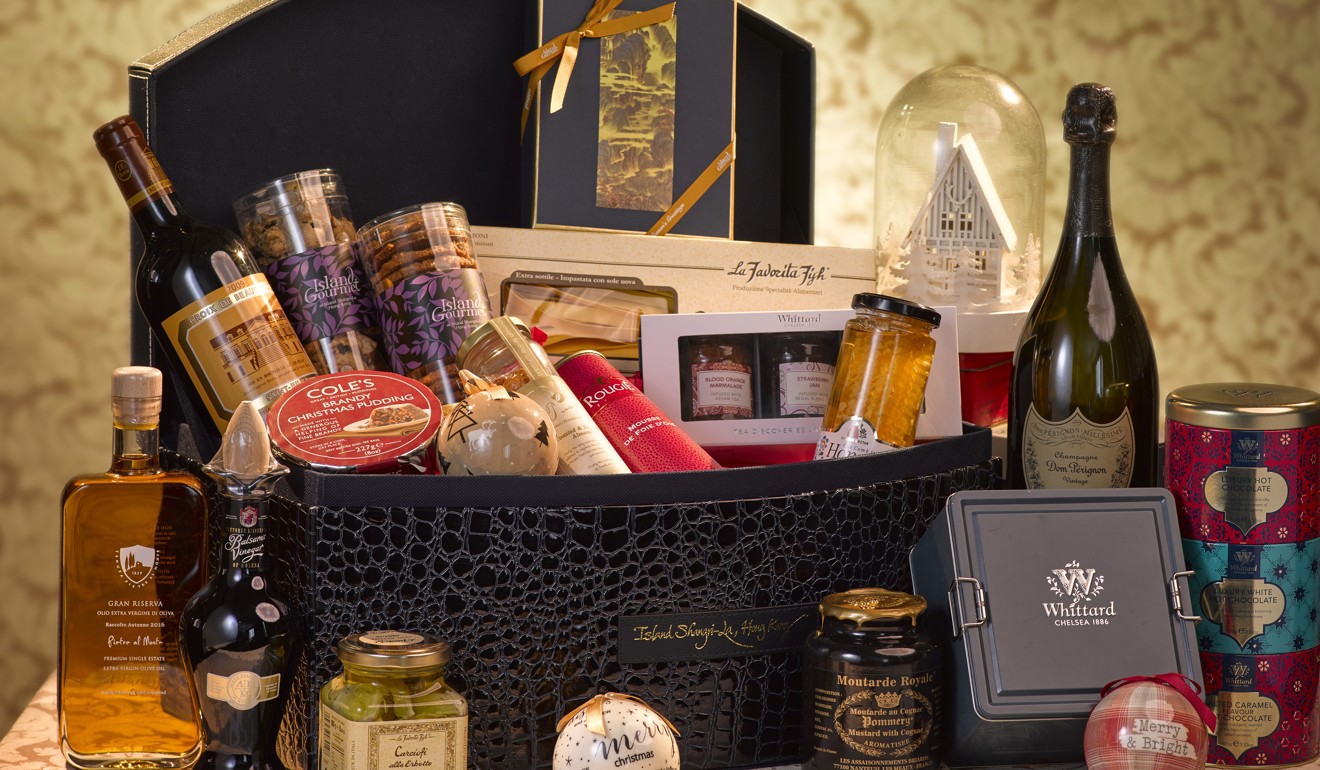 RITZ-CARLTON
has three hampers: Signature (HK$1,788) has a "Nutcracker" tin, nougat bar with almond, chocolate book shell box, Sicilian almond cookies with pistachio, Sicilian blood orange marmalade and TWG Saturn tea; Winter Classic (HK$3,388) has a festive Elisen tin, classic panettoncino, mini stollen, cookies, Sicilian hazelnut cream, pretzel jar, sliced acorn bellota Iberian and Moet & Chandon Imperial Champagne; The Ritz-Carlton (HK$6,988) has Nuremberg Christstollen, candied orange peel, Pate' Con Tartufo Estivo with summer truffle, plus Cloudy Bay pinot noir, Cloudy Bay Sauvignon blanc and Dom Pérignon Champagne.