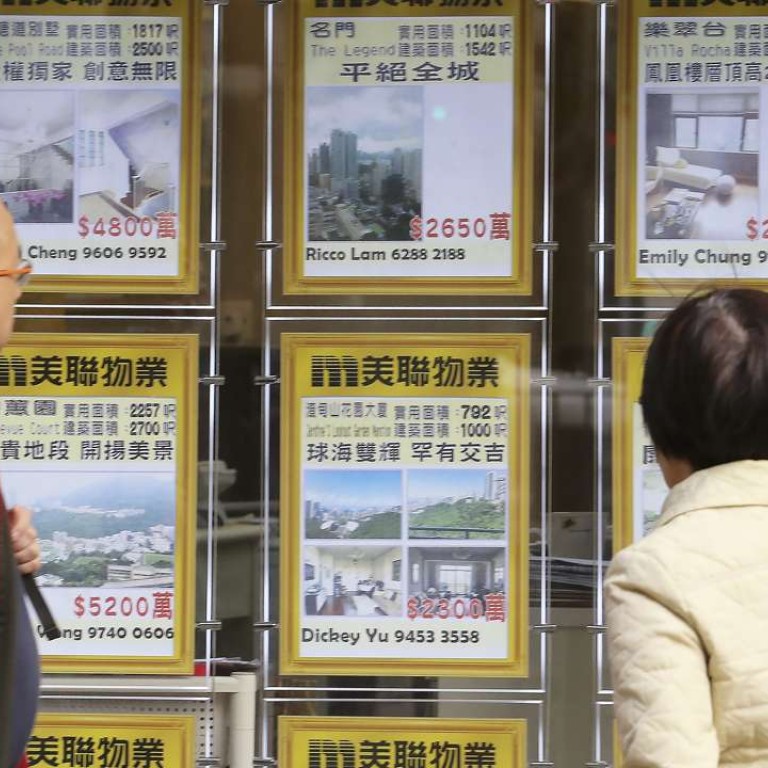 Can property price indices be considered reliable? Data prone to fluctuate as transaction volume falls
As monthly sales in the secondary market hit new lows, can price indices – which may be skewed by a small number of high- or low-value sales – still be relied on as accurate indicators of the state of the property sector?
The government may be looking at faulty readings to gauge whether Hong Kong's property market is overheated or in a healthy state, according to real estate professionals.
There are two indicators that the government reads to check the state of the property sector: the aggregate sales volume and property prices. These indicators work well in a "healthy" market, where secondary sales dominate activity. In this scenario, property price indices, based on prices achieved in the secondary market, are indicative of the majority of transactions completed during a given period.
However, their effectiveness in gauging market activity, especially when new-home sales become a key market contributor, comes into question, largely because new-home sales are deliberately omitted.
Of the 6,247 home sales filed with the Land Registry last month, 2,231 were for new homes, accounting for 36 per cent of the total housing market, whereas secondary sales made up 64 per cent. This compares with the ratio of about 20:80 that existed during the decade before the introduction of property tightening measures introduced by the government in 2012 to control runaway prices.
The methodology used by the Revenue and Valuation Department (RVD) is based on an analysis of transactions it assesses for stamp duties. While RVD figures are considered to be the most reliable and accurate, the weakness in this method is that new-home sales are excluded from the equation.
Professor Raymond So, an economist and dean of the School of Continuing Education (SCE) of Baptist University, says that technically and statistically it is not possible to include new homes since they are not on established housing estates and can't be used as reliable indicators to gauge price movements.
Also new projects are spread all over the city and there are many factors determining their prices.
Another weakness is the timing. The data sampled by the RVD is based on completed sales, or at the point where the sale and purchase agreement is signed, or the date on which an assignment is signed if there is no such agreement.
Besides the RVD, major estate agencies also publish their property price indices, mainly based on the pricing data extracted from provisional sales contracts for apartments across 100 major, established housing estates handled by their branches
Compared with the RVD, agents' pricing data are better in timeliness since provisional agreement is generally reached two to three weeks earlier than a formal sale and purchase agreement.
However, one constraint in agencies' data is the sampling size. The number of deals each agent could get is limited by their market share, which may not be large enough to represent the general trend, given that there are now four major market players.
"Of course, by design, the existing property price indices are unable to track new-home prices," says Buggle Lau, chief analyst at Midland Realty. "And, as monthly transaction volumes in the secondary market have hit new lows this year, they are less representative and may be skewed by a small number of high- or low-value sales."
In the past 12 months, the average monthly transaction volume recorded in the secondary market was about 2,600. But before the introduction of stringent measures by the government to curb high property prices it was typical to see 9,000 to 10,000 deals per month lodged with the Land Registry, Lau says.
Due to a much smaller sampling size, it is inevitable that the existing property price indices, including those published by the RVD and estate agents, become less effective as an indicator of what is happening across the property market.
"For example, there could be well over 100 deals completed for apartments at City One in Sha Tin in a month in the good old days. But nowadays there are only a dozen transactions in the development in a month," Lau says.
In this case, pricing data sampled from within the same estate could easily be skewed upwards by high-value transactions, and vice versa. These indices, therefore, tend to be more fluctuating with a low transaction volume, Lau says.
While policymakers emphasise that they look at a range of market indicators from time to time to make policy decisions, it remains a mystery as to exactly which set of indices or figures they refer to.
Professor So says that these indicators could be property prices, transaction volumes, mortgage lending, housing affordability, or other figures indicative of certain market activities, such as investment, speculation, or foreign buyers' presence.
"However, no one really knows what the basis is for the government to tighten home-purchase rules. [Frankly] speaking, sometimes it smells more like a political decision than an unbiased decision purely based on a clear set of transparent criteria," he says.
So says that the recent stamp duty hike, which imposed a new flat rate of 15 per cent for the stamp duty on second-home buyers, was prompted by the surge in previous double stamp duty cases registered in August and September this year.
He adds that no one really knows under what circumstances these cooling measures will be relaxed, and what reactions the market might have when any of the rules are relaxed or withdrawn.
Property price indices, so far, have proven themselves to be the most effective measurements of property prices. But in practice, there is no ideal index of property prices. Whether a new price index is needed to address limitations with the existing indices is food for thought.
This article appeared in the South China Morning Post print edition as: Doubts raised over price indices' accuracy