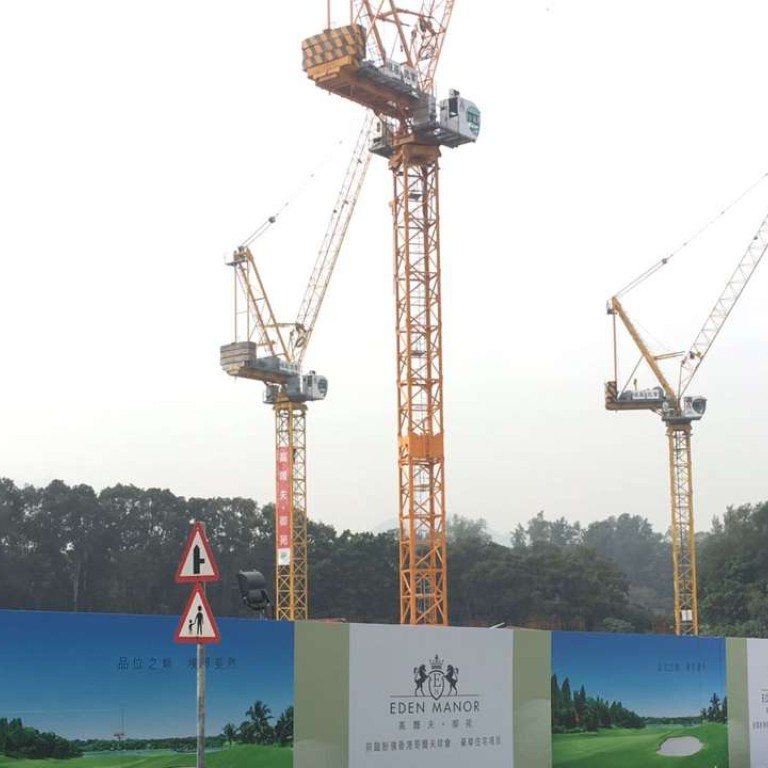 Fanling becomes cross-border hub of low-rise luxury property
Fanling has become a rural suburb for mainland investors and Hong Kong's cross-border business community
Fanling in the New Territories was once a rural outpost, but it has quickly developed into an area with a mix of high rises and low-density developments.
Adding to the mix is a golf course, giving property developers a reason to charge a premium on homes in the suburb.
Believing that demand for luxury accommodation, especially from wealthy mainlanders, will remain resilient in the coming year, two leading developers will put up a string of country homes in the Fanling area for sale, early next year.
Henderson Land and CK Property say they will market three low-density residential projects near Fanling and Yuen Long, which will provide nearly 700 homes, shortly after the Lunar New Year holidays.
Eden Manor, at the Kwu Tung section of Castle Peak Road, will comprise eight blocks and 25 houses, offering 590 homes on its completion in April 2019, according to Mark Hahn, a general manager of sales at Henderson Land.
In the apartment blocks, the layout mix will include 192 studios and one-bedroom units; 48 two-bedroom; 222 three-bedroom; and 103 four-bedroom and special units. The houses will be bigger and have between 2,600 sq ft and 3,000 sq ft of living space each.
The development could hit the market in the first quarter of next year, once presale consent is secured, Hahn adds.
"The project is only about a 10-minute drive to the Huanggang Port," he adds. Located close to the Hong Kong Golf Club in Fanling, most homes would have views of its facilities, Hahn says.
Set at 75 San Tam Road, Ngau Tam Mei, the Crescendo development will provide 67 detached properties, according to CK Property. The development will come on stream before the Lunar New Year break. The properties will be configured with three to five bedrooms, measuring between 1,500 sq ft to 2,400 sq ft of living space each.
Most homes will feature four bedrooms, all complete with en-suite facilities. Each house has a private garden and separate address numbers. Built at a plot ratio of between 0.2 and 0.4, the development will consist of six themed gardens with modern Italian styling, CK Property says.
"The development density of Crescendo comes even lower than those prime properties on The Peak and in Kowloon Tong," the developer says. "Also, there has been no new supply of detached house projects within the area over the past seven years, while other comparable properties are aged more than 10 years, we believe there's a strong pent-up demand from those living nearby looking for newer, bigger homes within the neighbourhood."
The property development will benefit from the proposed Northern Link of the MTR network that will link Kam Sheung Road with Kwu Tung/Lok Ma Chau, and there will be three stations in between, including Ngau Tam Mei.
CK Property previously marketed La Mansion, another low-density development in Ping Shan. The completed development consists of 41 three-storey, four-bedroom houses, from 1,590 sq to 1,800 sq ft. To date, at least 23 houses at La Mansion have been sold, according to Land Registry records, generating about HK$420 million in revenue for the developer.
Also this month, CK Property released the price list of five more houses at La Mansion for sale. They range from about HK$19.5 million to HK$27.4 million each, or about HK$12,000 to HK$15,200 per square foot.
A fully renovated house, previously used as a model home, at 1,589 sq ft, sold for about HK$21.5 million, equating to HK$13,518 per square foot.
CK Property says it would offer a 2 per cent cash rebate to previous buyers purchasing a second property specified on the list, or for every successful referral made by them, within 30 days of the signing of the preliminary sale and purchase agreement.
Not far from Fanling, estate agents are also busy marketing the Eden Villa village house project developed by Citiway Consultants, in Ngau Tam Mei near Mai Po.
The newly-built complex comprises 33 modern village houses at between 1,963 sq ft to 2,288 sq ft each arranged over three storeys. So far, at least three houses out of the first batch of eight have been sold, according to the developer.
Looking ahead, Henderson Land was permitted by the Town Planning Board to work on a low-density housing development, which includes a wetland restoration project, in Wo Shang Wai.
Located near the existing Palm Springs development, the property covers approx 2.23 million sq ft of land and will comprise about 400 houses with a total residential floor area of 890,000 sq ft.
Negotiations with the government on how much land premium has to be paid for converting the area into residential use is now underway.
This article appeared in the South China Morning Post print edition as: Rural idyll quickly becomes a luxury hub