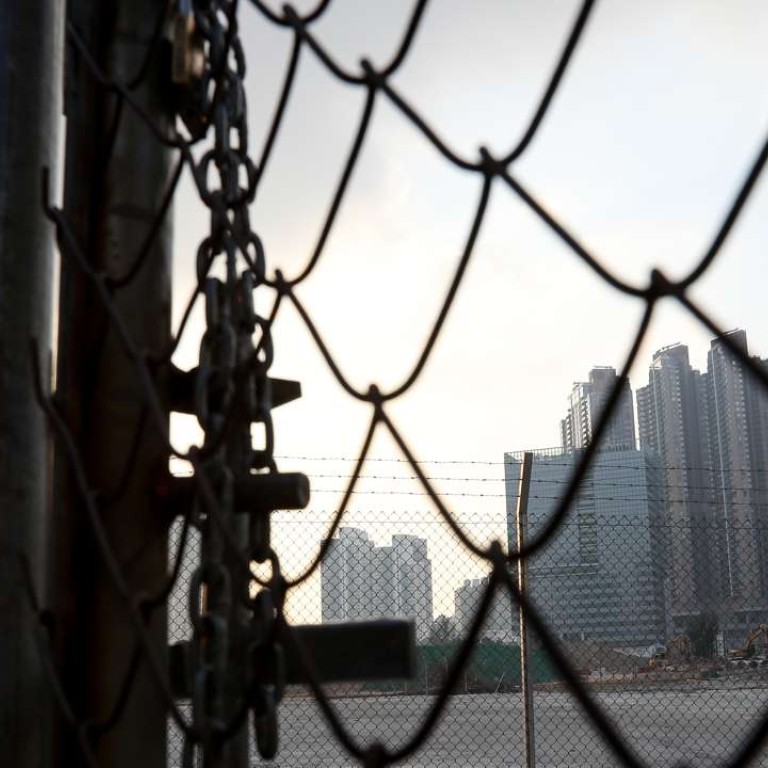 Surging prices: rising construction costs of homes fuel concerns in Hong Kong, analysts warn
Higher land prices paid by developers to government likely to be passed on property owners once developments are complete
While the market seems to have cooled down, there is growing unease over the property sector's long-term outlook. Recent land auctions, where mainland and local developers had bid sky-high prices, have raised eyebrows over what effect this will have on Hong Kong.
Two residential sites in the Kai Tak development area were sold to mainland conglomerate HNA Holding Group in recent months for about HK$13,500 and HK$13,600 per square foot, respectively, in accommodation value.
Analysts believe the flats to be built on these sites will have to be priced above HK$22,000 per square foot in order for the projects to be reasonably profitable.
This has raised fears that, coupled with other development costs, home prices in an already red-hot property market will surge further.
Sun Hung Kai Properties (SHKP), Hong Kong's biggest property developer, this week brushed aside the government's cooling measures by setting a record for the pricing of its latest project in Yuen Long, the Grand Yoho phase two development.
While building costs were steady last year and will likely remain so for the immediate future, it appears that higher land prices, which account for the largest chunk of development costs, will keep future new home prices high.
According to the latest tender price index compiled by Rider Levett Bucknall, a consultant specialised in construction project management and cost estimation, building costs in the private sector edged up a modest 1.4 per cent year-on-year in the third quarter last year.
Growth in building costs has slowed down measurably from 4.9 per cent and 8.7 per cent year-on-year for the corresponding periods of the two preceding years.
Strength was evident in construction worker wage growth, but was not as evident in material prices. The international consultant said it expected tender prices "to move within a narrow range" in the near future in its December report.
The average building cost, excluding fittings, furnishing, site formation, external works, legal and finance expenses and consultants' fees, now stands at HK$2,248 to HK$3,456 per square foot for a mid-rise apartment building providing homes of 650 sq ft to 750 sq ft.
Thomas Ho, president of the Hong Kong Institute of Surveyors (HKIS) and a quantity surveyor, explains that construction worker costs have risen by 8 to 10 per cent annually in the past few years. Wages of specialists in some trades might have gone up 15 per cent in a year.
Aside from building costs, development costs include fees paid to consultants and professionals, costs of finance, sales and marketing. Factoring in these, the average development cost of a typical mass-market project is in excess of HK$4,000 per square foot on top of the land cost.
For a development project to make commercial sense, revenue from property sales should allow for a "reasonable" profit margin, after deducting land and development costs.
"In the good old days, developers expected a profit margin of 20 to 30 per cent on the sale of a project," Ho says. "But as competition for new home sales has intensified against a tight policy environment, they're willing to accept a thinner margin these days."
Complicating the development process is that more government sites now hold the developer responsible for large plots of slopes in the site formation works. That translates into higher development costs.
The cost of formation works is typically 2 to 5 per cent of the development cost, Ho says.
But if the site is attached to a large slope that requires extra work, such as construction of retaining wall to support the slope structure, slope protection and tree preservation, the extra cost for a square foot of slope space could be as high as HK$1,000.
As land remains the biggest part of a home cost, from about a third to more than half of the final home price, room for price cuts on new homes will be limited, especially if the piece of land was acquired at a high price.
Given that land prices are increasingly unpredictable and wide-ranging, how can a developer lower construction costs in an attempt to keep home prices from rising further?
Francis Neoton Cheung, an urban designer and convenor of think tank Doctoral Exchange, says importing low-cost foreign labour is the solution.
"Labour shortage in the construction sector is a pressing issue," he says. "It's raising workers' wages, building costs and somehow slowing down construction."
As importing labour has long been a sensitive issue, he suggests that the government import skilled workers to work on public-sector housing projects only with the introduction of a pilot labour importation scheme.
The importation scheme should be limited to public rental housing, Home Ownership Scheme projects and other future affordable housing schemes, he says.
This article appeared in the South China Morning Post print edition as: Rising construction costs fuel price hikes