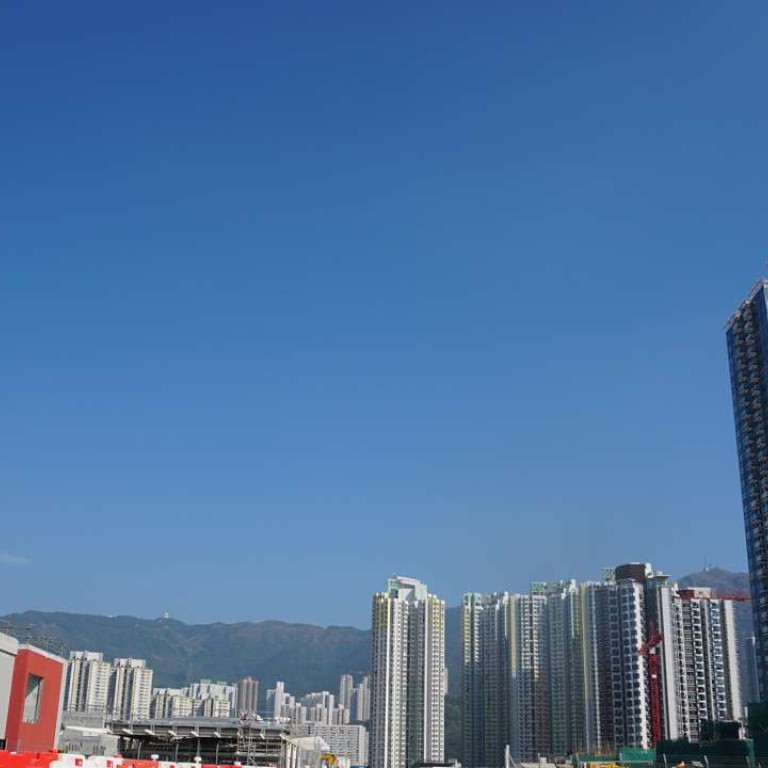 Through the roof: prices of new Hong Kong properties to climb further, while secondary market prices slip
Properties in new developments are likely to rise sharply this year, while – for reasons to do with low interest rates and a tough stamp duty regime – secondary market prices could be set to slip, according to industry analysts
Barring a major economic shock – and even more draconian government measures – Hong Kong's property prices are expected to continue on their relentless march skywards, thanks to a slew of new projects that went on sale recently.
Government attempts to rein in prices do not appear to have made any significant impact on the red-hot sector, and last year's new 15 per cent stamp duty hardly seems to have curbed prices in the primary market, where developers have offered various incentives.
Some of the recently launched projects in the market are China Overseas Land's One Kai Tak, K. Wah's K City in Kai Tak, Chinachem's Parc City in Tsuen Wan, Sun Hung Kai Property's (SHKP) Grand Yoho in Yuen Long, New World Development's Park Villas in Yuen Long and Phoenix Property's The Morgan in Conduit Road.
Among luxury projects likely to go on sale this year are SHKP's St.Moritz in Kau To Shan, La Cresta in Kau To Shan by HKR International and Nan Fung, and Cresendo in Yuen Long by Cheung Kong.
Joseph Tsang, JLL's managing director and head of capital markets, says prices for new homes are set to rise by 10 per cent this year, while he predicts the secondary market prices to slip by 5 per cent. Tsang argues that the reason for a sluggish secondary market was the difficulty for landlords to sell homes in this sector due to the government's cooling measures. This is not case in the primary market as developers are offering stamp duty rebates and flexible payment terms.
However, in an earlier report in the South China Morning Post, Citi forecast that home prices could plunge 15 per cent this year.
"Even if home prices rose sharply after digesting all the negatives of rate hikes and property-cooling measures, policy risks would significantly rise and hurt investor sentiment toward developers, which would widen net asset value discounts and lead to underperformance," ac­cording to a report by Ken Yeung, a property analyst at Citi.
"The government would likely introduce very harsh measures next time if the existing steps prove ineffective," he said.
According to Land Registry figures compiled by Ricacorp Research, the sales volume in the primary market rose 9 per cent to 17,921 in 2016 from 2015, setting a nine-year record. Last year, new-home sales accounted for 31 per cent of total market activity, up from 28 per cent in 2015.
By contrast, the secondary market volume continued to shrink last year. Explaining this fall, Derek Chan, head of research at Ricacorp Properties, says it is because of the tough stamp duty regime, and developers could easily undercut individual home sellers by providing access to higher loan-to-value (LTV) mortgages and longer payment terms, in addition to other sweeteners.
"In 2017, latent supply could reach 30,000 units, that are concentrated in Tsuen Wan, Kai Tak and Tseung Kwan O," Chan says.
Chan forecasts that new home sales will rise a further 12 per cent this year to reach 20,000 transactions. "Aggregate new-home sales value may climb to HK$213 billion as a result," Chan says.
Lawrence Wong, president of Many Wells Property Agent, says that there are over a million private housing units in Hong Kong and if only 1 per cent of homeowners are willing to sell their unit, the secondary market supply will rise and prices stabilise.
"However, there are two reasons making homeowners reluctant to sell. First, the low interest-rate environment, meaning that the cost of holding [on to a home] remains low," Wong says.
He adds that as rents have also gone up sharply in recent years along with prices, rental yields on properties purchased more than 10 years ago are high.
"The landlord prefers keeping [the property] as a long-term buy-to-let [investment] instead of selling it, unless he has specific reasons [such as immigration to another country, or if it is an inherited property]," he says.
Wong says that if the Hong Kong economy remains stable and as long as there is no global economic crisis in sight, such as the 1998 Asian financial crisis, landlords will not be desperate to offload their assets.
Secondly, because of the special stamp duty (SSD), newly purchased properties have to be locked in for three years in order to be exempted from the SSD taxes, so the turnover of properties bought within three years is limited.
Thirdly, because of the hefty buyer's stamp duty (BSD), once the landlord sells an investment property, he would have to pay 15 per cent BSD if he wants to buy another property.
A number of prominent analysts and market experts have suggested that the government should relax tax and mortgage restrictions imposed on homebuyers moving up the housing ladder, such as those selling two-bedroom units and buying a three-bedroom home as a replacement, so that more starter homes can be vacated and released for first-time buyers, and as a way to reactivate secondary market activity.
This article appeared in the South China Morning Post print edition as: Rising above the rest