Boxing
Get more with myNEWS
A personalised news feed of stories that matter to you
Learn more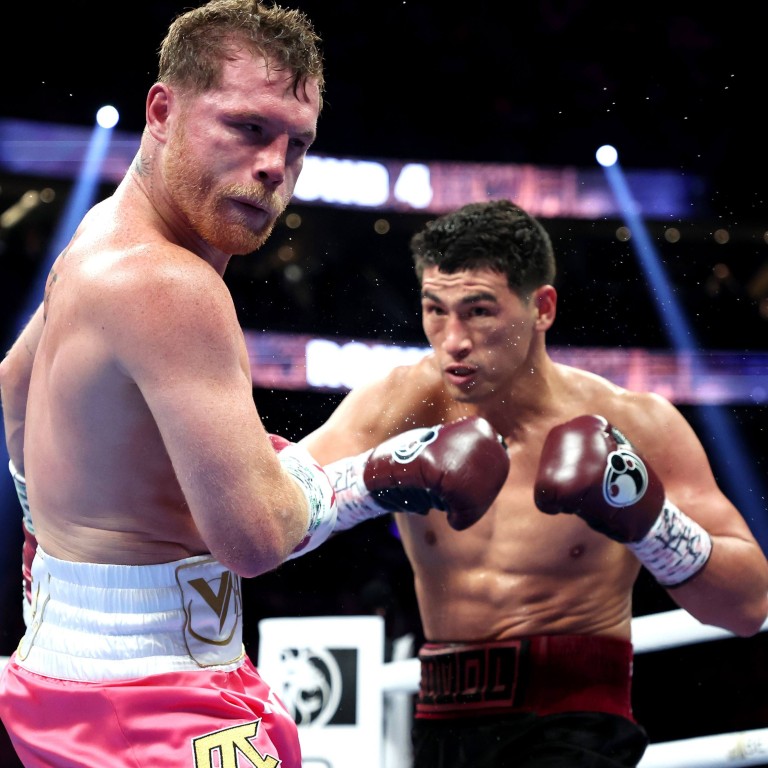 Who is Dmitry Bivol? The humble Korean-Russian roots behind boxing's newest star, whose love of Jackie Chan started it all
WBA light heavyweight champ became a household name overnight with stunning upset of Saul 'Canelo' Alvarez
The 31-year-old is latest in long line of Korean-Russians to excel in elite sport, with humble beginnings shaping future king
When Dmitry Bivol arrived home triumphantly at St Petersburg airport after shocking boxing's pound-for-pound No 1 Saul "Canelo" Alvarez this month, he was given a hero's welcome by a crowd of fans – and a rendition of the cult Russian song, Gruppa Krovi.
Meaning "blood type", the lyrical choice was a nod to Bivol's heritage. Gruppa Krovi is written by Viktor Tsoi, a Russian rock legend who, like Bivol, is Korean-Russian.
Koreans first arrived in large numbers in the Russian Empire about 150 years ago, and became a significant ethnic group in the former USSR.
Numbering around 500,000, Korean-Russians have also excelled in sport – chief among them the 31-year-old WBA light heavyweight champion.
He is not alone, though. Kazakhstan's boxing great Gennady Golovkin, former undisputed junior-welterweight king Kostya Tszyu, and legendary Soviet gymnast Nellie Kim all have Korean-Russian roots.
The son of two farmers, Bivol's Korean mother and Moldovan father met during the Soviet era as students and settled in Kyrgyzstan, a melting pot of many ethnicities.
He was born in 1990 in the small town of Tokmok, where his parents grew onions and wheat on the land they rented. "My childhood was spent helping them in the fields," Bivol said.
Kyrgyzstan, with a population of fewer than 7 million, has produced champions in boxing, kick-boxing, MMA and taekwondo, and most local children learn combat sports from a young age.
Bivol started with wushu, because he loved Jackie Chan films. But he soon realised he did not like kicking, and at the age of six, his father Yuri took him to a boxing gym.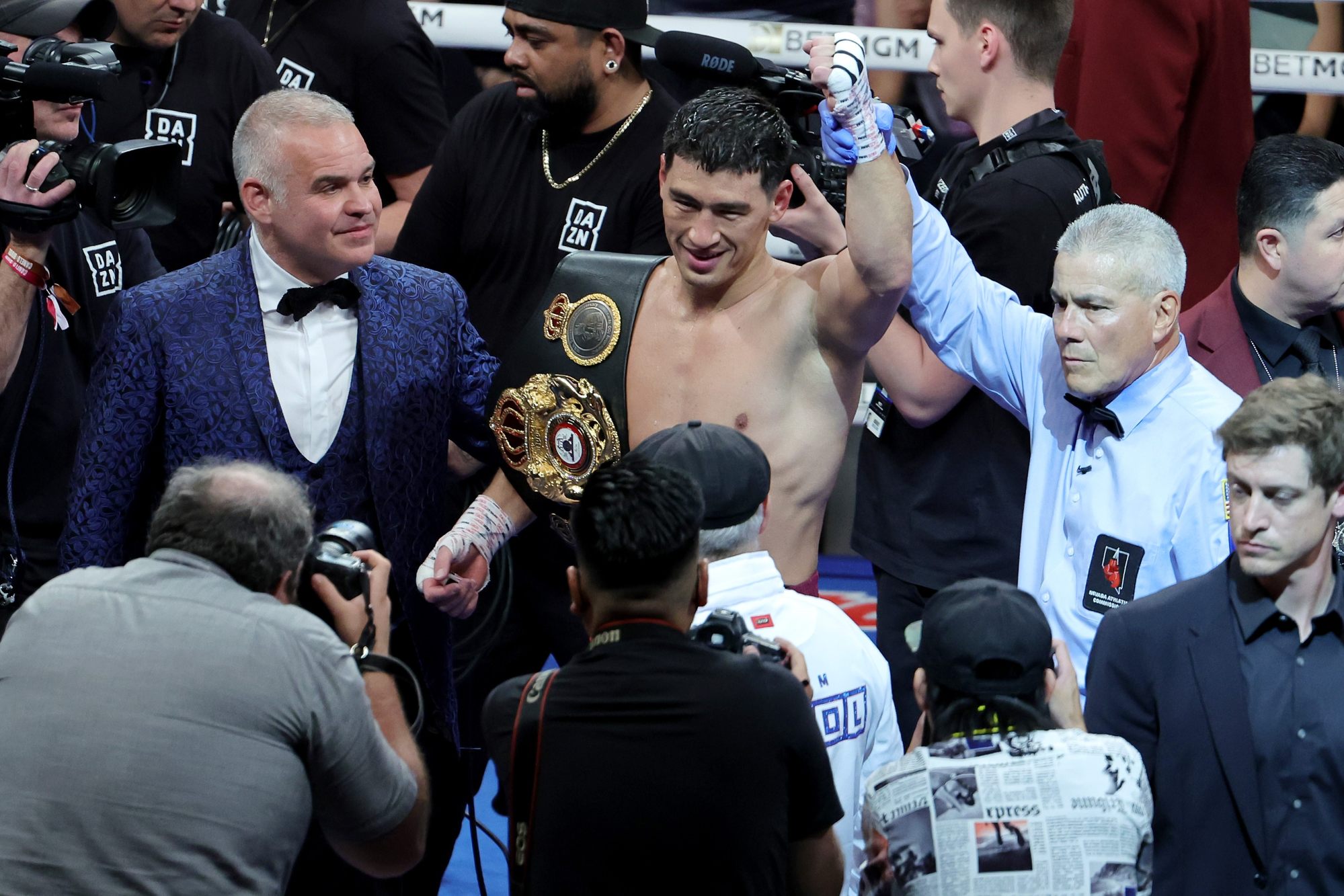 Equipment was hard to come by, and Dmitry trained wearing ballet shoes for a while, but he still won all of his first 23 fights, with Yuri accompanying his son to every training session and tournament.
Life was not easy in Tokmok, and parents aspiring athletes had to make sacrifices to finance their children's training – families shared cars, and chipped in for petrol to get kids to regional competitions.
"A kid would start bawling his eyes out a tournament," Bivol said. "What's the matter? My dad barely scraped the money together for me to go, and I lost in the first fight. This made us grow up."
Since childhood, Bivol prioritised defence and ring craft, something that was on show in his masterclass against four-division world champion Canelo on May 7 in Las Vegas.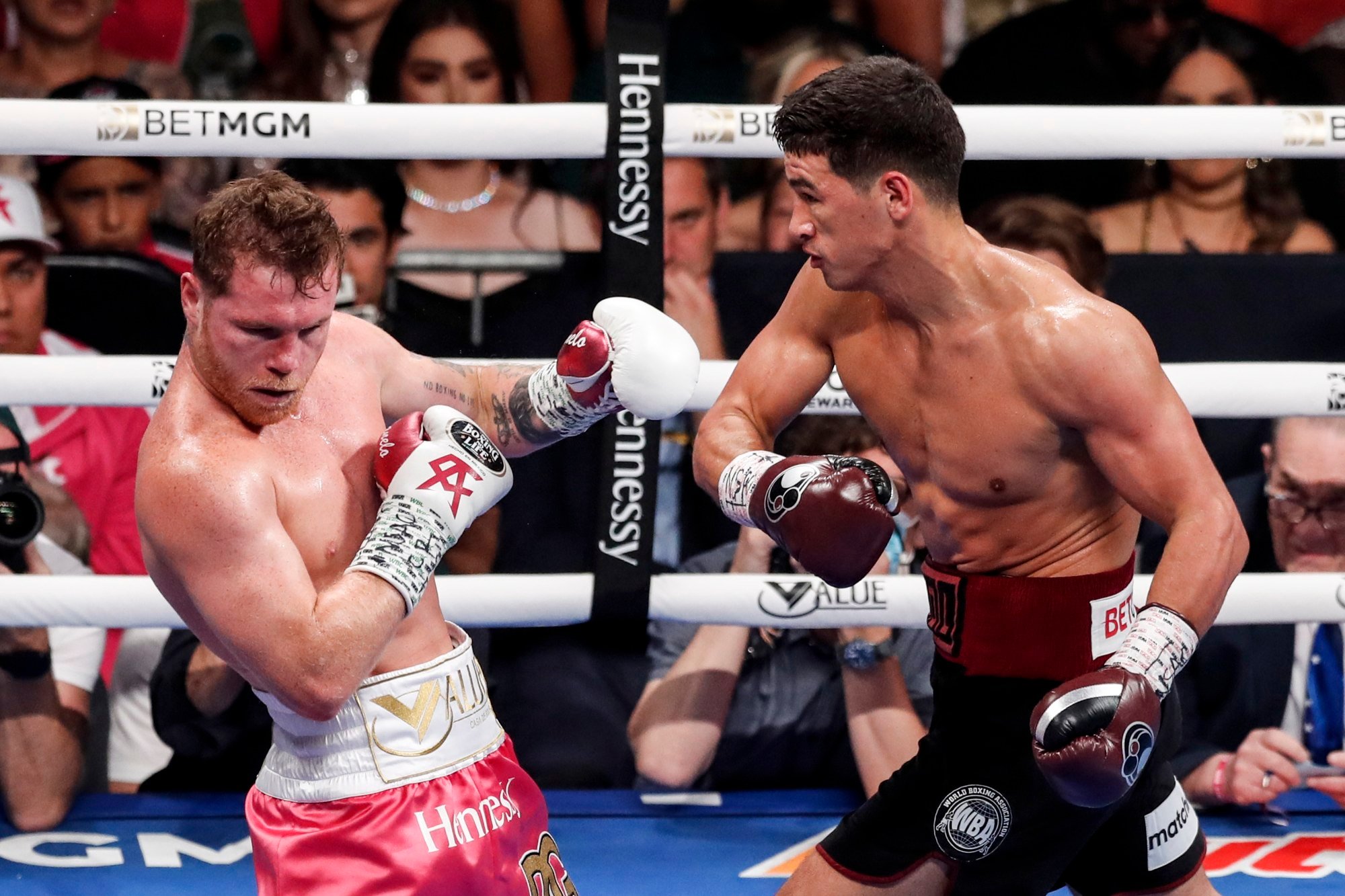 "I have always told my son, don't show the spectators the snot, the blood, busted lips and nose. Create beautiful, classical boxing," Yuri said in an interview with Russian media.
Bivol's unmarked face, after going 12 rounds with the Mexican, is a testament to him having listened to his father.
Indeed, an 11-year-old Dmitry won a national championship against a competitor three years older than him – who had knocked out all of his previous. opponents – simply by not being hit.
In 2002, the Bivols sold everything they owned and moved to Russia so Dmitry could have better opportunities in boxing. In St Petersburg, the family moved in with an uncle, with nine people sharing a two-bedroom flat. Yuri spent all of his waking hours working as a shuttle-bus driver to feed the family.
The gamble paid off. Bivol became a European and two-time world cadet (under-17) champion, and took the European schools title. When he turned 18, he then won the Russian national senior championships twice.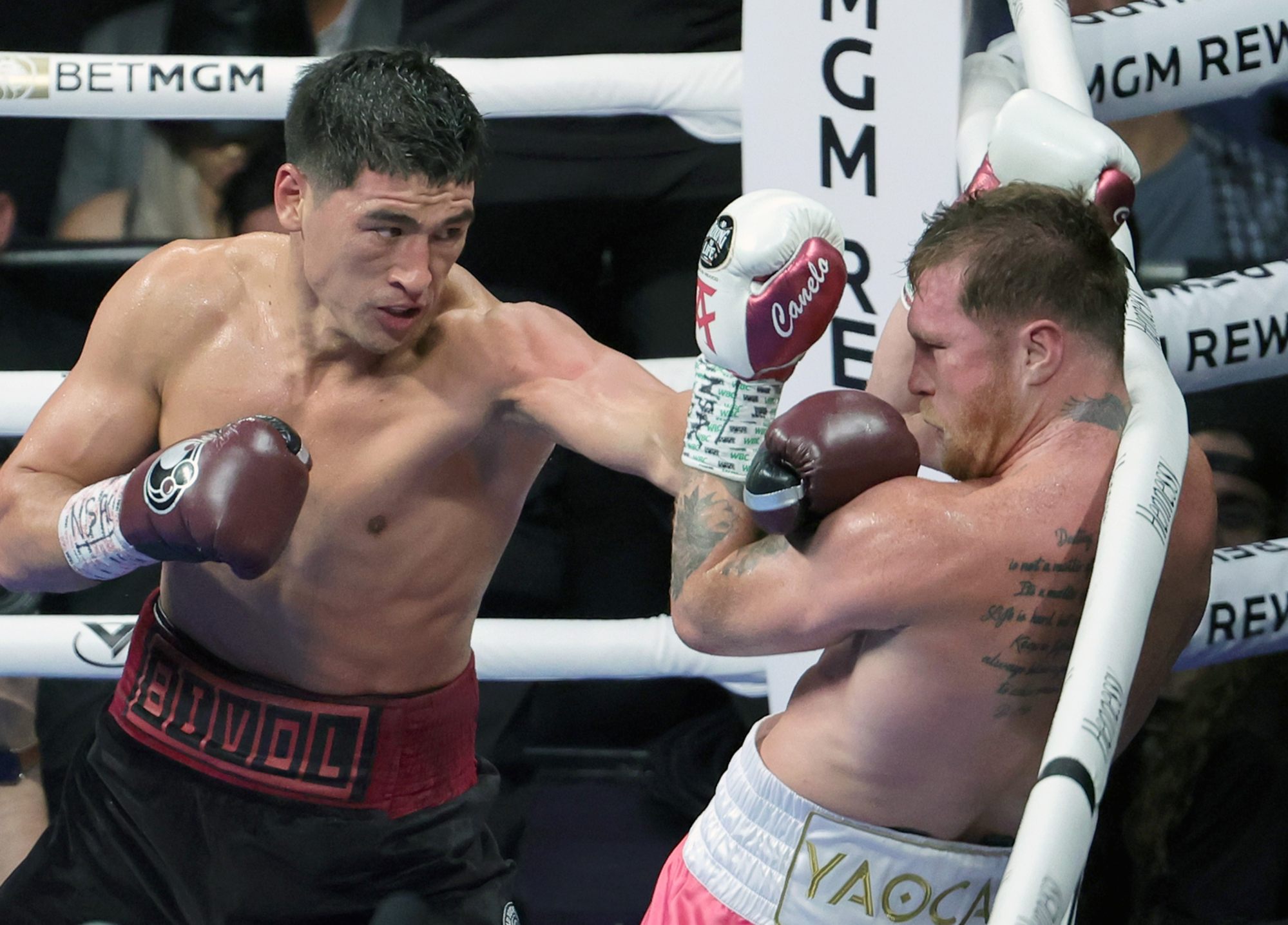 He turned pro in 2014, and it took him just 18 months and 7 fights to win the WBA light-heavyweight title. But by that point he had already been boxing for 18 years, amassing an amateur record of 268 wins with just 15 losses.
In interviews, the young star with a reputation for superb technique and ring craft was unfailingly honest and humble. He would not say a bad word about his opponents, or anyone at all.
"I am brought up that you cannot insult people, say things that you cannot follow through with, or say things you have no idea about," he once told Russian media.
There are no flash cars, nightclubs or models on his arms. He got married at 22, having met his wife Ekaterina at an airport when they were both 16, knowing immediately she was the one. Arriving to pick her up for their first date, Dmitry brought flowers for Ekaterina, her mother and grandmother.
His favourite pastime is spending time with his wife and their two young sons, and doing some DIY work around the house.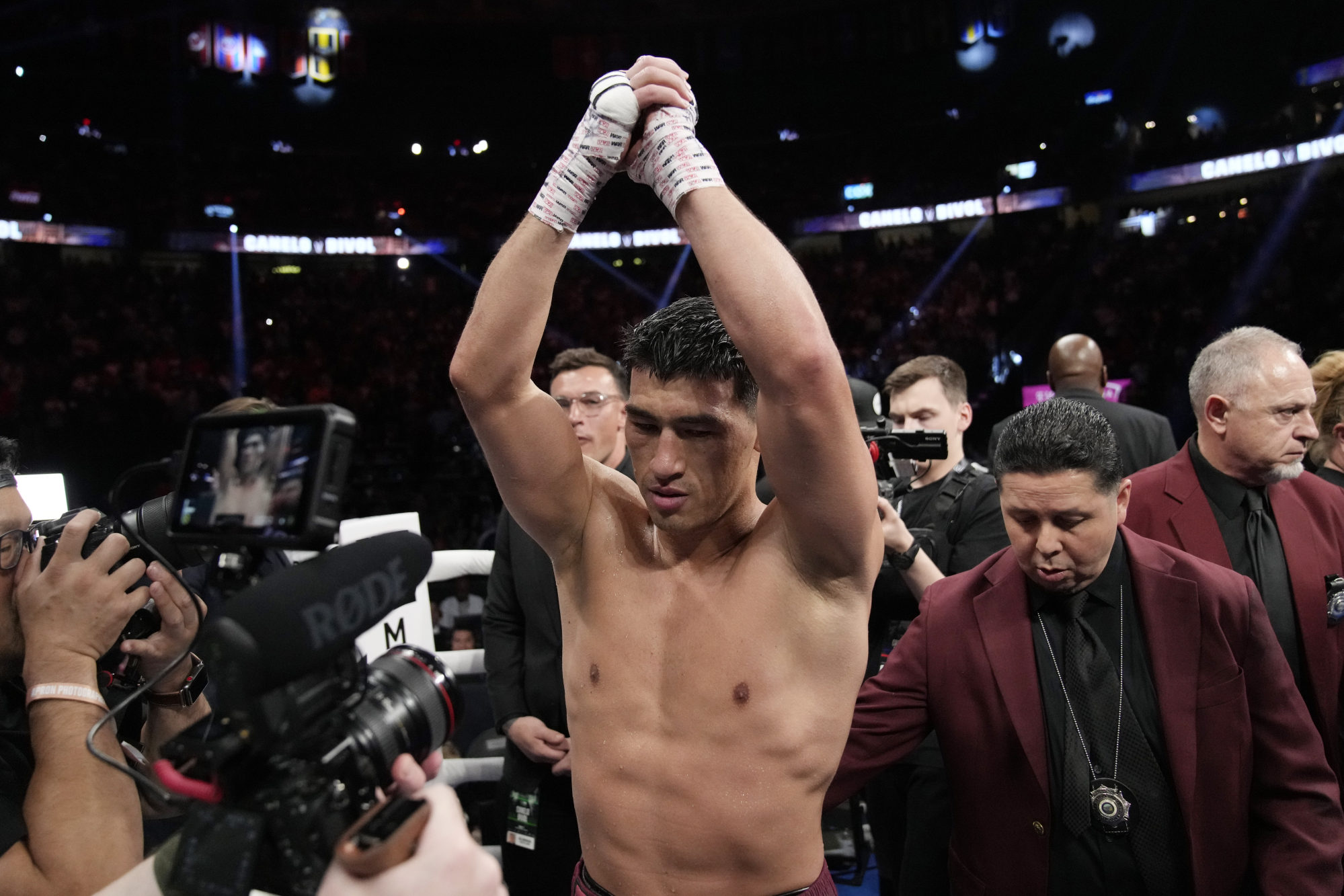 When asked about his greatest achievements, he mentioned getting his kids potty-trained. His ambition is to one day take his wife on her dream journey across Italy.
It was his children, Miron and Nikon, that finally inspired Bivol to learn English.
"I came back from one camp in the US, and my kids had learned to crawl, then walk, then speak. And what did I do or learn in those months? I just won a fight," he said.
"I downloaded apps, started several exercise books. I copied out 'Winnie The Pooh' in English. Now I can do an interview, an awkward one, with mistakes, but they get the gist."
Bivol was being modest. His English is now fluent enough to make interviewers laugh.
"Did Canelo beat me up? Yes, my arm, much better than my head," he said after humbling Alvarez, showing off a huge welt on his limb.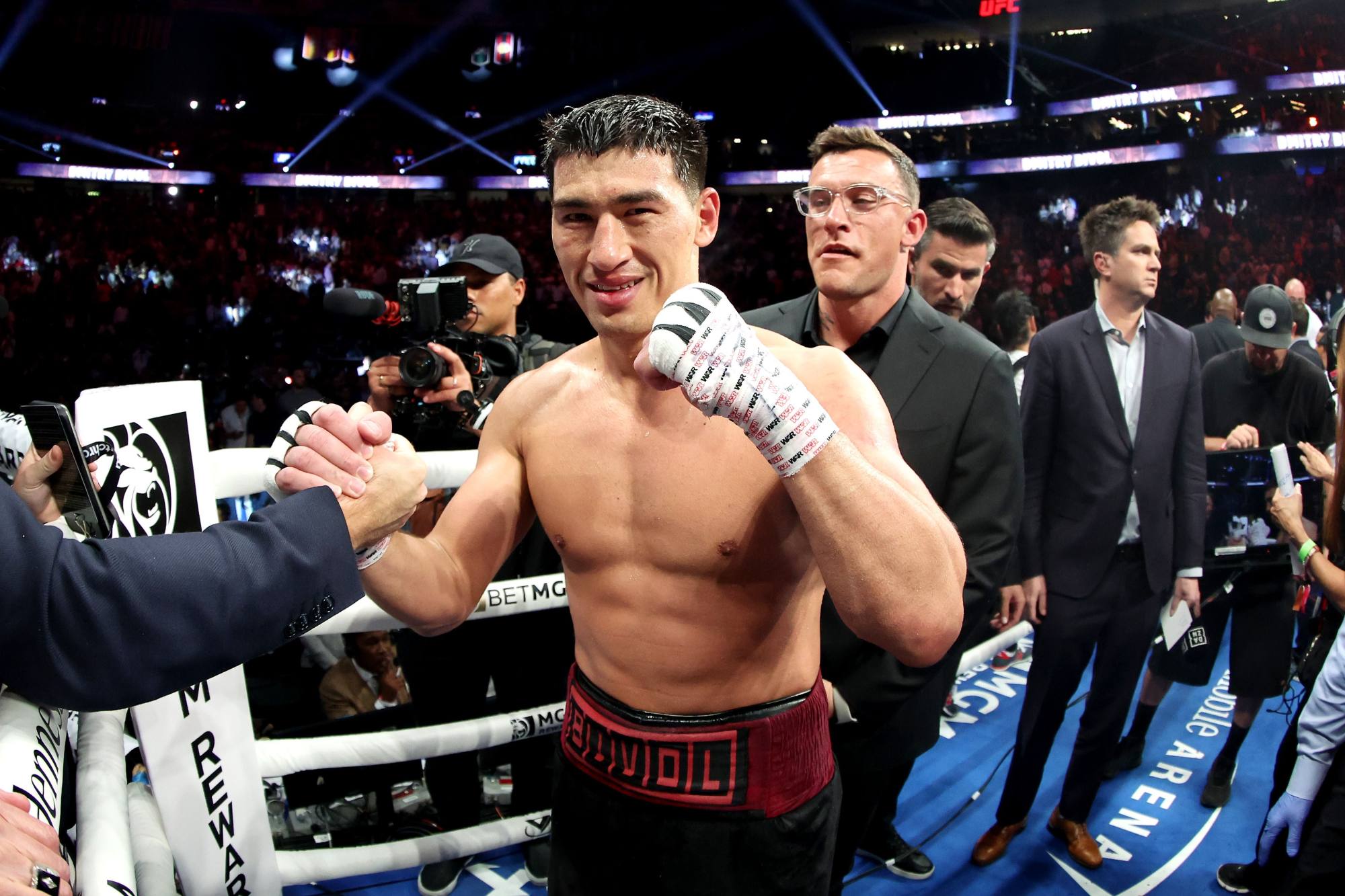 Bivol was picked by many to be another stepping stone on Canelo's rise to boxing history. The T-Mobile arena, packed with Mexicans, booed him and roared Alvarez on. But soon there was not much to roar about.
Bivol's footwork and defence made Canelo's assaults look crude and flat-footed, and he pierced the Mexican's own armour with combinations, seemingly at will.
When given the microphone after the fight, a grinning Bivol shouted in Spanish, "Feliz Cinco de Mayo!", on what was the Mexican national holiday. The audience roared in approval.
When asked later why he said that to a crowd that minutes earlier had booed him, Bivol's response was simple.
"You must always show gratitude to the people who watched your fight," he said.