There was little doubt all weekend, and on Sunday it became official: Rich Froning and his Mayhem Freedom won their second consecutive title and fourth overall, while Froning added a seventh gold to his mantle including individual titles.
Mayhem Freedom won the final event, The Trio, in a time of 16:15.04, after dominating the field throughout the four days of the Games. The team, which features Froning, Chyna Cho, Tasia Percevecz and Dre Strohm, finished fifth, first, fourth, first, second and first through the six events.
Froning said this year was the toughest competition he's ever faced in the team portion of the event.
"I think it was way higher than other years, the calibre of the teams, there were 14 well rounded teams."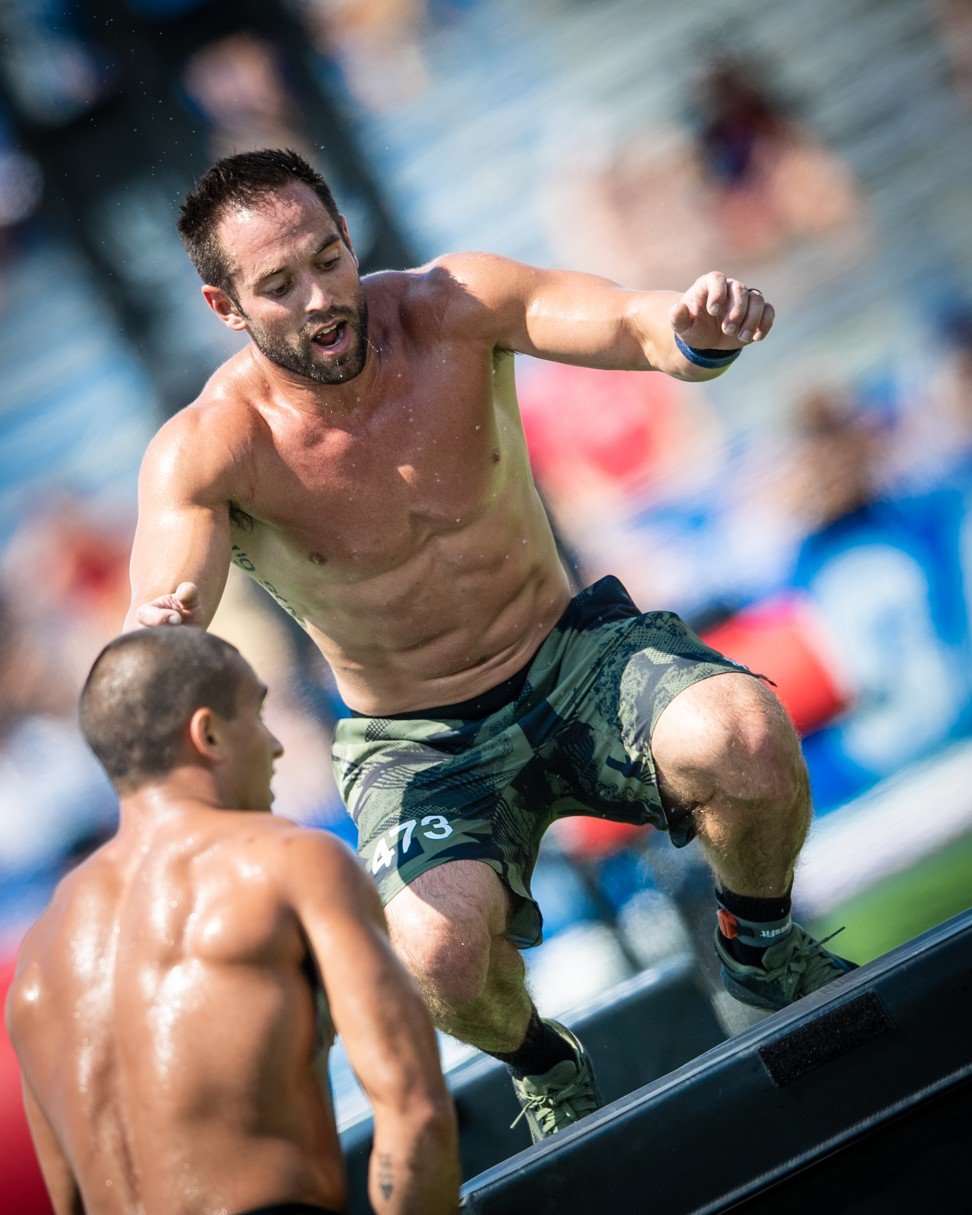 Cho said she remembers one event, the Rope Worm on Thursday, as being particularly difficult.
"Favourites or hurt the most? The rope climb and the Worm was a doozy," she said.
Froning also announced that Strohm would be leaving the team after one year of competition.
"All of us are moving on," said Froning, "minus one."
Event five, recap
Kristi Eramo of Invictus X was first over the line in the Swim Paddle team event at the CrossFit Games, but her 26-minute individual performance was not enough to save her team from the cut, as they finished sixth overall in the event.
The teams had to swim 1,000m, then complete 1,000m on a paddle board. Their time was calculated as the cumulative finishing times of all the team's athletes. Two teams were getting cut from the tournament after the event, leaving just the top five for the final round, so it was tense times as athletes tried doing the arithmetic to work out who had what time. Invictus X and Don't Stop were both cut, despite performing so well in the Swim Paddle.
The event was won by the other Invictus team, who now sit in third.
Eramo is an experienced swimmer and took seventh in the 2011 USA Age Group National Championship Olympic Distance triathlon. But this event was very different.
"It was long, the whole time I just new it was very easy to lose it on the swim," Eramo said. "I wanted to be first out the water [of the swim]. I thought the guys would paddle faster, so I was trying to build as lead much lead as I could [of the swim]."
Eramo's first Games was in 2016 and she said her experience helps her keep calm.
The overall leaders, Mayhem Freedom, were spread across the field. Captain Rich Froning seemed to lack technique on the paddle board. He laid far back on the board, with his feat in the water while struggling to balance. Chyna Cho from Mayhem Freedom finished third, as Froning came in fourth. Mayhem Freedom's Dre Strohm finished in the middle of the pack, and their final team member, Tasia Percevecz was third last overall.
Day three recap
CrossFit Mayhem stamped their authority on the team field at the CrossFit Games by winning the Big Chipper. Froning's team extended their overall lead and look set to take the gold as the Games end tomorrow. The field was cut to just 10 athletes.
The teams had to complete a series of brutal exercises: 50 cheese curd cleans, 50 box jump-overs, 50 team axle-bar dead lifts, 50 synchro GHD sit-ups, 12 burpee Snail jump-overs, 30 synchro GHD sit-ups, 30 team axle-bar dead lifts, 30 box jump-overs and 30 cheese curd cleans.
As the teams reached the halfway point, and started their second set of GHD sit-ups, OC3 Black were in the lead. But during the sit-ups, Mayhem Freedom overtook them and remained in the lead until the end.
Froning has been to the Games every year since 2010, either as an individual or on a team, and never finished lower than second. He is set for another trophy, adding to a heavy cabinet.
"We've done many combinations of all these different movements," Froning said after the event. "So we knew when we had to push. We had to push it at the end, that was the game plan."
"We want to win every event," he said. "We've got a couple left."
OC3 Black finished second, helping their overall standing. The second place finish comes at a crucial time as the teams are cut further to just seven for the final day.
Listen: The Adventure Trail podcast with regionals athlete Bobbie Poulton
Day three opener recap
CrossFit Krypton started day three with a win in the sprint event.
The teams were pitted against each other in a sprint relay and one athlete definitely stood out. They had to sprint up and down the field, finish with a zigzag between markers and slap their teammates hand to set them on the same course. The fastest teams went through to a final, irrespective of their finishing position in the two initial heats.
In heat one, Mayhem Freedom took an early lead. Camille Leblanc-Bazinetas was flying and Rich Froning's men looked set for another win. But Alex Smith of CrossFit Krypton exploded out of the blocks. His rapid acceleration and top speed prove too much for Mayhem Freedom, and he took the first heat home for his team in 1:43.26, just two seconds ahead of Mayhem Freedom.
In the second heat, Pro1, Central Beast and Don't Stop were neck and neck on the penultimate leg. But Invictus X took the lead on the anchor sprint and won in 1:44.91.
Team Alioth opened an enormous lead and kept it in heat three. They won their heat easily and made it into the top five overall for the final.
CrossFit Alioth, Mayhem Freedom, CrossFit Krypton, Invictius X and Don't Stop all made it through to the second round. CrossFit Krypton had the best time in the heats.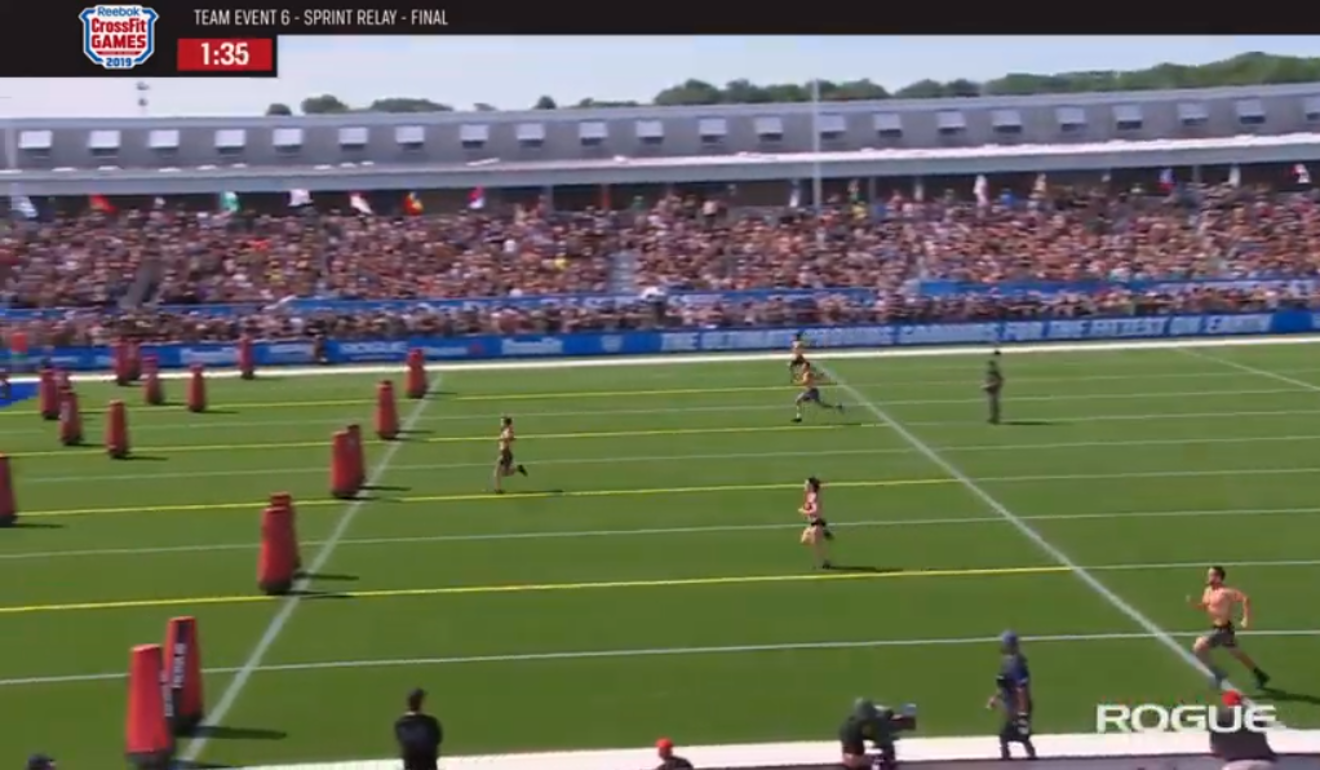 The winners of the final would win the event, but the other teams who failed to make the cut were given a finishing position based on their heat time, not their heat finishing position.
Mayhem Freedom opened an early lead in the final. But they were tied with Alioth as they started the third sprint. Alioth began to draw away. The Krypton unleashed Alex Smith again. Just as in the first heat, he took off like a train and wrapped it up for his team.
"All of us together, we did exactly what we need to do," Smith said. "100 per cent effort in that workout, we all like that workout's power output."
Day two, recap
Mayhem Freedom had their worst finish of the Games in the first event of day two, but recovered enough in the second to keep their team lead through day two.
CrossFit Krypton are second heading into day three, while Invictus are third. While the individuals had three events on day two, the teams only went through two tests.
Mayhem Freedom won the final team event of day two, but it was not until the last few metres that their victory was sealed in the fifth round of the competition, called Strongman's Fear. The teams had to do a series of 132ft lengths, each by a different means of movement. For the final 132ft, the teams roll an enormous 700lb snail.
Teams had to move across 132ft six times, first by handstand walk, then worm lunge, followed by handstand walks again, Big Bob march, handstand walk and finally the snail.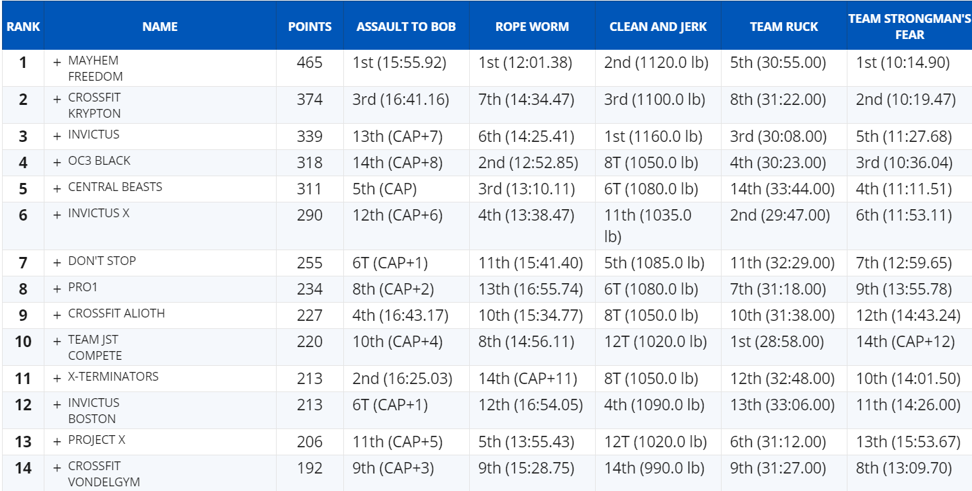 CrossFit Krypton were leading with just a few metres to go. Both teams were moving slowly, but then Mayhem switched, so Froning was pushing the huge snail. The transition was very efficient and the boost in speed meant Mayhem won the nail-biting race. Mayhem finished with a time of 10 minutes, 14 seconds and 90 milliseconds, five seconds ahead of Krypton.
"I just think we know each other and certain strength and weaknesses of the team, so it helps to talk to each other and know what is going," Froning said. "We train really hard and we trained hard for this, so we feel pretty good."
OC3 Black had no trouble in taking top spot in the first heat, finishing third overall in Strongman's Fear. They were pushing the massive 700lb snail, almost nearing the end before any other team had even begun the final 132ft. They finished in 10:36.04.
Event four, the Ruck, completed
JST Compete saved themselves from the danger zone with an emphatic victory on the opening event of day two. The four-person team were sitting 13th overall, two places below the cut-off line as teams started today.
The teams had to complete a 6km run, but every 1.5km, they had to add more weight to their rucksack. The team members had to hold a 10ft rope through the race, to add to the challenge.
JST Compete – Helena Collins, Jak Cornthwaite, Jayne Eadie, Steven Fawcett, Benjamin Massey – set out at a blistering pace and immediately opened a lead. By the end of the second lap, they were 30 seconds ahead of the competition.
"It looks to me as though their leads is just growing," the commentator said. "It's too big to close."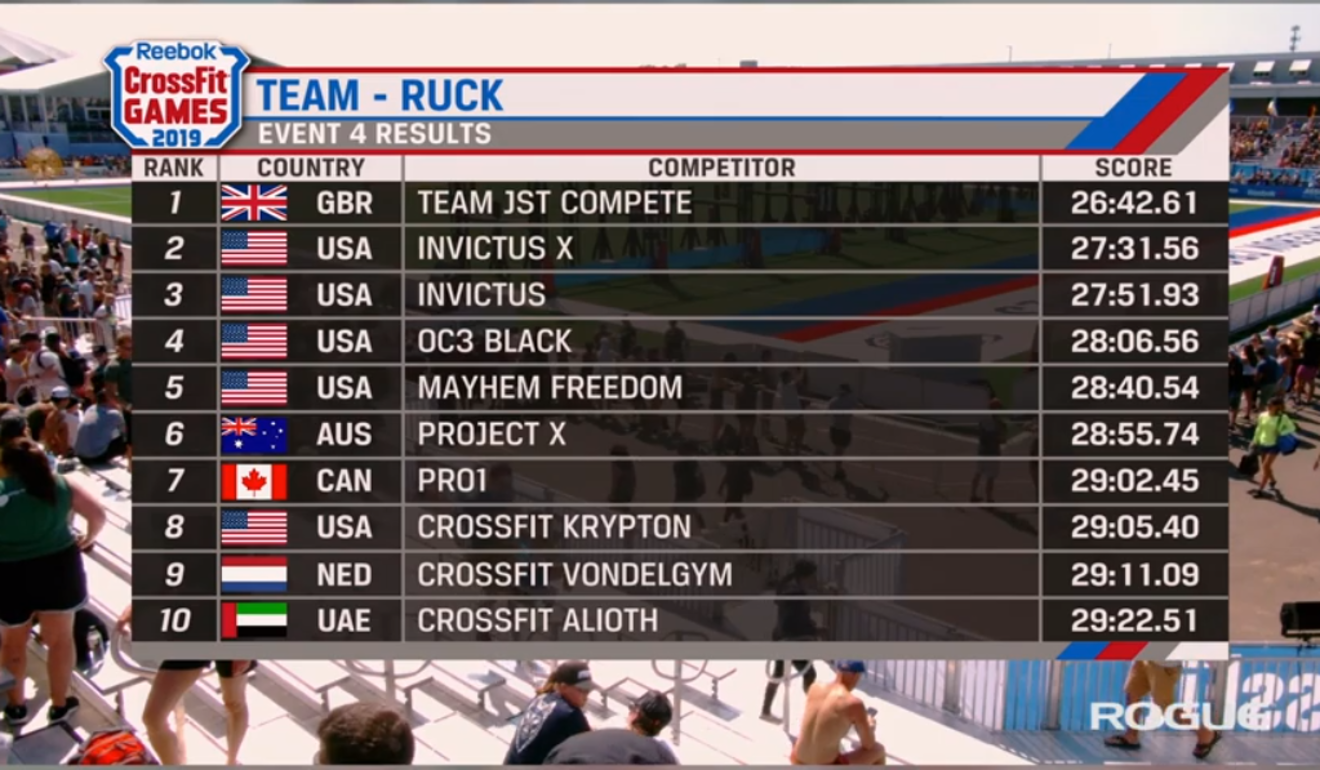 JST Compete were looking over their shoulders towards the end, but need not have worried as they cruised to first.
"After yesterday we were just praying for some long-distance running," Benjamin Massey said. "The plan was to go out quite hard on the first two laps and then ease off."
Meanwhile, overall leaders Mayhem Freedom languished further down the pack and finished fifth. Despite winning the opening two events, and coming second in the third event, they were never in the race during the Ruck. It is not surprising, given even star man Froning has proven running is not his strong suit: in 2014, even as he won his fourth consecutive "Fittest man on Earth" title in the individual competition, Froning had to walk during a three-mile running event, as others breezed passed him.
The Ruck
6km ruck run consisting of four 1.5km laps
Each lap teams add two 7lb bags and two 10lb bags, distributed how they choose
Team members must all hold on to a 10ft length of rope for the entire run
Women start with 15lb, men with 20lb
Day one, completed
Froning's Mayhem Freedom showed why they were multiple-time champions on day one of the CrossFit Games 2019 as they collected almost all the points on offer in day one. They breezed to victory in event one and event two, showing teamwork and communication in rope climbs and sledge pushes. They finished second in event three.
Teams completed the second and third workouts without a break to conclude day one. During event two, the teams had to complete of seven synchronised rope climbs, 42 worm thrusters, five synchronised rope climbs, 30 worm thrusters, three synchronised rope climbs and 18 worm thrusters. They had an 18-minute cut-off.
Mayhem Freedom then carried their form into the third event, clean and jerks, grabbing 293 of 300 available points on day one. They are followed in the standings by Central Beasts and CrossFit Krypton.
After the third event, Mayhem Freedom team member Tasia Percevecz said the hot sun of Madison didn't bother them too much.
"We're feeling pretty good, we do a lot of training with volume normally, so its a good day," she said.
Fellow teammate Chyna Cho echoed Percevecz's statement, noting they are excited for day two.
"I actually think I do a little better tired and I think I speak for all my teammates."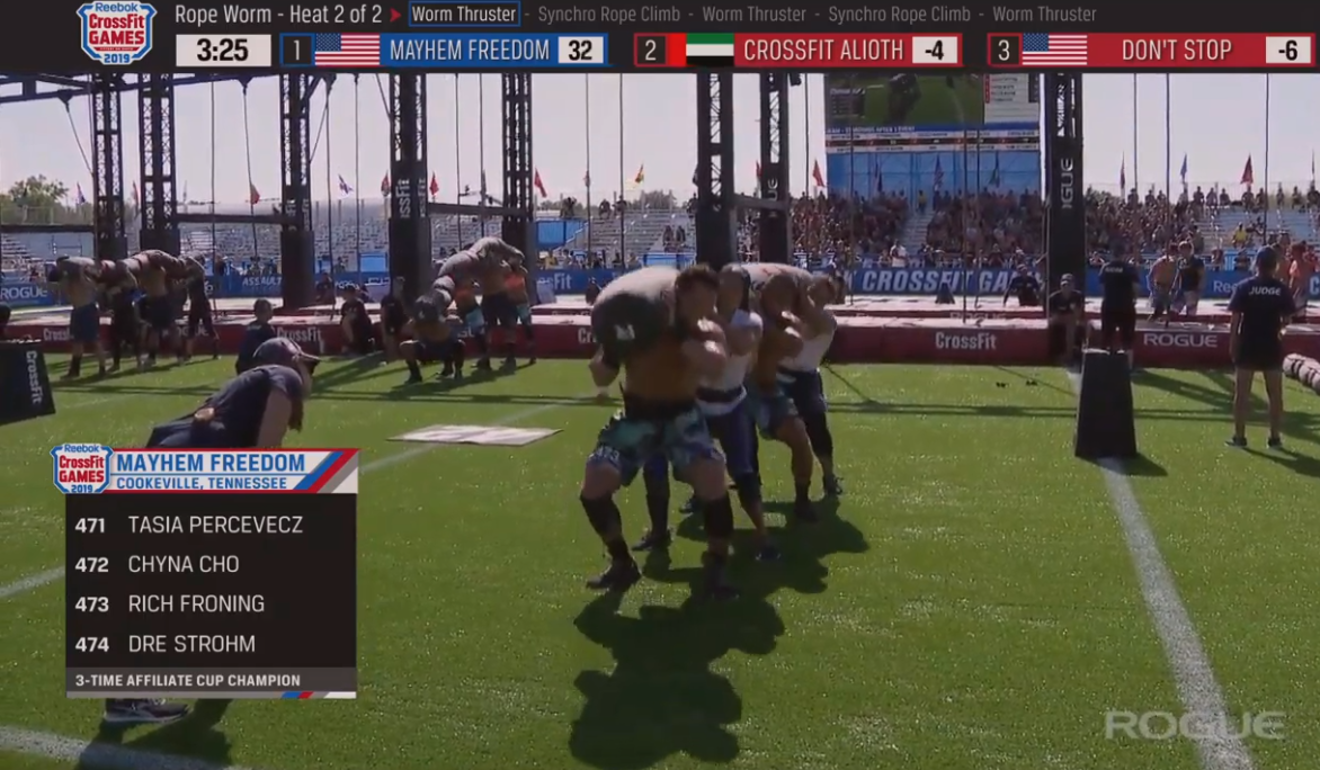 Earlier in the day the first team workout was three rounds of: air bike calories (18 calories for women, 25 for men), 30 toes-to-bar and the Big Bob push, where they all have to push a huge metal sledge together. There was a time cap of 17 minutes.
To no one's surprise, defending champions Mayhem Freedom took the top spot after the first event and locked in 100 points. They won the second heat in a time of 15 minutes, 55 seconds, 92 millisecond. Mayhem Freedom qualified for the CrossFit Games via the Asia CrossFit Championship in Shanghai in April. Froning said the two women on his team – Cho and Percevecz – were leading the way ahead of himself and Dre Strohm.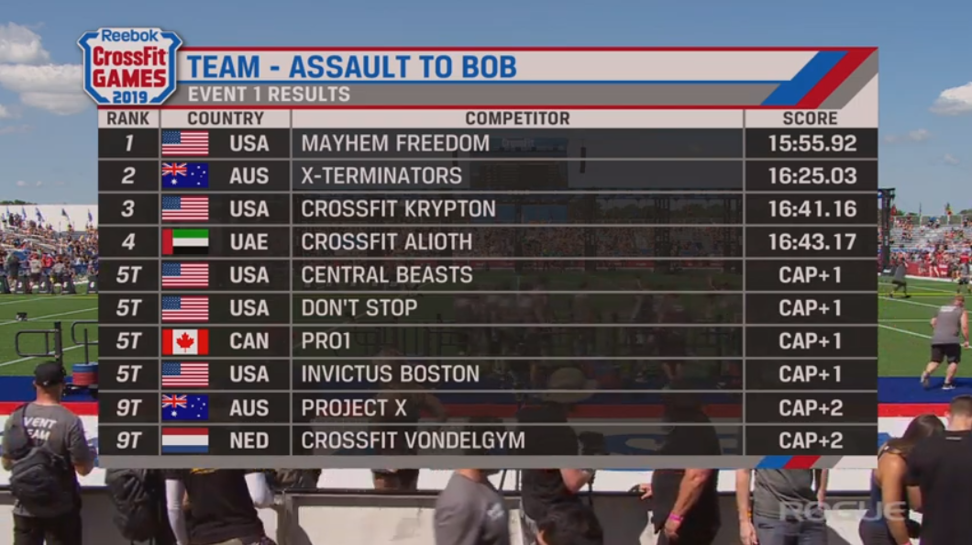 "We were trying not to let the girls down because they were finishing before us," said Froning. "We get along great, everyone communicates really well."
The first heat was won by X-Terminators, who took second overall. They were neck and neck with Dubai team CrossFit Alioth through the first two rounds. Both teams finished their second Big Bob push in almost exactly 10 minutes. But on the final round X-Terminators began to pull away and finish in 16:25.03. Alitoh crossed the line seconds later. They were the only two teams to make it through the first heat.
Team Event Two and Three announced
Team Event Two – Rope Worm
For time:
Seven synchro rope climbs
42 Worm thrusters
5 synchro rope climbs
30 Worm thrusters
Three synchro rope climbs
18 Worm thrusters
Order: all at once
Time cap: 18 minutes
Team Event Three – Clean and Jerk
Team Event three will begin two minutes after the start of Team Event Two.
One-rep-max clean and jerk
Order: any, with one athlete lifting at a time
Time cap: seven minutes