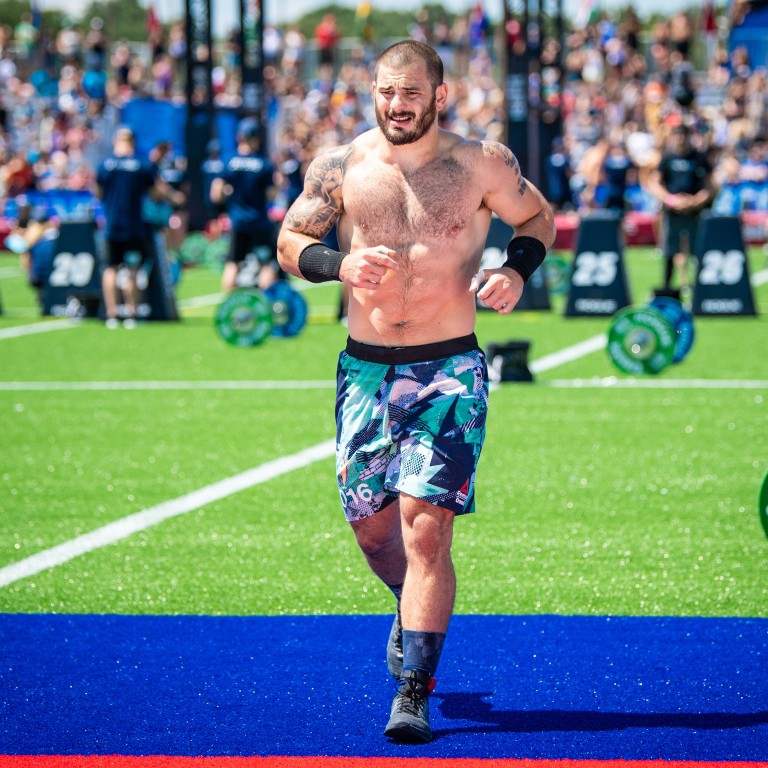 CrossFit Games 2019: Mat Fraser wins 'Fittest on Earth', equalling Rich Froning's record
Noah Ohlsen finishes second and Bjorgvin Gudmundson finishes third
Mat Fraser has claimed a record equalling fourth "Fittest on Earth" title, joining Rich Froning as the only other athlete to claim as many, despite being
penalised on day two
of the competition and having to come from behind to secure victory. It was as close a point race as ever.
"I didn't like it. It was what was it was. It gave me a little motivation to go harder and rack up those points," Fraser said. "I'm just trying to have a good time. It's better than a desk job. I'm going to keep doing this."
Fraser was in the unfamiliar position as the pressure was mounting on him leading into the final event of the CrossFit Games. He was atop the leader board, but he needed to beat Noah Ohlsen or finish within three spots of him to secure the title.
Fraser was keeping an eye on Ohlsen through the final event, which consisted of 30 clean and jerks, 30 muscle-ups and 30 snatches. Ohlsen was visibly struggling with Fraser's pace and ultimately it all went to script when Fraser finished first and secured the title.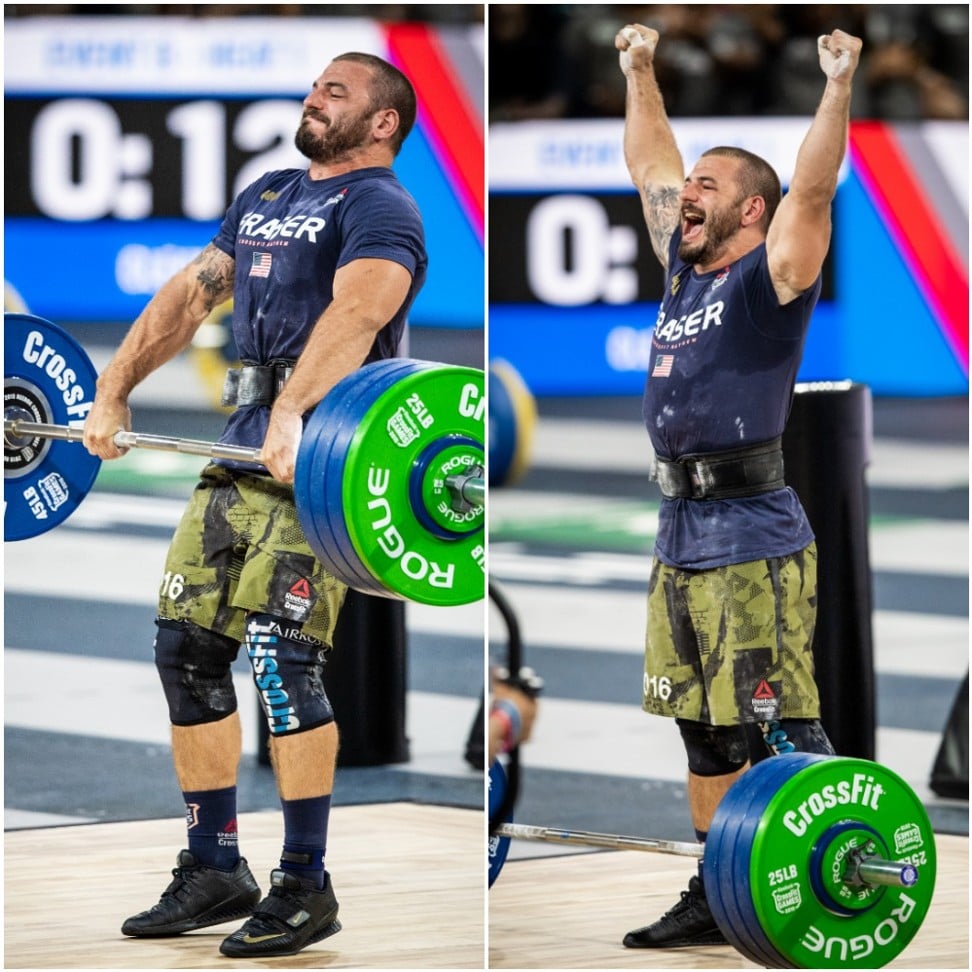 Fraser was made to work for the title like never before. Fraser accidentally dropped a weight out of his loaded rucksack during the Ruck run. He was penalised and as a result, his 24-point cushion over Ohlsen was reduced to two. In the next event, The Sprint, he exited in the heat and dropped to second overall. But he clawed it back with a host of wins, and found himself back on top after the penultimate race.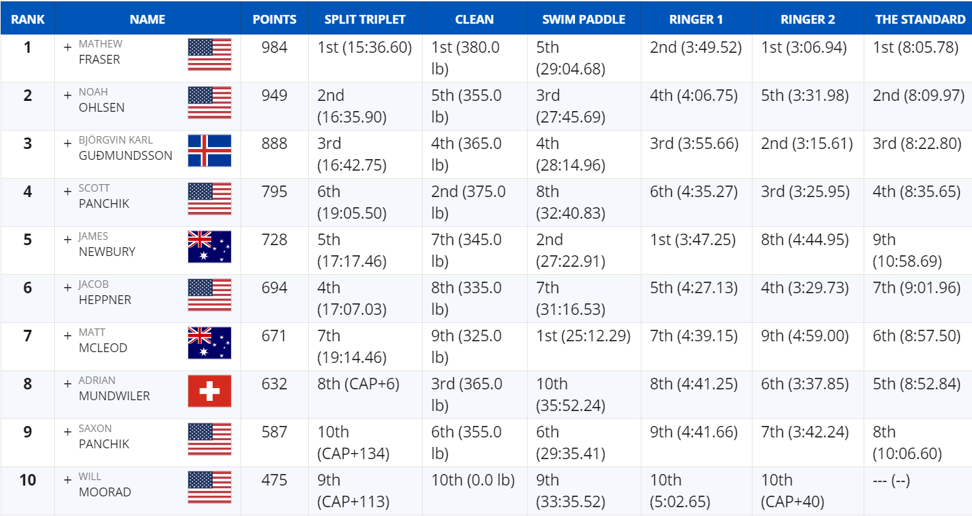 He puts his success down to his support crew.
"I wouldn't be here without them. They take everything off my plate so I can wake up, train and think about nothing else," Fraser said.
Events 10 and 11, recap
Mat Fraser cruised up the leader board and found himself back in pole position after a second and first place finish in the two Ringer events at the CrossFit Games.
James Newbury set off at a crazy pace and was way in front. But all eyes were on overall first place Noah Ohlsen and second place Fraser. The latter needed to cut the overall lead by finishing ahead of Ohlsen, irrespective of what the rest of the field was doing. Fraser took second and Ohlsen looked tired and languished behind.
Newbury won in three minutes, 47 seconds and 25 milliseconds. Importantly, Fraser came second and cut Ohlsen's lead by 20 points as the Miami athlete finished fourth.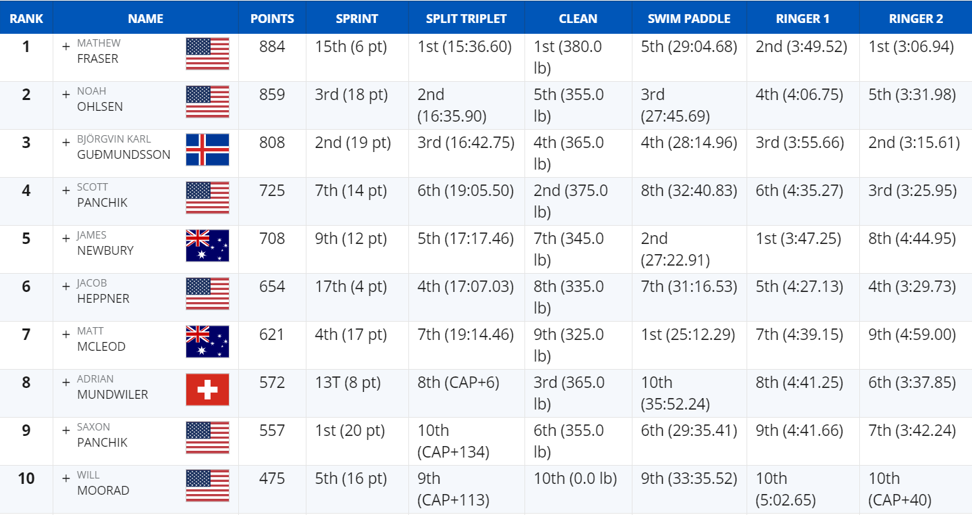 Coming into the second Ringer, where athletes alternated between burpee-to-ring-touches and overhead squats, Fraser was going to have to finish two places ahead of Ohlsen, anywhere in the field, to reclaim the lead. As soon as it began, Fraser set off at a remarkable place, while Ohlsen looked knackered from the start.
Fraser finished in 3:06:94, taking first place and reclaiming the overall lead as Ohlsen finished fifth.
"I wanted to go at a pace that scared myself and not give myself a choice to hold back," Fraser said. "I'm tired, sore, just like everyone else, but it's not stopping me from doing anything, and I'm ready to do it all again."
Event eight, Swim Paddle, recap
Matt McLeod won the opening even of the final day of the CrossFit Games. He had a great pace person to swim alongside during the first event of day four, the final day, although technically it wasn't even one of his competitors.
The morning kicked off with the Swim Paddle, which is a 1,000m swim and a 1,000m metre paddle board. McLeod, a strong swimmer, paced himself with women's leader Tia-Clair Toomey.
The two even appeared to draft off each other on the paddle board, a technique racers use to help conserve energy, which was confirmed in the post race interview which featured both Toomey and McLeod.
McLeod won the event with a time of 25:12.29 while James Newbury came second (27:22.91) and points leader Noah Ohlsen came third with a time of 27:45.69. Mat Fraser finished fifth and Ohlsen added twenty points to his lead which gave him a 35 point cushion over Fraser in the overall standings.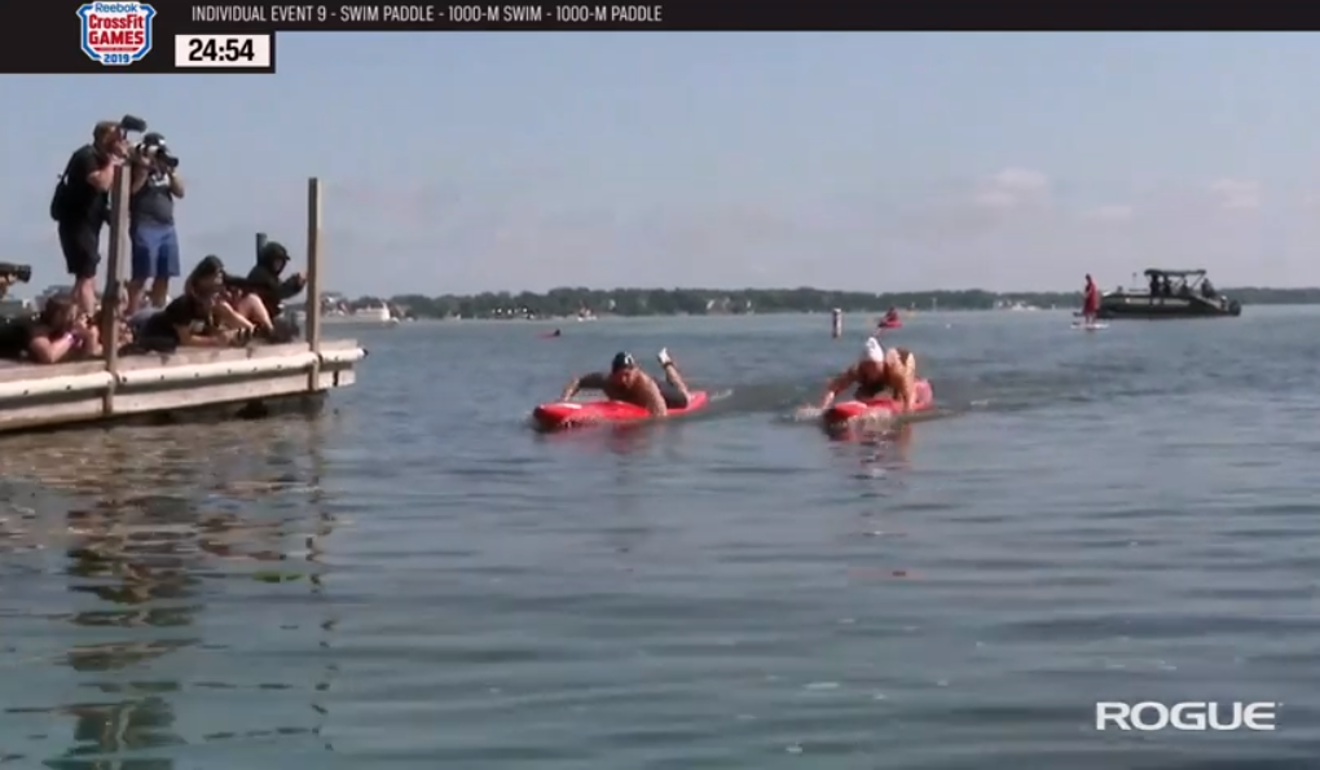 McLeod said coming back on the paddle board was actually easier than heading out on the swim.
"Yeah the swim was pretty hard on the way out," he said. "And then you just get into the rhythm and keep going and it gets easier as you go along."
Day three recap
Noah Ohlsen was sitting atop the leader board as the CrossFit Games entered its final day. But he was not in a comfortable position as the three-time defending champion, Mat Fraser, was breathing down his neck just 55 points behind after two event wins on day three.
For the final event of the day, the 10 remaining competitors had to perform a one-rep max clean, starting at 215lb, and increasing by five pounds each round until there was just one athlete left. If two athletes dropped out at the same weight, they decided their position via tiebreak in the form of five rep 295lb clean race.
Scott Panchik and Fraser were the only two to manage 375lb. Panchik failed on 380lb, but Fraser manage to lift the massive weight and claim the win.
"I did not want to race Scott on some power cleans, so figured I better make this count now," Fraser said. "I was nervous about this, I was putting all my chips on the table. The most I've cleaned in the last year is 345lb."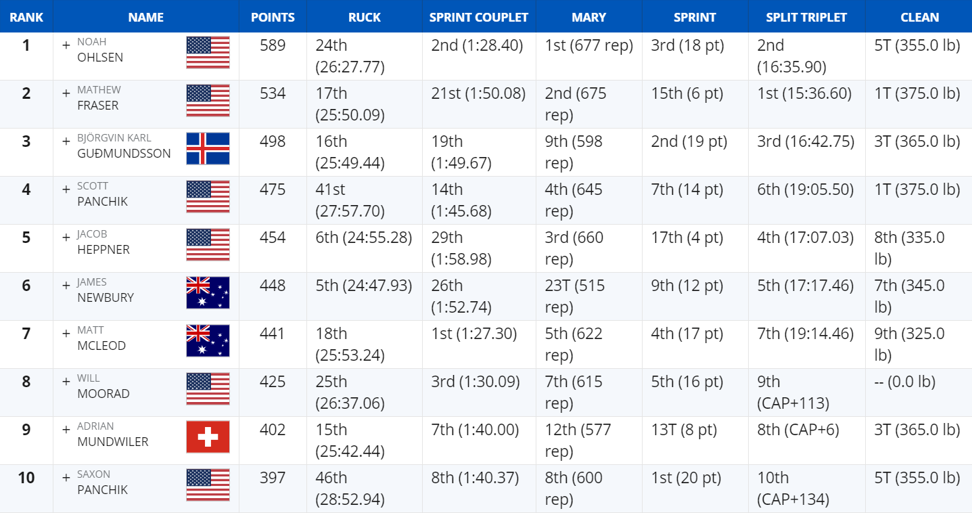 Fraser is used to being chased, rather than chasing the top spot. But a couple of low finishes and
a penalty for dropping a weight
during the Ruck run has put him under pressure.
"It is what it. I had a couple of sh*t events, and I'm putting all the chips on the table," he said.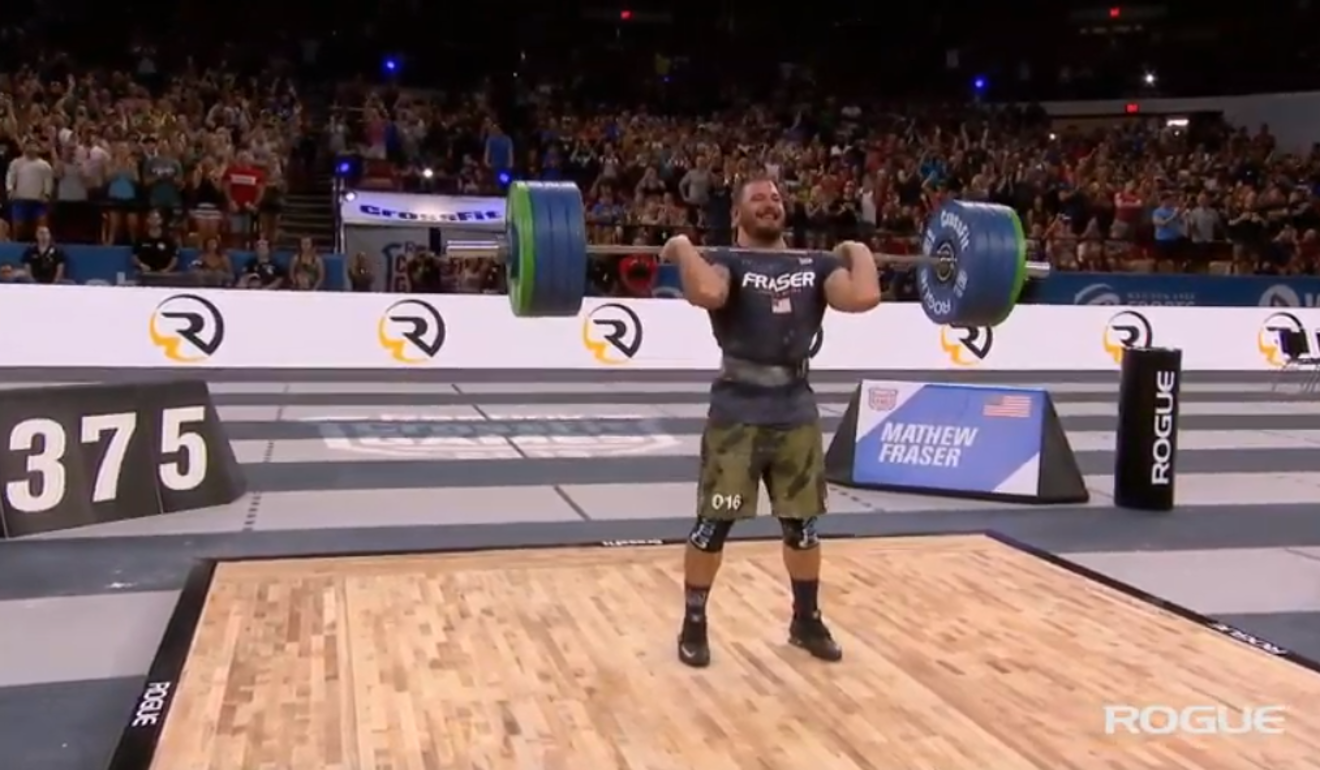 Will Moorad was the only one not to make the initial weight.
Moorad opted out of lifting, and seemed to signal that he was having hamstring problems. He automatically finished 10th.
It wasn't until 335lb that another athlete dropped out. Australian Matt McLeod failed and took ninth. Jacob Heppner took eighth at 345lb. James Newbury was next to follow at 355lb, finishing in seventh. Noah Ohlsen and Saxon Panchik, Scott's brother, failed on 365lb, so entered the tiebreak for fifth and sixth.
Ohlsen claimed fifth in a nail-biting clean-off. He beat Saxon by just 0.3 seconds. It could be crucial in the final day as Ohlsen defends the overall lead from Fraser.
Adrian Mundwiler and Bjorgvin Gudmundsson failed on 370lb, and fought in the tiebreak. Mundwiler proved too strong and took third.
Day three, event six, recap
Noah Ohlsen and Mat Fraser were going toe-to-toe in the Split Triplet at the start. Ohlsen started the event in the overall lead, but Fraser seemed hungry to cut the 65 point deficit.
The 10 remaining athletes had to complete five rounds of one pegboard ascent, 100 double-unders, 10 dumbbell hang split snatches with a 55lb, then 80lb weight.
Ohlsen and Fraser were mirroring each others' pace in the first round, but as each round passed, Fraser drew further away. He eventually won easily (15:36.60), leaving the others to fight for second.
"It was a really disappointing morning. I was going to try and win, even I crashed and burned in the process," Fraser said. "I had no idea if I could maintain the pace, but I went for it."
Towards the end of round three, Bjorgvin Gudmundsson was putting pressure on Ohlsen for second place.
Ohlsen slipped on the final pegboard climb and briefly surrendered second place to Gudmundsson but quickly regained it on the double-unders. The two athletes were matching each other with each rep during the final snatches.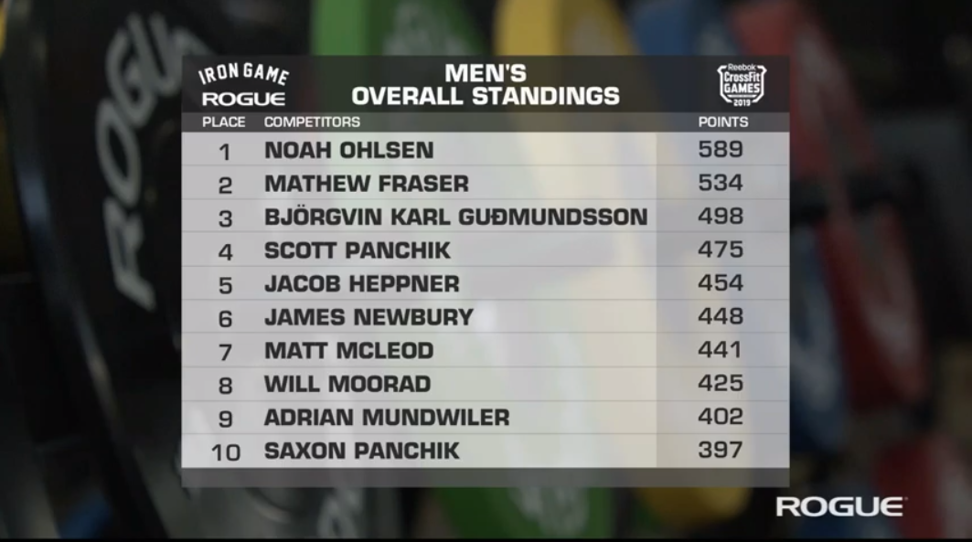 With just a few snatches left, Ohlsen sped up and claimed second place, keeping himself on top of the overall leader board.
The athletes now face a one-rep max clean to conclude day three.
"There is nothing better than lifting in the Colosseum," Fraser said.
Day three, event six recap
Fans were treated to an unbelievable close race as the top men in the sprint (event six) of the individual competition at the CrossFit Games. Saxon Panchik took the honours and the group was cut from 20 to 10 athletes after the sprint competition.
The athletes had to sprint the length of the field, turn, sprint back and finish with a weaving run through markers. They qualified through a series of heats and semi-finals for the five-person final.
Less than 0.4 seconds separated all five runners in the first semi-final, with Ohlsen coming last by a split second, but doing enough to go through as he beat all the times in the other semi-final.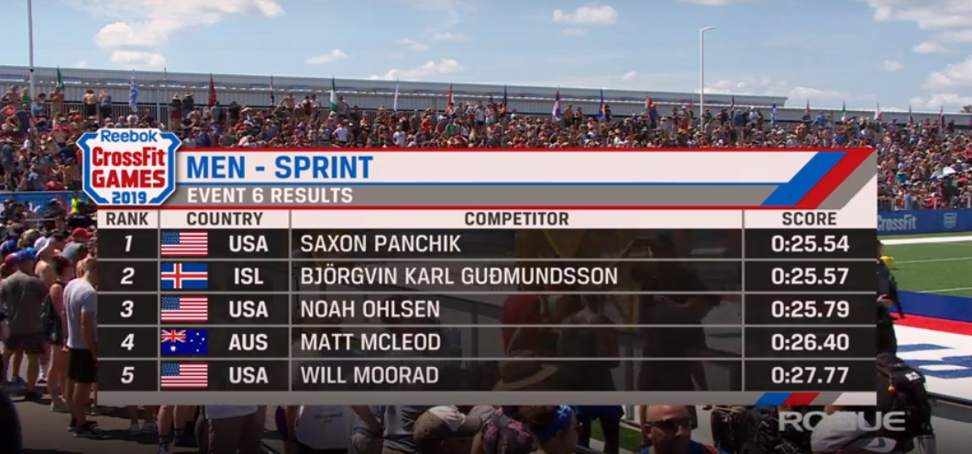 Travis Mayer and Matt McLeod tied the second semi-finals in 25:98. The organisers went to an additional decimal point to decide who went through, and deemed McLeod the fastest.
Patrick Vellner's time put him on the cusp of going through to the semi-finals. But on review, the organisers decided he put a foot outside his lame and added 10 seconds. The blow means that Vellner, a pre-tournament favourite, missed the cut and is out of the competition.
Saxon Panchik won the final by less than a second. He finished in 25:54, ahead of Bjorgvin Karl Gydmundsson in 25:57 and Ohlsen in 25:79.
"It's sets me up with a lot of confidence," Panchik said.
His brother, Scott, is also in the CrossFit Games: "It's amazing. That's how it is during training sessions, the competition is always on."
Day two, recap
Mat Fraser showed the first signs of being human on day two of the 2019 CrossFit Games and slipped to second place overall. During the first event of the day, the Ruck run, he had a weight fall out of his backpack and was penalised 60 seconds. Then in the final event, American Noah Ohlsen seized the opportunity to take the overall lead, narrowly edging out Fraser in the gruelling Mary event.
Ohlsen grabbed his first ever event win at the CrossFit Games during Mary, which is a 20-minute timed event where athletes did as many rounds as possible of five handstand push-ups, 10 pistol single leg squats and 15 pull-ups.
Ohlsen, known for his friendly, laid-back attitude, will be wearing the leader's white jersey when day three kicks off tomorrow.
"Holy moly, I see so many people in the crowd that I love," he said after beating Fraser. "I love all of you guys."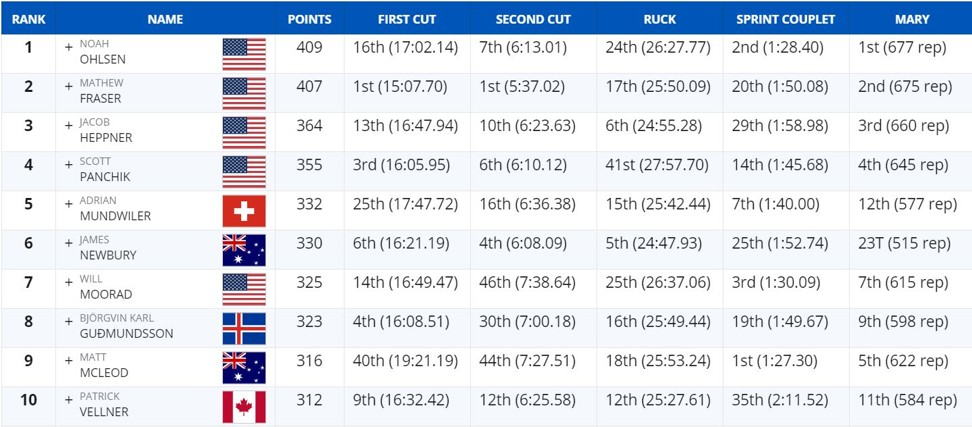 Ohlsen lined up right beside Fraser during the event, but did not blink when pitted against the three-time defending champion. Going into Mary, Fraser was just two points ahead of Olshen on the overall leader board because the Ruck penalty cost him more than 20 points. Ohlsen said he knew he had to bring his A game to finish off day two. He ended up doing 677 reps to Fraser's 675.
"I definitely knew there were some studs in this," he said. "I just did me and I have been doing me all weekend."
Ohlsen leads the way with 409 points overall to Fraser's 407. The men's championship now appears to be a two-man race as Jacob Heppner is in third with 364 points but one strong performance, or a mistake from the leaders could change everything.
Event four recap
Australian Matt McLeod took first place in the short and sweet Sprint Couplet event in the second event on day two.
McLeod finished the event with a time of one minute, 27 seconds and 30 milliseconds, which featured a 172-foot sled push, 18-bar muscle-ups and another sled push back to the finish line. McLeod said he amazed himself in the event.
"I was a little bit worried about the sled," he said. "I thought it would be harder to push but I was surprised."
He also said he wouldn't mind some handstand push-ups for the next event.
CrossFit Games veteran Ohlsen won the second heat and came second overall in the event. He said he's enjoying the 2019 edition, which is his sixth time at the big dance, more than any other year.
"I finally feel like a veteran, which I think is because we get to meet a bunch of people from other countries, which is really cool, but then also get to kick some butt."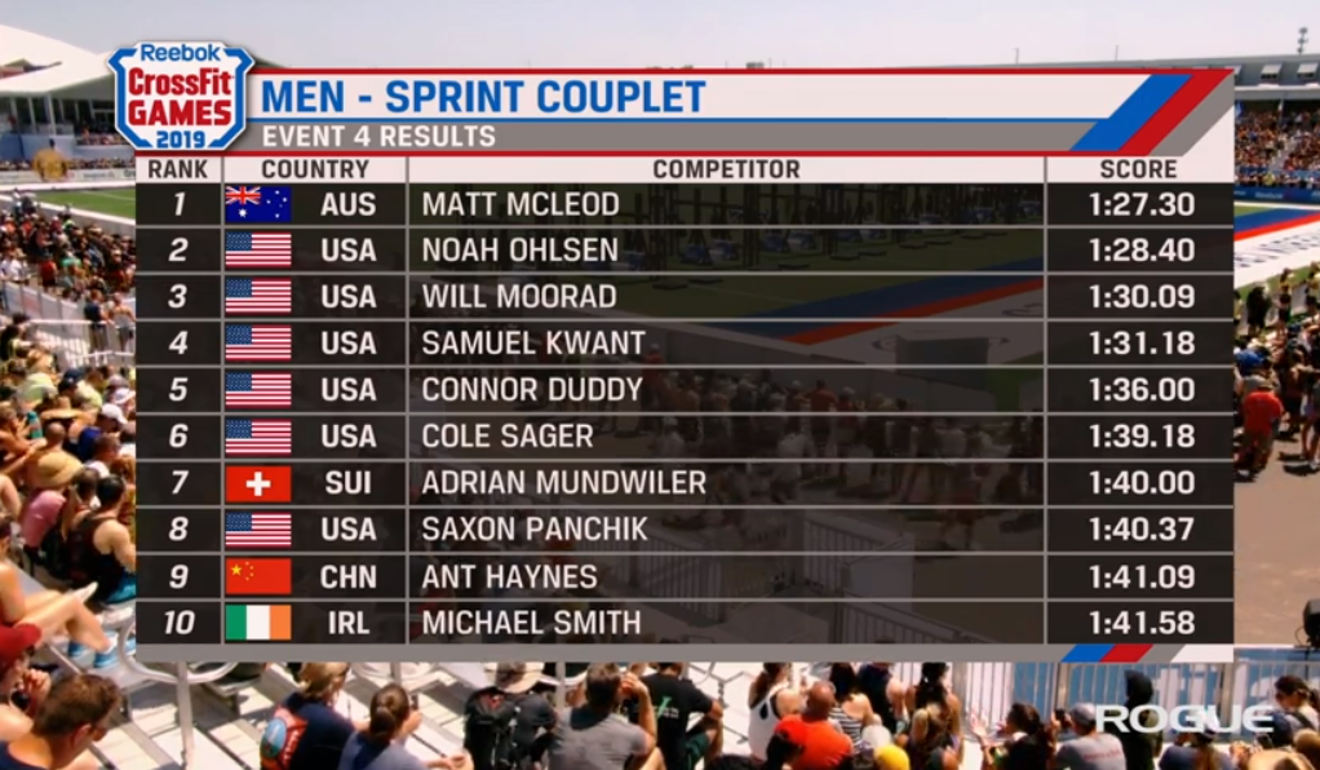 Hong Kong's own
Ant Haynes
, who is representing China, came ninth.
The top-10 finish puts him 20th overall.
Event three recap
Lukas Hogberg took first place in the opening event of day two. The Swede was sitting in 24th overall coming into the Ruck run but beat all the athletes with a time of 24 minutes and 59 milliseconds.
The athletes had to complete a 6km run, made up of 1.5km laps. They carried a weighted rucksack, which started weighing 20lb. After each loop, they added an additional 10lb.
Hogberg, 28, shot into the lead early. Others pushed for first place in the initial laps, but by the time he left for the last lap, victory was his.
"Yesterday was a bad day, so I had to recover, I had to move forward, so that's what I did," said Hogberg.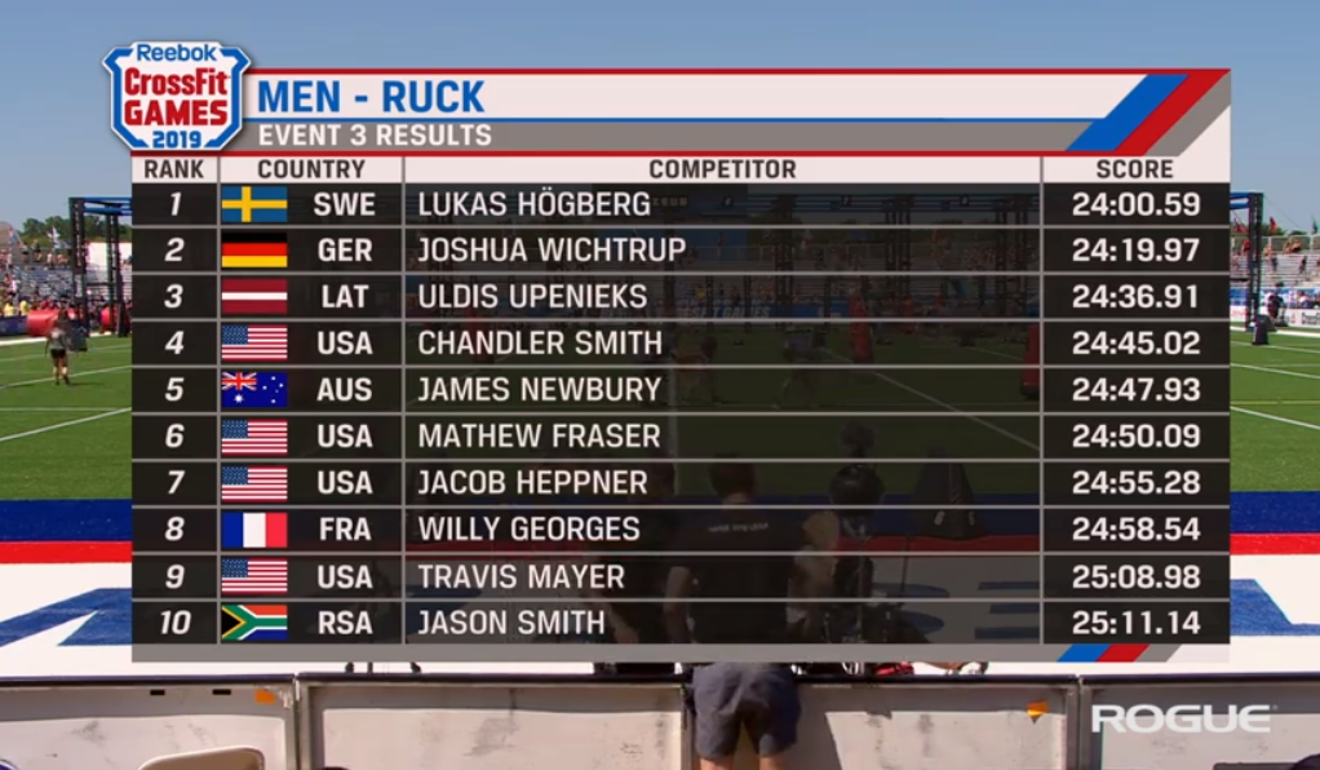 Joshua Wichtrup finished second and celebrated with a dab as he ran over the finish line.
Fraser, the three-time defending champion, finished sixth in the Ruck run, but stays top of the overall leader board.
Day one, completed 
Fraser breezed through the second event of the day which consisted of an 800m row, 66 kettlebell shoulder-to-overheads (with two 15 kilogram KBs) and a 132-foot handstand walk. In second and third are Chandler Smith and Scott Panchik respectively.
After the second event, Fraser said the key with high-intensity movements is staying smooth throughout, as he lead even though he got a number of no reps with the kettlebells. "With something like this, it's all about transitions, its such a short event."
Fraser added having pressure from behind is also a tricky thing to deal with at times, but he's obviously used to it given his track record. "Having guys on your heels, it definitely gives you motivation. We do handstand walks all the time, so you learn how to listen to your body."
Fraser opens with a bang in event one
Fraser put in a convincing performance in the first event earlier in the day, called First Cut, with a time of 15:07.70. It featured four rounds of a 400m run, three legless rope climbs and seven squat snatches at 185 pounds. The time cap to finish was 20 minutes. The men's field was cut down to 75 competitors after the initial round.
Fraser has never finished lower than second in his CrossFit career and has now has 11 individual event wins. Behind Fraser was Smith and then Panchik in the first event. Fraser said he had a pretty normal game plan going into the first event knowing there were going to be a lot of cuts.
"I was pretty comfortable with it, if I don't get injured I'll be fine," said Fraser. "I just wanted to start collecting points as quick as I can."
Fraser was battling Patrick Vellner on the first two rounds of the event. The pair were running the 400m laps together, along with Sean Sweeney. But Fraser built a lead during the snatches that proved too much for the others. First Sweeney dropped back, and then Vellner, until the three-time defending champion was left alone, far out in front.
Fraser qualified at Wodapalooza in Florida early in the year which gave him months to prep for the Games, but he added he still wanted to keep some continuity with his 2018 season.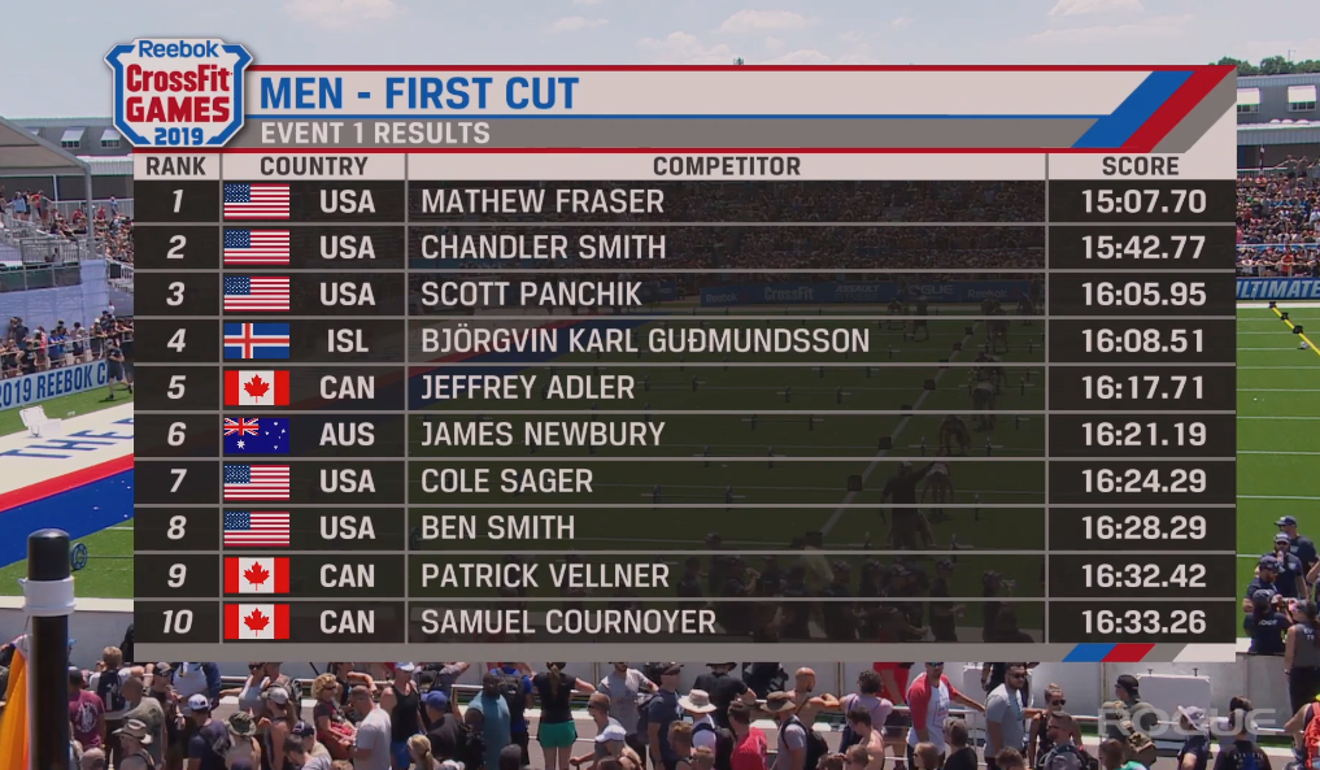 "My training season before, I liked it," he said. "I still wanted to do the Open and go to Rogue."
Australian James Newbury won the second heat with a time of 16:21.19, ahead of American Will Moorad and Canadian Brent Fikowski.
American Ben Smith,
2015's 'Fittest on Earth', won the first heat in convincing fashion and was the only one in the heat to finish (16:28.29). Most of the other competitors were national champions who had qualified via the Open, an online five-week competition, but could not manage the gruelling workout.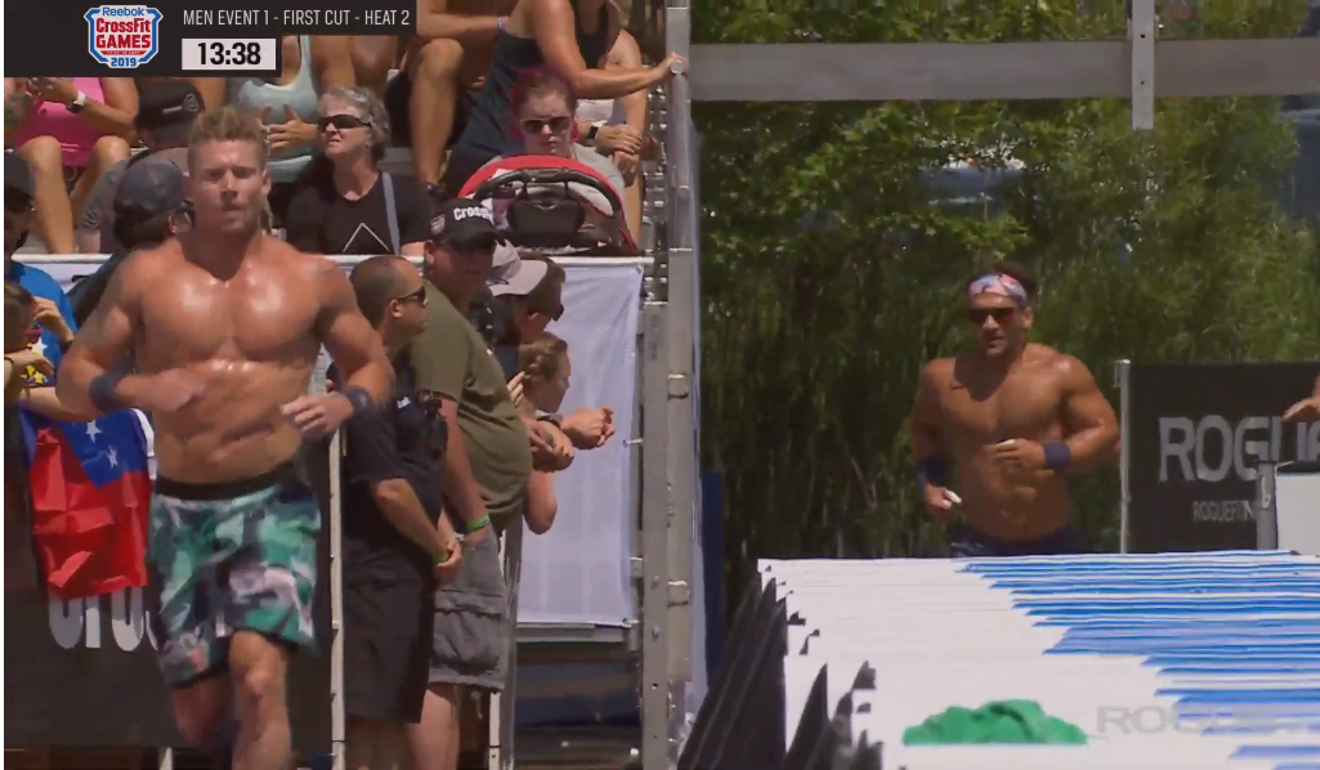 Smith was given a wild-card spot to compete. He has competed at the CrossFit Games every year since 2009, finishing on the podium four times: first place in 2015, second in 2016, and third in 2011 and 2013. He is the first competitor to make 11 consecutive appearances in the Individual Division at the CrossFit Games.