Tia-Clair Toomey made history when she won her third consecutive "Fittest on Earth" title at the CrossFit Games 2019. No other women has won as many, let alone consecutively.
"It's pretty surreal, but it definitely wouldn't have been manageable without all your guys," she said, pointing to the crowd.
The commentators began to speculate if she was the fittest women in history.
Toomey said the secret to her success was her company.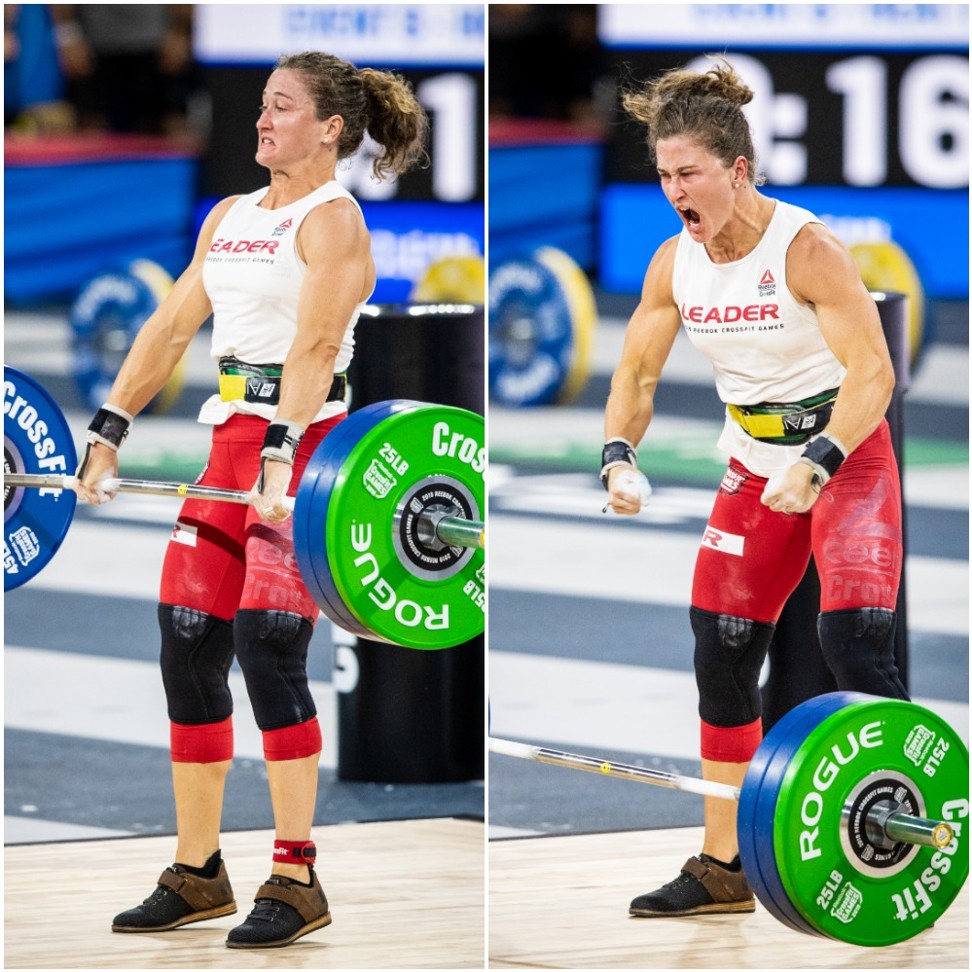 "Honestly, surrounding myself with good people," Toomey said. "I wouldn't be here without my team and all my supporters. If it wasn't for you guys I wouldn't be going to the gym everyday and trying to better myself."
Toomey, 26, came second in 2015 and 2016. The Australian seemed to struggle with the pressure, but she put her issues to bed by winning the next two Games. In 2018, she fought tooth and nail for the title, and it wasn't in the bag until the final event.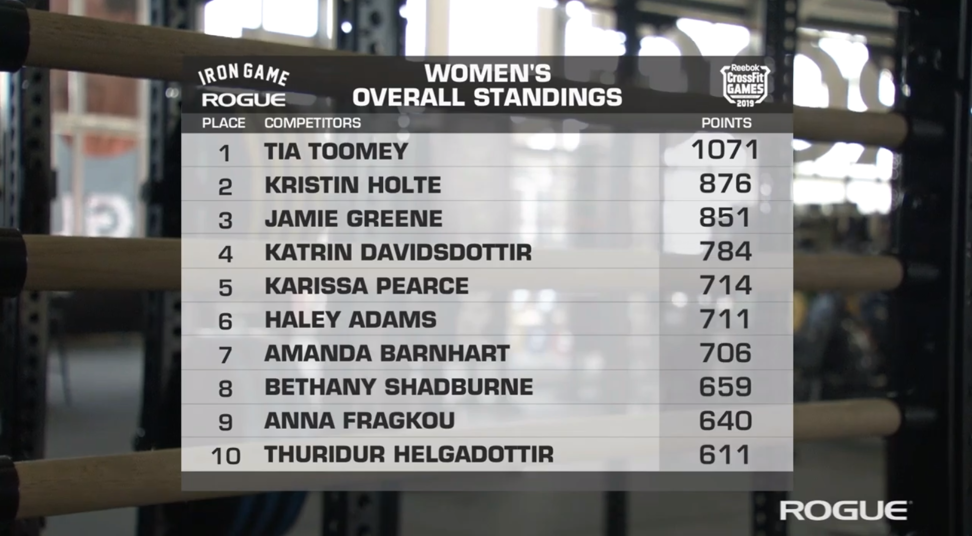 But this year, she moved up a gear again and the result was never in doubt. She had five event wins out of 11. The rest of the field were fighting for second. In one event, the Swim Paddle, she even beat all the men. In the final event, The Standard, which consisted of 30 clean and jerks, 30 muscle-ups and 30 snatches, she finished way ahead of the other athletes, and seemed not to break a sweat.
This was the first year the Games had cuts, starting from around 150 competitors, there was just 10 in the last event.
"We would have loved to have all the athletes be a part of it," Toomey said. "That said, it doesn't take any credit away from all the females standing here on the floor today. We've all fought to the end, and had the chance to show of all our hard work.
Mat Fraser won a record equaling fourth 'Fittest on Earth' title too, matching Rich Froning's feat.
Event 10 and 11, recap
Two-time winner of the CrossFit Games Katrin Davidsdottir made an impressive push for the podium with Ringer One and Two. The Icelander won both events that featured an air bike, toes-to-rings, burpees and overhead squats. Davidsdottir led virtually the entire two events.
Davidsdottir took 200 points, moving into third place and said she did so well in this event because she does a lot of similar type of training back home.
"We take a lot of pride working in the gym and we do a lot of interval stuff. And I trust that I can recover and trust that we can do it all over again."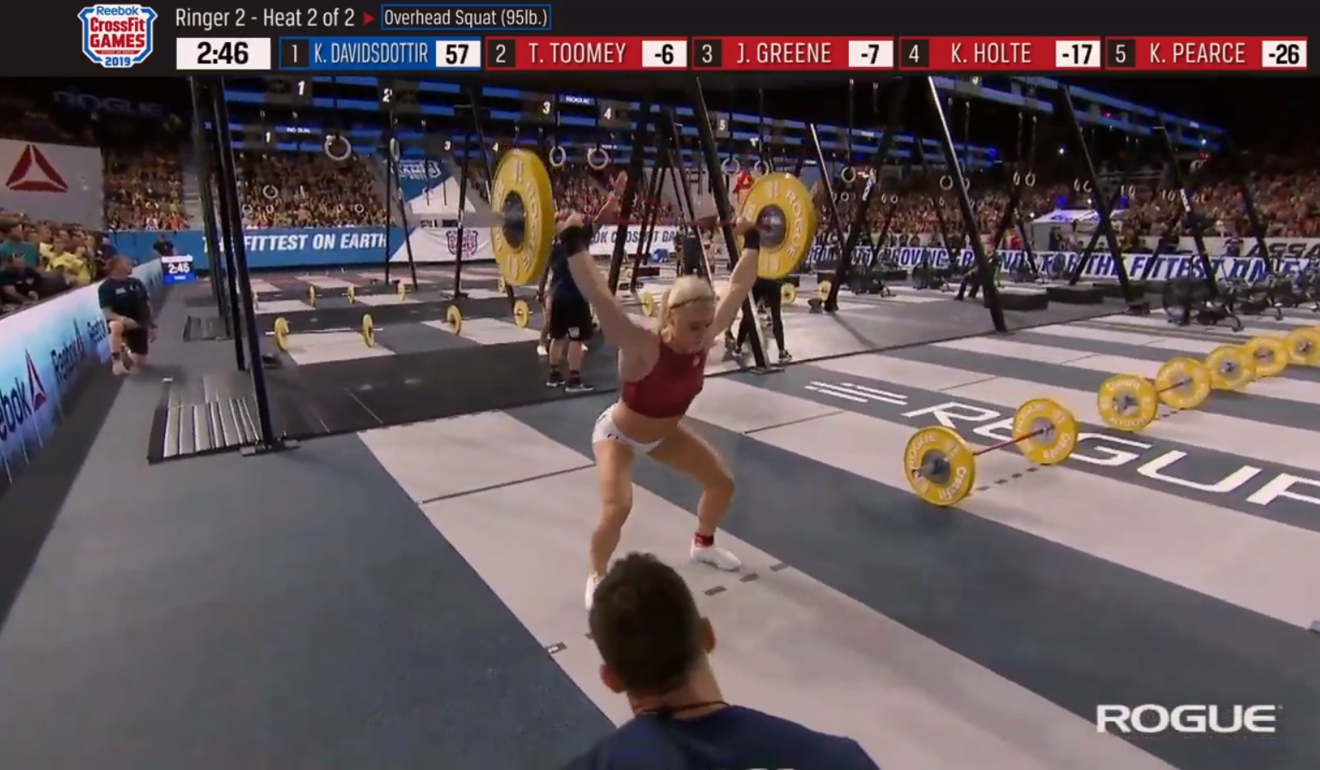 Davidsdottir, who barely squeaked into the final 10, now sits looking like she could win bronze or even challenge Kirsten Holte of Norway for second. Tia-Clair Toomey still appears like she will cruise to a victory, but Davidsdottir said she's still going 100 per cent right until the end.
"I have nothing to lose, I'm here to fight."
Event nine recap
Tia-Clair Toomey took one step closer to her third consecutive 'Fittest on Earth' title during the opening event of the CrossFit Games final day. The remaining 10 athletes had to swim 1,000m then complete the same 1,000m on a paddle board.
Toomey took an early lead and matched the men's leader, Mat McLeod, stroke for stroke as both genders completed the course at the same time.
Her victory is all the more impressive as she beat the likes of Amanda Barnhart, who was a collegiate swimmer before she started CrossFit.
As Toomey got on the paddle board for the second leg, she opted to paddle from the kneeling position, while others paddled as they lay on their stomachs. Barnhart finished the swimming one minute, 40 seconds after Toomey but tired during the paddling and finished outside the top four.
Toomey benefited as she drafted behind McLeod on the boards. "Work smarter, not harder," the commentators noted.
Toomey said: "We are competitors, but not racing against each other, so when it came to the board lap we helped each other. I drafted off him, and he drafted off me."
The pair were so far ahead they appeared to be chatting while the rest of the athletes languished behind. Even though they weren't competing with each other, the two Australians sprinted for the finish line in a mock race. Toomey finished in a time of 25:12.25.
""We realised how far ahead we were, so there was really no point in wasting energy and exerting ourselves," Toomey said.
Day three recap
The final event of the day proved to be a crowd favourite, as two women battled it out during the Clean and went above the initial max weight set out in the competition.
The one rep clean event started at 215 pounds, and three women didn't even make it past the first weight.
Toomey, Amanda Barnhart, Anna Fragkou and Katrin Davidsdottir made it to 235 pounds, and then it became a two women race between Toomey and Barnhart.
Toomey took the win at 265 pounds, edging out the American in clinical fashion. Toomey said the best way to take on the event was to treat it like a solo competition.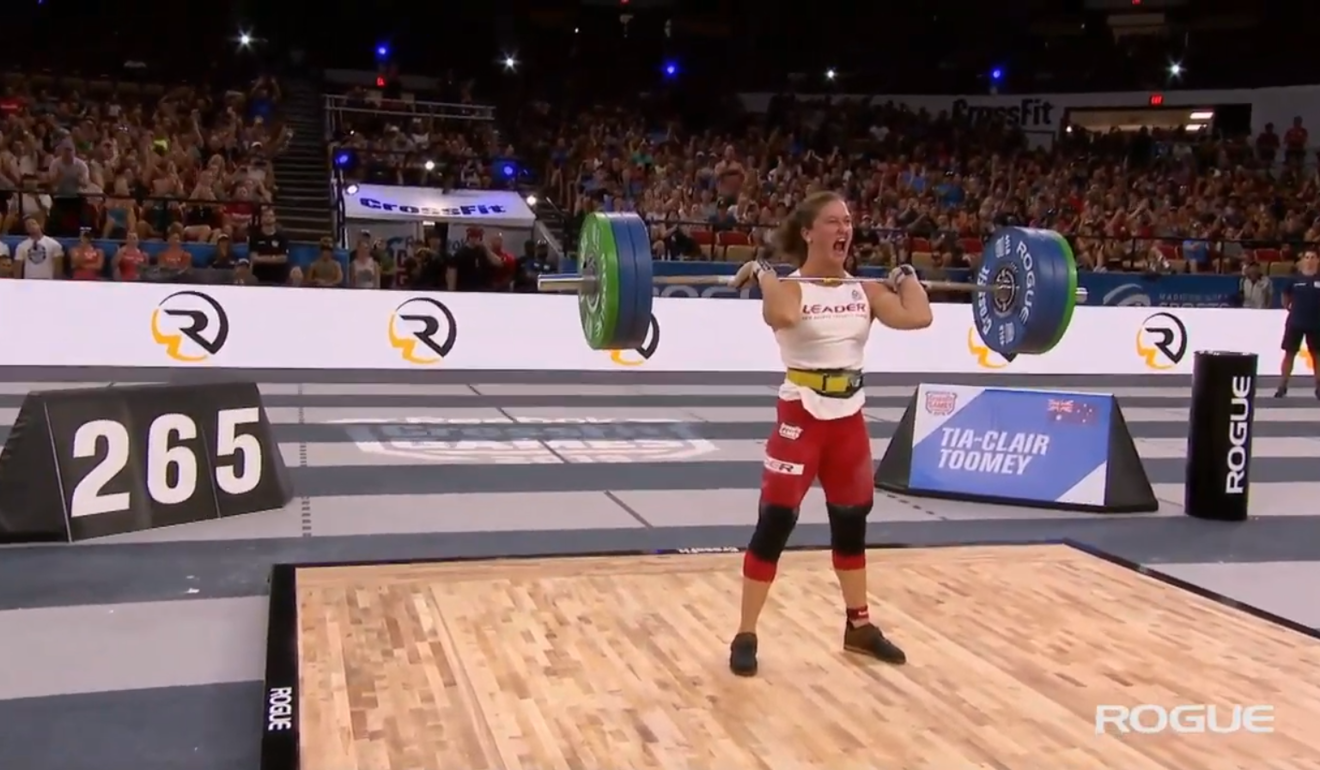 "Amanda is really strong, every lift you have to do you and not worry about what other people are doing," she said.
Toomey said she is ready for tomorrow, and baring a miracle, will cruise to her third straight title. She gave a shout out to the crowd in Madison as she wrapped up day three.
"It's already been so great, thank you so much for the supporters, you guys have been amazing."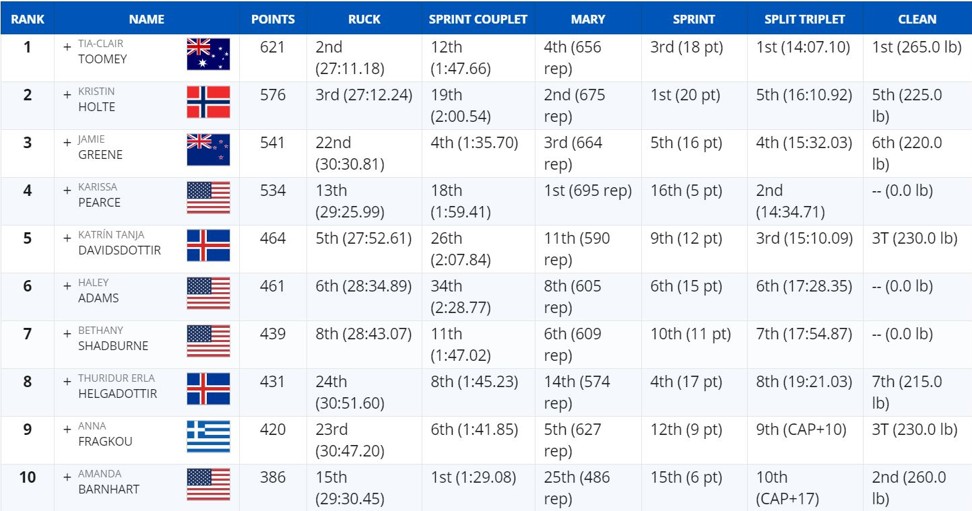 Day three, event seven recap
While Mat Fraser's title defence looks like it's in serious trouble, Australian Tia-Clair Toomey looks like she's now gone into cruise control and will take her third straight women's title tomorrow. Toomey won the Split Triplet (14:07.10) event as the both the men and women were cut down to only 10 athlete for the remainder of the Games.
The event featured five rounds of one pegboard ascent, 100 double-unders, 10 dumbbell hang split snatches and 10 dumbbell hang clean and jerks with a 20 minute time cap. Toomey fell off the pegboard right at the start but still won in convincing fashion.
"I just slipped out of the hull, nothing biggie, I've fallen from higher."
Toomey said she felt comfortable going through the various disciplines in the Split Triplet.
"Well I mean dumbbells always come up in training and you really have to focus on those movements," she said.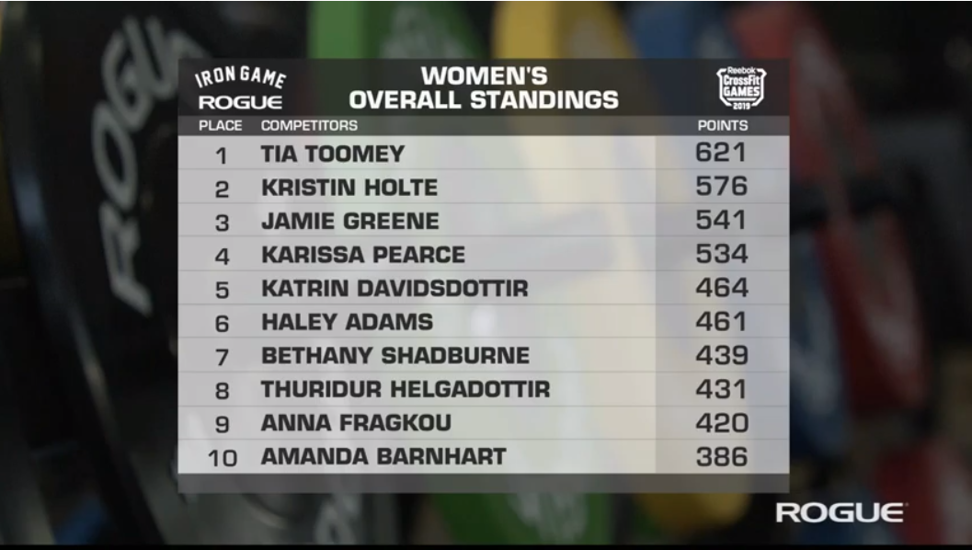 She also commented on the fact that the field has now been cut down to the final 10 women for the rest of the weekend, a brand new part of the CrossFit Games that she is still wrapping her head around.
"Those girls that have been cut so far they are my friends and they deserve to be here. So it's emotional to even think about it, and I hope they know they can walk out of here with their heads held high."
Day three, event one recap
Norway's Kirsten Holte crushed the sprint in convincing fashion, picking up the event win, the first of the competition for her, and her third top three finish. Holte won the Asia CrossFit Championship earlier this year in Shanghai and qualified for the Games via the Open as the fittest woman in Norway.
After the event she said it was great to finish on top given the field will be cut to 10 after this event, and hopes to remain at that level for the rest of the weekend.
"You always want to be on the top and it's super fun to be in the final and I just tried to run as fast as I can."
She said the sprint event, which saw athletes go through multiple heats in succession, is a great testament to what it means to be a CrossFit athlete.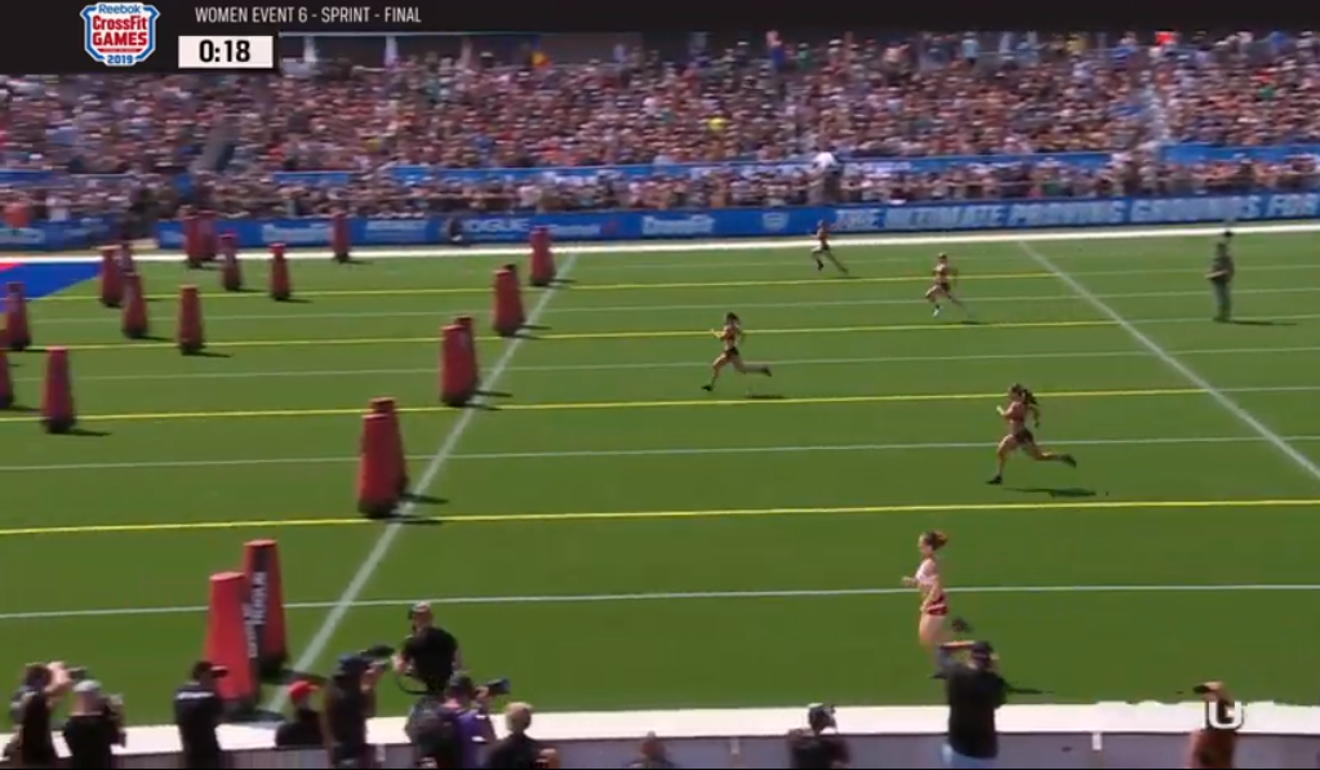 "This is what we train for to be able to repeat time after time and the atmosphere is super amazing," she said.
One of the pre-tournament favourites Sara Sigmundsdottir, who did not make it out of her first heat, has been eliminated from competition.
Day two recap
Tia-Clair Toomey was top of the CrossFit Games 2019 leader board at the end of day two, despite not taking an outright win in any of the day's events. She finished second in the opening workout, the Ruck, and outside of the top 10 in the Sprint Couplet and third in the final event, the Mary.
The competitors were put through their paces on the final event with five handstand push-ups, 10 single leg pistol squats and 15 pull-ups, non-stop, over and over, for 20 minutes. The athletes with the most rounds of the three exercises at the end of the time period won.
Karissa Pearce won the event completing 23 rounds, with energy to spare. She said she considered slowing down because her lead was so big, but the atmosphere of the crowd pushed her on.
"My quad and calf started to cramp – 'don't wuss out, just do them unbroken, as that's one less jump," Pearce said.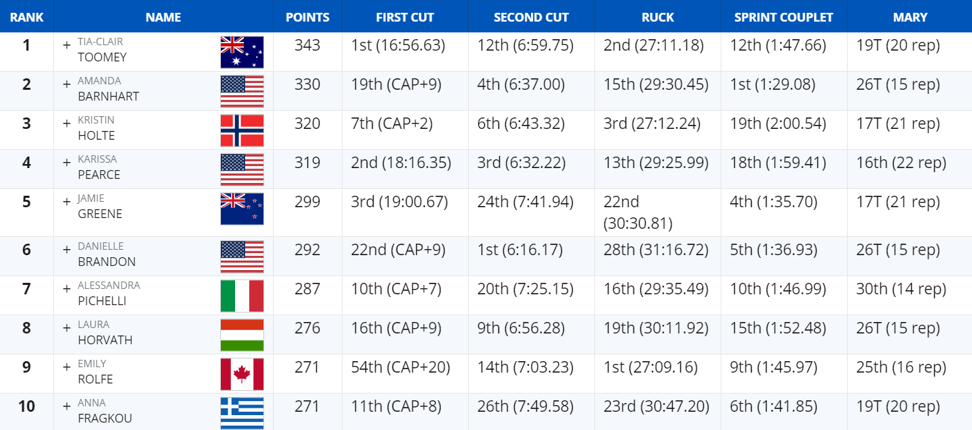 "There are just so many talented girls that are such great athletes, you hope to win and when you do you just have to take advantage of it," Pearce said.
Bethany Shadburne overtook veteran Sam Briggs in the dying seconds of the first heat to win by just a couple of reps. She completed 20 rounds, finishing in the top 10 in the event. She ripped the skin on her hand in the process. But Shadburne barely looked out of breath as she walked around showing off the wound as soon as the event had finished.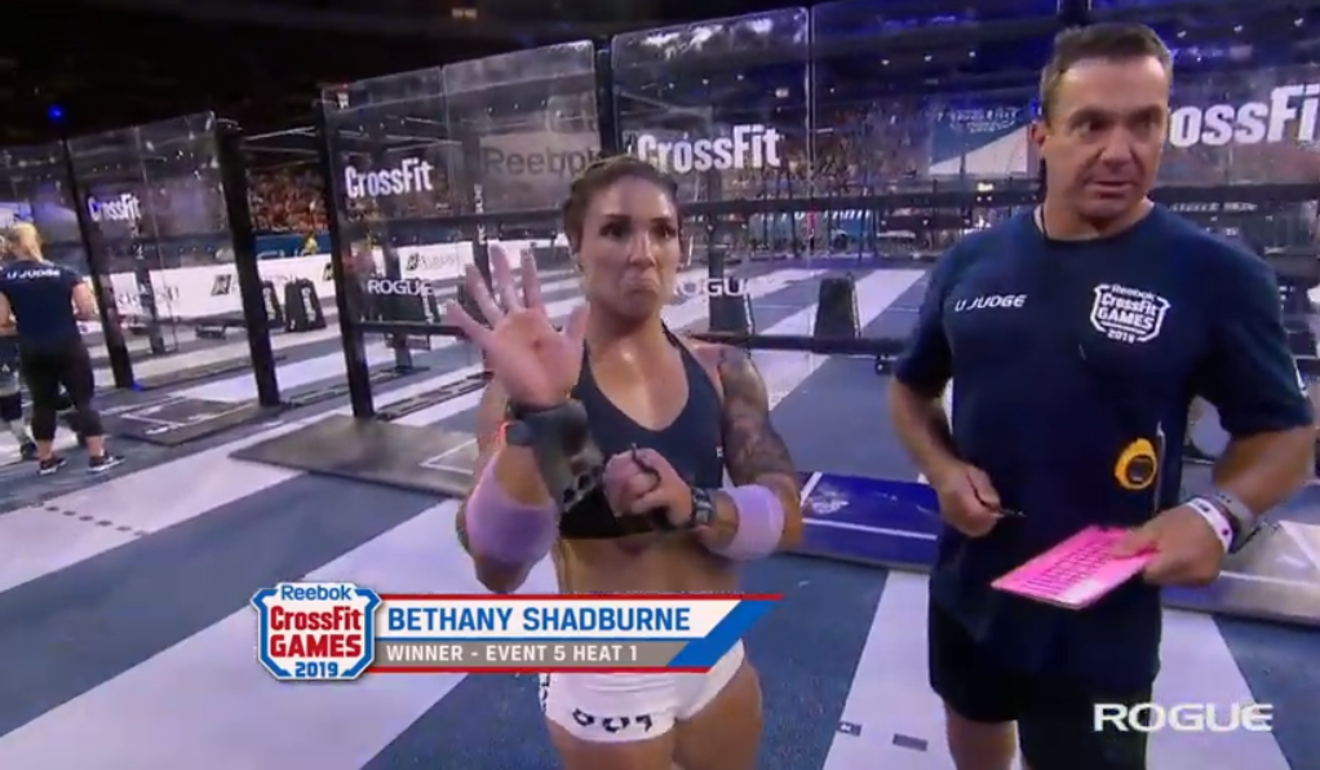 Event four, recap
Amanda Barnhart overtook Jamie Greene on the final push of the Sprint Couplet to claim first place in event four. Athletes had to push a 90lb sled 172ft, complete 15 muscle-ups, then push the sled back 172ft to the finish line.
Barnhart finished in one minute, 29 seconds and 8 milliseconds, winning her heat and the overall event.
"Honestly, I wasn't expecting that. I just didn't know what to expect at all," Barnhart said. "The sled was pretty light, so I just went hard. I've got good leg power, so it's kinda my jam."
A further 10 athletes were cut after event four, reducing the field to 30, however Barnhart said she's trying not to think of the frequent cuts.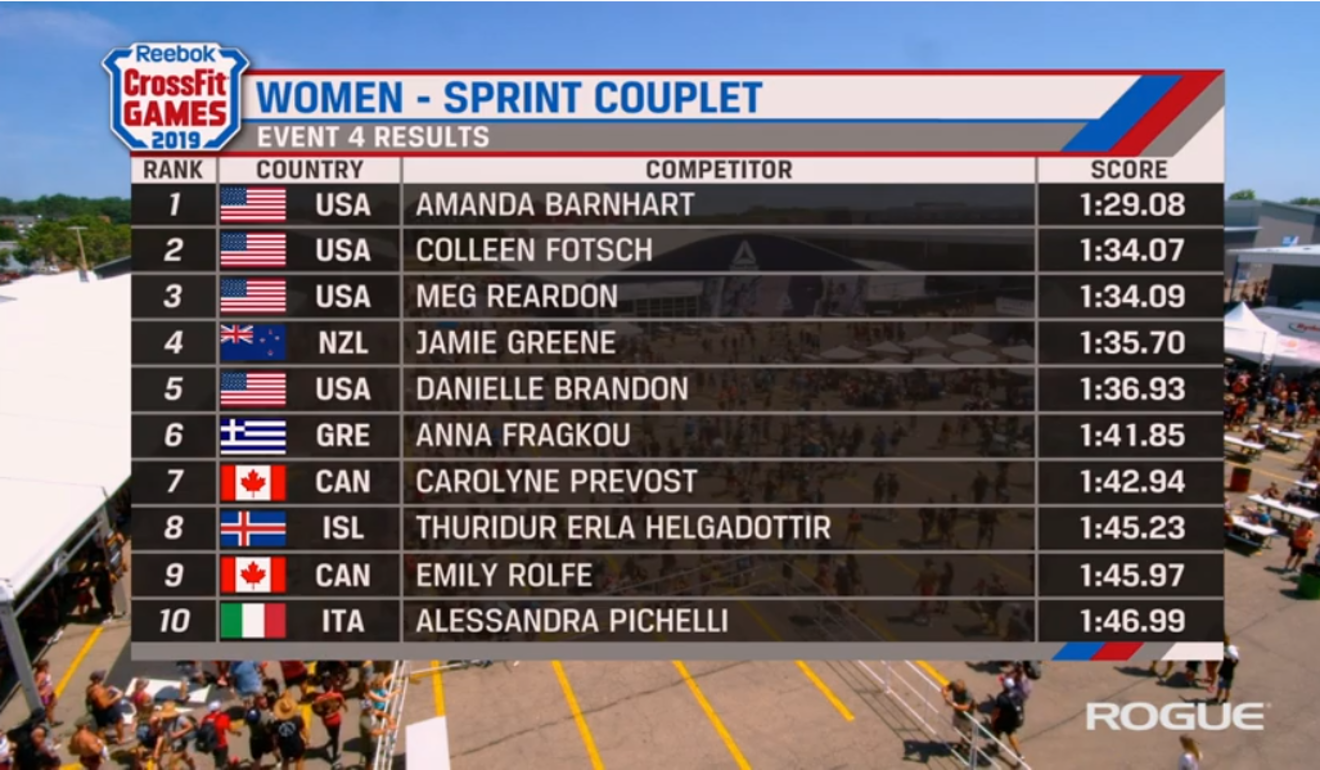 "It's in the back of your mind, but I'm really trying not to think about it. I'm just trying to do my best and then I'll end up where I belong," she said.
Two milliseconds separated Colleen Fotsch and Meg Reardon in the other heat. It was impossible to tell who had won until the official times showed 1:34:07 for Fotsch and 1:34.09 for Reardon. They were second and third overall.
"Just seeing the heat for the guys, I knew it was going to be a really tough race," Fotsche said. "I had to lay it all out there. I'm hoping for something heavy, some lifting maybe [in upcoming events]. There is honestly nothing now I'm not looking forward to, I'm just having fun."
Toomey remains atop of the overall leader board.
Event three, recap
Canadian Emily Rolfe fought off three of the top competitors in the world as the women's first event of day two came down to a thrilling finish between four athletes carrying 50 pounds on their backs.
Rolfe finished the gruelling 6km Ruck run first with a time of 27 minutes, nine seconds and 16 milliseconds, fighting off Toomey, Samantha Briggs and Kirsten Holte. The event saw competitors complete 1.5km loops, but with each loop they added more weight to a backpack.
Rolfe said her game plan going into the event was simple, stick with the two-time defending champion.
"So I just tried to stick up to Tia and stay on her back the whole race and see if I had a better kick at the end," she said.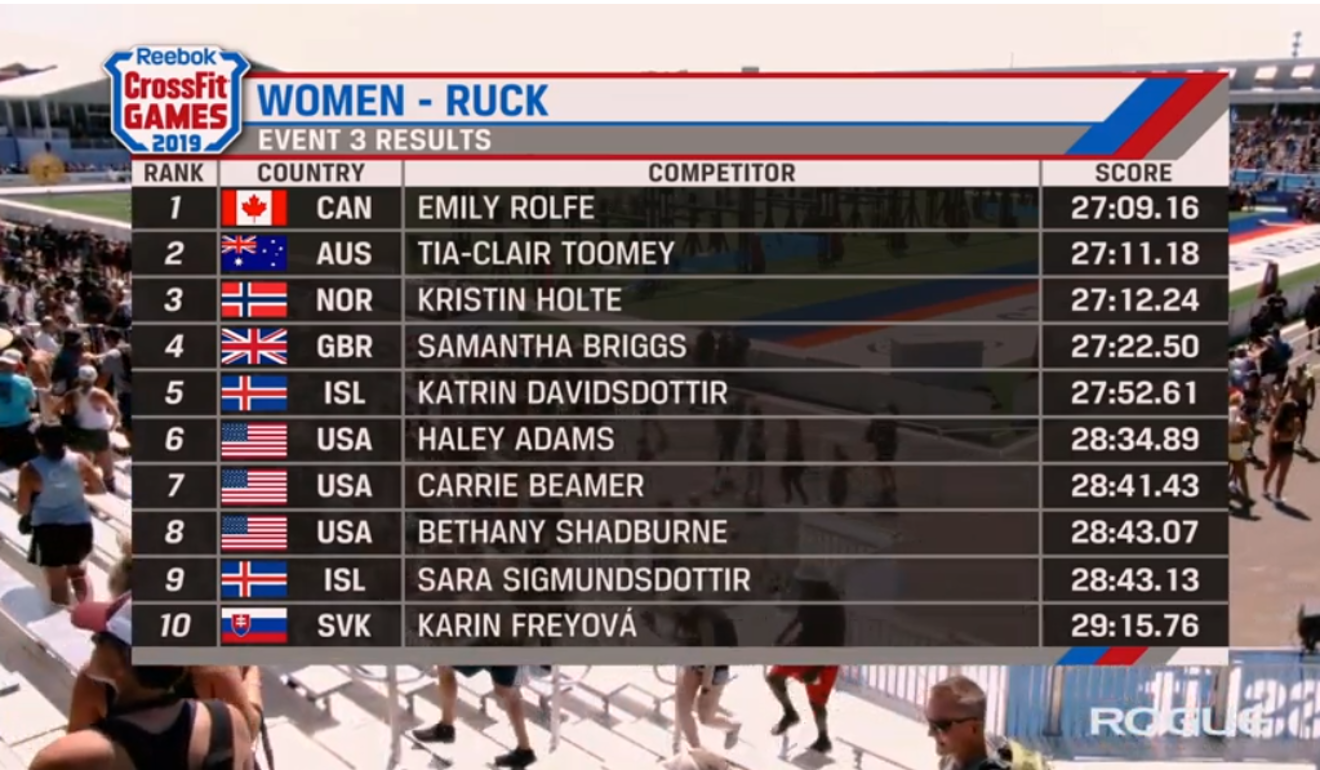 Rolfe, who is competing in her first Games, said she likes the uncertainty of the competition and not knowing what she will be tackling until moments before each event kicks off.
"It's awesome, I'd rather not know. I'd rather go in blind. You don't need to stress about it were all doing it otherwise," she said.
Peace held the overall lead at the end of day one, but Toomey's second place means she now sits in first heading into the second event of day two.
Day one recap
Karissa Pearce was the top woman at the CrossFit Games as the sun set on day one. The American came second and third respectively in the day's two events, giving her the most points overall despite not winning either.
In the second event, the athletes had to complete an 800m row, 66 kettlebell shoulder-to-overheads (with two 15 kilogram KBs) and a 132-foot handstand walk.
Rookie Danielle Brandon won event two and put it down to her "shoulder stamina, especially being able to go straight into handstand walks. My shoulders were destroyed but I knew I could do it.
"It's my first year here, so I was excited to get through the first event," she said at the end of the second heat of the second event.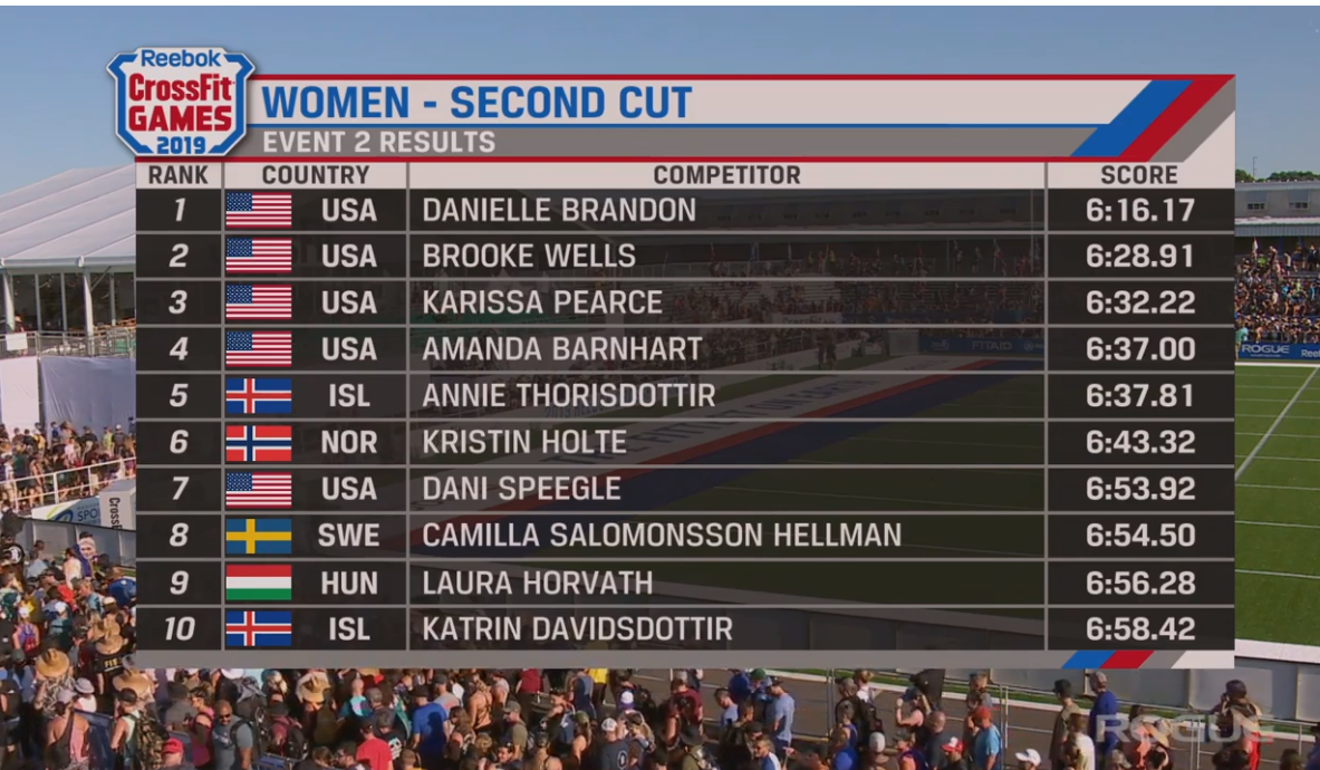 The competition was cut down to 50 athletes after day one.
Sara Sigmundsdottir looked set to win the first heat of event two, but with just a few feet to go on the handstand walk, she fell and had to start the last section again. She slipped down to fifth in the heat. She smiled and shrugged it off.
Tia-Clair Toomey showed why she was the 2017 and 2018 CrossFit Games Champion as the Australian smashed the opening event of the 2019 edition. Event One, called First Cut, was so tough that not a single woman finished it in heat one or two, but Toomey set off at an unbelievable pace and maintained it to the end.
Athletes had 20 minutes to complete four rounds of a 400m run, three legless rope climbs and seven 130-pound squat snatches. Toomey finished in 16 minutes, 56 seconds and 63 milliseconds. Only three others finished, Pearce (18:16:35), Jamie Greene (19:00:67) and Haley Adams (19:00:73).
"She is off to an incredibly aggressive pace," the commentator said as Toomey left for her second 400m run. But she kept it up. As she went around for her second lap, she was checking over her shoulder for other competitors but she need not have bothered. No one was within sight.
"Shane (her coach) and I were talking about a game plan, [but] three, two, one and it went out the window," Toomey said.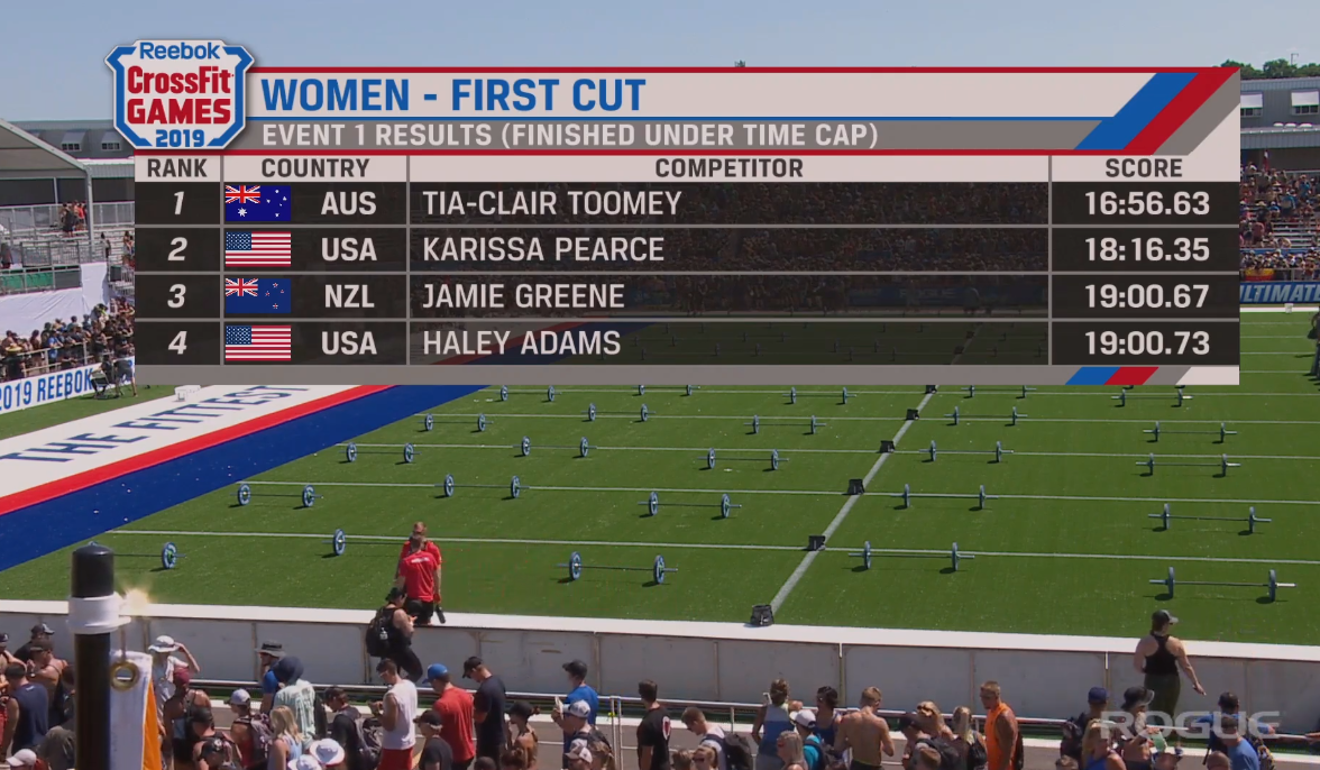 As Toomey ran back to the ropes, she did not pause for a rest but went straight back onto the rope.
"I'm really happy with that performance but we don't know what's coming, you just have to take advantage," Toomey said.
The qualification process has changed this year, so there numerous national champions who would have struggled to make the cut in the pass.
"It's awesome, it brings me back to my first day," Toomey said. "Seeing their faces, and excitement, it's rewarding and an honour to be part of."
After the first round, the field was cut to 75 athletes, which is close to half the competitors who started out this morning.
One of the competition's strongest athletes, Sigmundsdottir, looked disgruntled as she failed to finish. The Icelander did enough to make it to the next round, but her facial expression suggested angst. The commentators speculated about her mental strength, or that perhaps she had exchanged words with one of the volunteer judges who count reps.