Travis Williams and Jessica Griffith, former members of the MisFit Athletics CrossFit team, have both issued apologies after images of a private text conversation were shared showing them using and defending racist language.
The news comes while CrossFit is in the midst of a crisis, with athletes, sponsors and gyms turning their backs on the sport because CEO Greg Glassman tweeted "It's FLOYD-19", linking George Floyd, who died at the hands of a white police officer, and the Covid-19 pandemic.
In the text conversation, dated May 25, Griffith praised one her teammates performance by saying: "Myyyyy n***a that's what I'm talking about."
Several others in the text conversation expressed discontent with the use of the word. A notable team member is Chandler Smith, one of the few high-profile black athletes in CrossFit.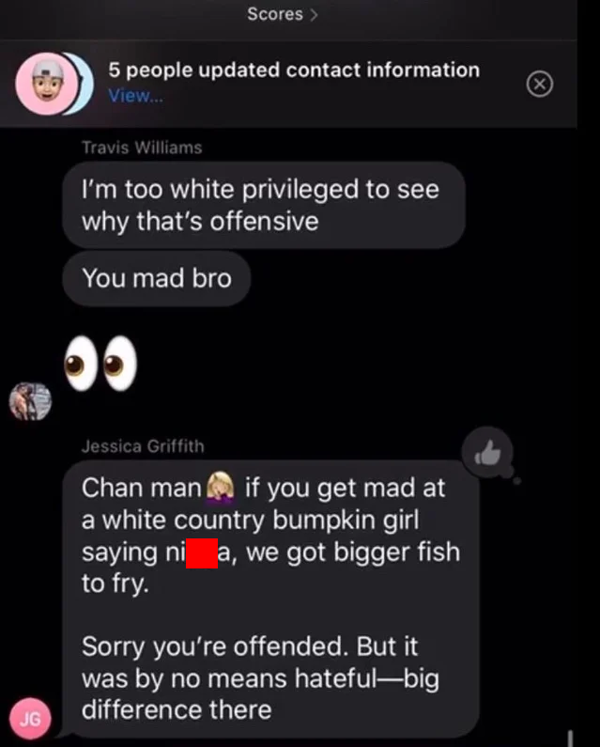 The owner of MisFit Athletics, Drew Crandall, joined the conversation to make it clear that was unacceptable.
By that point, Williams had defended Griffith: "I'm too white privileged to see why that's offensive," he wrote. "You mad bro."
She also doubled down: "Chan Man, if you get mad at a white country bumpkin girl saying n***a, we got bigger fish to fry."
After they were kicked off the team, Williams wrote a long apology on Instagram.
"I offended a lot of people by defending a phrase. A phrase I will not repeat. I did not mean any harm by defending this phrase, but I've realised now that it was harmful and very insensitive," he wrote.
Williams thanked others for being "brutally honest" with him. Williams said he was working hard to understand the sensitive subject better and listen to others.
"Kinda like training, if you want change it's going to take a lot of time and practice, but I'm willing to put in the work. Sorry for the awful comparison, but fitness is what I understand best," he wrote.
Smith replied to the message: "Salute. All love. Onwards."
Griffith's account has since been deactivated, but initially she wrote: "There's no other way to start this other than saying, "I'm sorry." I'm sorry and I want to take full responsibility by admitting that what I said was WRONG. I'm sorry that I insensitively, playfully, and casually used a term, I should instead, refrain from EVER using."
She echoed Williams' point and said "change starts within", and that she wanted to learn and become more informed on the subject of race.
"I'm not perfect. I WILL make mistakes. But I hope my heart is seen and there is grace and patience with me as I'm putting my best foot forward to learn the way," she wrote.
MistFit Athletics uploaded a six-minute video addressing the text chat and the "terrible acts of injustice against the black community".
Crandall said that condemning all forms of racism is no longer about politics, but about what is right and wrong. Although it is important to acknowledge white privilege, that is not an excuse to remain silent.
He then went on to talk about the texts. The initial plan was to remove both from the team, but he decided to let everyone "sleep on it".
By the following day, May 26, the team unanimously agreed to remove the pair, he said. "We see far too many instances in this country where commerce and self interest is placed above humanity," he said.
Crandall detailed how both athletes had reacted to their termination. Williams said he needed time to collect his thoughts and Griffith said she supported and understood the decision.
"We know listening needs to lead to action. Black lives matter. We are committed to standing in solidarity and amplifying the voices of those who have been silenced for so long," he added.