Forget marathons and other runs, Peter Robinson wants to go big to earn charitable donations.
In December, Robinson and three others, known as the "Four Oarsmen", will attempt to row unsupported from Gran Canaria off the coast of Africa nearly 5,000 kilometres to Antigua in the Caribbean.
Former Hong Kong resident Robinson and friends Stuart Watts, George Biggar and Dicky Taylor are racing in the Talisker Whisky Atlantic Challenge (TWAC) and raising money for spinal injury research and mental health charity Mind.
The challenge will require them to carry all their own food, make their own water and row for 12 hours every day – two hours on, two hours off – for about 40 days.
If something goes wrong, they will press a button sending out distress signals and hope a boat is close enough to rescue them.
Robinson cycled the length of the United Kingdom with Watts and was on the train back to London when they conceived the idea.
"We decided to do an event that justified raising money for charity," he said. "We get a lot of notifications through Facebook about marathons and things like that.
Watch: The Four Oarsmen on ITV This Morning
"We'd done lots of events, like the cycle, but just for fun and hadn't asked for money."
Robinson then contacted Biggar and Taylor and the team was born. Choosing to raise money for spinal research and Mind was an easy task.
Biggar's mother tragically passed away in 2011 following a lifelong battle with depression. She was a trustee of Mind.
Robinson lived in Hong Kong, played rugby for the Football Club and became friends with Ben Kende, whowas badly injured while playing for Hong Kong at the 2010 Junior World Championships in Thailand and is now a quadriplegic.
"I was playing rugby in Hong Kong when Ben Kende injured his spine," he said. "I was living in Sydney when he was there doing his rehab, so I spent a lot of time with him."
Kende has his own foundation to raise awareness and funds and improve the lives of the spinally injured.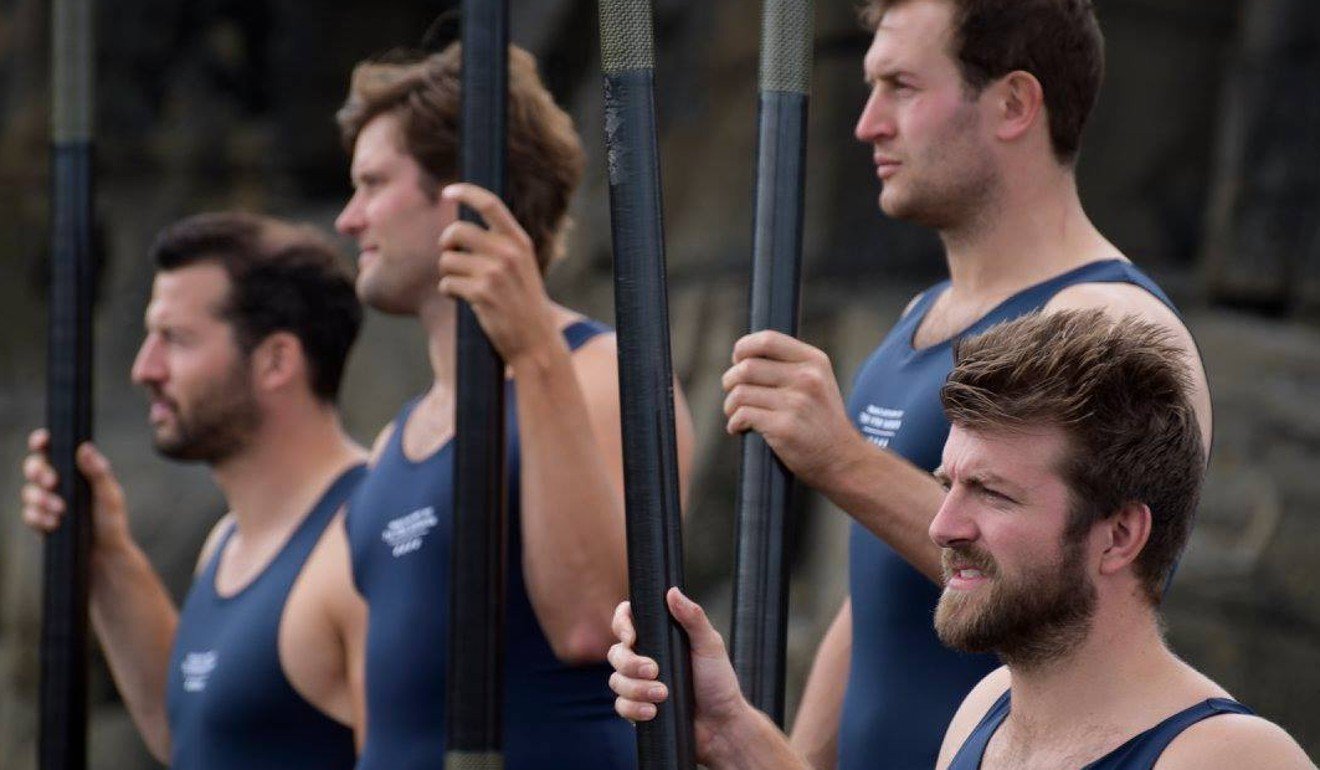 Robinson hopes the money raised for Spinal Research UK will help find a cure. They have already raised HK$3.5 million to HK$3.7 million for their charities.
"Knowing how many friends have shown support we can't just give up," Robinson said. "The support is going to be a driver during those low moments at sea.
"Mental state definitely will be the biggest challenge," he said. "The two hours on, two hours off shifts is going to be hard.
"We get back from two- or three-day training rows and think 'wow, what's it going to feel like after 40 days?' "
To make things worse, Robinson suffers from seasickness, but the body adjusts after a couple of days so he is hoping it will quickly pass.
They have tried to replicate their shift pattern for 40 hours on a rowing machine and they would have done a week at sea but work commitments have got in the way.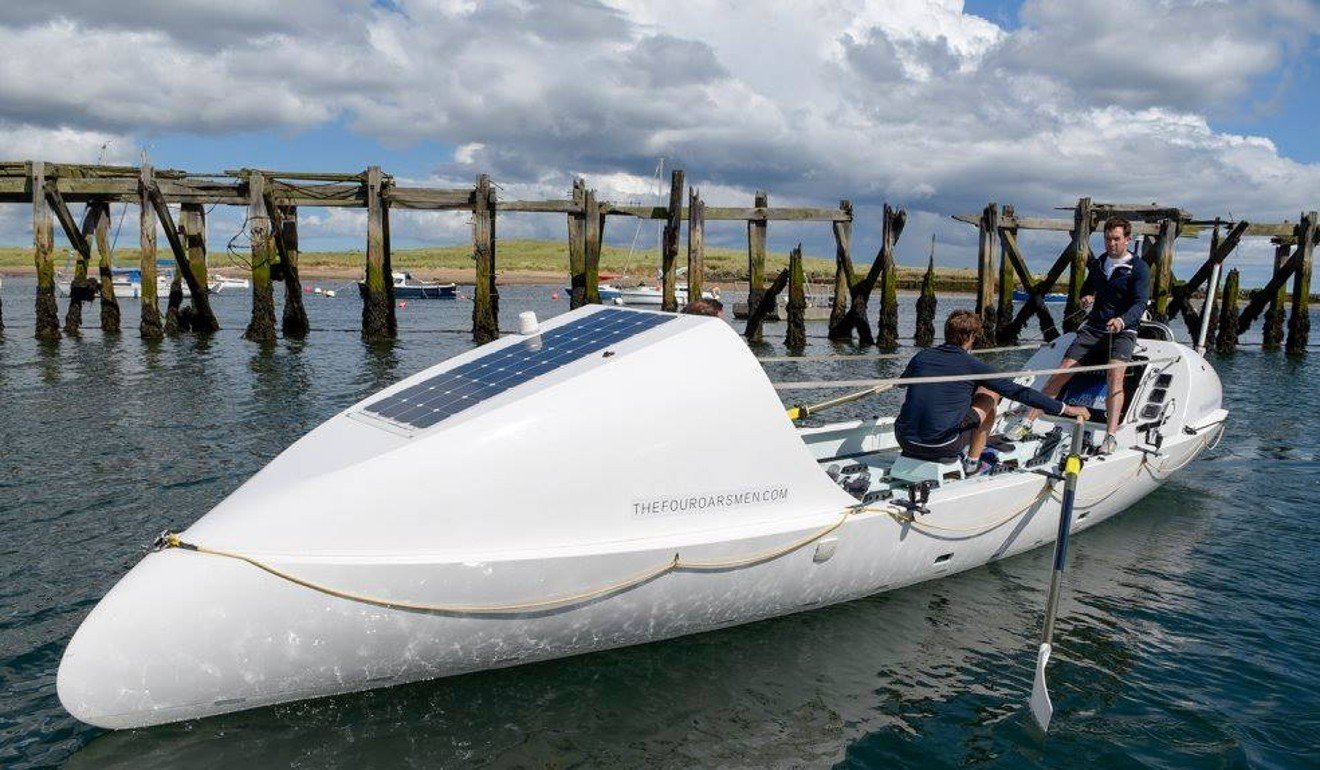 "I went on a row to Holland for training," Robinson said. "It was with two guys I'd never met before and the weather was terrible. There were big seven-metre swells.
"The foot breakers on the boat fell off as we were coming into the harbour, so we lost the ability to steer. I slept for about 20 minutes in 48 hours," he said.
The first Asian team to row the Atlantic is competing in this year's TWAC.
The all-female mainland Chinese quartet, called Kung Fu Cha Cha and backed by Hong Kong's richest tycoon Li Ka-shing, is one of the smallest teams in the race.
Their boat is being kept at the same yard as the Four Oarsmen.
"We couldn't be more different from the Chinese team. We are all six-foot-four [1.93 metres] and they are tiny," Robinson said. "Being 6'4 helps for foot plate position, but that wasn't part of the selection process."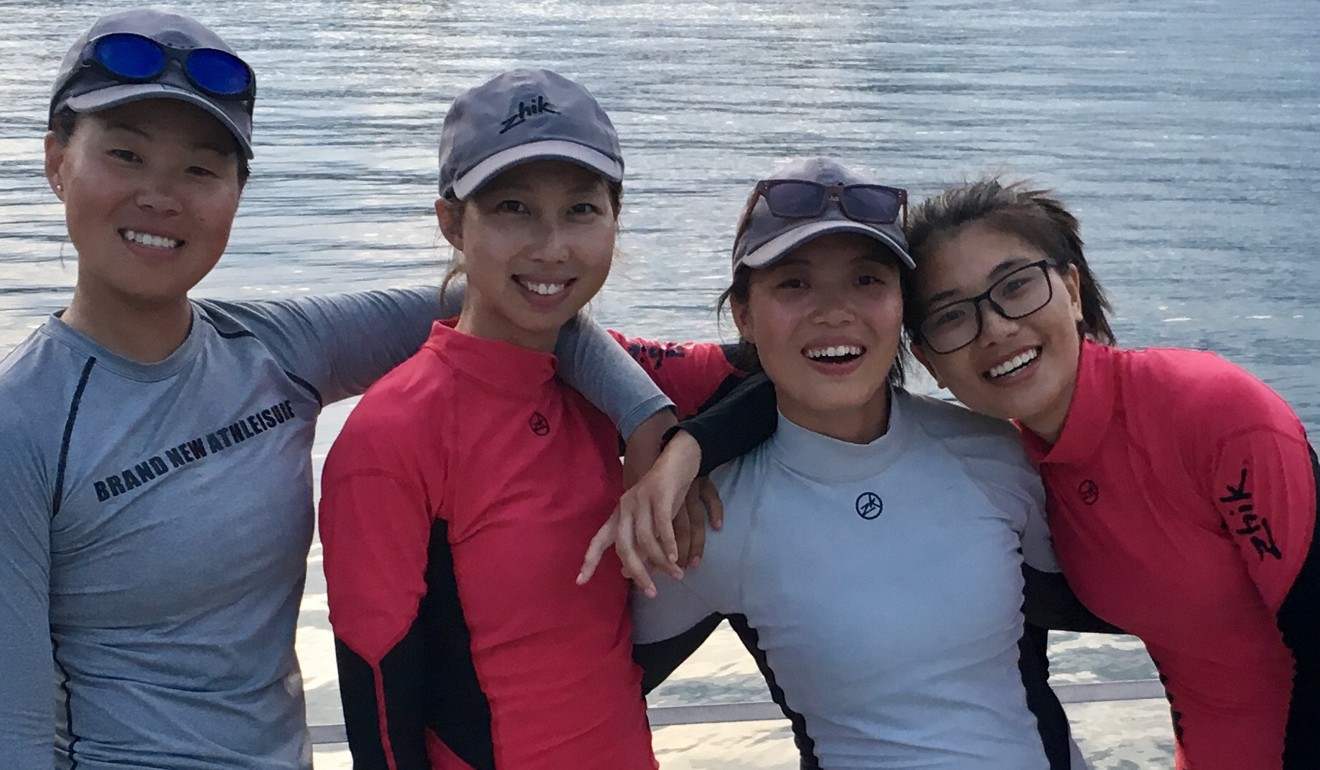 The Chinese girls have said they are worried about the prospect of an unfamiliar diet, because expedition food companies tend to cater for the Western pallet.
The Four Oarsman also faced challenges with their diet. They started with a diet high in carbohydrates, but found their energy levels spiking and dipping unless they ate constantly.
So, they have moved to a diet with fewcarbohydrates, but lots and lots of fat.
It's a diet that many endurance athletes have used, including mountaineer Adrian Ballinger who climbed Everest without supplemented oxygen.
"Honestly, it's made such a difference," Robinson said. "We don't get those highs and lows. On carbs and energy bars we have to eat constantly, but fat gives us that slow release."

You can donate to Mind or Spinal Research here and here respectively.