Sport climbing is making its debut at the Asian Games in Jakarta on August 23, but climbers have questioned organisers' use of the Olympic format which forces competitors to take part in all or none of the three main disciplines.
"Before sport climbing joined the Asian Games and Olympics, climbers have never practised all three disciplines," said Hong Kong's Lam Hei-yeung. "So now the top climbers need to change their training schedule."
The inclusion of climbing at the Asian Games came on the back of the news it would be on the Olympic schedule for the first time at Tokyo 2020.
But while climbers usually specialise in bouldering, lead climbing or speed climbing, they will have to compete in all three in Japan – as well as Jakarta, which is mimicking the format.
Lam said climbing's inclusion is still great promotion for the sport, even though he feels the organisers have got the format a bit wrong.
In Jakarta, climbers can take part in a speed relay – which is Lam's plan – or a combined event involving all three forms of climbing.
Bouldering is climbing at a low height with no ropes – typically, it only involves a few moves, so climbers can push their technical ability without worrying about endurance or rope work.
Lead climbing is about climbing as high as possible while fixing a rope as you go.
Schools bouldering competition allows children to use natural creativity before they grow up and overthink
Speed climbing is always the same route and is simply a race to the top. Most the world's top climbers would rarely, if ever, have speed climbed so will be starting from scratch if they want to compete in Japan.
Bouldering and lead climbing share many skills, but Lam thinks speed climbing is a different sport altogether.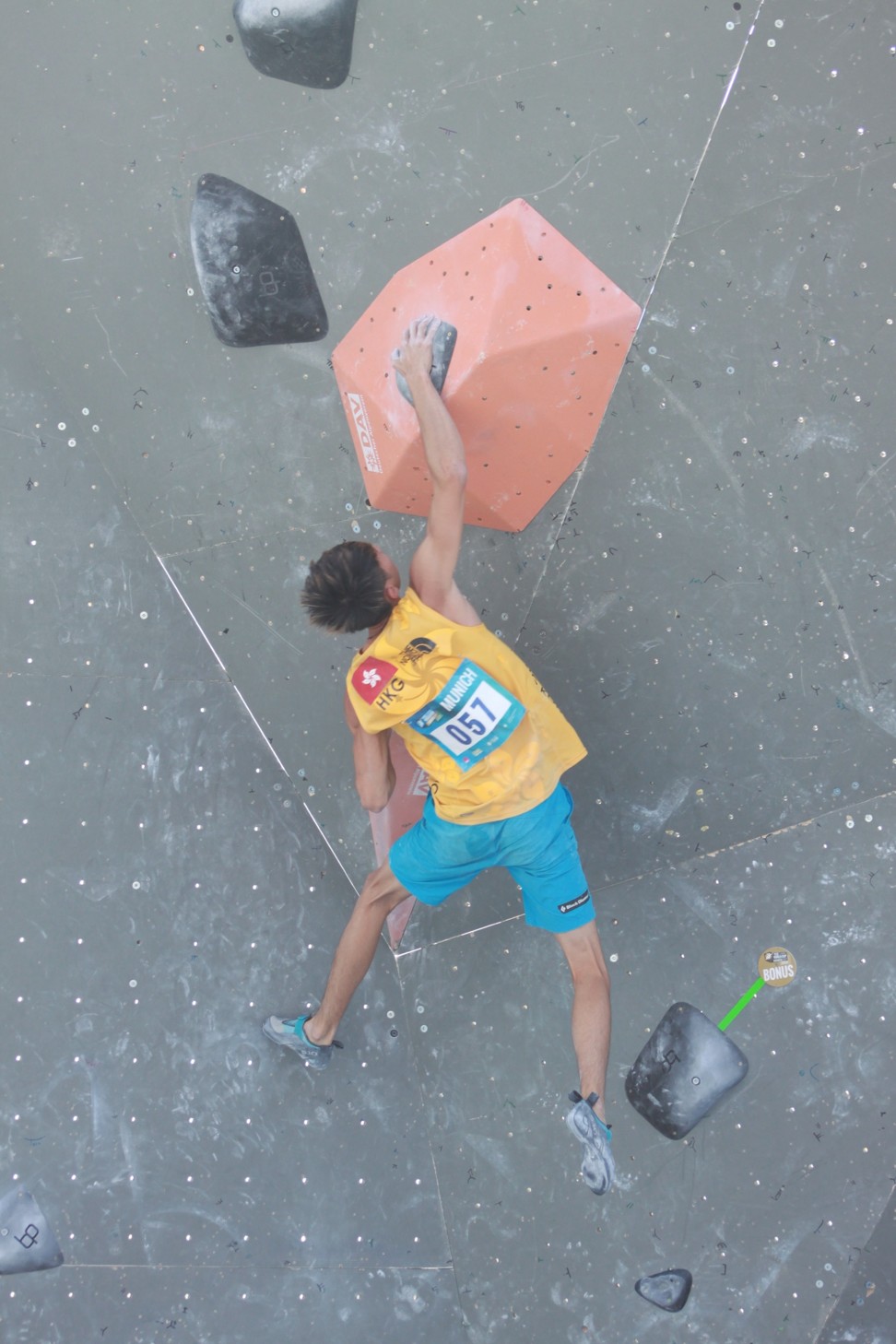 "I like speed climbing," he said. "But it is not good to only offer combining all three. I think it is unfair for the lead and boulder climbers."
Au Chi-fung will be competing in the combined competition in the Asian Games and believes that speed climbing helps him improve in his other disciplines.
"Different strengths in different disciplines may also assist in improving my performance in speed," he said. "The run and jump moves in boulder may help in speed."
The importance of grasping opportunity: Hongkonger at climbing World Cup learns the cost of losing power
He thinks that having athletes take part in all three may improve their overall performance.
Hei is hoping to at least finish in the top eight at the speed relay, but harbours ambitions to break the top three.
"But in the speed competition one mistake or slip can cost your win so they need to be very focused," he said.
Au is aiming for the top three in the combined event, but appreciates there is a high level of competition.
"I have a good balance between the three disciplines," he said. "But there are strong competitors for Japan and Korea. They have world-class climbers who excel in all three fields."