Two Hongkongers have arrived in Japan for the Rugby World Cup 2019, having cycled 20,000km from Twickenham, London, the site of the 2015 tournament final. Ron Rutland and James Owens were entrusted with the 2019 opening game's whistle, which they will deliver to referee Nigel Owens on Thursday.
The World Cup kicks off on Friday, September 20, with hosts Japan playing Russia. It is the first time the tournament has been held in Asia. But for the biking pair, it's about more than arriving at the rugby.
"I've grown so much more than I expected," said Owens, 28. "I've travelled a lot, so I knew people were kind, but this has reinforced that idea. People are the same everywhere, and if you give them a chance to be kind they will take it.
"I've reflected on life a lot, that's where the growth has come from. I thought it would be about the physical and mental challenge, but it was all about the journey."
Owens said the gradual changes across the world has given him a new perspective on life. Cultures and countries are very similar on either side of borders, he said, but even after thousands of kilometres when changes are noticeable "people are always generous".
The journey took them through 27 countries, including Iran, Vietnam and China. But now that it's over, it's bittersweet, said Owens.
"I want to live in the moment so it hasn't sunk in yet," he said. "I want to use the Rugby World Cup as a time to reflect, so the whole thing doesn't pass me by. I want to actively step into the next challenge and not just fall passively into something."
Finishing such a massive trip is a new process for Owens. But Rutland is experienced. He cycled from South Africa, where he is originally from, to London for his country's opening game of the Rugby World Cup 2015.
One of the most notable differences was his last trip was solo.
"If I was on my own, it would have been much harder [this time]," he said. "In Africa, I would see something, like a sunset while camping on the Zambezi. But I'd say to myself 'how cool would this have been to share this with someone'. On this trip I had that shared experience."
Another difference was that this time they were beholden to stakeholders. They were sponsored by DHL and they had the pressure of delivering the whistle. It meant that they were cycling 100km a day, instead of 50km like in Africa. And Rutland said he was now physically "shattered".
Another pressure was raising money for their chosen charity, ChildFund Pass It Back, which uses the power of sport to change lives. They give children in developing communities in Asia life skills via rugby. Owens worked for Pass It Back before quitting to embark on the adventure.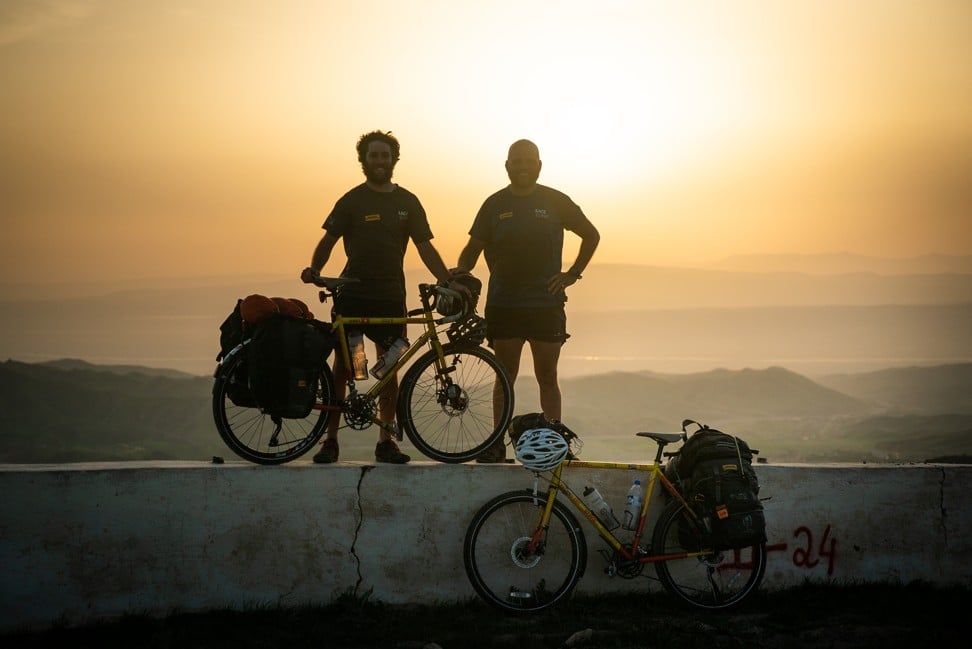 "I knew from the beginning I was riding with a tough man," said Rutland, 45. "But when we arrived in Laos and Vietnam and I saw the work he has done and the impact he had there, I saw I was riding with an incredible human."
The pair are both sporting huge beards, having made a bet about not shaving in lieu of a big charity donation. They did not know each other when they started, but spoke highly of each other in Japan.
Owens struggled with the physical aspect at the start and Rutland carried his gear. But he got stronger as the journey went on and when Rutland had a knee infection in Hong Kong, Owens returned the favour and carried his partner's gear to Shanghai.
In 2015, when Rutland arrived in London to see his beloved Springboks play, he bore witness to one of the greatest upsets in rugby history when Japan toppled the two-time World Cup winners. Once again, Rutland will be watching South Africa's opening game, this time against New Zealand.
"I've got a funny feeling we'll do it on Saturday," he said.
You can donate to Pass It Back here.