A lifetime of rowing on rivers began to seem repetitive for Canadian Aubrey Oldham, but when friends took part in the Commonwealth Beach Sprints and 2018 World Rowing Coastal Championships his eyes opened to new possibilities.
"I've been in the bubble of the flat water rowing," Oldham said. "In Canada, in North America, coastal rowing isn't on the radar at all even though Canada hosted the coastal champs last year. Most coastal boats are used to learn to row. It hasn't been seen as an elite sport in it's own right, which it should be and hopefully will become.
"It just looked like a great version of the sport which I hadn't tried," he said.
Oldham is in Hong Kong this weekend. The Royal Hong Kong Yacht Club is playing host to the 2019 World Rowing Coastal Championships, with more than 500 rowers from around the world. Oldham is competing in the solo category.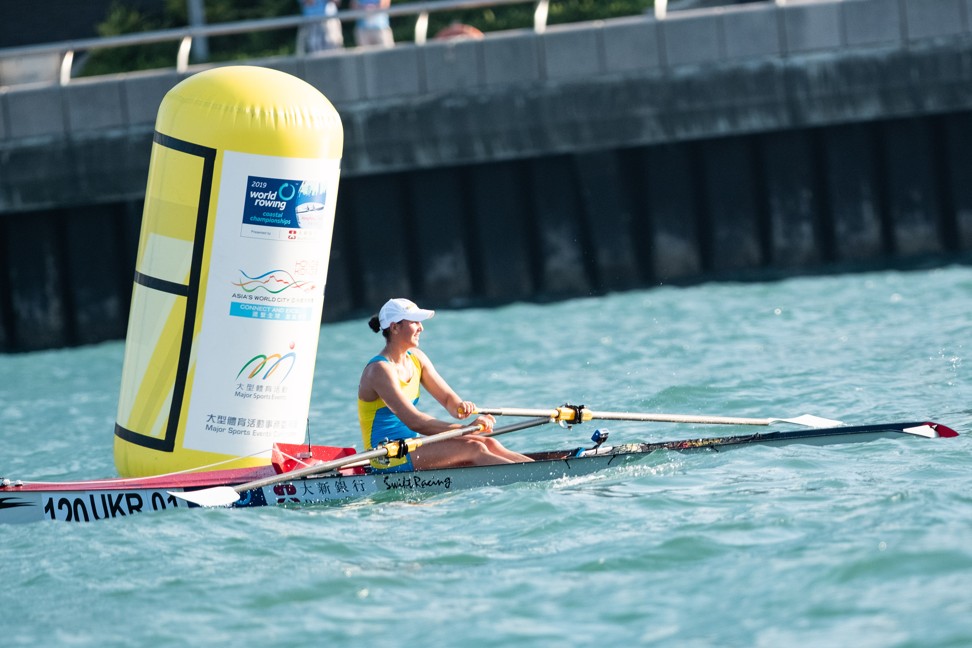 Oldham, 38, is in his first year of coastal rowing, and although he came fourth in the mixed pairs in last weekend's World Rowing Beach Sprint Finals in Shenzhen, he is just hoping to post a good time, so he has a reference for his improvement next year.
"I've loved it so far, there are so many different variables. I'm so used to going down to the rowing club and if you see any ripples in the water you're not excited to go out, but now you want it to be as wavy as possible," he said.
The high of rowing on a perfectly flat day on a river is comparable to the feeling of rowing on a rough day in coastal rowing.
"You're riding waves," he said. "Sure, you miss a stroke, but it's the joy of it, you're just part of it."
Oldham used to row in the Canada under-23 team, and trained with the national squad. Physically, he takes longer to recover than before but there are other differences too.
"I have stuff going on in my life now that I have to balance, compared with being at the centre, training three times a day and just eating and sleeping," he said. "You have to evaluate everything, so there's a little less intensity on the erg [rowing machine], or on the water, but you have to train smarter than when you were younger."
Oldham is relaxed going into this weekend's tournament. He has very little expectations for himself. "Hopefully that will work to my advantage."
He tries to row wherever he travels, but paddling along the Hong Kong skyline is "amazing", he said.
Another competitor familiar with competing at the top level is Michael Rive. However, the pinnacle of his sporting career has so far come in a rather different format. Rive represented Jersey at the 2010 Commonwealth Games in Delhi.
"Some people come to rowing via running, or cycling, but no. I came to rowing about 10 years ago, but I started playing bowls when I was about 14," he said.
One of the main contrasts is the preparation time. With bowls, a day of practice can help Rive get back to his best. But rowing requires months of dedicated training. But there are similarities too.
"You have to concentrate in both sports," he said. "Coastal rowing, there are a lot of things that can happen when you're out there and with bowls you have to be focused too. I listen to music for both. It chills me out so you're not stressed, you're not panicking when you get to the start line."
Even in the Commonwealth Games Rive was relaxed, knowing that as a solo sport, he only had himself to take care of.
"But in rowing you do not want to let teammates down, so it's about making sure you have put the training in before," he added.