Few of us ever really have to contemplate our mortality, but Lia Ditton came face to face with her demise and had no choice but to push through. Ditton, 40, pulled into Hawaii last week after 86 days at sea, setting the women's record for rowing solo and unsupported across the Pacific, from San Francisco.
The British adventurer has already completed a number of shorter rows around the West Coast of the US, including Portland, Oregon to San Francisco (2019), San Francisco to Los Angeles (2018), around Farallon Islands and back into San Francisco Bay (2018).
Ditton has crossed oceans 14 times in sail boats, three times solo. She has also rowed across the Atlantic, but two capsizes in the latest expedition made it the hardest and most dangerous yet.
"I was rolled by an avalanche of water, a freak wave that was breaking and breaking and breaking over itself. I'd never seen anything like it before," she said.
Ocean rowing boats self right when the cabin doors are shut because of the weight of the hull and the air trapped in the cabins, but for some reason Ditton's did not. She was miraculously able to roll it back herself.
"What came out of that was a fear of the ocean. I was looking out to sea and I felt nausea some days with fear that it could happen again."
In June, Angela Madsen, Paralympian and experienced ocean rower, was found tethered to her boat floating beside it on her San Francisco to Hawaii crossing. In 2019, a Chinese rower attempting to cross the Pacific capsized with his cabin doors open and he could not right the boat. His body and boat were found washed up in the Philippines in 2020. In short, if you get stuck in the water your chances of survival diminish.
"The capsize put me in the water and the boat didn't self right. The fear of that, the cold water, I got struck in the shoulder. In all honesty, I was one beat from death. It is quite difficult to grasp as a concept, let alone a reality. To continue in the boat from which you were thrown is incredibly tough."
Ditton took a few days to recover and sort her boat out. She put more water bottles in the hull, to ballast the boat so if it rolled again it would right. And it was lucky she did.
One calm day later in the trip, with the trade winds blowing her in the right direction and the skies clear, another freak wave hit as she was napping, rolling her again. She was thrown against the side of her cabin and then water rushed in. Once again, Ditton thought she was about to drown. Her modifications worked and the boat self righted.
"How are you going to sleep after you've been woken by a capsize? It was hard to go to sleep. It was hard to stay asleep. Even on land, for a couple of nights it took time to adjust because going to sleep you know calamity could ensue," Ditton said.
After the second flip, Ditton lost faith that she would be able to complete the expedition. She rowed towards the Hawaii-San Francisco shipping lane, so that if she needed to be rescued she would be taken to a familiar and safe place. What's more, she only had 75 days worth of food.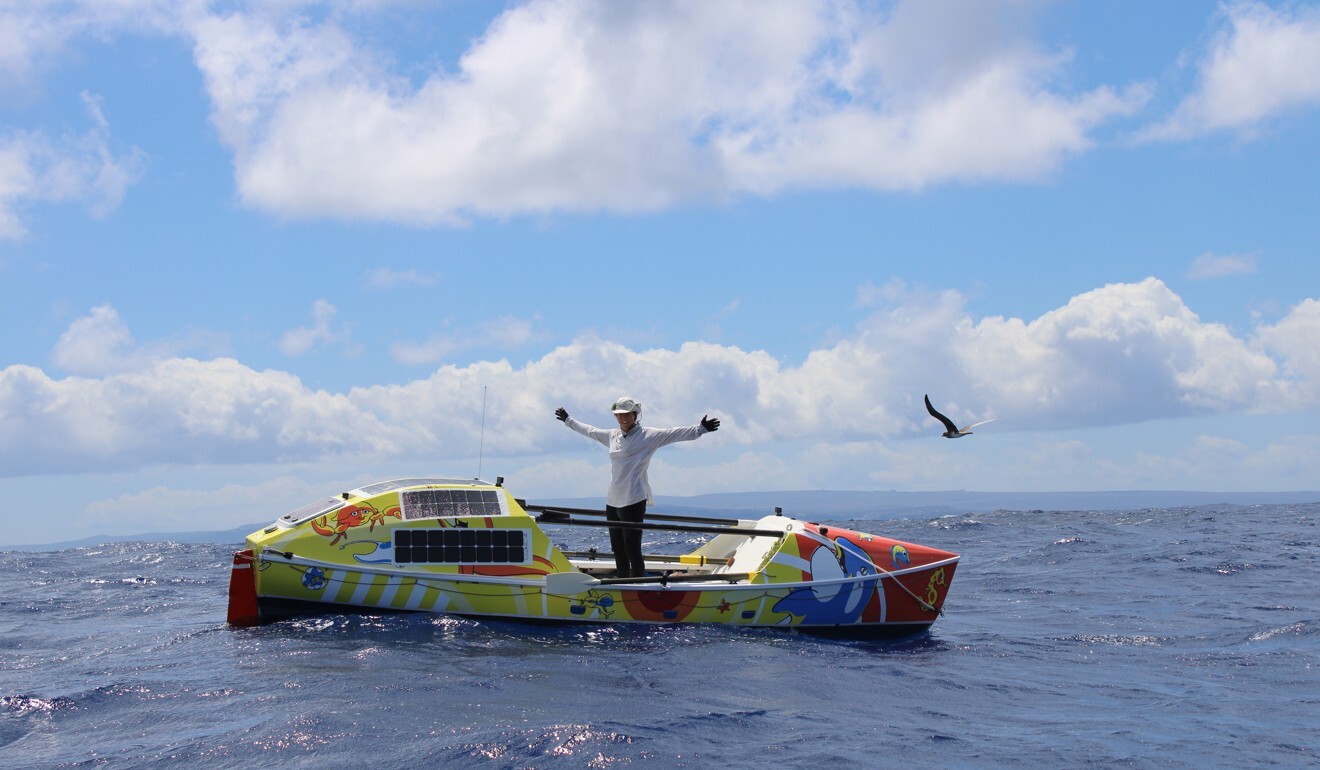 When Ditton set off, she not only wanted to break the women's record – 99 days held by Roz Savage – but also the overall 52 day record. She soon found out that getting off the US coast was far harder than she anticipated as the current pushed her back time and time again.
"That's the challenge of being solo because if you are a pair or a four, you can push through as you don't lose miles when you sleep at night."
"I had no problem with the time frame. But it was the food. I was well set up with fishing equipment, but having said that I had no experience with the equipment and I didn't really like my chances of fishing for survival."
"The way to carry on is coming up with strategies. After my second capsize, I came up with a mantra 'right here, right now'. You start to think about the larger challenge, but if you start to think of it all, it's too much. I just thought about rowing today.
"I never really allowed myself to think of the end. Just one step, then the next step. The only way to get out of that situation is to row out. Sometimes I went into hyper-drive and I made myself a little ill."
Incredibly, setting the world record for rowing to Hawaii is just the warm up. All of her shorter rows, and even this one, have just been training for a crossing of the North Pacific, from Japan to San Francisco, one of the most brutal and toughest crossings possible.
Ditton describes her world record as the "half marathon before the marathon".
"It took three months, and I wasn't expecting that. So, it is not possible to row Japan-San Francisco next year. I don't have time to recover or prepare. So I don't have to contemplate it yet."
Originally, Ditton planned to cut up her boat and sell it for art after her North Pacific trip. But the two capsizes and trouble with self righting has shown that it is not up to the task. So she is going to cut it up now and sell it, then look for a more suitable boat.
"I'll probably be a bit sad cutting it up, but equally I couldn't sell it. I wouldn't feel right seeing someone go to sea and experience what I experience, so I might as well make it into something beautiful," Ditton added.
"People who want to buy a piece of history can buy this boat, not so much for me but for what I feel it's come to represent: determination, dogged unwavering perseverance."