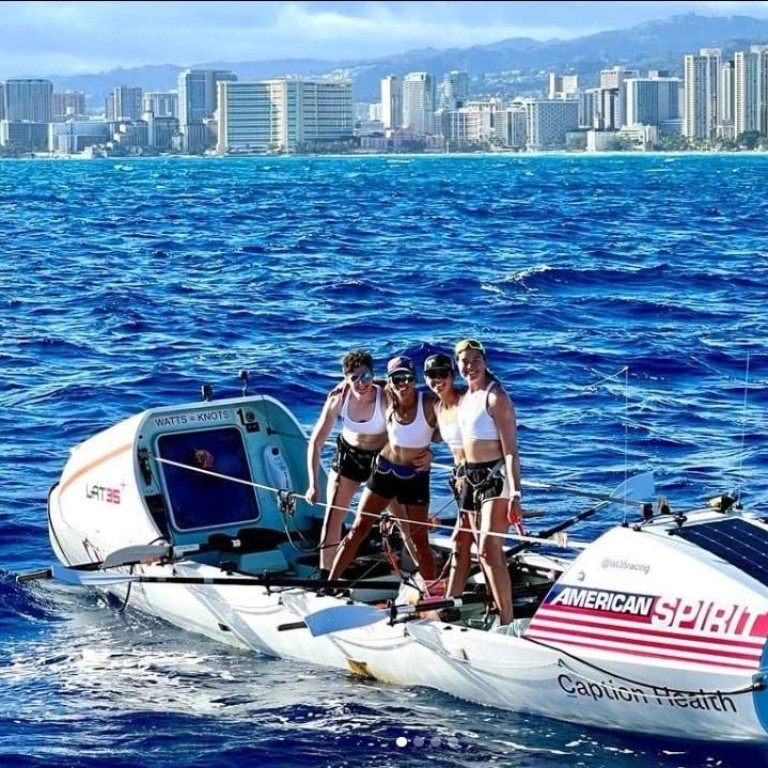 All-female crew break Pacific record rowing from San Francisco to Hawaii
Four Americans from Latitude 35 rowing team reached Hawaii in 34 days, 14 hours and 11 minutes
Group "never sacrificed each other's well-being to go faster" – and had way more fun than they expected
Four women from the United States have set a new Pacific record after rowing from San Francisco to Hawaii in 34 days, 14 hours and 11 minutes.
The California-based group of friends completed the near 3,000-mile adventure on July 26,
beating the previous record
set last year by a team of women from the UK – by 12 hours.
"The thought and possibility of a world record was intriguing but as a team we were just trying to go as fast as we could, and a lot of that is dependent on the conditions," said one of the rowers, Brooke Downes.
"But we never sacrificed each other's well-being to go faster. We went as fast as we could and I'm thrilled that was fast enough to also set a world record."
The four rowers – Downes, Sophia Denison-Johnston, Adrienne Smith and Libby Costello – were unsupported, carrying all their own food and making water with a desalinator. They rowed in non-stop shifts – two hours on, two hours off – so a pair were always rowing while the others slept.
"Our crossing was way more fun than any of us expected. We had a speaker on deck that we would play most of the time. We would all jam out together and sing every kind of genre we had downloaded," Downes said.
The team frequently posted videos on their Instagram account of themselves having fun – which included playing pranks on each other, such as radioing to the cabin about a food delivery and waking their confused teammate.
"We did a lot of team building in preparation for our crossing. We built a lot of trust with each other in a very short amount of time," Downes said.
"We also communicate very differently as individuals, so we took the time to learn about each other, and how we all communicate. Communication is so important out in the ocean, as things happen so quickly. Emotions can run high so we knew not to take things personally and talk through them after the fact."
The tone for the arduous journey was set early on, with the rowers experiencing a tough first night.
"I really was getting beat up by the ocean," Downes said. "The waves were hitting us so hard I was physically getting knocked off my seat. My friend Libby was making jokes and making me laugh so hard. A night that could've been so frustrating ended up being one of the most memorable."
Supporting each other was at the core of the goal. They had a mission statement to "elevate each other's greatness" – and get to Hawaii as fast as possible.
After a month of nothing but ocean, seeing the green land of O'ahu for the first time as they neared Hawaii was "insane". They crossed the finish line and took in the "special moment" before they rowed the final few strokes to the pontoon to be met by friends and family.
"It was still only us on the boat," Downes added. "We realised it could be the last time that we were alone together. We played our favourite songs while we saw so many people that were there to watch us finish."