Socks are simple, but can be the difference between making and breaking your run. An ill-fitting pair of socks can cause blisters, and socks that absorb sweat can lead to bad skin conditions.
So make sure you pick your socks wisely for your next trail or ultra race.
High Performance Cushion No Show Tab
The Feetures socks have no seam on the toe to avoid chafing or blisters. The material wicks sweat, and it has a band around the mid-foot to make sure it is snug. Reviewers commented that they fit well, and did not shift when running. One recommended ordering one size up from your normal fit. They fit just below the ankle, as with conventional sports socks.
Drymax Maximum Protection Trail Run 1/4 Crew Socks
The Drymax is thicker than a lot of running socks, and has an extra-dense layer on the sole. It is still breathable to wick away sweat, but if you suffer from hot feet, it might not be for you. A lot of reviewers noted that they last a long time and are very durable because of the added thickness. At around US$30, they are much more expensive than most socks, but it evens out given that they last longer.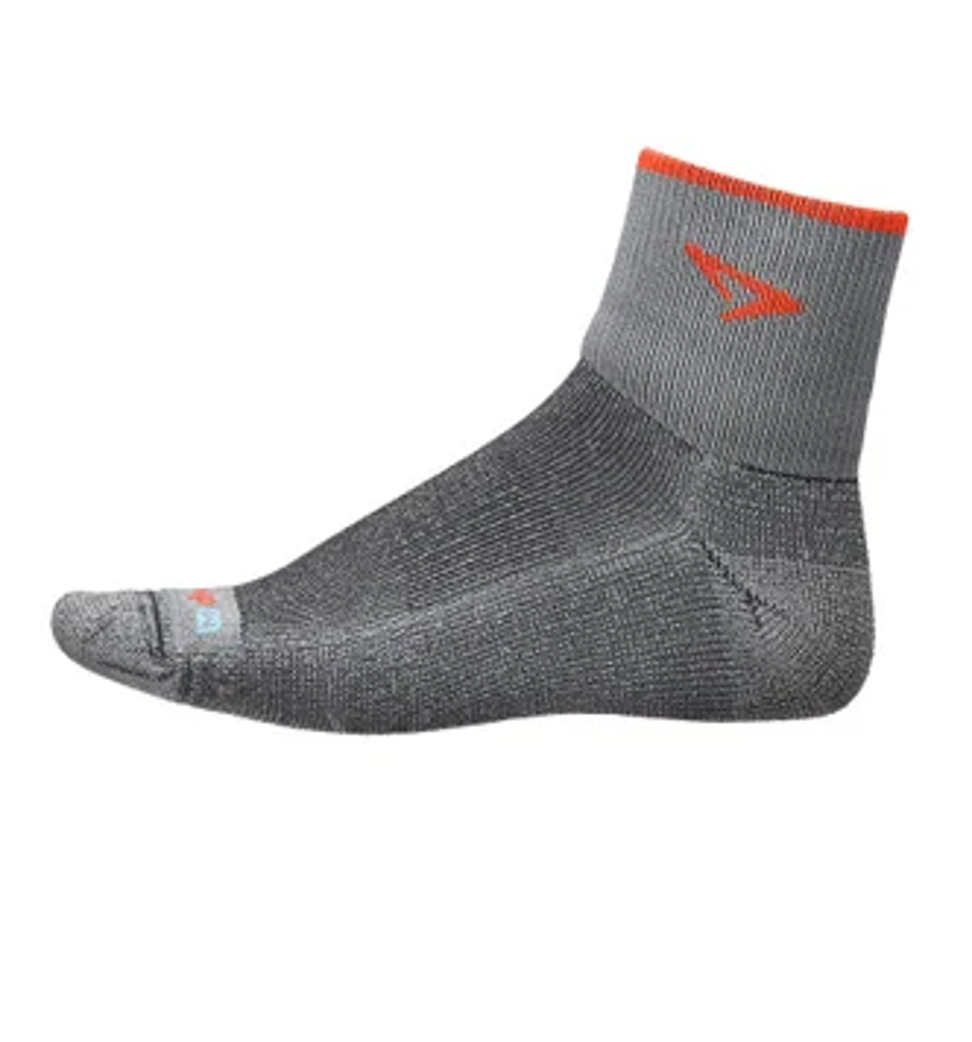 Injinji Run 2.0 Lightweight No-Show Toe Socks
Socks with specific toes, like a glove with fingers, are becoming more popular. Many runners swear by the anti-blister effects on the toes. The Injinji is light and very thin. Reviewers waxed lyrical about how well they fit, and the lack of blisters they had compared with other socks, as well as how the thin material helps keep their feet dry.
Smartwool PhD Outdoor Light Mid Crew Socks
The Smartwool come up above the ankle. These nylon-wool socks are still designed to keep your foot dry. Reviewers commented on how dry their feet were, even when trudging through snow. Although they are advertised for cold weather, at least one purchaser said their feet were cold. There is not a lot to say about these socks – they are no frills, but are comfortable and dry quickly.
Tracksmith Merino Tube Socks
Old school tube socks are a throwback fashion statement. These socks are not only in an old design, but are basic too. They are made from a thin wool, which is durable and soft for the skin. A very simple option, but some runners love the way they look and the basic nature. Reviewers were satisfied that it does what it says on the tin.