Two Hongkongers are battling sore feet and extreme heat as they run 300 kilometres from Phnom Penh to Siem Reap.
Matthew Pocock and Mark Ferguson are on day three of their seven day challenge, which includes six back-to-back ultra-marathons and concludes with the Angkor Wat half marathon.
"I don't think we've done the hardest part," Pocock said. "It's the repeated days on your feet that get you. Mark has already lost two nails after two out of six days. The biggest challenges are feet and heat."
The pair have been starting early to try and get most their running out of the way before midday.
"It's fine up until about 10am, there seems to be a morning breeze, but then it gets really hot," Pocock said.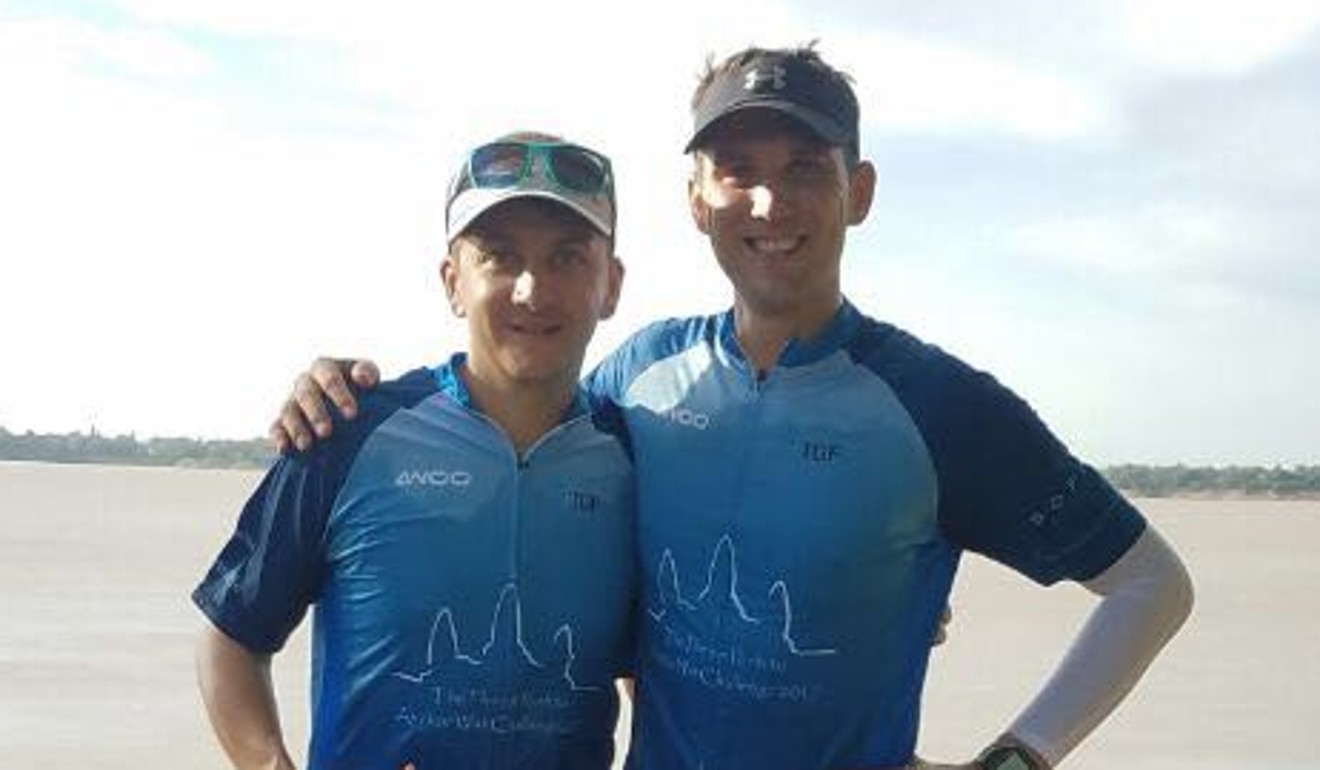 On Monday and Tuesday, they ran 49km and on Wednesday they are running 47km. Their longest day is 61km on Friday. The pair have both run ultra-marathons before, including multi-day races.
"The big difference is it isn't a race, so logistically it's tough," Pocock said. "But I'm pleasantly surprised nothing has gone wrong yet."
The runners are being supported by a van provided by Manulife and lead by a local guide on a bicycle. Pocock and Ferguson are running through a variety of scenic parts of the country, but without the support they would probably be following the motorway, Pocock said.
Their unique route allows them see a side of Cambodia usually hidden from tourists.
"Only a few kilometres outside Phnom Penh and it's was very different. There is some serious poverty," Pocock said.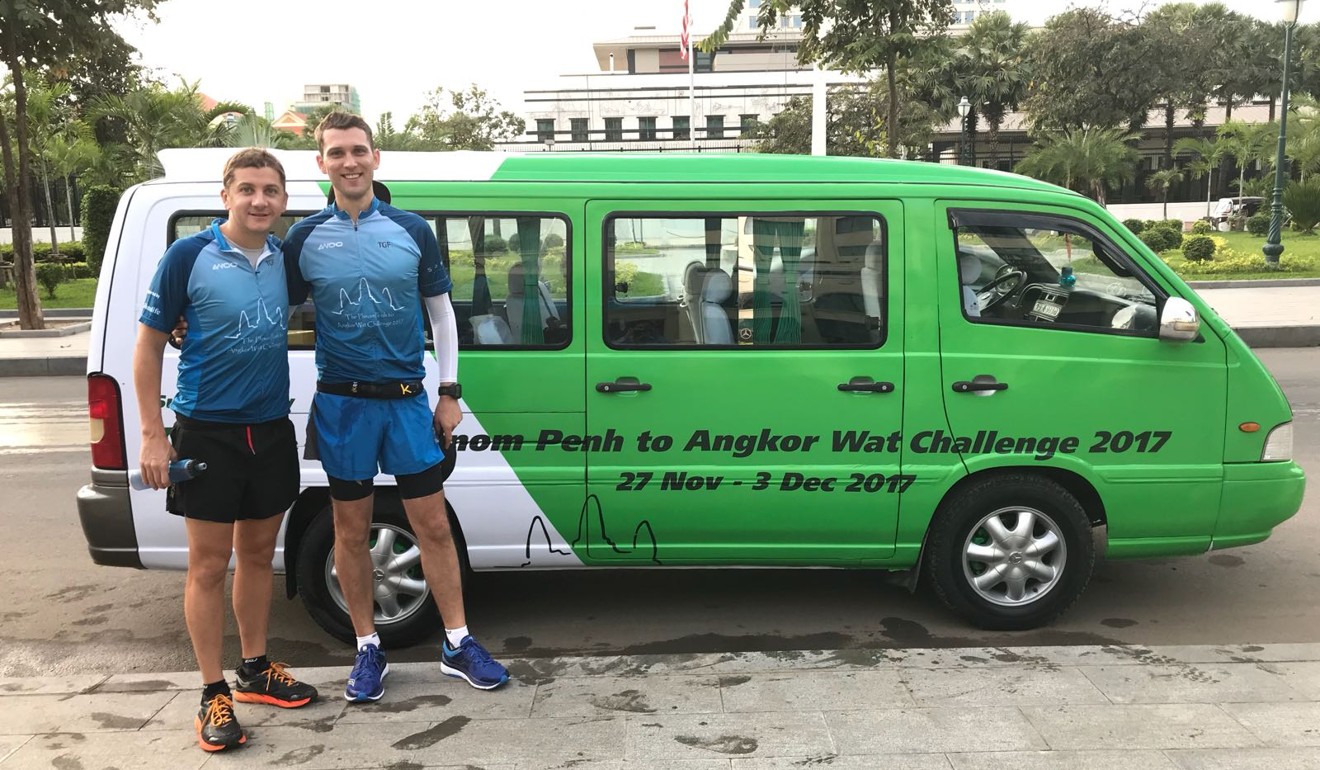 "On Tuesday, we ran down a river past some houses. People were looking out their houses in shock – 'what are these western guys doing running here?'"
Seeing poverty is not a by-product of the route, it's the point of the run. Pocock and Ferguson are raising money for Temple Garden Foundation (TGF), which helps implement sustainable development in Cambodia.
"I personally liked TGF because it's about sustainability" Pocock said. "The aim isn't just to create a school, for example, it's to get the teacher to turn up. Then education will be sustainable."
All the funds from Pocock and Ferguson's run will go towards villagers in the Chi Kreang district where TGF are working on health, children's education, water, sanitation and agriculture.
The 300km run was spawned at a TGF fundraiser, where Ferguson was inspired to embark a challenge. He contacted Pocock when he was still at the event.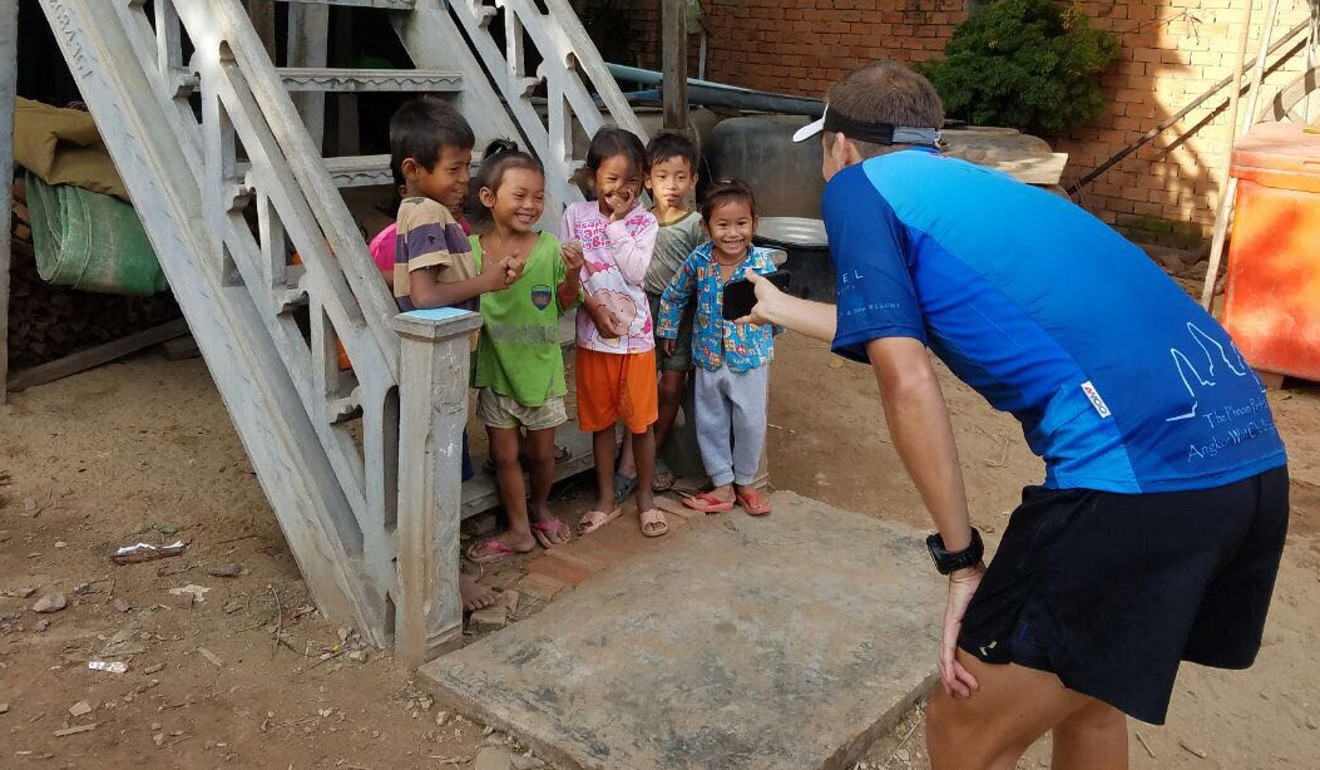 "He was a couple of bottles in when he sent me the message," Pocock said. "I had no idea about the distance, but I agreed, and by the time we worked out how hard the logistics were, it was too late so we had to go through with it."
The final day, the Angkor Wat half marathon, will be a stark contrast to the challenge so far.
"I think it will be really strange running in Siem Reap," Pocock said. "10,000 people running with us will be surreal. But we haven't given ourselves the luxury of thinking that far ahead."
If you would like to donate to Pocock and Ferguson, visit their website here.