Harry Jones was left with no choice but to make a mad move early to secure first place by two minutes on the 9 Dragons 50-mile ultra marathon.
British runner Jones had been battling with Chinese runner Deng Goumin and Hong Kong-based Austrian Michael Skobierski since the race started at midnight on Friday night.
A kilometre out from the final check point he broke from the other runners – a risky move with 6km still to run.
"It was so close that it had to be a suicide mission to win," Jones said.
"It could have been any of us that won. It was a matter of grit and determination but I was lucky I made the move when I did."
Harry finished in 10 hours 41 minutes, ahead of Deng in 10:43 and Skobierski in 10:50
Skobierski had the lead after check point six, the second last check point.
"I felt good, so I made a push," Skobiersrki said of his decision to race up Pat Sin Leng.
"Harry could follow me but I thought Goumin could not. But I underestimated Pat Ling Seng."
His legs began to tire and he thought Harry was gaining on him, but to his surprise Goumin flew past.
"Like a miracle, he appeared behind me. I thought maybe Harry was struggling too, but then he over took me as well."
Deng said he is very good at climbing, so knew he could take first place on the ascent of Pat Sin Leng.
"But on the downhill Harry overtook me," the mainland runner said. "I thought if I kept going I might win, but I could not catch him."
The 9 Dragons is a two-day event. Saturday hosts the 50-mile run and Sunday is a 50km (31 miles) – participants can take part on one or both, known as the 50/50.
Runners in the 50/50 get a cumulative time.
The three men are not running the 50/50, but John Ellis, 10:53, will run tomorrow's 50km.
"I tried to finish with more in the tank," Ellis said. "But got into a battle with Kazufumi Ose (11:13). I think it broke both of us."
Now Ellis has to concentrate on recovering in time for tomorrow's ultra, having gone harder than he planned.
"I ran the 50/50 last year, so I should have known better," he said.
The women's race was equally close, and Hong Kong-based French runner Elsa Jean de Dieu crossed the line first in 12:58, three minutes ahead of American Corinne Williams.
Both runners are taking on the 50/50.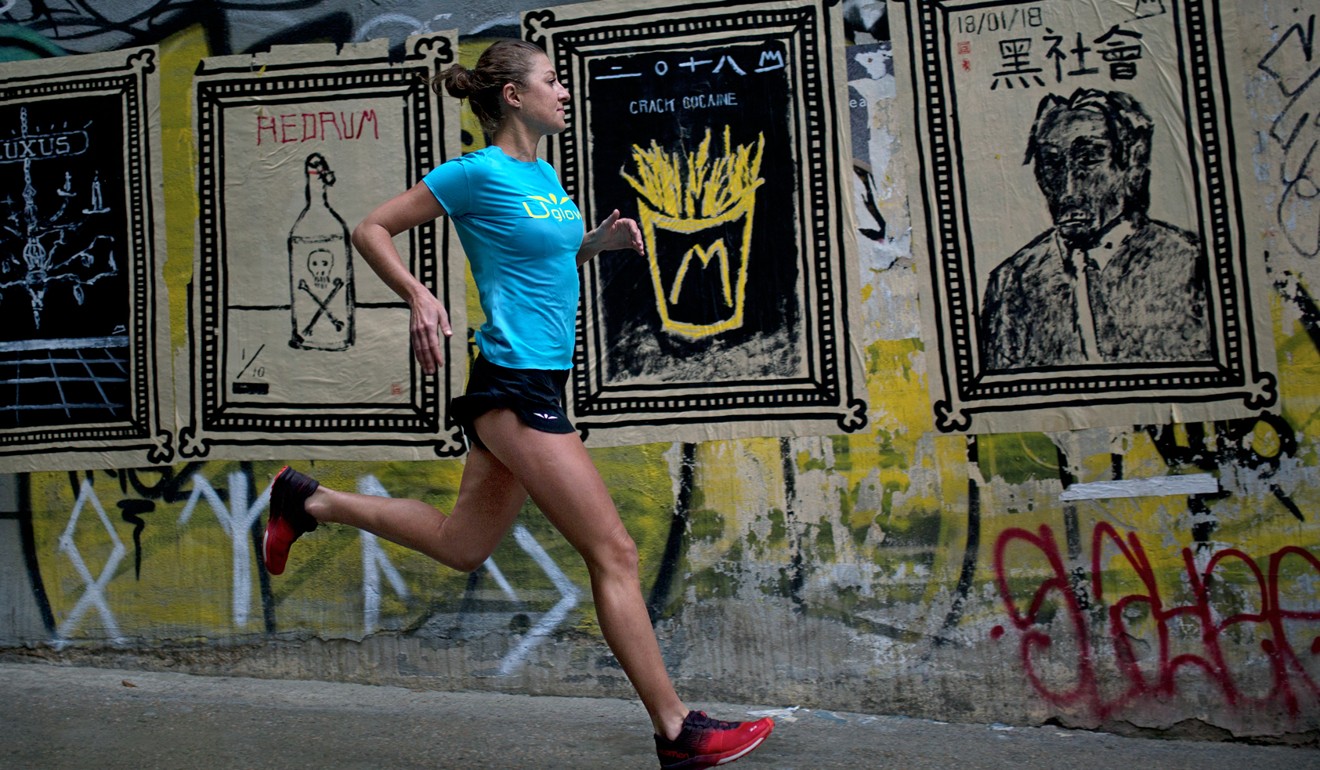 De Dieu thought she was an hour or more behind the leaders until she saw the front pack near check point five.
"It was such a big battle for the women," she said. "It was the perfect race for me. I never struggled or felt down. I just started slowly and moved up the pack."
Williams was in the lead on one of the final descents when she was over taken by de Dieu.
"She flew past. I just said bye-bye, I didn't try and catch her as she looked so strong," Williams said.
The race takes its title from the local legend of how Kowloon got its name – a 13th century emperor saw the eight hills and named them "the eight dragons" before a servant pointed out he too was a dragon, and thus the ninth in the set.
With so little between the front 50/50 runners, it's anyone's game.