Fung Kam-hung spiralled into depression following a gruesome accident that robbed him of a leg, but little did he know what fate had in store for him as the seemingly dark day opened him up to love and running.
In 1979, Fung became trapped between a motor bike and a tram. He was dragged towards the tram platform and watched as his leg was ripped off.
"I knew it was a disaster as soon as I saw it," said Fung, 65. "I was terrified but it was painless. I was in shock. I couldn't think of anything but I was cold as I'd lost a lot of blood."
Sport was a central part of Fung's life – he played anything involving a ball – and he could not imagine giving up his passion.
"I had one thought in mind – as long as I can stand and walk, that will be fine," he said.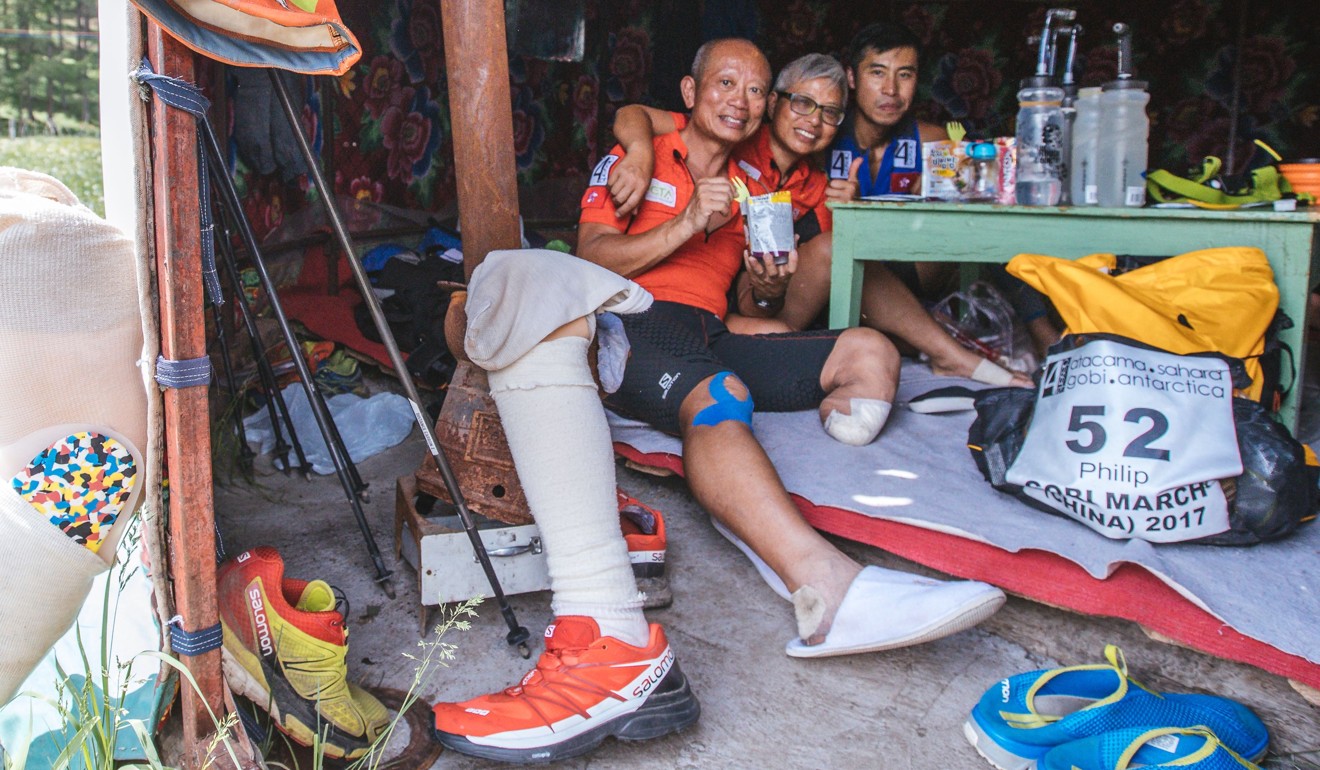 Still, Fung found himself succumbing to depression, and he tried to withdraw from society. "I felt so lonely," he said, adding he struggled to connect with "so-called normal people" even when he reached out.
"A lot of the handicapped people try to walk away from the real world to try and protect ourselves," he said.
But Fung rediscovered his positive outlook for life when he fell in love with the nurse who treated him in hospital, Chong Bing-ying. They are still married to this day.
When they started a family they wanted to encourage their children to get into sports – Fung would take his daughter to a local athletics track and they would train by chasing each other.
That is how his running habit started, and then he entered a 10 kilometre race despite never having run long distances even before his accident.
Chong soon followed suit and entered a 30km race.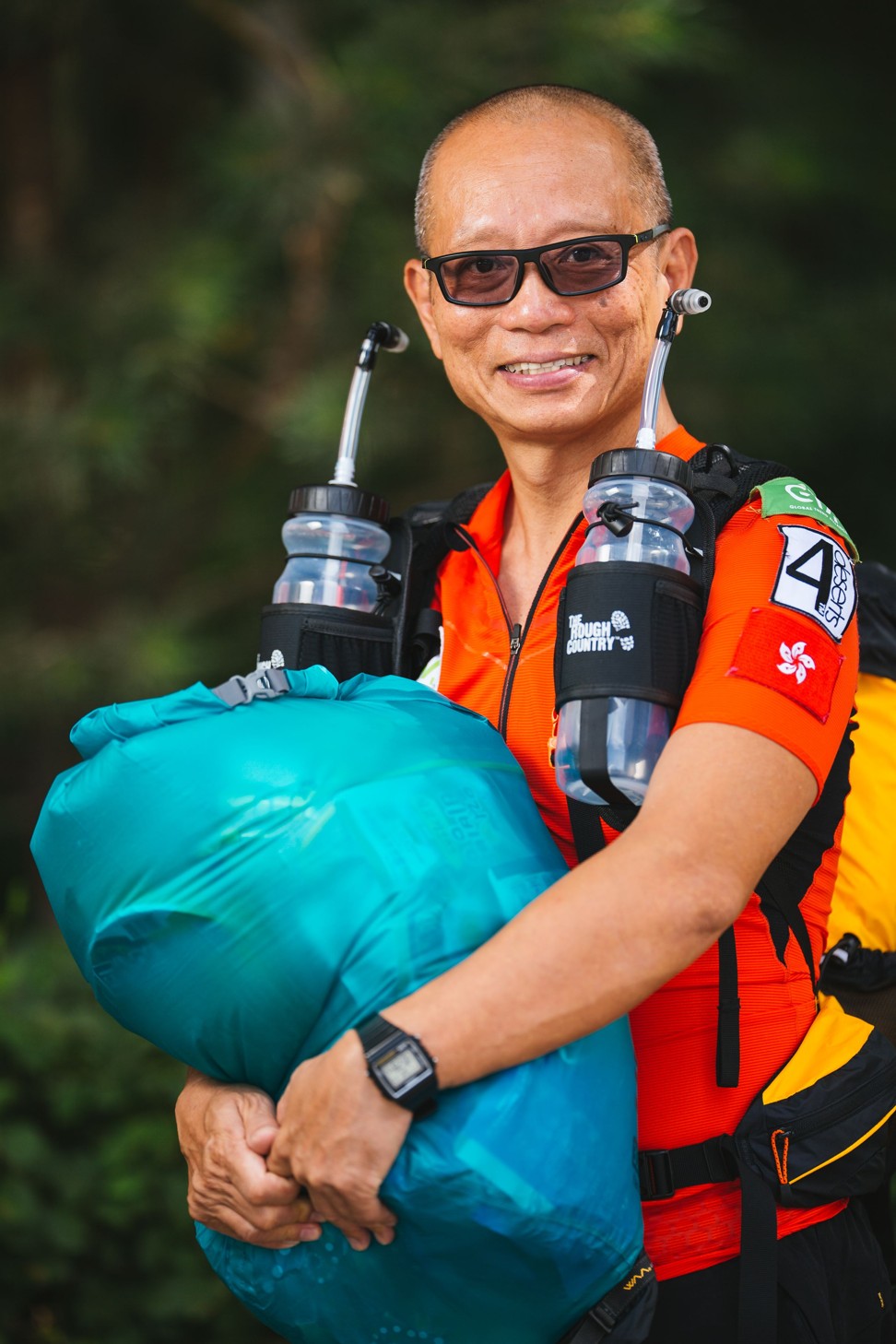 At the age of 65, Fung has now completed two of the 250km multi-day 4 Deserts Race Series in the Gobi and the Atacama with Chong, and this year they will run their third in Antarctica in November.
Hong Kong 'blade runner' enters Gobi Desert race for charity with no illusions of a walk in the park
"If I never had the accident, my life would be so different. It is better in a positive way. I have so many chances and stories," he said, adding that he is encouraging many of his friends to take up hiking.
"In Hong Kong, eating is so good and life is so easy everyone gets so big, but I am enjoying helping people getting fitter and healthier."
But running with a prosthetic leg is hard work, and even on paved trails travelling downhill can be difficult to balance.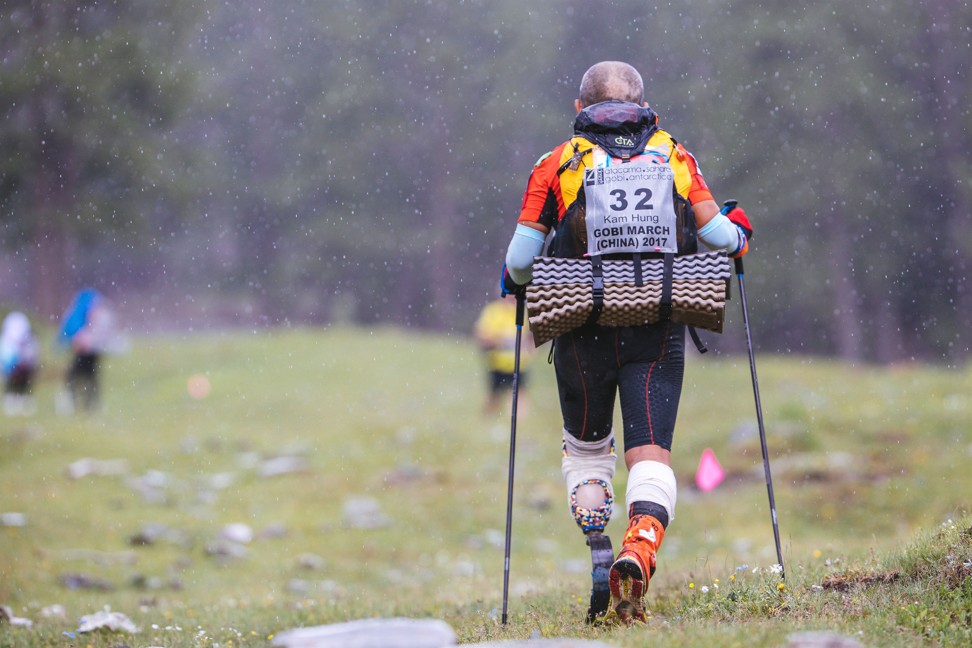 Fung said that in life there are many challenges and you cannot prepare for every one, but in a safe and controlled environment like the 4 Deserts Race Series it is good to push yourself, especially at his age.
Having said that, he is not without help and relies on his wife to push him through.
Of course, the pair occasionally bicker out on the trails but "that is part of the fun", he said.
Chong has her own challenges to overcome as culturally it is very unusual for 60-year-old women to trail run in China. Even when she ran her first ultra, the 100km Oxfam Trailwalker, in her 40s it was unusually old.
"Normally at 40 or 50, Chinese women have to look after their retired husband," she said. "I take care of him, but in the mountains, so in a way I'm doing the same thing in a different place."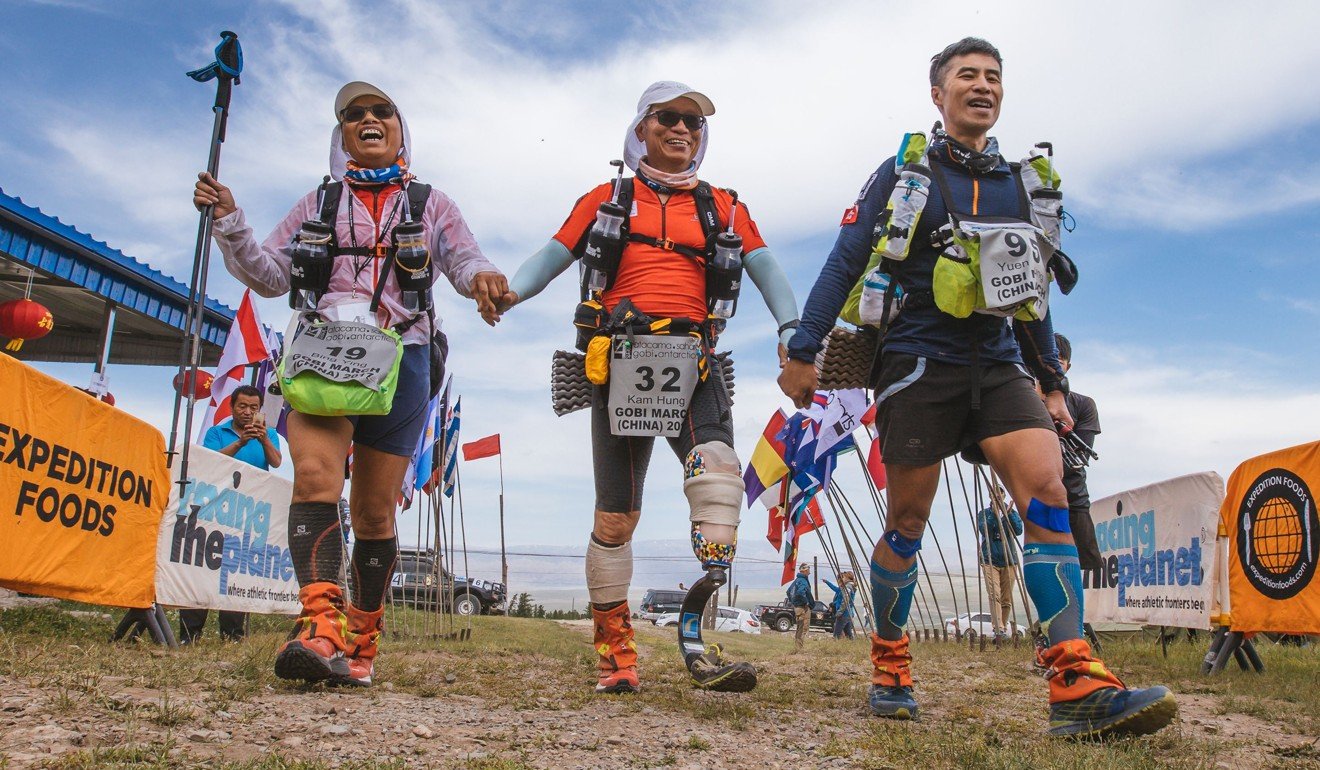 Fortunately, both of them will benefit from the trail community when they are out in Antarctica.
Fung said: "[Running in Hong Kong] can have a carnival atmosphere, but in the 250km 4 Deserts races it is different, you have to be self-reliant and well prepared. But there is a communal feeling. I cannot communicate with the foreigners [as he does not speak English] but there is the communal spirit and I love that."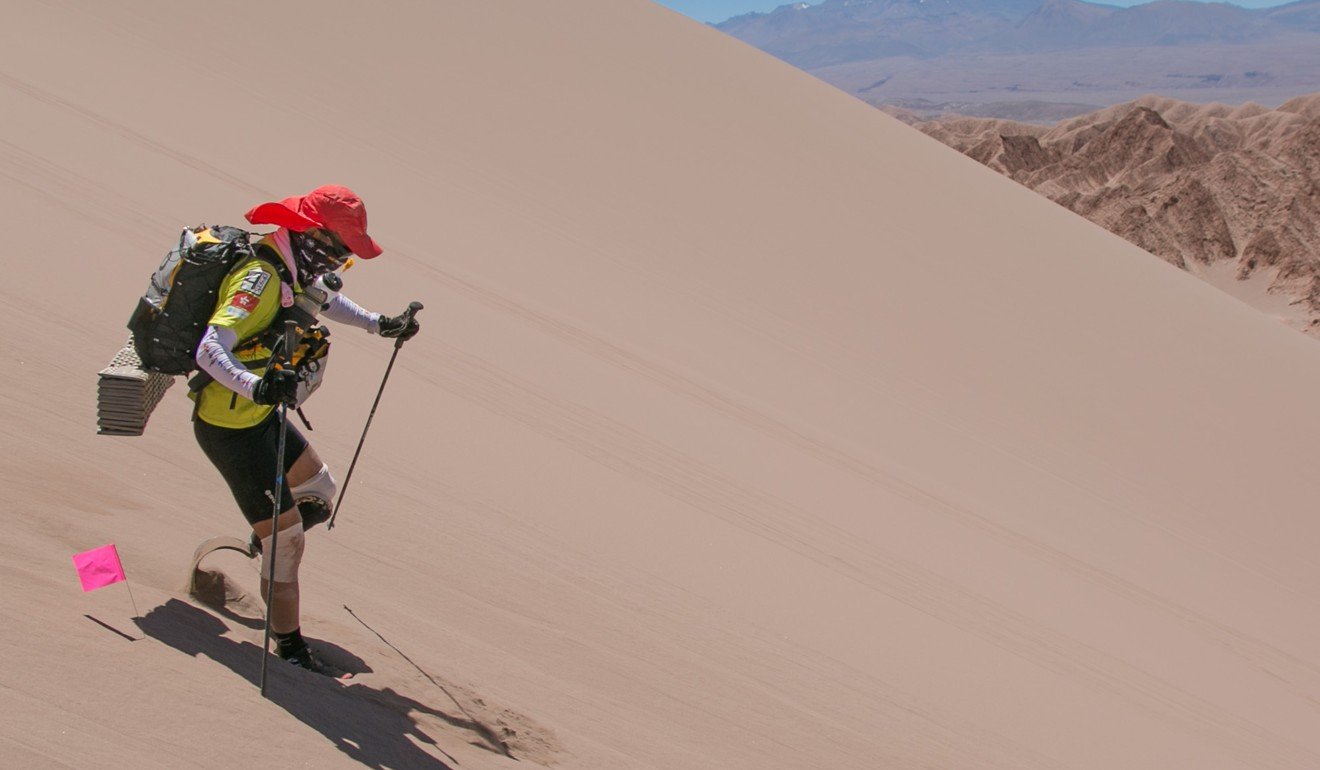 The pair rarely think ahead to the specific challenges involved in each race, and try to take them as they come.
But if the snow is soft it will be a particular challenge for Fung in Antarctica.
"It is easy for the leg to go down but hard for me to pull it out," he said. "That will take a lot of my energy."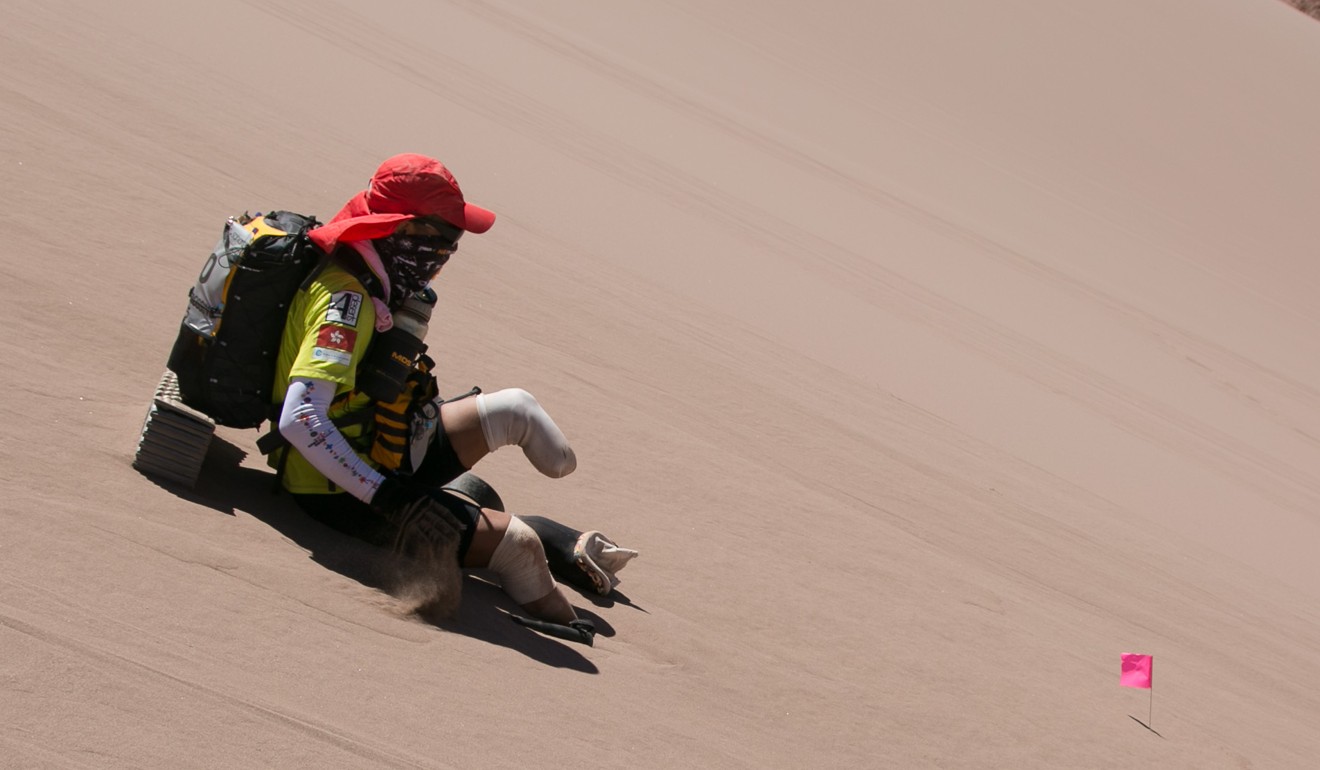 Despite their incredible story, the couple do not seek attention even though they would easily be able to attain sponsors and financial support to enter races.
But they do hope they can inspire others to take up sport.
"A lot of people talk about inclusiveness these days," Fung said. "But you have to get stronger on your own, you can't wait for someone else to help you there.
"I want to encourage handicapped people to get out and do more and not wait for someone else's sympathy."