Harry Tabor had never run 40-kilometres in his life before Friday's Barclays Moontrekker, his first ever trail race. He has only ever done over 20km twice in his life, and they were hikes.
In fact, he had only run as far as 20km once in the last six months. And yet, he and his running partner finished third in the Moontrekker male pairs category last week. Their time would have seen Tabor finish 11th in the solo race.
"We didn't have expectations other than Alfy [Weston, his partner] wanting to come under six hours," he said. "But I had no point of reference, so was just aiming for completion."
They finished in five hours, 39 minutes. The were rushing through check points in under a minute not just to save time but also because they were stiffening up when they stopped – a by-product of being unused to long distances.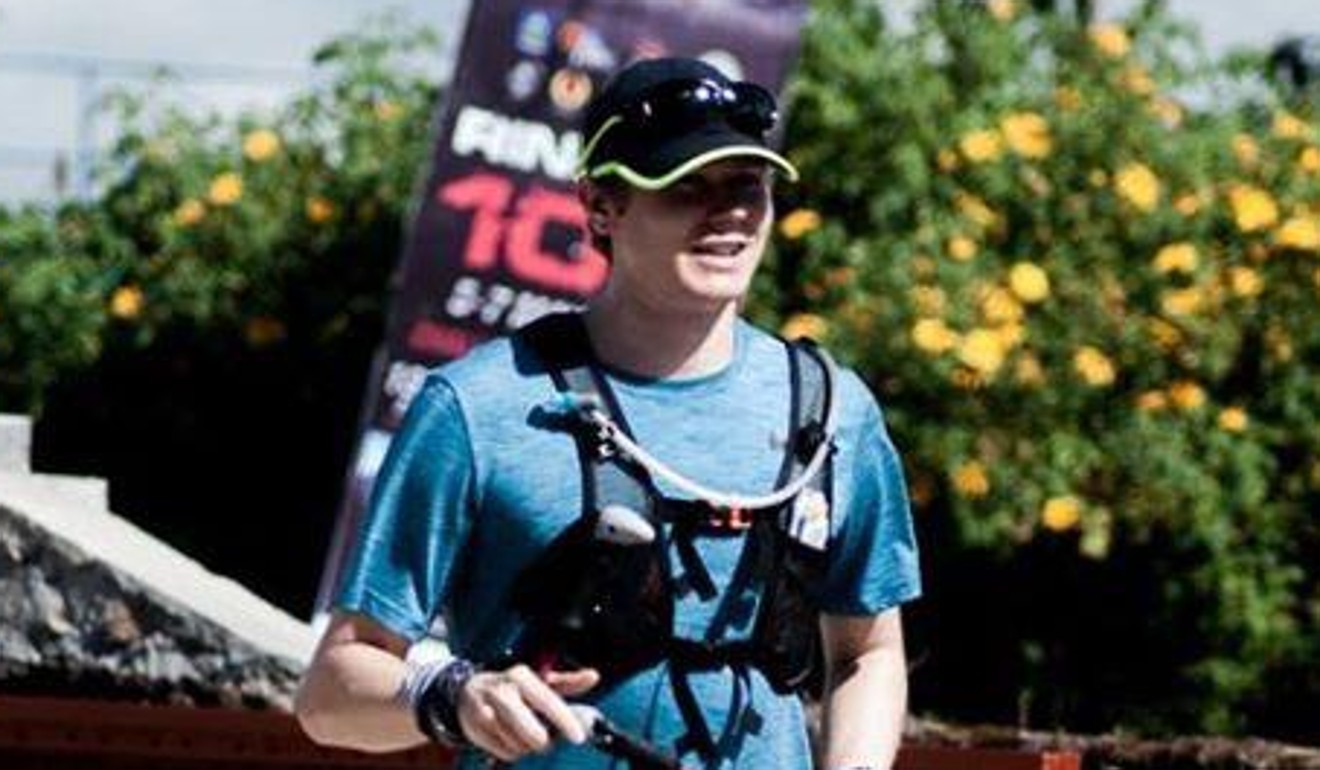 "My longest training run was a 20km once," said Tabor, who works in properties for Swire. "And to be honest, up to 20km we felt good. But it got harder after that, it started to go downhill, it got more painful."
"We were chatting too much at the start for the first 15km," he added. "We didn't realise quite how far it was or how tough the second half would be. Then about halfway we went very quiet."
The 40km Moontrekker is one of Hong Kong's most popular trail races. Starting in Mui Wo in the dark, participants run through the night, over Lantau Peak to Cheung Sha beach.
Tabor rests on the finish line of Moontrekker
Tabor has moved around Asia with Cathay Pacific, and now has settled in Hong Kong determined to take up trail running seriously.
He took part in the Rinjani 100 35km over the last two years, but with friends who were significantly less fit than him so they were easy hikes and not races. Each time Tabor would have to wait or slow down as his buddy panted up behind him.
Tabor, 27, ran middle distances competitively for Oxford University in England and ran for English Schools but only returned to the sport a month ago. He was given a week's notice for Moontrekker by Weston, whose partner dropped out.
Tabor is sure of his ability to do well in trail running, but humble enough to recognise his inexperience.
"I think I could go faster if I improved my downhills. Having better trainers would help too," said Tabor, who ran Moontrekker in road shoes he bought two years ago that had been worn flat on the sole. Weston was a "beast" downhill, highlighting to Tabor his need to improve.
"It has to be a long-term trajectory," he said. "So I'm looking at next season. I've only really done a month of running."
For now, Tabor is focused on building up slowly to avoid injury.
"Having done a 40km and not come out of it limping or with stress fracture is a result," he said. "So I'm keen for other races but probably the next one will be 20km. I'll come down again and build up the distances."
Ultimately, he wants to run 50km distances and maybe try a 100km race or two but worries he will not have the time to train properly for the latter. And if he cannot be competitive in a race, he is less motivated.
In fact, his drive to win is what could make him a great runner. Physical attributes are one thing, but trail running requires a level of mental fortitude.
"Being competitive helps, it makes me determined. I enjoy it when it's painful," he said.
But it is a double-edged sword: "I go out training and feel like I have to go fast. Now I'm making a point of going out and doing easy runs, where I come back and don't feel like I'm knackered. My natural temptation is to see someone else and think I have to overtake them."
Tabor's long-term plans will see him back at Moontrekker next year, where he hopes to run in under five hours.
But short term? "Doing a season without an injury. If I can consistently train between now and April I'd be pretty chuffed." he said.
He has an eye on the final King of The Hills race in March, although he missed registration and hopes someone will drop out, and is also considering returning to Rinjani and treating it as a race, not a hike.
A less serious aim revolves around a rumour he heard. Tabor was told there is a WhatsApp group for talented runners in Hong Kong. Mainland Chinese race organisers looking for foreign talent reach out to runners via the group and try and tempt them to race over the boarder.
He would love the chance to run regularly in China and represent Hong Kong, but first he needs to build up miles in his legs, fully recover from achilles and knee injuries he has been carrying for a while, and begin to back up his performance at Moontrekker.
Realistic? "I hope so," he said.