When Kim Mi-soon was 30 years old a doctor told her she would lose her sight in the next 10 years. She had contracted Behcet's disease and spent the next decade in agony.
But the experience led her down a path she never expected and now, aged 56, she is running Hong Kong's famous 100km Oxfam Trailwalker.
"When I finally lost my sight at 41, I was not prepared and did not know how to live," she said, adding she relied on her husband, Hyo-keun, 57, and felt frozen when he was not holding her hand.
Oxfam Trailwalker: 75-year-old to become the oldest runner 33 years after he first ran the 100km
Kim had visited China searching for a cure for the disease where a doctor told her to start exercising to boost her immune system.
She took up running and was soon competing in marathons but it was difficult to match the speed of her pacer.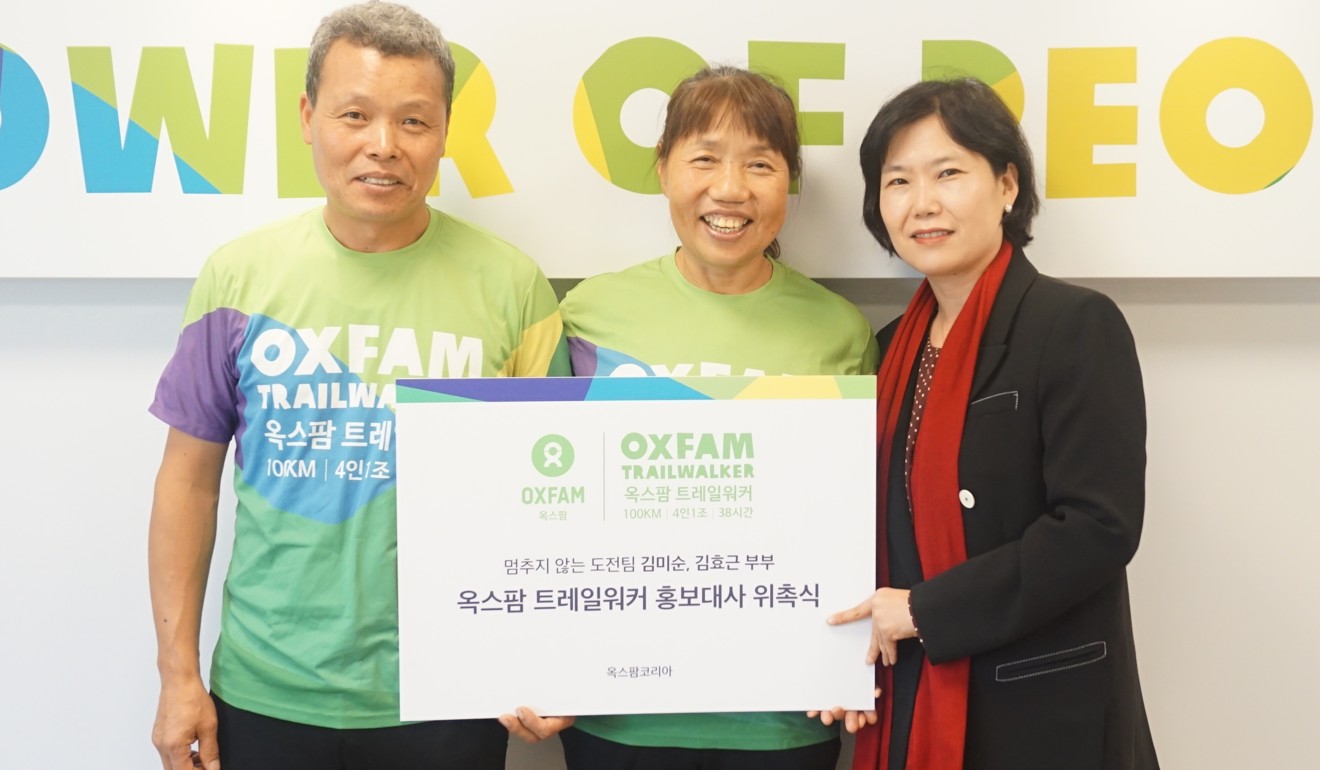 Kim asked her husband to join her. He knew nothing about running but agreed. The rest is history: they now regularly compete in ultramarathons and will be racing in Hong Kong for the first time this Friday.
Oxfam Trailwalker: Putting teamwork to the test where strength comes from the weakest link
"If I had to do it alone, I don't think I can finish the race," she said. "We run together and that makes us very happy. There are things in life you can't buy with money.
"We fight. But when we fight, we fight holding hands together."
What couple does not fight, she asked, but they do not stay mad at each other.
Oxfam Trailwalker: how new mother shed 30kg to get in shape for Hong Kong 100km race
"Because we are a couple, we can tell right away when my partner is in a good condition," she said. "When I am tired, my husband knows right away just looking at my face."
Kim can also tell when her husband is feeling low.
When that happens, they control their speed to help the other keep moving.
Kim Hyo-keun said: "To others, marathon is another form of exercise. But to my wife, it is like having a meal or breathing."
Their handicap means they have to work harder than all the other runners, he said.
"We have a goal in life and that makes our life even more exciting and fuller. We strive for completing one race, and then we practise again for the next. Life becomes much more fuller."
They finished first in the mixed team category at the Trailwalker in South Korea with a time just under 21 hours and now feel confident they can complete it in Hong Kong.
Oxfam Trailwalker: domestic helpers run 100km to show Hong Kong their community is made of 'real people with real talents'
"I love mountains. I wanted to participate in the trail, but not being able to see is a big hurdle," Kim said.
"I am now confident. Had I not participated in the OTW Korea, I would not have dreamt or dare to challenge myself for the Hong Kong OTW."
But ultimately, the benefit is their intense bond.
"We persevere, we run together and we move forward," she said.