The 298km Hong Kong Four Trails Ultra Challenge (HK4TUC) is so brutal than when you finish the event it has a lasting effect.
Only six runners have ever had the pleasure of finishing, and for each the success has left an imprint. The rare few shared their life-changing experiences with the South China Morning Post.
The HK4TUC connects all four of Hong Kong's major trails – The MacLehose, Wilson, Hong Kong and Wilson Trails. There are no checkpoints and runners are not allowed any support, although they can have help when travelling between the trails.
If you reach the end, marked by the green postbox in Mui Wo in under 60 hours you are deemed a 'finisher' and if you reach the end in under 75 hours you are a 'survivor'.
The six finishers are:
1. Tom Robertshaw, United Kingdom (based in Hong Kong), 53 hours, zero minutes, 2017
2. Stone Tsang Siu-keung, Hong Kong, 54:15, 2017
3. Salomon Wettstein, Switzerland (based in Hong Kong), 56:14, 2018
4. Jag Lanante, Philippines (based in Thailand), 57:45, 2017
5. Phairat Varasin, Thailand, 57:54, 2018
6. Chiu Wen-hsiao, Taiwan, 59:45, 2018
'I'd sleep where people couldn't see me or they'd think I was dead': tales from the HK4TUC survivors who ran for three days straight
Tom Robertshaw: "Surreal and wonderful".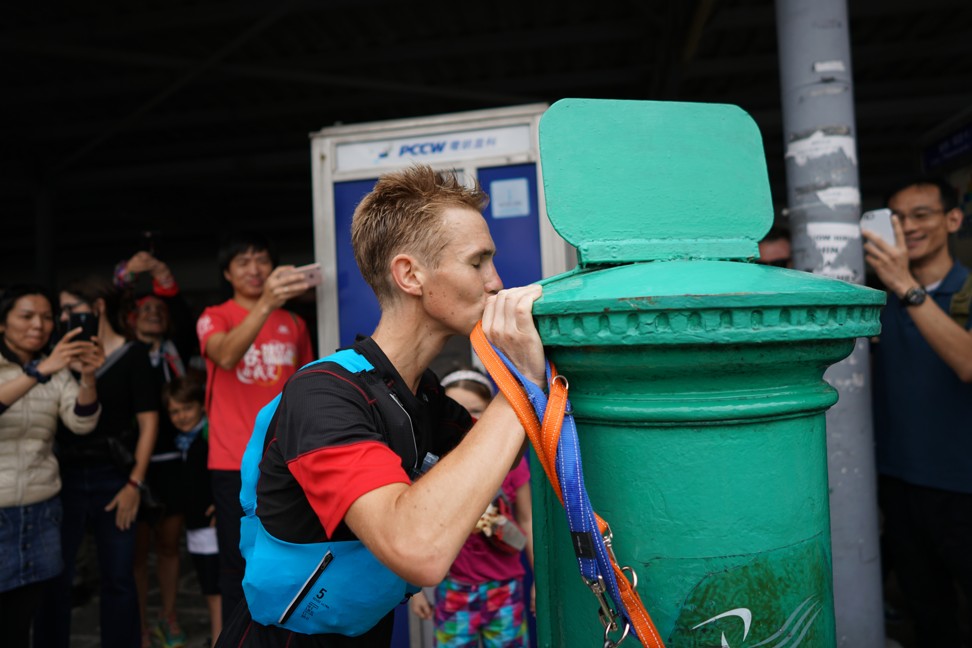 Robertshaw was the first person to break 60, and still holds the fastest time, but the accolades mean little to him.
"This is not a race. It is a challenge and I think people should be reminded of that," he said. "There will always be the talk of who is first, second or last and that's normal and born in from years of race culture, but this is about an individual's journey for themselves.
"It is for the love of the beautiful trails that we are blessed with in Hong Kong and we shouldn't forget that."
The Briton said he had surprisingly few physical aches and pains and was keen to get outdoors as soon as possible after the challenge.
"The biggest impact was mental and the way it affected my mind," he said. "The longer the distance the greater impact it potentially has on your mental faculties. That takes a longer time to understand and inform yourself on how you can take the experience with you as something positive that has the ability to change your life."
Now, when Robertshaw sees others reach the end it is both "surreal and wonderful", he said.
"We spend our lives unknowingly trapped in daily life and it is arguably very mundane. I just hope the participants can find out more about themselves and ultimately understand more about why they love to run and who they are … not just as runners but simply as people in a natural environment."
Four finishers and five survivors complete gruelling 298 kilometre Hong Kong Four Trails Ultra Challenge
Stone Tsang Siu-keung: "You need a simple mind".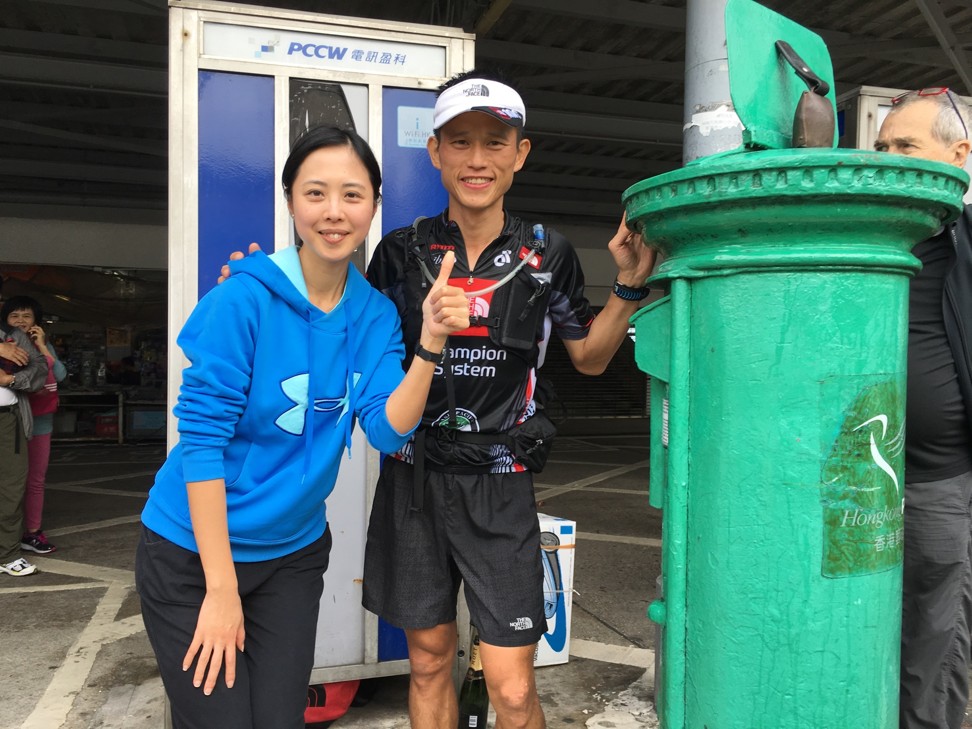 For many runners, the isolation on the trails is mentally taxing. But for Tsang, the emptiness was part of the joy.
"It is not just the human limitation, but the journey. I enjoyed those lonely times on the trails by myself," he said.
However, he was struck by the moments when people did make the effort to see him. Even at midnight, a group came out to cheer him on. "I enjoyed every moment when I look back."
That's not to say every moment was easy. In the early hours of the second morning Tsang was suddenly hit by a welling of emotion.
"I cried, I wanted to sleep. I don't really get emotional usually," he said. "I thought, 'Why am I here? Why am I suffering?'"
Tsang believes to be successful you need to clear your thoughts.
"Humans are not limited but you need to believe. If you mentally hold on you can keep going but you need a simple mind, not thinking about the results, but just thinking about keeping going."
HK4TUC: LinkedIn head of sales runs 298km for refugees as endurance sports light 'weird burning fire inside me'
Salomon Wettstein: "You need months or even years to reflect".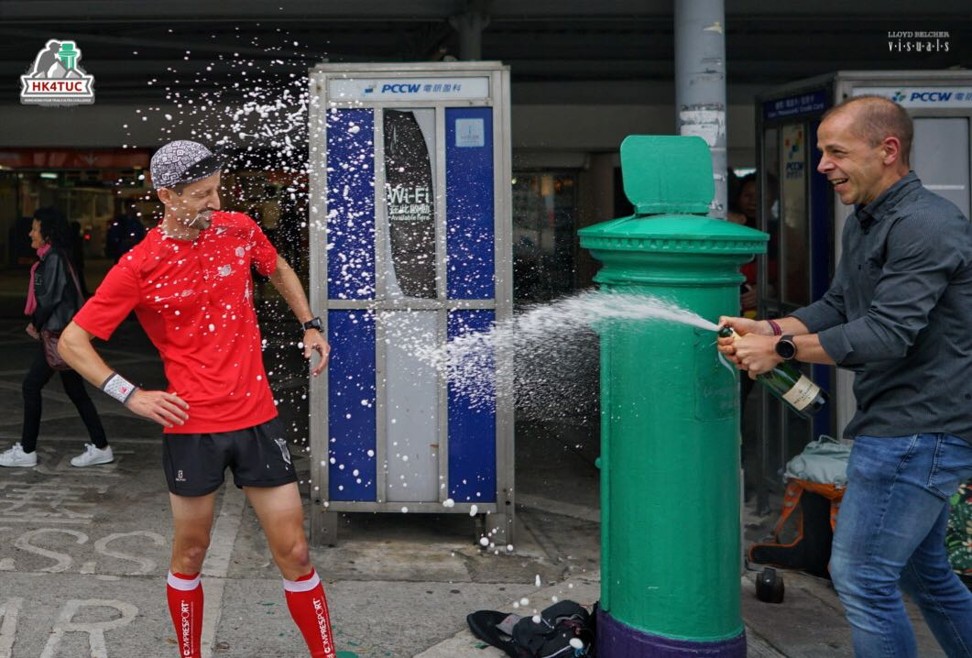 Since finishing the event, Wettstein has taken a new-found strength from his achievement and even used it to propel his career.
The management consultant presented his firm's partners with the story of his struggle. He wanted to show them that everything is possible. If you want it enough and have the support of your friends and family, you can reach any goal, he told them.
Wettstein has since been promoted to partner, and said preparing his presentation was emotionally taxing.
"I had to reflect at the end of the year again. I took out the pictures and the stories and some videos, and I almost cried.
"It was so emotional, you don't realise it. What happens during the night, when you are going through so much pain you can't even absorb it, you need months or even years to reflect on what has actually happened."
When he revisits parts of the trails, he is flooded with memories that make him emotional again. During the event, he had serious chest pains on the Wilson Trail and thought he may have to give up.
"I went back to that section and I almost felt that pain again, and that emotion will go with me for the next couple of year. You don't even realise what it has done to your body."
Wettstein lives in Mui Wo and touches the postbox every time he passes it: "I'm always a bit nervous around that region."
He puts his success down to 30 per cent physical ability, 40 per cent mental, 20 per cent preparation and 10 per cent luck. Although the latter was the smallest amount, it is crucial to allow the others to work, he said.
Now, the Swiss native is already thinking about The Barkley Marathon in Tennessee, which has a similar 60-hour cut-off and is notorious for its difficulty. But he is also dreaming long term of Mount Everest, so long as he can climb it without a guide in his own style, possibly without oxygen. But he said all his big dreams were possible due to the success on the HK4TUC.
"Every challenge you do, even a small challenges, gives you so much back, you learn so much and you'll be stronger on a daily basis."
'Sleep demons' for some but Salomon Wettstein rests easy after breaking 60 on 298km Four Trails Ultra Challenge
Jag Lanante: "Relief is the right word".
Lanante finally finished on his third attempt. His initial bid was his first ever visit to Hong Kong and he calls it the "most monumental" of the three.
"Each finish, each arrival, is different. It is the same course, but it is different," he said.
He was working as a nurse in Thailand and was training in the hospital staircase for his first attempt. He had never experienced temperatures below 22 degrees Celsius, and despite the relatively balmy 16 degrees that year, he suffered in the cold.
The second event, he said he was just happy to improve his time but by the third he had sponsors and felt some pressure.
"Relief is the right word. I was relieved I was able to break 60 because all my plans went out the window."
He had been visiting Hong Kong trying to improve his nutrition plan, but on the day the only thing he could digest was Tailwind powder. "I was in survival mode."
Now, whenever he visits Hong Kong he tries to go to Lantau, his favourite trail.
"Every time I go back memories come flooding back. I get corny, a tear can appear in my eye. I see a junction and sit down and imagine it. I take the ferry across there at 1am when it is empty and there are no other people.
"Only when you are in the HK4TUC you understand it is a unique event."
Chiu Wen-hsiao: "No regrets".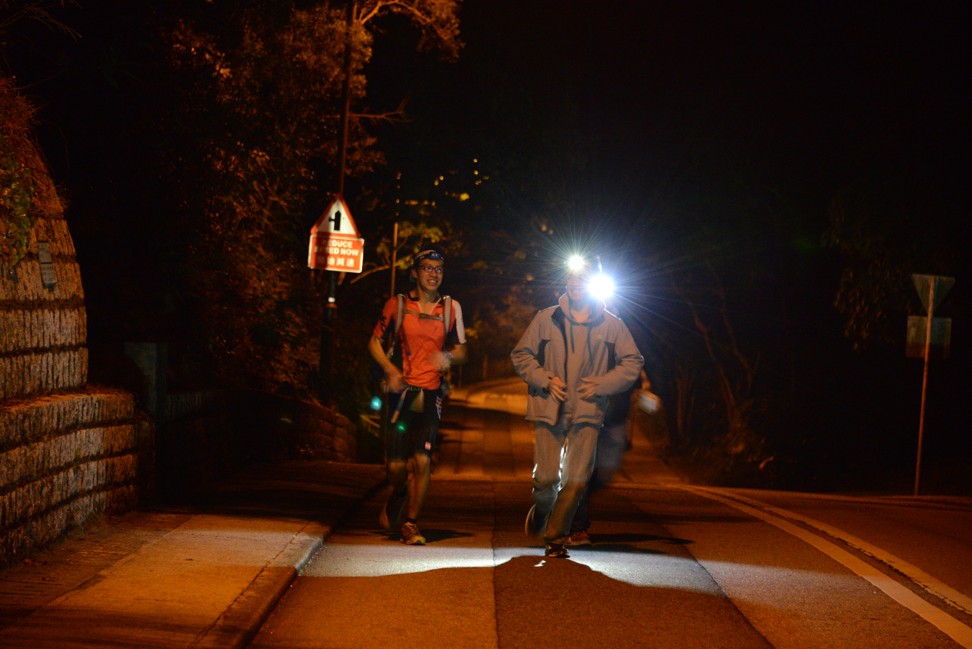 Chiu went into the event with no expectations, and even surprised himself when he realised he could finish in under 60 hours.
"I was facing it with a relaxed mood and used running to explore Hong Kong's trail," he said. "However, at the end of the Ngong Ping, I found I had a chance to be a finisher, so the last section, Lantau Peak and Sunset Peak, I ran really hard. Of course, I am still very happy to be a finisher."
Chiu does not even need to visit parts of the trails to relive the emotions, but he is happy when he looks back.
He took six months off serious running after the event, but that was partly because he was travelling a lot for work.
And now, as he sees others preparing for the HK4TUC, he gets an itch.
"I will be envious. I also hoped that I am would be the one to prepare, but unfortunately this year is not the year. I look forward to going back in the future."
'I can be a finisher again even as sleep looks for me' – could Chiu Wen-hsiao be the first to twice break 60 hours over 298km?