I can still vividly remember the stunned expression of the two hikers I came across at the top of Tiger Head, the summit above Discovery Bay, that misty winter day. They were clearly shocked by my unconventional hiking gear – my neoprene wetsuit, my foam gear, my swim paddles, my safety swim buoy, my swimming cap and my swim goggles. It seems they were not familiar with Swimrun. But who is?
Swimrun is a new sport that started in Sweden about 15 years ago. It's a combination of swims and runs, plenty of them (sometimes tens of swims and tens of runs). Contrary to the "old school" and well-established aquathlon races, there is no transition area, which means you need to carry all your gear throughout the full course.
The distance and terrain can be gruelling and there is a well-established world championship with extremely high qualification standards. Top Swimrunners raise the bar of athleticism one notch further every year and are among the strongest endurance athletes across the board.
Swimrun is still mutating and there are numerous formats. The distances are not set, the gear keeps evolving, race brands are competing with Ötillö, the original race, remaining the gold standard. It's popularity is growing quickly. Why is that?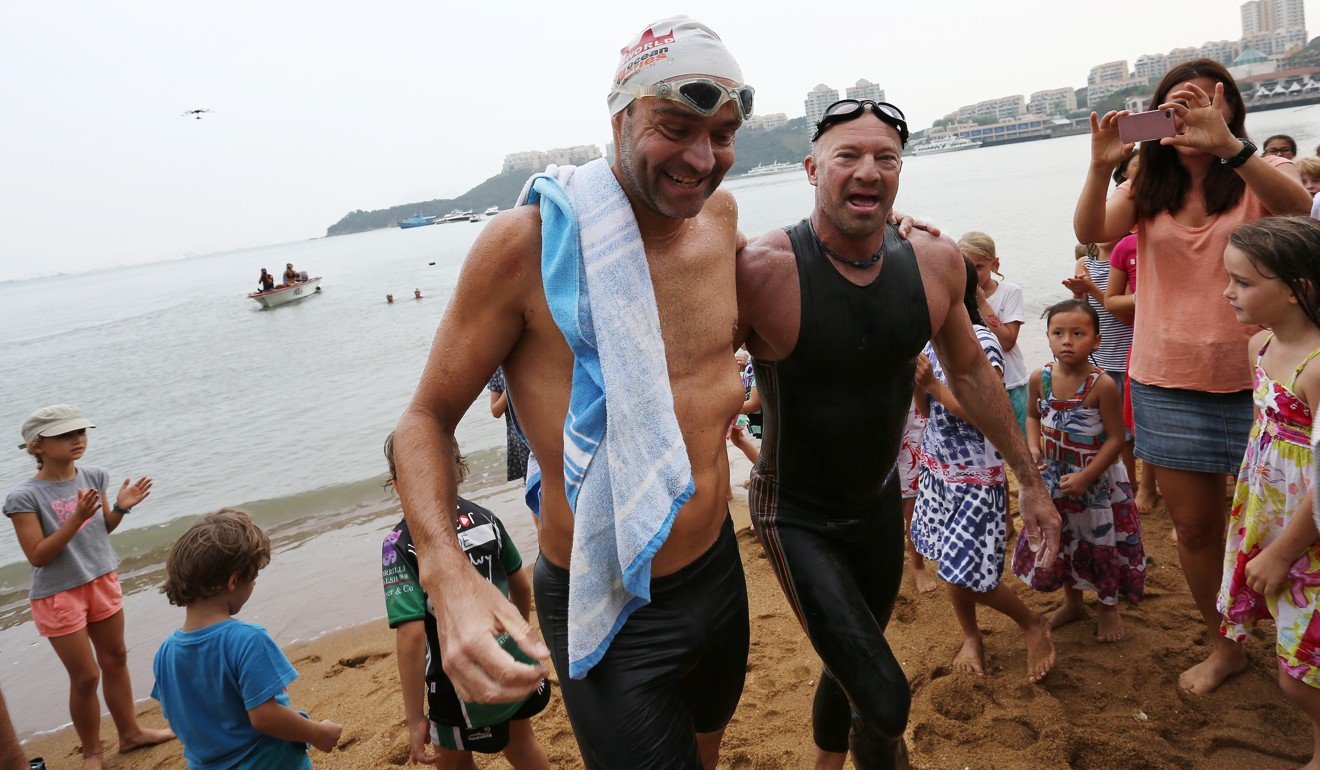 First, Swimrun races are usually set in rugged natural environments. Compared with marathons or triathlons, the terrains are unpredictable and the swims are not sheltered, the gear is not sleek, aerodynamic nor super light. As with Spartan or Tough Mudder races, this new sport attracts people who want to get dirty and be challenged by the conditions, with little interest in speed, heart rate or power data.
Unlike triathlon, it's a cheap sport that you can practise easily, and the terrain provides countless surprises, no matter how well prepared you may be.
Compared with trail running, you get a chance to cool down in water during the hotter months, so you can virtually train all year long. Finally, most Swimrun races are done in teams of two. Both partners need to stay together for the whole race, often tied by a rope. This team aspect is a huge draw for many.
Swimrun has huge potential in Hong Kong. First, we have the topography: lots of trails, lots of access to open water.
Second, we have the sporting community: plenty of triathletes, trail runners who can swim, open water and pool swimmers who can run, and curious people who like being in nature. And then we have the weather – warm most of the year.
The good news is that there is already a Swimrun series in Hong Kong, which is now in its second year. Terramar, a race organiser specialising in trail running and kayak and run races, organised five races last year. The next race is in Sai Kung on September 22, with two different distances as well as a solo and a team version. You should give it a try.
Olivier Baillet is a lifelong endurance athlete who has completed the Ironman Triathlon World Championship four times and swam the 80kms around Lantau Island.