Eli Anne Dvergsdal was forced to choose between her two passions – football and running – when competing in both at a high level became too much. She was a professional footballer in Norway and her team had just won promotion back into the top league when she decided to concentrate on running.
"I started football when I was five. I have a brother who is two years older. I went to practice with him and they let me in the team. So I was actually playing with the boys," Dvergsdal said. "But I had always been running for myself."
When she didn't have a match, she would go to running races. She said there is little else but mountains where she lives, and the running scene tends to be very steep races that finish at the top of a climb. They didn't involve any downhill running.
"I had this feeling that I wanted to see if I could do better, I wanted to push my limits," she said. "At one moment, I was doing intervals, then I was going to football practice and it was too much. I had this conflict. But I think I decided because I had this hunger for getting tired and pushing myself. It's hard to tell when it happened, but it was a hard decision."
It is a decision that paid off. She won the Norwegian Cup, a mountain running series, four years in a row. Hunting for a new challenge, she entered the Golden Trail Series (GTS) this year. The GTS has six races in Europe and one in America. The top 10 men and women are invited to run in the final in Nepal, which is taking place on Friday, over 42km near Annapurna.
Sacrificing football was not easy.
The times when I'm sick or injured you have time to think about it, if I was still with my soccer team I'd still help, take on the water or be at practice
"I was racing every weekend. I didn't have a coach. I was using races as practice. It was busy and I was a full-time physiotherapist. I didn't have time to think about it," she said. "But the times when I'm sick or injured you have time to think about it, if I was still with my soccer team I'd still help, take on the water or be at practice."
It must have been hard this season as she was rocked by highs and lows. Dvergsdal did not have any expectation of making the final until she won the 42km Zegama race, and backed it up with a third-place finish at the Marathon du Mont Blanc. But then she became very sick with an infection for months and had to have surgery.
"It went from 'I'm never going to do it' to 'OK, I could do this' to 'this is going to be hard'", she said. All Dvergsdal had to do was finish the Ring of Steall in Scotland to earn her final spot, and she slogged around the course and did enough to get the ticket to Nepal.
Dvergsdal said running against well-known names, like OCC winner Ruth Croft, does not change anything. She still runs her own race. But the media attention is a stark contrast to the races in Norway.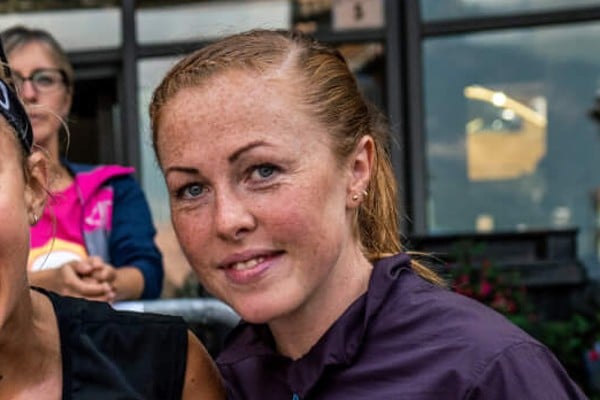 "There is one difference, all the interviews and all the media," she said. "I cannot just use the evening before to think about the race. I think sometimes I'm not as focused as I want to be. I like to focus on the race the day before. I'm just not used to this. I think I just have to learn to take some time alone."
The Norwegian is also not used to altitude. Friday's race reaches 3,800m, and she is struggling to adjust to the food in Nepal.
"I hope my body feels good," she said of Friday's race. "That would be success for me."