Three Hong Kong runners face the challenging but monotonous task of running 100km on a treadmill this Sunday. Stone Tsang Siu-keung, Elton Lam and Wong Ho-fai will break up the task as a relay, but as Tsang and Lam have busy days, Wong is left to run 80km.
The challenge, organised by Run For Good, is for a charity – Child Rehabilitation Services' Arts Development Fund for Children with Special Needs. The event was initially billed as a race between the three runners. But it was delayed owing to the protests in the November. The run will take place outside the Forest mall in Mong Kok.
Wong has run around Taiwan, and more recently the length of Japan, finishing in October – but never 100km on a treadmill.
"I'm going to try and make it like running in Japan as I had so much support there. So I'll try and enjoy the company, like in Japan, and enjoy the treadmill," he said.
The trans-Japan run may have prepared Wong for long distances, but he worries that as the event wraps up at 8pm, he may struggle to complete the distances in his allotted eight hours.
"I am confident with the constant repetitive motion, but the only stress that comes to mind is the time running out," he said. "I'm not trained to go fast."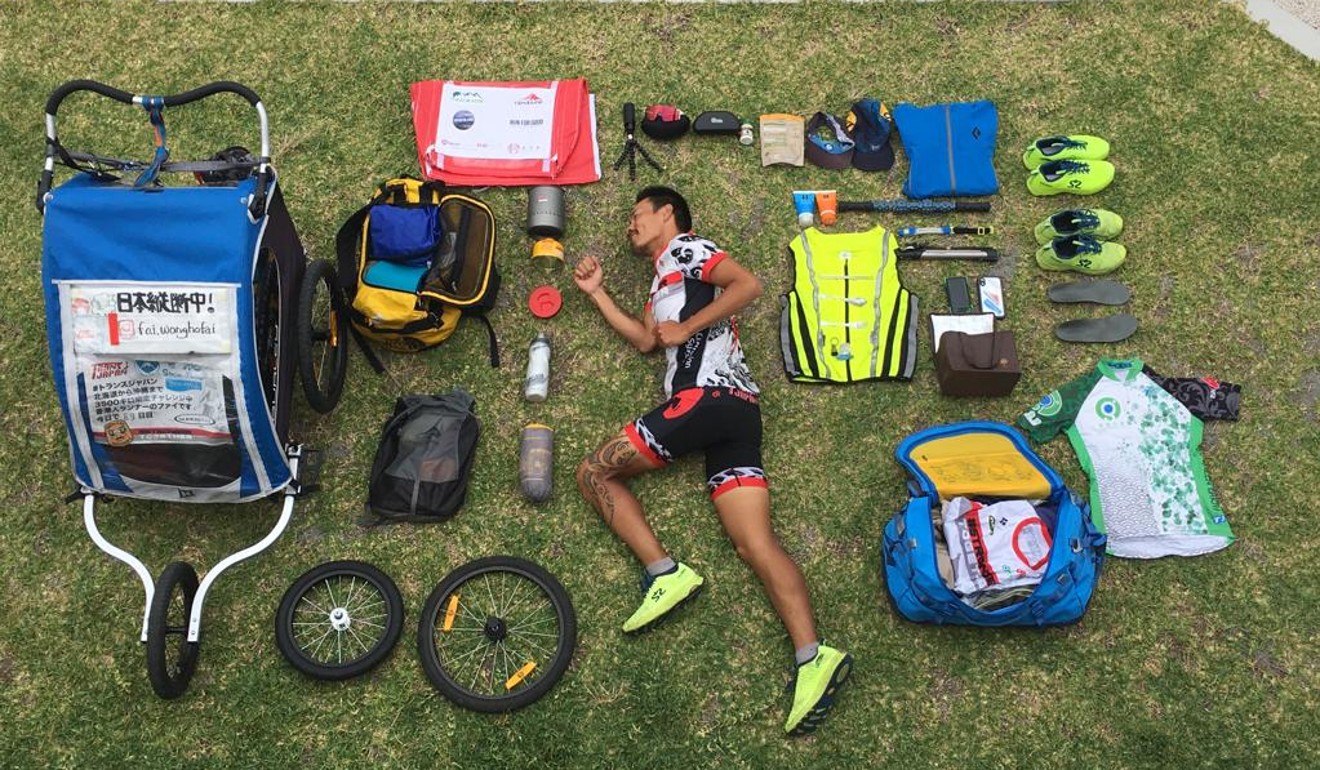 "The treadmill is two fold," Wong said. "If I'm feeling good, I could speed up a little, but if I am tired then I can use the machine to maintain my pace.
"But even if I want to go fast, my body may not always cooperate," he said.
Wong is also using the run as training for his next adventure. Having completed Japan and Taiwan, he now wants to run across America. First, he will run the Appalachian Trail in July, then run across the US to Los Angeles.
The 3,500km Appalachian Trail in the north east of the US holds a place in the imagination of many runners. The record now stands at 41 days, but it was previously held by ultra running super star Scott Jurek, who Wong was lucky enough to cross paths with in the first few days of his Japan run.
Jurek wished him luck and advised: "There is magic in suffering."
Purchase the China AI Report 2020 brought to you by SCMP Research and enjoy a 20% discount (original price US$400). This 60-page all new intelligence report gives you first-hand insights and analysis into the latest industry developments and intelligence about China AI. Get exclusive access to our webinars for continuous learning, and interact with China AI executives in live Q&A. Offer valid until 31 March 2020.