Hong Kong-based New Zelander James Pickford climbed the height of Everest (8,848m) up his stairwell this weekend. The epic feat took him 18 hours, and 295 laps, but what is more impressive is that just a year ago, he was 20kg heavier.
"Last year, I was suffering depression and anxiety. All to do with work and the pressure of career and finances. I started training at ATP Fitness, and they put me through a transformation programme. I lost in 18kg in 18 weeks," he said.
Since then, Pickford has felt his mental health improve infinitely. A couple of weeks in lockdown in New Zealand, when he slipped back into bad habits was enough to prove to himself the correlation between his mental and physical health.
"I've realised physical exercise is 100 per cent one of the pillars to positive mental health, or even managing stress levels," Pickford said.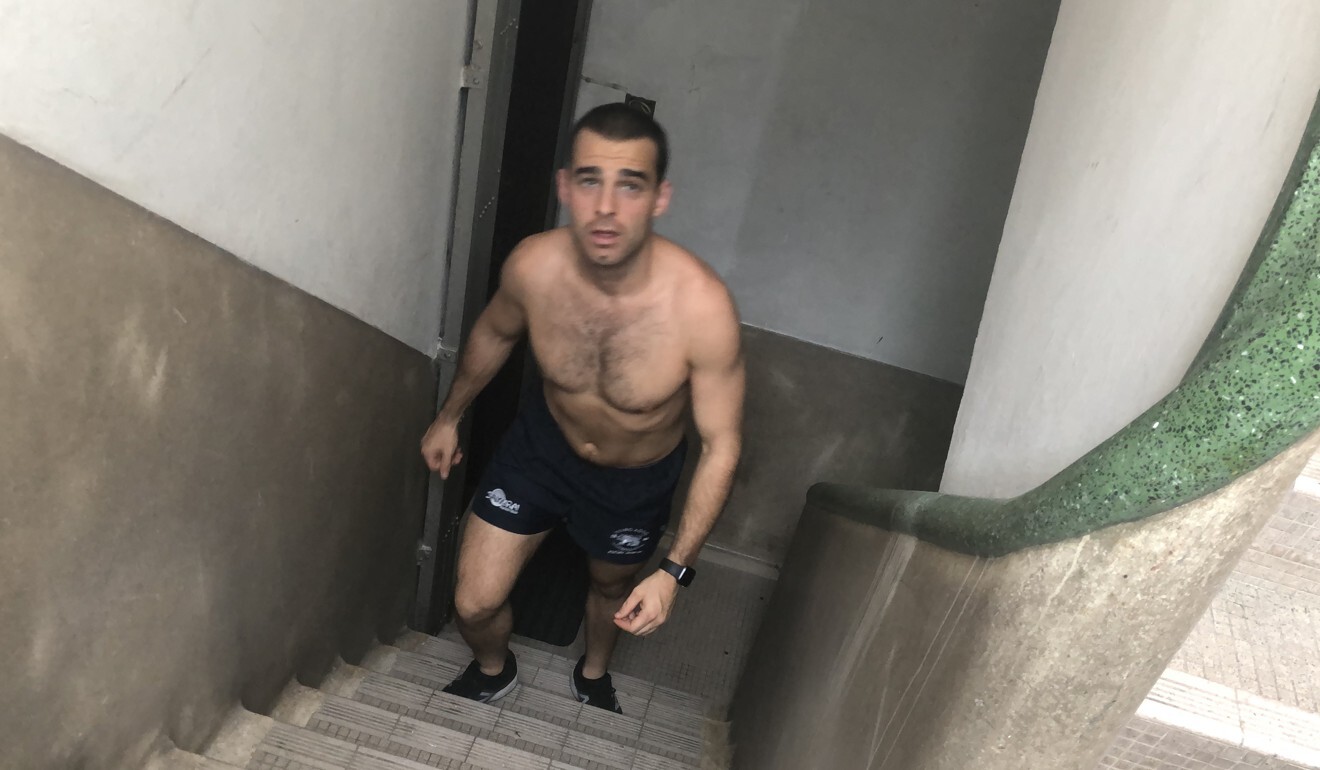 "If I couldn't do it [lose weight] then, then there was no way it would happen later on down the line. It was like a crossroads, in making a decision to be a slob for the rest of my life, or to fight my way out," Pickford said.
As he searched for a challenge, in the midst of all the cancelled sporting events, a friend suggested he complete an Everesting for the mental health charities. It's the latest challenge in the endurance world, where runners or cyclists find a hill and go up and down until they accumulate 8,848m.
"I set a goal of under 24 hours but going into it, I was not confident of that goal. I started out, and the first 50 were a breeze. I was blasting through them," Pickford said. He was posting online and sharing a live stream. One of his friends was watching from New York, who was an experienced ultra runner.
He called Pickford and warned him to slow down, and to start taking regular breaks every 45 minutes to eat and massage his muscles.
"It's lucky he said that as the next 50 were all right but then I got a massive twinge in my hamstring and it got progressively worse. That middle 100 was when I began to question if I would make it."
Pickford started incorporating the breaks, and even having cold showers. But he was soon drenched in sweat again in the humid stairwell. To push through, as he struggled on, Pickford began to practice some of the tricks he'd learned to improve his mental health.
"One of the things that got me through was meditation. Not actual meditation, but some of the theories of it. I was practising gratitude that I could take on something like this. That got me through that middle 100 and it was really cool to see the power of social media when it is used for something positive."
Pickford "saw the light" as he entered the final 100 laps, and then flew through the final 50 again and was handed a beer "that had never tasted sweeter" upon finishing.
He was joined on a live stream by his friend, rugby sevens player Harry McNulty, who is based in Ireland. Now, Pickford has passed the baton on to McNulty, who will complete an Everesting and pass it on again. The aim is to continue to raise money for mental health, in what Pickford calls a critical time as people lose jobs, have financial uncertainty and are separated from their families.
"If we can continue the challenge, and get the ball rolling, that would be great," he said.
But for now, he is resting, barely able to walk as his calves and quads have seized up.
"I've never had DOMS (delayed onset of muscle soreness) like this before," he added. "It's ridiculous."
You can donate to Pickford's charity here.