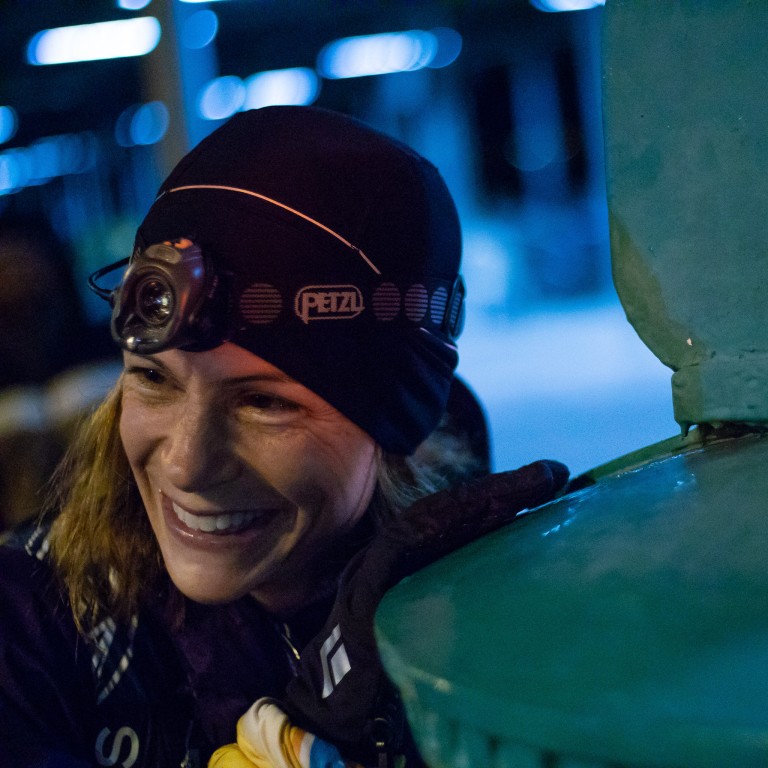 Explainer

|
The 6 hardest ultra marathons on Earth, from Hong Kong to the Artic
'World's toughest ultra marathon' is a tag line that accompanies a host of races, but which is actually the hardest?
Pain and suffering is part of the sport, and these events pack plenty of both
The "World's Toughest Ultra Marathon" is a tag line that accompanies a host of races and events, but more often than not it is merely a marketing slogan.
Some of the races deserve such a distinction, while others are just great at promoting themselves.
In essence, there are so many variables in races – such as weather, training, depth of field, and personal preferences – that one person's "toughest" is another's comfort zone.
Let the debate rage on about which race is truly the toughest – but here are six that are indisputably in the conversation.
Barkley Marathons
Nicknamed 'the race that eats its young', the Barkley Marathons is notorious – the finishing rate speaks for itself (or rather, the lack of finishing rate).
The first edition took place in 1986 as a 55-mile race and it was extended to 100 miles (160km) in 1989. It was not until 1995 that anyone finished the full 100 miles in the 60 hour limit.
There have only been 15 finishes in total (with some people having finished twice).
The Barkley course takes you through dense undergrowth in Tennessee, and is not marked, so runners will need orienteering skills. Runners must prove they followed the route by ripping pages out of books strategically placed around the forest. They take the page that corresponds to their race number.
The event is very low-key, with a lot of interest in it but no fanfare. It started as an experiment – the race is in the region of Brushy Mountain State Penitentiary, where James Earl Ray – the assassin of Martin Luther King Jnr – made an escape attempt that lasted only 12 miles.
Gary "Lazarus Lake" Cantrell thought he could make it at least 100 miles in the same time and so the macabre event was born.
If you think it sounds like the event for you, entry is your first obstacle. The process is unclear, with no timing or adverts posted. Cantrell says if you want to do it badly enough, you will work out how to enter. All that is known is that you need to submit an essay entitled "Why I Should be Allowed to Run in the Barkley" at some point, to someone.
The only entry fee is US$1.60 and whatever Cantrell needs that year. If he needs new socks, you will have to bring him socks. If he wants new shirts, he'll give you his size.
There is a gripping film covering the event titled The Race That Easts Its Young, which was previously on Netflix.
Hong Kong Four Trails Ultra Challenge
Who would have thought that the dense urban jungle of Hong Kong would be home to one of the world's toughest ultra marathons.
The Four Trails, as it is usually called, is 298km with 14,500m of cumulative vertical gain. The distance is mind boggling and hard to relate to. But what really makes this hard is the cut-off times.
To be a "finisher" you have to finish in under 60 hours. To be a "survivor" you have to finish in under 72 hours.
To put that into context, the famous Marathon des Sables is 250km over six days, stopping each night between stages.
There are no checkpoints, but there is support allowed at the end of each of the four trails at 100km, 178km and 228km. In between, runners have to carry or buy their own supplies.
It took five editions of the event before there was a finisher.
Like the Barkley, hopefuls have to submit an essay detailing their motivations to the earn a spot.
There have been two films made about it –
Breaking 60,
regarding the first finishers, and
Four Trails
, which are both directed by Hong Kong's Robin Lee.
Tor des Geants
Translated to the Tower of Giants, this race is truly giant. It is 303km, with 24,000 of accumulative gain and has a cut off of 150 hours, travelling through Northern Italy.
Many races of this magnitude designate set rest times. But the organisers of Tor des Geants empower runners to make their own decisions.
"The organisation does not impose any compulsory stages, and the winner will be the runner who completes the race in the shortest time, making his or her own decisions on when and how long to stop for rest and refreshment," the website says.
The added decision element is draining. Should I rest or should I push? If I rest now will I lose time, or if I push now will I slow down so much I lose time later? All the while, your body is longing for a reason to stop.
The race is high up, so the air is thin.
Aside from the toughness, it is also a lively race, with the local community throwing themselves into the event and showering runners with cheers and praise as they pass through Alpine villages.
Backyard Ultra
The race with no end. This is as hard or as easy as you make it, and it is another diabolical invention by Cantrell.
Runners have one hour to complete a 6.7km loop. Their rest is dictated by how fast they do the lap. At the start of the next hour, the runners line up again and complete another loop.
The race keeps going until there is just one runner left. The winner takes one more lap than the second-placed finisher.
As 6.7km in an hour is not that challenging for most runners, it removes the physical element. There is no advantage for being particularly fit or fast. The variable is the mental strength to keep on going, not knowing when you will stop.
It started in Tennessee at Cantrell's home but there are now Backyard Ultras all over the world.
So far, the most anyone has run is 101 laps (677.26km/420.83 miles). The record was set in Belgium in 2022 by Merijn Geerts and Ivo Steyaert.
Spine Race
The race follows the Pennine Way National Trail, 429km from he Peak District near Sheffield, England, to the border of Scotland. To make matters worse, it takes place in the bleak midwinter of January.
The wind and weather-battered peaks of England are unpredictable in the winter, which makes the race all the more tough. In 2015, the weather was so bad, runners were held in checkpoints waiting for particularly vicious blizzards to pass.
Runners were once allowed support crews, but that was stopped in 2018, and now they rely on the mandatory kit and the checkpoints alone.
The runners take well over 100 hours to finish, though the winners tend to be sub-100 hours now. The record currently belongs to Jasmine Paris at around 83 hours, and the male record is held by John Kelly at around 88 hours.
It might be the race for you but they have quite a high bar for entry. Heading out into the wilderness, with the short days and sub-zero temperatures, is a recipe for disaster if you do not have enough experience.
6633 Arctic Ultra
Talking of sub-zero temperatures, how about a 617km race in February to the Arctic Ocean?
That is exactly what you get from the 6633 Arctic Ultra, from Eagle Plain to Tuktoyaktuk. There are checkpoints, but the race is so vast that participants often bivvy and sleep out in the wild, between checkpoints. They have to carry sleeping bags and stoves for such occasions.
It is hard to call the participants runners. They are clad in winter suits and heavy boots, and drag a massive sledge full of gear. It is a slog rather than a run.
They have 215 hours (nine days) to finish the race.