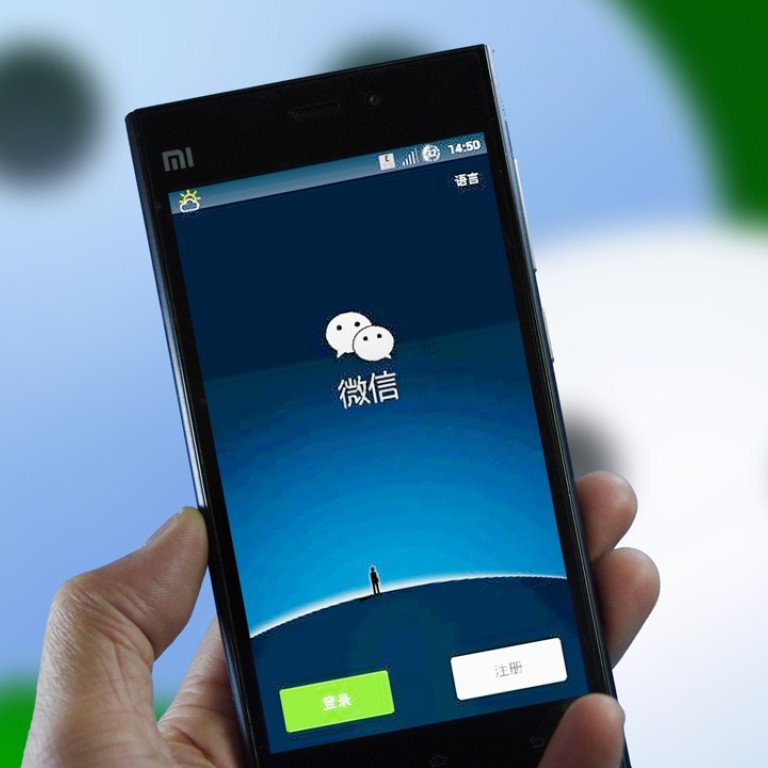 Tencent to charge users in China for transferring money from WeChat Wallet to bank accounts
New rule to take effect next month but not expected to apply to Hong Kong; pundits wonder whether it will drive users to migrate to rival Alibaba's Alipay
Tencent's popular mobile messaging app WeChat will soon begin charging users in China for money transfers made to personal bank accounts via its built-in digital wallet service.
From March 1, a fee of 0.1 per cent will be levied on digital transfers to bank accounts where the sum exceeds 1,000 yuan (US$153), the company said. The minimum fee per transfer will be 0.1 yuan.
WeChat Wallet, which
arrived in Hong Kong last month
, can be used in various ways in China. Users can send money, or digital red envelopes bearing money or gifts, to friends or make payments at a variety of offline stores.
The company is imposing the charge to cover bank handling fees for users' WeChat Wallet transfers instead of absorbing them itself as it has been doing, it said.
"The transaction fees will encourage users to make fewer withdrawals and thus keep more money circulating within the WeChat Wallet ecosystem, therefore increasing the opportunities for other spending within it," said Michael Yeo, an analyst at market research firm IDC.
WeChat's biggest rival for mobile payments, Alibaba-backed Alipay, does not charge its mobile users for transferring money to bank accounts, although website users are charged 0.2 per cent of the transaction value.
"WeChat Wallet is very convenient, and I often transfer money to colleagues when we split the bill for restaurants or taxi fares," said Jade Zheng, a Shenzhen-based administration and human resources manager in southern China.
"But I'll probably start using Alipay and internet banking [when the new WeChat charges take effect]. The fees may sound small, but it all adds up eventually," she added.
Li Mei, who runs a WeChat public account providing entertainment news, said she uses Alipay and bank transfers instead of WeChat Wallet when she receives payment for her work.
"Alipay doesn't charge any fees and I can even choose to earn interest on my money in Alipay via its financial product offerings," said Li.
"Sending money to a bank account using WeChat takes one or two days. Now that they want to impose charges, I definitely won't use WeChat for that."
WeChat said that other WeChat Wallet features such as sending money to contacts, as well as sending or receiving virtual red packets will remain free of charge.
Unlike Tencent, Ant Financial, Alipay's parent company, will continue keeping its transactions free for mobile users.
"Alipay does not charge users for withdrawing cash, depositing money to their bank accounts or transferring money to others' bank accounts via the app, and we have no plans to start charging our Alipay users for these transactions," said Miranda Shek, spokesperson for Ant Financial.
But pundits believe users will continue to use WeChat Wallet instead of migrating to other services such as Alipay, due to the massive popularity of the mobile messaging app.
"With such a small fee, I don't think that there will be a very large effect on the user base, and migration to other platforms will be unlikely," said Yeo.
"WeChat Wallet can still be used to pay for a substantial number of activities and goods, and that hold will be hard to break."
Shiv Putcha, an associate director at IDC, echoed similar sentiments.
"WeChat has scale and is popular enough today that it may not [be affected] too much. If Alipay continues to cross-subsidise their own offerings, then we may well begin to see customers playing arbitrage," Putcha said.
Although WeChat Wallet is now available in Hong Kong, its uses are restricted to online purchases within the app, such as tickets for trains or public attractions.
The red packet function was released for users in Hong Kong this month to coincide with the Lunar New Year holiday, which officially fell on February 8. Chinese traditionally give cash in small red envelopes to friends, families or staff during this period.
The service means Hong Kong residents can now use the app to transfer money they receive to a bank account of their choice.
People in the city who use WeChat Wallet will continue to enjoy free money transfers to bank accounts despite mainlanders now being asked to pay for the service, according to a person familiar with the matter.