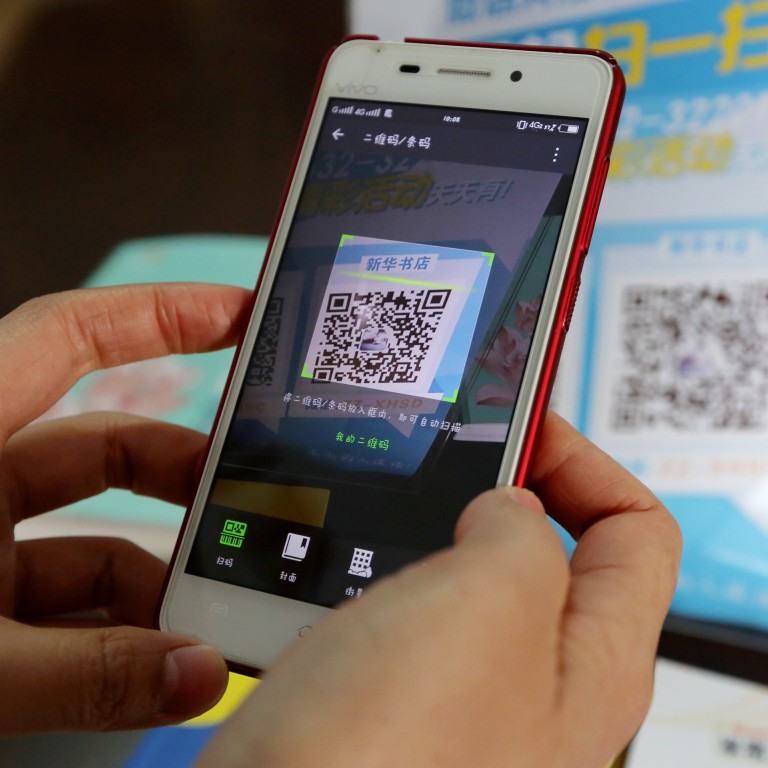 China pulls further ahead of US in mobile payments with record US$12.8 trillion in transactions
China's cities are 'closest to cashless consumer economies' as mobile payments surged to a record amount in the 10 months to October last year
Mobile payment transactions in China reached a record 81 trillion yuan (US$12.8 trillion) from January to October last year, driven by the vast number of consumers across the country who have looked beyond credit cards to more convenient, cashless systems.
The 10-month total surpassed the 58.8 trillion yuan in mobile payment transactions on the mainland during the whole of 2016, according to the latest official figures from the Ministry of Industry and Information Technology reported earlier by Xinhua News Agency.
China's latest tally dwarfed the estimated US$49.3 billion in total mobile payment transactions in the United States last year, according to data from eMarketer.
China's mobile payments boom has been powered by the fast adoption of online retail, financial and on-demand services, such as ride-sharing activities, in the world's largest internet and smartphone market.
Mobile payments are used for a wide range of transactions, from paying for smartphone game upgrades and ordering takeaway food online to purchasing movie tickets and sending electronic hongbao – red packets with cash as gifts.
Popular mobile payment apps, such as WeChat Pay and Alipay, have enabled consumers, including those in rural areas, to go straight from cash to smartphone, leapfrogging the use of credit cards and cheques.
That would be akin to how India had showed leaps and bounds in mobile internet adoption, and largely dispensed with further building up its fixed-line broadband infrastructure.
"China is recognised as the most advanced market for mobile payments in the world, thanks to WeChat and Alipay," said Paul Haswell, a senior partner at international law firm Pinsent Masons.
"Essentially, use of credit and debit cards in China is relatively cumbersome compared to making WeChat payments. As such, many Chinese cities are now the closest we have to cashless consumer economies."
WeChat Pay, which is operated by Tencent Holdings, and Alipay, the online payments platform of Alibaba Group Holding affiliate Ant Financial Services, accounted for 93 per cent of China's mobile payments market, according to data from research firm Analysys International. New York-listed Alibaba owns the South China Morning Post.
Both WeChat Pay and Alipay have helped popularise paying for purchases made at the point of sale (POS) by tapping, swiping or checking in with a smartphone, using the near-field communications feature built in the handset or the machine-readable optical label known as QR code.
The number of transactions made through non-banking mobile apps from 2013 to 2016 increased from 3.8 billion to more than 97 billion, according to data from the Payment and Clearing Association of China.
Research firm eMarketer recently estimated that more than 61 per cent of global mobile payment users this year will be located in China.
"By 2021, 79.3 per cent of smartphone users in China will be tapping, scanning and swiping at the POS," said eMarketer forecasting analyst Shelleen Shum. "By comparison, the US will have 23 per cent of smartphone users doing so, and in Germany it will be 15 per cent."