Jack Ma
Get more with myNEWS
A personalised news feed of stories that matter to you
Learn more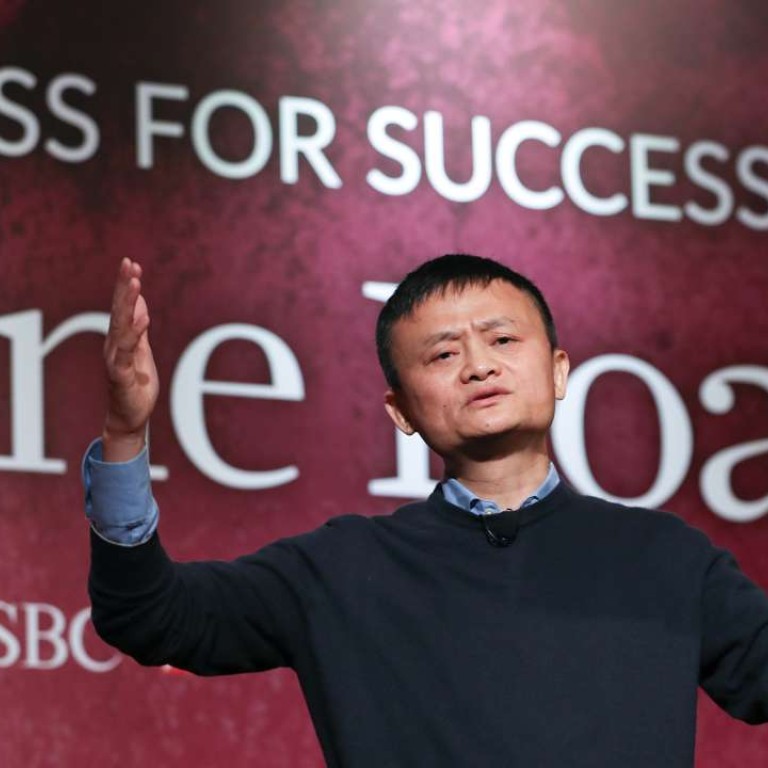 Exclusive

|
TechFin: Jack Ma coins term to set Alipay's goal to give emerging markets access to capital
Jack Ma, founder of the world's largest e-commerce platform, has coined a new phrase to define the mission of Alipay to help more young people, small companies and poor nations gain access to capital, advocating a concept of "techfin" to turn the trendy "fintech" on its head.
"Fintech takes the original financial system and improves its technology," said Ma during Friday's China Conference organised by the South China Morning Post. "TechFin is to rebuild the system with technology. What we want to do is to solve the problem of a lack of inclusiveness."
Ant Financial Services Group, backed by Ma's Alibaba Group Holdings, would rather strive to provide equitable payment systems and access to capital for emerging economies like India, the Philippines and Malaysia, instead of focusing on competing in developed markets like Europe and the United States, he said.
The Alipay service, which boasts 450 million registered users, has its largest market in China, where it runs third-party payments and e-wallet services.
Ant Financial last September invested US$680 million in Indian e-wallet company Paytm in its first significant foreign expansion efforts as it sought to expand its digital financial services abroad.
In November, Ant Financial partnered with Thailand's fintech firm Ascend Money, which also runs a digital wallet service. Under the agreement, Ant Financial will assist Ascend Money to grow its online and offline payments and financial services ecosystem.
While Ant Financial has formed partnerships to expand in other Asian markets, the company has yet to launch its digital wallet services into Europe or the Americas. Instead, it partners with merchants globally to allow Chinese tourists to pay for purchases via the Alipay app, with aims to partner 1 million offline merchants over the next three years.
But Ma emphasised that Alipay is still zoning in on servicing developing countries first, because "everyone should have a bank account."
"It's not a business model competition ... Getting a business model is simple if you really solve a big problem and create value," he added. "In India, we have over 150 million users who can run mobile payments within 20 months. This is something we feel proud of."
Alibaba owns the South China Morning Post