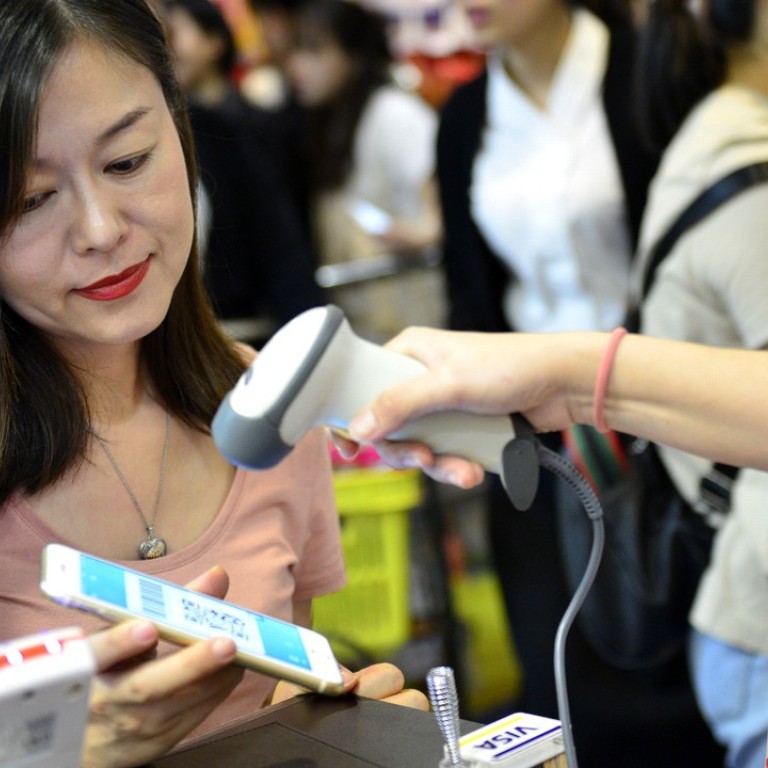 Ant Financial enters Hong Kong market with AlipayHK mobile wallet
Ant Financial Services Group, operator of Alipay and an affiliate of Chinese e-commerce giant Alibaba Group Holding, has become the latest player to enter Hong Kong's competitive mobile payments market with the launch on Wednesday of its own application for the city.
The mobile wallet and payments app, dubbed AlipayHK, enables registered users to make in-store payments that are settled in Hong Kong dollars at merchants such as Watsons and Fortress as well as supermarkets like ParknShop.
Cashiers need only scan a Quick Response (QR) code generated by the user's AlipayHK app and the amount will be deducted automatically from the wallet.
The app can also be used offline as it automatically generates dynamic QR codes that allow payments to be made even without an internet connection, according to Ant Financial.
Last August, Ant Financial was one of the first five companies to obtain a so-called stored value facilities license from the Hong Kong Monetary Authority that would allow it to provide third-party payment services in the city.
From Thursday, any user with a Hong Kong phone number will be able to register an AlipayHK account and link their Visa or Mastercard credit cards to the account. Unlike the Alipay app in China, Hong Kong users don't need to go through identity verification to open an account.
Functionality for the Hong Kong version of Alipay is currently limited to making payments with merchants as well as paying for purchases on Taobao Marketplace and Tmall.com.
Peer-to-peer money transfers are currently unavailable, although Ant Financial has stated that the function is in the works and may be rolled out in future.
"Introducing local-currency mobile payments to Hong Kong is an important step forward in Ant Financial's mission to bring our services to more users in more markets," said Douglas Feagin, the company's president of global business. "The consumers [in Hong Kong] are very sophisticated, demanding and excited about new technologies, and we're now able to serve them with the same type of services we had in the Chinese mainland."
Over the last two years, Ant Financial has built up a partnership of more than 8,000 merchant sites in Hong Kong to accept payment by Alipay, although this was mostly geared towards Chinese users and tourists who were making payments in yuan.
Hong Kong users of the AlipayHK app are currently limited to local transactions and are unable to use the app outside of the city.
Venetia Lee, Alipay's general manager for Hong Kong, Macau and Taiwan, said Ant Financial developed a separate app for the Hong Kong market because it was easier to localise based on users' needs and behaviours.
She added that the company is looking to incorporate services such as bill payments within the app in future.
Currently, AlipayHK includes features like the ability to obtain dining discounts with the app, as well as allowing users to collect e-stamps as they spend, which can be redeemed for cash rebates or merchant discounts.
James Lloyd, EY's Asia-Pacific financial technology leader, said he believes the entry of Alipay into the local market is a "great boost to Hong Kong's fintech" scene.
"I'm quite bullish on the Hong Kong market. I think it's a great opportunity, and one of those opportunities is how to encourage some of the big mainland Chinese innovators, such as Ant Financial, to use Hong Kong as a launchpad as they internationalise and grow regionally," Lloyd said.
Tencent Holdings has also launched its WeChat Wallet service for Hong Kong users, allowing peer-to-peer transfers and the purchase of tourist attraction or transport tickets within the mobile wallet.
Technology giants like Apple and Samsung Electronics have also rolled out their respective mobile payment services, Apple Pay and Samsung Pay, for Hong Kong users over the last year.
Alibaba owns the South China Morning Post.
This article appeared in the South China Morning Post print edition as: Ant Financial joins mobile payments fray in HK