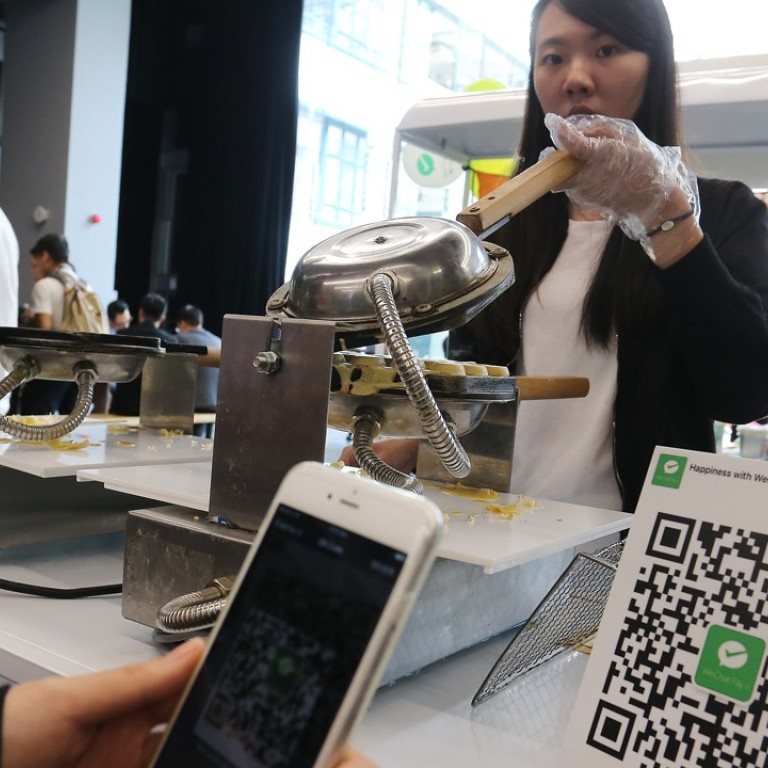 WeChat, Alipay offer overseas tax refund services to tourists, meaning no more airport queues
China's two largest mobile payment platforms look to simplify and make it more convenient for Chinese travellers get tax rebates on purchases made in overseas trips
The tedious tax refund process at airports and the long wait to get rebates for purchases made on overseas trips may soon be a thing of the past for Chinese tourists.
WeChat Pay and Alipay, China's two biggest mobile payment platforms, have recently forged partnerships with tax refund companies to enable Chinese tourists to obtain rebates on their purchases via their respective mobile apps.
Within this year, WeChat also plans to offer instant refunds in-store overseas as it competes for a larger share of rising Chinese tourist spending abroad.
Their strategy is driven by how China has embraced mobile payments faster than any other country and is also the biggest source of outbound travellers. In 2016, mobile payment transactions in China reached US$5.5 trillion, making the country the largest mobile payments market in the world, according to iResearch.
Both WeChat Pay and Alipay have been expanding their services as mobile payments are used for everything from food delivery, taxi rides and in-store purchases, both on the mainland and abroad.
WeChat Pay, operated by Tencent Holdings, and Alipay, the payments subsidiary of Ant Financial Services Group, account for a combined 66 per cent of the third-party payments market in China, based on estimates of Analysys International.
Ant Financial is an affiliate of New York-listed Alibaba Group Holding, which owns the South China Morning Post.
WeChat Pay and Alipay, along with its overseas mobile payment partners, have estimated a total of 600 million and 800 million users, respectively.
Late last month, WeChat Pay partnered up with Swiss firm Global Blue to offer an instant tax refund service for Chinese tourists leaving from Madrid airport, while Alipay rolled out a similar service for returning Chinese tourists at Singapore's Changi airport.
With those instant tax refund services, users can get their rebates settled in yuan and sent to their WeChat Wallet or Alipay accounts immediately once their tax refund forms are stamped and approved at the airport counter.
The rising affluence of Chinese consumers and the boom in outbound China tourism also made it attractive for WeChat Pay and Alipay to facilitate tax rebates.
According to a recent report by the China Tourism Academy and online travel agency Ctrip, an estimated 6.5 million outbound Chinese travellers spent this year's week-long Lunar New Year holiday overseas. Each tourist was expected to spend an average of 9,500 yuan (US$1,500) on their trip.
"Offering instant tax refunds is a smart strategy by both Chinese players to capture further market share beyond what is likely to be a close to saturated market within the mainland," said Michael Yeo, research manager for financial and retail insights at IDC.
"Many outlets across Asia, Europe and Northern America already accept both WeChat and Alipay payments. Offering instant tax refunds provide convenience and may prove to be an effective tool in luring these tourists to switch from other payment methods, such as cash or credit card, for such trips."
Similar to other WeChat Wallet and Alipay programmes, the tax rebate service makes use of quick response (QR) codes. The tax refund officer scans the QR code on a user's smartphone to credit the refund to their account.
While Alipay allows users to access the QR code in the Alipay app, WeChat Pay users will have to search for its WeChat Tax Refund feature to process the refunds.
Global Blue and WeChat Pay are now working to offer in-store refunds, which means that Chinese travellers would no longer need to line up to get their tax refund forms processed at the airport. The service is expected to be rolled out across Europe within this year, according to a joint statement.