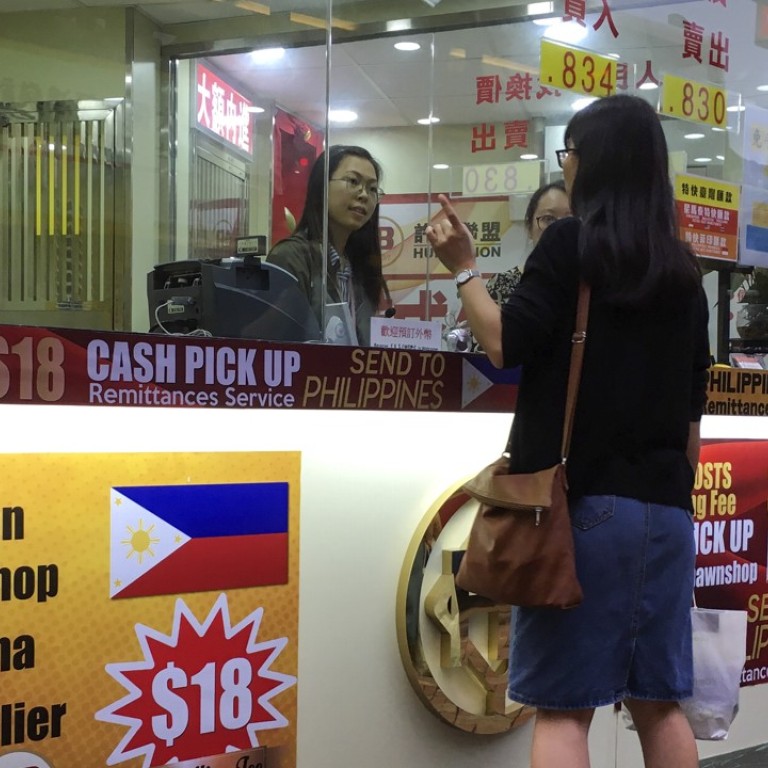 Ant Financial taps blockchain technology to offer cheaper international money transfers
Filipino workers in Hong Kong to benefit from cheaper remittance service
Ant Financial Services has taken a step towards dramatically lowering the cost of sending money overseas, in a move that will help the hundreds of thousands of Filipinos working in Hong Kong.
These workers collectively transfer about HK$4.4 billion (US$561 million) annually to family and friends back home and, by using revolutionary blockchain technology, Ant Financial – an affiliate of Alibaba Group Holding – aims to eventually cut the cost of these remittances to near zero.
Alibaba co-founder Jack Ma Yun said on Monday he wanted to find a way to help people.
"This comes from a promise I made a long time ago when Alipay was just launched," said Ma, who serves as executive chairman at Alibaba, the parent company of the South China Morning Post.
"I have Filipino friends who asked me when they could use Alipay to send money home because it was too expensive through banks, which charge too much."
The blockchain money remittance service announced Monday for its AlipayHK wallet is the first of its kind globally, according to Ant Financial.
It is currently available only for transfers between Hong Kong and the Philippines, which is the world's third-largest remittance market, with inflows of US$33 billion in 2017, according to Standard Chartered, which will act as the settlement bank for both AlipayHK and GCash for the blockchain transactions.
"Hong Kong is an international financial centre in Asia, and it is most fitting that Ant Financial has chosen to kick off this pilot project right here," said the city's financial secretary Paul Chan Mo-po.
"We take pride in Hong Kong's robust and effective financial regulatory regime that is in line with international standards.
"Our financial regulators are doing their part to facilitate and foster innovations in the industry with their dedicated liaison platforms and sandboxes ... allowing financial service providers to conduct pilot trials of fintech solutions in confined environments."
Hong Kong's banks and remittance outlets charge about HKD$18, and may impose other costs such as commissions or currency conversion fees on every transfer.
Ma, speaking at the launch event, said he wants to make it possible for people to remit even 1 cent at almost no cost, compared with the higher fees charged by traditional remittance services like MoneyGram, which Ant tried to buy last year.
"At the time we wanted to [buy] MoneyGram and overhaul it to help people all over the world solve this issue. Due to reasons from the US our deal with MoneyGram did not succeed, so I said, 'Let's make one better [than MoneyGram]' that uses the most advanced technology," Ma said.
"The impact of blockchain to people and society will be greater than we can ever imagine," he said.
Blockchain, the digital ledger technology behind cryptocurrency bitcoin, provides a series of networks of databases that let users create, disseminate and store information securely and efficiently, eliminating the need for a central authority and providing greater transparency for transactions every step of the way.
The launch of the blockchain feature comes as internet companies globally are seeking to use financial technology to provide more efficient and affordable financial services to users, an area traditionally dominated by banks.
Hong Kong financial technology company TNG Wallet already provides mobile remittances via digital wallets, but it does not use blockchain.
Users of AlipayHK, the Hong Kong version of Ant Financial's Alipay wallet on the Chinese mainland, will be able to transfer money within seconds to users of GCash, a mobile money service and wallet operated by Filipino telecommunications company Globe Telecom, that has about eight million users in the country. Transaction fees will be waived during the initial three-month trial period, Ant Financial said.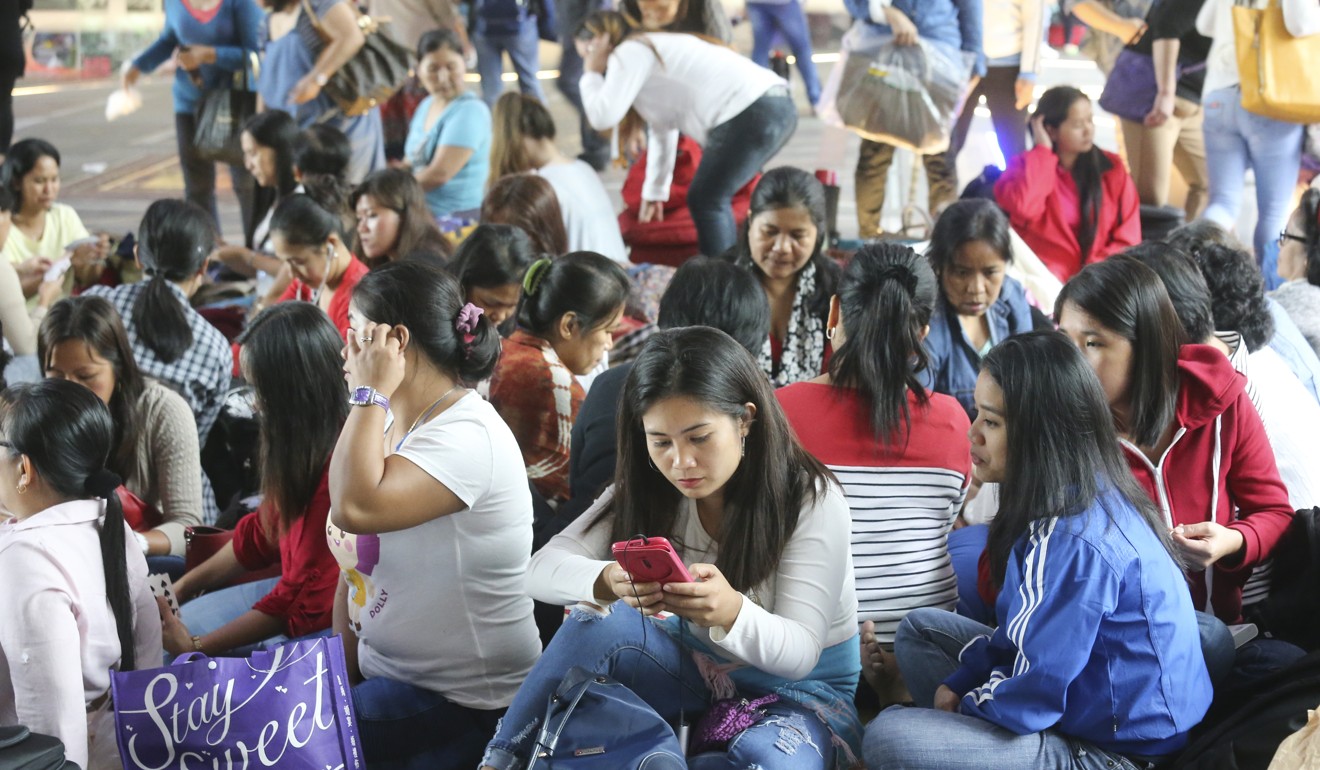 In 2016, Filipinos working in Hong Kong remitted HK$4.4 billion (US$561 million) to their home country, according to estimates from social workers. There are more than 180,000 Filipinos working as domestic helpers in the city, making it the largest foreign community in Hong Kong.
Through the Alipay blockchain, remittances can be done at a competitive exchange rate, in real-time and with lower fees than traditional money transfer services, according to the company.
Anthony Thomas, president and chief executive of Mynt, the operator of GCash, said the company was building an ecosystem to make financial services affordable and accessible for all Filipinos.
"We believe that for overseas Filipinos, sending money home to their family's GCash mobile wallet will soon be the norm," he said.
Although Ant Financial's blockchain is the first of its kind, Tencent Holdings' WeChat and partner EMQ as well as Hong Kong fintech start-up TNG Wallet have earlier launched services that enable domestic workers from the Philippines and Indonesia to remit money via mobile devices.
It has already become "very popular" to send money to the Philippines and Indonesia via TNG and WeChat's mobile apps, according to Sringatin, a spokeswoman for the Asian Migrants' Coordinating Body, an alliance of domestic workers' groups in Hong Kong.
She said domestic workers use such apps because it is "very easy to send money" to Indonesia or the Philippines with just a few clicks to complete a transfer, without having to wait in line.
In January, Ant Financial's US$1.2 billion offer for MoneyGram failed to obtain approval from the Committee on Foreign Investment in the United States (CFIUS), a US government panel that assesses the national security implications of foreign investments in American companies.
Additional reporting by Phila Siu
This article appeared in the South China Morning Post print edition as: Ant Starts low-cost money transfers