Alibaba
Get more with myNEWS
A personalised news feed of stories that matter to you
Learn more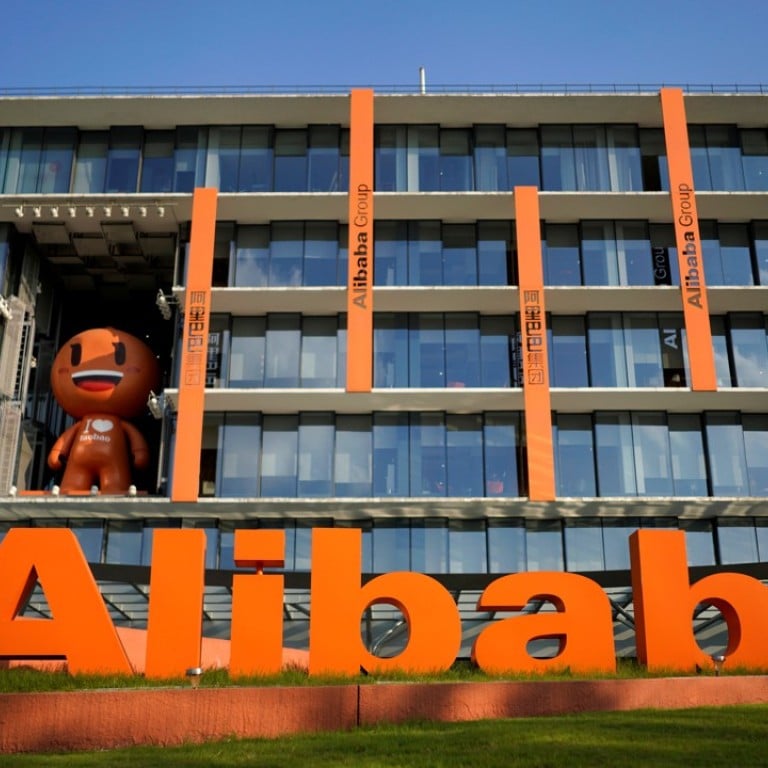 Alibaba delivers 61 per cent growth in revenue amid increased New Retail investment
Alibaba Group Holding reported revenue growth of 61 per cent for the quarter ended June 30, powered by its main e-commerce business even as it steps up investment in on-demand local services and other businesses under its "New Retail" initiative.
The New York-listed company's revenue reached 80.9 billion yuan (US$11.8 billion), up from 50.18 billion yuan in the year-earlier period, according to a statement.
Net income attributable to ordinary shareholders slid 41 per cent to 8.7 billion yuan, due to higher expense of shares awarded to employees as a result of an increase in valuation of affiliate Ant Financial Services. Excluding that impact, profit would have increased by 35 per cent.
The Hangzhou-based e-commerce giant is increasing its investment to support its New Retail strategy, a series of initiatives to integrate the online and offline shopping experiences for consumers across a number of products and services. Those investments are being made in the face of increased competition on multiple fronts in China, where its ecosystem of services rival those of Tencent Holdings.
"Our New Retail initiatives are substantially growing Alibaba's total addressable market in e-commerce," Joseph Tsai, the executive vice-chairman at Alibaba, said in a conference call on Thursday. "Alibaba's three-pronged consumer offering in retail, entertainment and local services will be the long-term drivers of value creation, as the Chinese middle class expands and more of these consumers demand a higher-quality lifestyle."
Alibaba's core commerce revenue rose 61 per cent to 69.2 billion yuan, while cloud revenue surged 93 per cent to 4.7 billion yuan. Revenue from its digital media and entertainment, which includes its Youku streaming unit, rose 46 per cent to 6 billion yuan.
The company has recently sharpened its focus on mainland China's burgeoning on-demand local services market. Alibaba is the parent company of the South China Morning Post.
Alibaba is investing in on-demand local services as a way to increase user engagement. By integrating delivery services with everything from merchants on its Taobao Marketplace and Tmall shopping platforms to meals, groceries and pharmacy services, Alibaba can push more of its ecosystem of products and services to users, as well as widen the use of its Alipay payments channel under Ant Financial.
Last month, food delivery services subsidiary Ele.me announced a 3 billion yuan investment to provide subsidies and other incentives to users. The Shanghai-based firm aims to win at least a 50 per cent share of China's on-demand food delivery market in the near term. It also aims to expand its business beyond transporting meals to consumers to other on-demand services, potentially delivering items such as flowers and over-the-counter medication.
Ele.me, which Alibaba fully acquired in April with a US$9.5 billion deal that saw it buy out Baidu and other stakeholders, faces increased competition from Tencent-backed rival Meituan-Dianping. Alibaba plans to merge Ele.me with another unit Koubei into a flagship local service vehicle. The new company has received over US$3 billion in investment commitments, Alibaba said in the statement.
Earlier this month, Ele.me announced a partnership with Starbucks Corp to begin delivery services from September to stores in key trade zones in Beijing and Shanghai, with plans for more than 2,000 stores across 30 cities by the end of this year.
"Profitability is not something that Alibaba wants to talk about in the short term [for its on-demand local services business]," said Steven Zhu, a senior analyst at Pacific Epoch. He said he does not expect to see margin improvement in the short term, as spending to gain market share will affect Alibaba's bottom line.
That means the battle between Alibaba's combined Ele.me-Koubei operation and Meituan-Dianping will play out as a massive cash-burning contest, as each side moves to dominate the market, according to Zhu. That would be similar to the competition between Didi Chuxing and Uber Technologies in China before Didi acquired its US rival's business on the mainland.
Alibaba added 24 million users from last quarter for a total of 576 million annual active consumers. About 80 per cent of new consumers came from lower-tier cities in China.
Mobile monthly active users grew to 634 million, up 17 million users from the last quarter. Revenue from other businesses, which consist primarily of New Retail initiatives, was up more than 340 per cent, driven by Hema Supermarkets, Intime and Tmall imports, according to the company.
Alibaba kick-started its New Retail strategy, which was initiated by company founder and executive chairman Jack Ma Yun, through its chain of Hema supermarkets, which allow users to shop offline or online as they please, have groceries delivered to their doorsteps and even have chefs whip up fresh seafood meals on the spot.
Other major investments that Alibaba made recently include a US$2.2 billion stake in Chinese outdoor advertising firm Focus Media. Alibaba also led a US$300 million investment in e-commerce platform Xiaohongshu in June.
On its international expansion, Tsai said Alibaba has made "substantial progress" in the emerging economies in Southeast and South Asia, and that these markets are "ripe for us to add more consumers into our ecosystem".
Revenue from its international retail business reached US$652 million, representing a 64 per cent increase from a year earlier. Alibaba's Southeast Asia e-commerce unit Lazada will connect consumers in the region with products supplied by Taobao and Tmall sellers in China.
"We are confident that the deepened Lazada integration with the Alibaba ecosystem will drive market share gains," said Daniel Zhang Yong, the chief executive at Alibaba.
This article appeared in the South China Morning Post print edition as: 'New Retail' gives Alibaba a lift