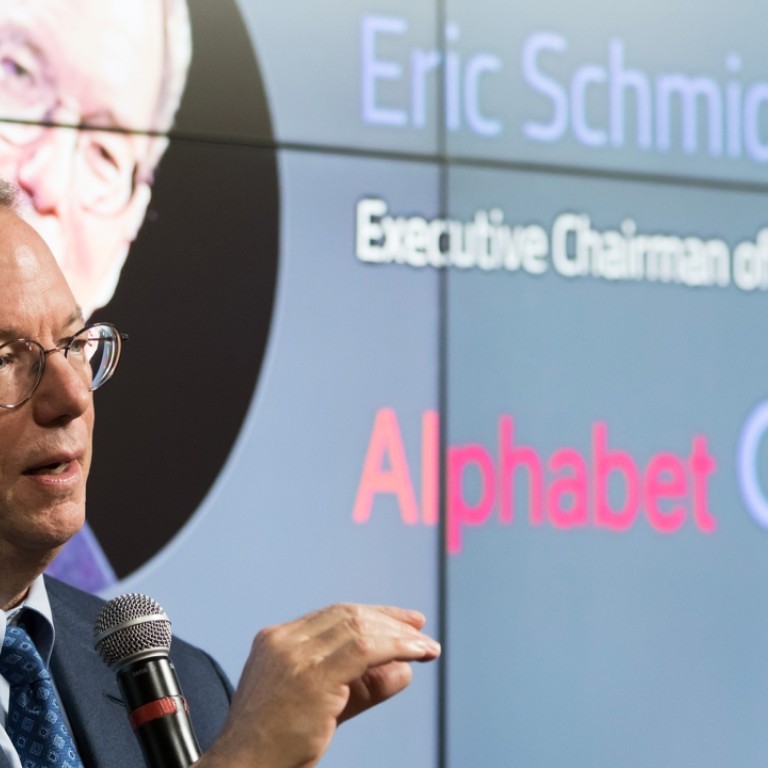 Google 'never left' China, Alphabet's Eric Schmidt says at tech conference in Beijing
Hails level of entrepreneurialism in Chinese capital, Shanghai as 'close to the highest in the world'; describes new smartphone partner Huawei as 'extraordinary'
Google maintains strong links with China despite its services having for years been blocked on the mainland, Alphabet Inc. executive chairman Eric Schmidt said on Monday. 
Moreover, the company is in constant dialogue with Beijing as it seeks to better serve the country, he added.
"[Google] has lots of partners [in China] and we have offices in Greater China - in Taiwan and Hong Kong," he said at the TechCrunch Beijing conference.
"The interesting thing is that Google never left China," he said.
He added that Google hopes to expand its presence in China, which has blocked Google's services in the country, and that it is in regular communication with the Chinese government.
Google ceased search engine operations on the mainland in 2010 when it went head-to-head with Beijing over censorship of search results and a cyberattack on Gmail users.
However, the company continues to sell space to Chinese companies who wish to advertise internationally. It also maintains an office in Shanghai for engineers working on advertising-related products.
China's internet users have speculated that Google may soon launch a Chinese version of its app store Google Play.
Local media reports also suggested that Google has been registering domains such as googleplaychinaedition.com and googlechinaedition.com.
Speaking at the conference, Schmidt praised the level of entrepreneurialism and innovation now seen in the country, citing the company's new smartphone partner Huawei as an example.
"The level of entrepreneurialism [in Beijing and Shanghai] is probably … close to the highest in the world," said Schmidt.
"Many people thought that the level of innovation and science would take much longer to achieve [in China]."
"Huawei, after many years, have [produced] an extraordinary set of mobile phones," he added, explaining why Google picked its first Chinese smartphone partner for its Nexus smartphones.
Pundits say the alliance could soften China's stance against the company and help Google launch Google Play in the world's largest smartphone market.