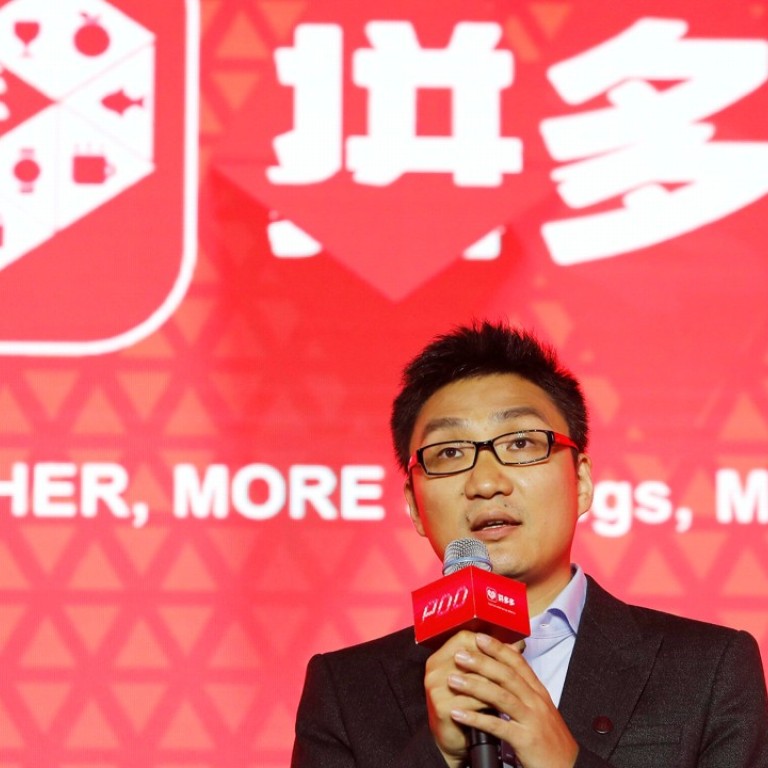 China's market regulators probe Pinduoduo for sale of counterfeit, imitation goods
Social commerce platform Pinduoduo, whose IPO last week made its chief executive Colin Huang Zheng among China's richest people, has found itself in the crosshairs of China's regulators over complaints of counterfeit products sold on the platform.
The State Administration for Market Regulation (SAMR) said on Wednesday it is calling for an investigation into the sale of counterfeit products and items that infringe copyright on the Pinduoduo platform.
In a statement posted on its website, the regulator called for the Shanghai Municipal Administration of Industry and Commerce (SHAIC), as well as other relevant market regulators, to investigate Pinduoduo, which is headquartered in the city. Issues to be looked into include the sale of imitation products and counterfeits.
The investigation comes after Pinduoduo issued a statement on Tuesday stating that it has been maliciously targeted with a slew of negative press in the days following its public listing, prompting it to lodge a complaint with the China Internet Network Information Centre, the country's media watchdog.
A Pinduoduo spokeswoman did not immediately respond to a request for comment.
Pinduoduo has come under growing scrutiny since the company filed for a public listing in the US early last month. The company operates as an e-commerce platform that lets third-party vendors sell items to consumers, pioneering a social group-buying model that offers buyers generous discounts if they share the product listing with a friend who also purchases the item. The social commerce model is part of the social+ model often adopted by internet companies in China, where business and social aspects are blended together to appeal to Chinese users, according to the
China Internet Report
co-authored by the
South China Morning Post
, Abacus and 500 Start-ups.
Within just three years, Pinduoduo has grown to become China's third-largest e-commerce site, with a 5.2 per cent market share, behind Alibaba's 58.2 per cent and JD.com's 16.3 per cent.
Pinduoduo is especially popular with users in lower-tier cities, and many of its products are offered at bargain-bin prices. A large number of items are offered at below 20 yuan (US$2.90) after the discount, and shipping is always free. The company has amassed 300 million users but the popularity and perception of Pinduoduo as an e-commerce site for bargains has also led to many merchants selling imitation and poor-quality goods on the site, leading to a backlash from consumers.
Colin Huang Zheng, chief executive and founder of Pinduoduo, said in an interview with local media on Tuesday that the company is committed to fighting fake goods, adding that significant resources and manpower have been allocated to identify and rectify the issue. The company has previously said the way it fights fake products is similar to how Alibaba Group tackles counterfeit items on its e-commerce platforms.
Speaking to mainland Chinese reporters, Huang pointed out that there was a difference between a counterfeit product and an imitation product, but acknowledged that Pinduoduo has "yet to do enough to tackle the issue of imitation products". More time is required to work through such issues, Huang said, pledging to put into place a better mechanism to fight fakes within a month.
The company addressed several issues on Tuesday, including speculation that some infant milk powder it sold at 7.5 yuan per container were counterfeit. Pinduoduo said the products were sold at a generous discount because the items were close to its use-by date and that the milk powder was safe to consume.
Pinduoduo claims that it has already taken down over 10 million product listings on its platform, as well as blocked more than 40 million listings deemed to be infringing on copyright.
Pinduoduo's stock closed at US$22.59 in New York on Tuesday, down over 18 per cent since its peak of US$27.54 on the first day of trading, but still above its US$19 per share IPO price. Huang's net worth US$11.7 billion, according to the Bloomberg Billionaires Index.
In June, China's parliament reviewed a proposed e-commerce law that would make domestic e-commerce platform operators and merchants on the platforms accountable for selling fake goods online.
Alibaba is the parent company of the Post.
This article appeared in the South China Morning Post print edition as: Pinduoduo accused of fake sales